News
PGA Championship 2018: Where did Rory McIlroy's mojo go … and can he get it back?
The four-time major champion seems to have forgotten how to close out tournaments. Can he become a consistent winner again?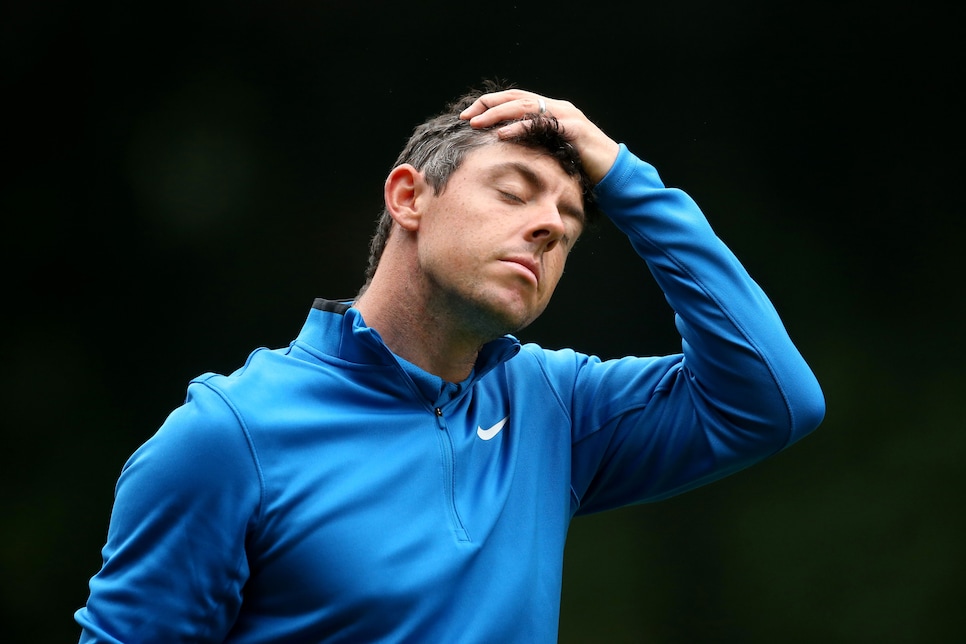 Photo By: Alex Pantling/Getty Images
The defining, microcosmic moment of Rory McIlroy's 2018 season came at the second hole on Sunday at Augusta National. He was in the final group, three strokes behind Patrick Reed, and he had done his best to put all the pressure on his opponent the night before with a classic throwing-down-the-gauntlet quote:
"Really excited to go out there tomorrow, show everyone what I've got, show Patrick Reed what I've got. … All the pressure's on him tomorrow. … He's got a lot of support here and I'm hoping to come in and spoil the party."
It may not have been the wisest move, since Reed is one of the few human beings on the planet who exists in a realm beyond intimidation—in fact, he seems to relish a healthy dash of personal animosity. But it was certainly a dramatic one. And when Reed bogeyed the first hole, and McIlroy hit a second shot on the par-5 second that Matthew Rudy rightly called "majestic," it looked as though the lead would be erased almost before the day even began.
Then, unthinkably and against script, Rory missed his four-foot eagle putt.
It was easy to ignore the import of that error in the moment; Rory made birdie to close the gap to one shot and still had every chance to win his first green jacket. But it was the first glimpse of how the rest of his day would turn into a slow fade. By the time he finished, the stage belonged to Spieth, Fowler and the eventual champion Reed. Rory closed with a 74, matching the worst Sunday score of any golfer within shouting distance of the top.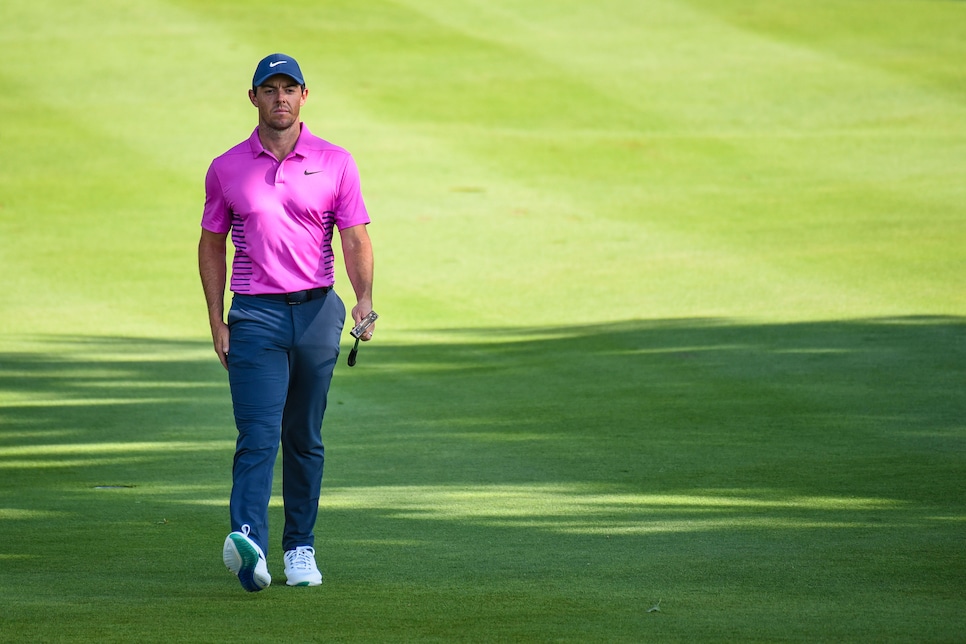 In hindsight, that second hole feels emblematic not just of his day, but of his entire year, and even, perhaps, of his last three seasons. Not just the let-down at the end, but also the auspicious build-up, and the sense that it's all there for the taking. The echo of that day at last weekend's WGC-Bridgestone tournament was almost too uncanny—there he was, in the final group on Sunday with another American star, trying to fight back from the exact same three-shot deficit. Even the scores were the same: Rory at 11 under, Justin Thomas at 14 under. Thomas, showing even fewer nerves than Reed, won with the same score, 15 under, and Rory nearly duplicated his Augusta 74, shooting 73 to spiral down the leader board.
We are on the verge of completing two full years with just a single Rory McIlroy win anywhere in the world (this year's Arnold Palmer Invitational), and the problems are simple enough to state: He can't putt, he can't hit a short approach tight, and he especially can't do either under pressure. Which means, to state it very bluntly, that he can't close.
He's held to a high standard, of course—if this were anyone else, you'd look at the results and think, "that is an extremely good golfer." He's ranked fifth in the world, he's put up a plethora of top-10 finishes in majors and WGCs (an astounding 14 combined since his last major victory in 2014), and he still wins … occasionally. Very occasionally.
But McIlroy has always been defined by more than his great skill. There was a psychological element to his dominance that once imbued him with the kind of aggressive, field-annihilating aura that invoked memories of Tiger at his sadistic best. For one four-week stretch in the late summer of 2014, I watched him batter the likes of Phil Mickelson, Rickie Fowler and Sergio Garcia as he won two majors and a WGC. He was the man who always made the big shot—some of which, like his approach at the 10th on Sunday at Valhalla, were legendary from the moment they touched down—and who always holed the big putt. And who always came through when it mattered.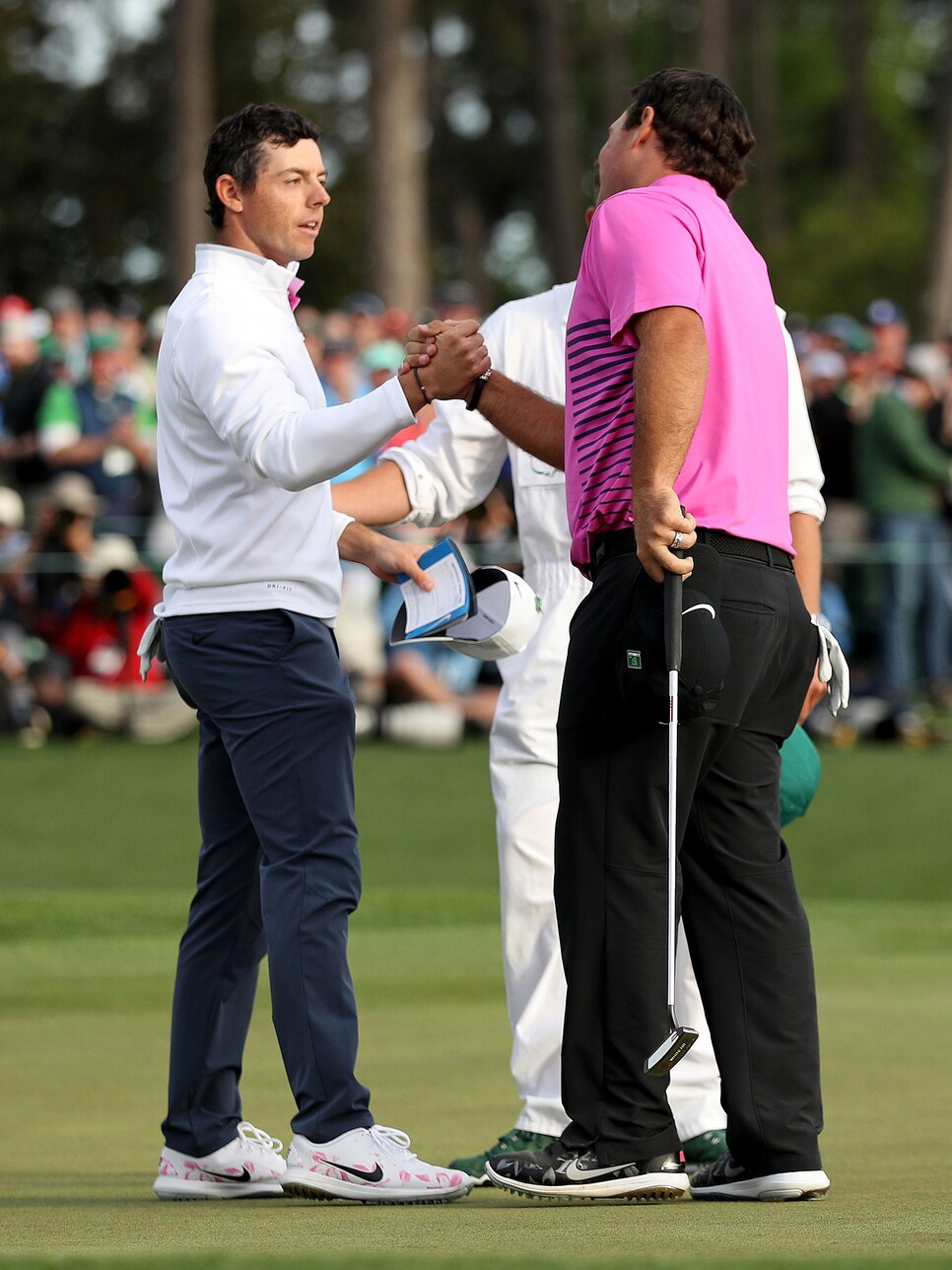 Patrick Smith/Getty Images
For those of us who carry the memory of that man in our heads, the current incarnation of Rory McIlroy is hugely disappointing. You can rap me on the knuckles for lack of objectivity after this confession, but the truth is that Rory has always been one of my favorite golfers. He's fascinating on the course and in the interview room, and though I've never had the pleasure of speaking with him in a one-on-one setting, I've admired his intellect from afar. (For those interested, he gave two of the all-time great athletic interviews to Paul Kimmage, first by himself and then with Padraig Harrington.) He seemed worlds different than the factory-produced bores of the PGA Tour, but his intelligence, far from being a secondary quality, was the practical kind he applied to the art of winning.
Now, he seems to have lost the art. He makes dramatic Sunday runs at majors, but only when he's too far off the lead to catch anyone (2015 Masters, U.S. Open, 2016 and 2017 Open Championship). He takes himself out of the running with a miserable round when he's close to the lead (falling from second with a Saturday 77 at the 2016 Masters). And when he's truly close, he can't find the winning gear, as we saw at this year's Masters and a few weeks back at Carnoustie.
It's a bizarre juxtaposition with the man who won four major titles and 14 tournaments worldwide in the opening stage of his career. To see him become a Nearly Man at age 29 feels like the universe being turned inside-out.
This isn't meant to suggest the winning touch won't return. There are lacunae in even the greatest résumés, and though Tiger or Jack never endured a major drought this long in their heydays, well … they were Tiger and Jack, and Rory is something a little different. His game is plainly up to snuff, and the slew of close calls would lead you to believe the breakthrough is imminent. And part of this analysis, surely, is based on craving something that golf in 2018 can't give us, which is a consistent narrative and a single dominant figure.
Still, something feels off: He should have captured at least one of those majors. He should have beat Patrick Reed at the Hazeltine Ryder Cup. He should inspire fear in the rest of the field, including all the players like Spieth and Justin Thomas coming for his generational throne.
And he should win this weekend at Bellerive. "Belle rive" translates from the French as "beautiful shore," and—let me risk a cringe-inducing metaphor—maybe it's the course where Rory will finally stand with both feet on solid ground come Sunday, no longer at sea. It would mean the end of a frustrating and uncharacteristic journey. The world needs "almost" men, and every jewel needs a foil to set off its brilliance. They serve a necessary role, but Rory—I feel this in my bones—was never meant to be among them.