News
PGA Championship 2018: Jordan Spieth eyes the career grand slam, even if his game is starting to wander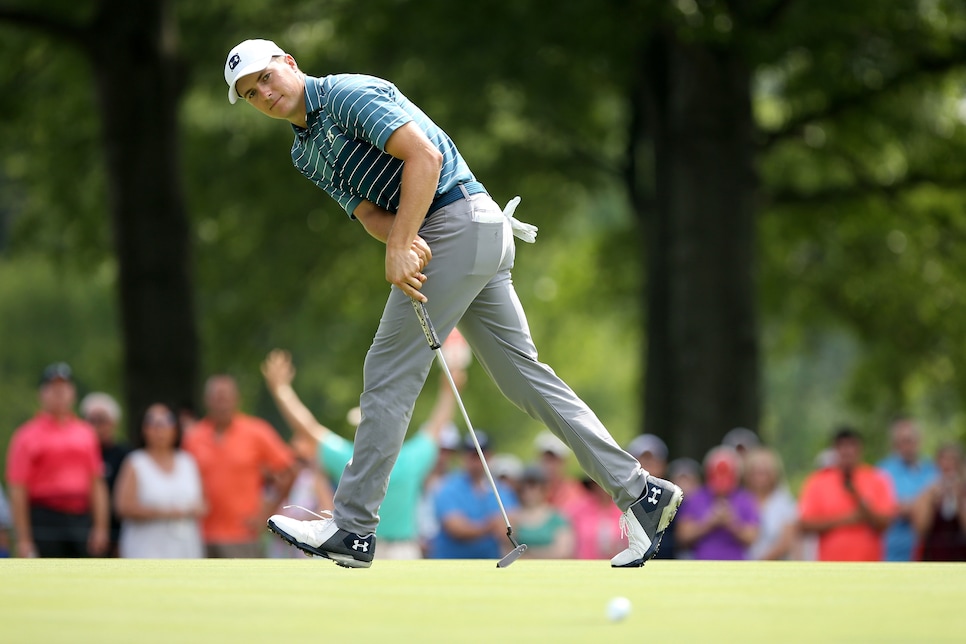 AKRON, Ohio — Jordan Spieth bounded up the steps leading to the Firestone Country Club locker room on Tuesday afternoon, hopping two at a time. Spieth almost never walks anywhere. He runs or bounces or leaps. That's just his way.
As he reached the top of the steps, Spieth almost ran smack into Gerry McIlroy, father of Rory, who was headed in the opposite direction—albeit not quite as quickly. The two men exchanged greetings and handshakes and the senior McIlroy said, "I know you were disappointed Sunday at Carnoustie, but looks to me like you're going in the right direction."
"Absolutely!" Spieth said with a wide smile. "I feel good about my game. I'm going in the right direction. I can feel it."
Then he shrugged and said in that insightful Spieth way, "I'm close, right? Where have you heard that before?"
Spieth started the last round of the Open Championship two weeks ago tied for the lead with Kevin Kisner and Xander Schauffele. After a year of wandering in the no-win desert, it looked as if he might break his drought emphatically with a second straight Open title.
Instead, he struggled to a final-round 76 and, even with many of the leaders in reverse, ended up in a tie for ninth place. And yet, Spieth was absolutely upbeat after his final putt finally went in the hole. "I played patiently," he said. "I never got down on myself. I never got angry. I just didn't make a putt today. I hit really good putts, too. My stroke is there. It's back, which feels awesome. And my game altogether is back.
"It's all there," he added a moment later. "And it's moving in the right direction, so I'm actually very pleased coming out of this week."
Some of Spieth's monologue made sense. He shot 67-65 in the second and third rounds in Scotland to be in that tie for the lead and, at moments, looked like the player who had dominated golf in 2015.
But he also sounded a little bit like a player trying to convince himself that he was, in the golfer's vernacular, "close." In real life, "close" means "I'm still not playing well, but I know it's in there somewhere."
Or, as Rory McIlroy once put it, "close means you're still searching, but believe you can find what you're looking for."
What Spieth will be specifically looking for when he tees it up in the 100th PGA Championship at Bellerive Country Club this week, is the career Grand Slam. He won the Masters and the U.S. Open three years ago—both before turning 22—and last year's Open Championship a week before he turned 24.
The victory at Birkdale was the 13th of his professional career—11 in PGA Tour events plus two Australian Opens. Had he won the PGA at Quail Hollow three weeks later he would have joined golf's most elite club. Only Gene Sarazen, Ben Hogan, Jack Nicklaus, Gary Player and Tiger Woods can claim to have won all four of the modern majors. (Bobby Jones' Grand Slam in 1930 consisted of the U.S. and British Opens and the U.S. and British Amateurs).
Spieth finished T-28 at Quail Hollow but, as he pointed out, it was only his first crack at trying to complete the Slam. There was—and is—plenty of time to win the PGA and enter that tiny club of superstars.
Spieth hasn't won since Birkdale, although he has contended. He played very well during last year's PGA Tour playoffs—losing a playoff to Dustin Johnson at the Northern Trust; finishing second a week later in Boston and then tieing for seventh at both the BMW Championships and the Tour Championship. Good golf—even very good—but not close to the ridiculously high bar Spieth set in 2015.
He won five times that year—including the two major victories—and became the star in golf. He won twice more a year later, but most people will remember his 2016 as the year he blew a five-shot back nine lead at the Masters. Knowing Spieth, that's probably what he remembers most about that year.
He had already won twice in 2017—Pebble Beach and his dramatic hole-it-from-the-bunker playoff win over Daniel Berger in Hartford—before his remarkable victory over Matt Kuchar at Birkdale.
In 2018, Spieth finished tied for third at Houston the week before the Masters, then shot 66 to lead by two after the opening round at Augusta. After struggling the next 36 holes, he shot 64 on Sunday to end up in third place, two shots behind Patrick Reed.
From there, his game has been sending mixed signals. He missed two short putts on 17 and 18 Friday at Shinnecock Hills to miss the cut by one at the U.S. Open, but then opened defense of his title at the Travelers Championship with a seven-under-par 63. From there, he faded to a tie for 42nd.
This past week at the WGC-Bridgestone Invitational, Spieth spent four days at Firestone spinning his wheels; rounds 71-72-68-74 left him tied for 60th. For any confidence he still took away from Carnoustie, it would seem it's been lost.
Most people believe the biggest difference between the dominant Spieth and the good, but hardly great Spieth is his putter. In 2015, it seemed as if he never missed—especially under pressure. Right now he is, at best, inconsistent.
Statistics tell part of the story. Going into Akron, Spieth ranked 177th on tour in strokes-gained/putting this season. He was 95th in putts-per-hole and 136th in birdie. In 2015, he was ninth in strokes gained, first in putts-per-hole and first in birdies-made.
Beyond that though, Spieth seemed to make every clutch putt, something that isn't trackable statistically. When he was in position to win a tournament, he seemed to make every important putt.
Even though 2018 has represented a putting drought for Spieth, it seems almost inevitable that he will start making putts again soon. He's too good a putter not to find what he's searching for at some point.
How soon that will happen is anybody's guess. Clearly he was close at Carnoustie before Sunday—when he failed to make a single birdie. He was upbeat and relaxed in Akron prior to the start of the WGC-Bridgestone Invitational, spending a good deal of time on the range Wednesday with caddie Michael Greller and joking in the locker room about the haircut he got in Scotland, which left him looking ready for a stint in the marines. But the Sunday 74 was definitely a costly number to put on the books
"I think it was a language thing," he said, laughing. "They count differently than we do—you know, centimeters versus inches. He was explaining to me how he counted how much to take off and I don't think I understood.
"Actually, I don't think it looks too bad. It's just when I have my cap on it looks kind of tight."
In truth, Spieth's game going into Bellerive doesn't look too bad, either. The PGA Tour gave him a rare week off in Akron from a pre-tournament press conference and no one in the media complained. Most of their focus was on Tiger Woods.
All of which was absolutely fine with Spieth. He'll be glad to get the spotlight back if he can change "close" to "there" in St. Louis.