News
Jordan Spieth in jeopardy of missing Tour Championship, violating tour policy on minimum starts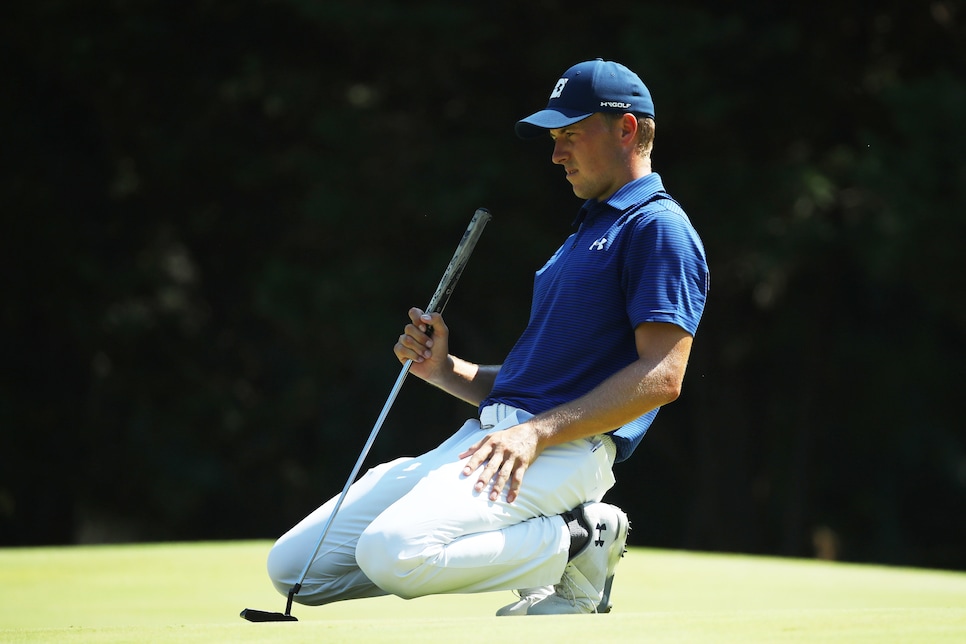 Gregory Shamus/Getty Images
With all due respect to Justin Rose, Rory McIlroy, Xander Schauffele and the rest of the golfers atop the leader board at the BMW Championship, Sunday's final-round drama won't be isolated to who wins the tournament title. Just ask Jordan Spieth.
While a third-round 66 at Aronimink Golf Club moved Spieth from T-48 to T-39 for the tournament, it wasn't enough to boost Spieth inside the top 30 in the projected FedEx Cup ranking. Come Sunday, the three-time major winner will need to post a sub-par score to hope to move off the bubble and earn a spot into the field at the Tour Championship in two weeks.
Spieth is chasing Keegan Bradley, whose Saturday 66 put him in the 30th spot in the projected FedEx Cup points list.
Here's a look at the bubble regarding players trying to earn their spots at East Lake:

Spieth entered the tournament ranked 27th, but a one-over 71 on Friday became an unfortunate anchor given the low scoring throughout the week outside Philadelphia; he was just one of six players to post an over-par score in the second round. Spieth has never failed to qualify for the Tour Championship since becoming a PGA Tour member in 2013, having won the tournament (and the FedEx Cup title in 2015).
Missing out this year could be a bigger issue than simply not being able to grab some loot at East Lake. As reported earlier in the week by the Associated Press, without competing in the Tour Championship, Spieth would wind up only playing in 24 PGA Tour events this season, one shy of the requirement for membership under a policy adopted two years ago (his participation in the Ryder Cup is considered a start). The policy states that players can play fewer than 25 events so long as they have added a tournament they have not played in the previous four years, but Spieth did not add a new tournament to his 2018 schedule.
No player has violated the policy so far. According to an ESPN report, Spieth could face a fine and a possible suspension should that happen, an awkward situation for the golfer who is also chairman of the PGA Tour Player Advisory Council.