News
Justin Rose takes a one-stroke lead in BMW Championship, with rain threatening a Sunday (and maybe a Monday) finish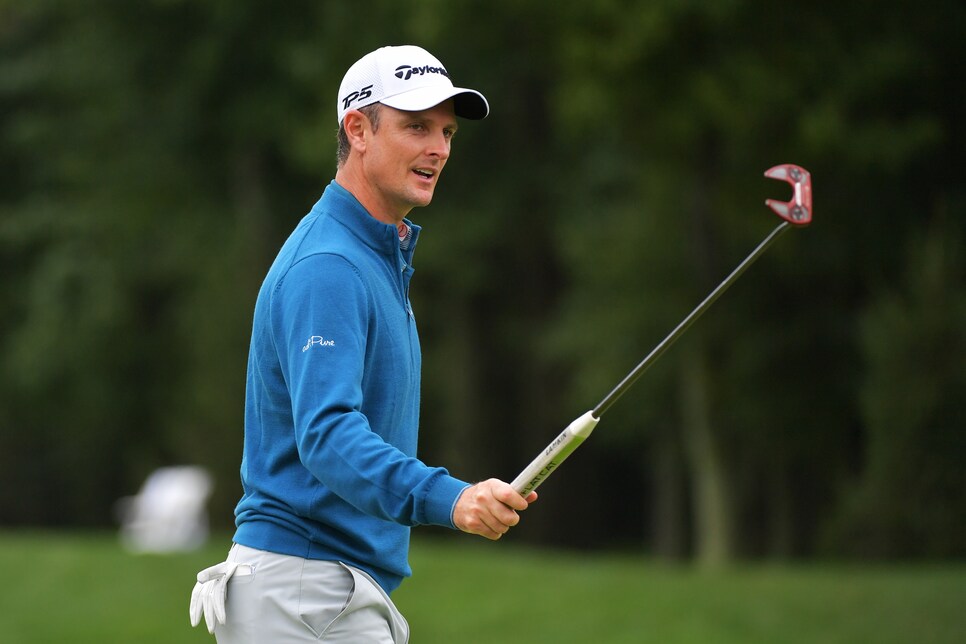 A crowded leader board with Justin Rose atop it will have additional competition on Sunday, when the prevalent question is whether they can beat the weather.
Rose shot a six-under-par 64 at Aronimink Golf Club to overtake Schauffele, the 36-hole leader, who had a 67. Schauffele and Rory McIlroy, the latter shooting a 63, are tied for second, a stroke back.
The weather forecast for the Philadelphia region called for rain starting Saturday night and not stopping for days. In anticipation of the inclement weather, the PGA Tour has moved final-round tee times on Sunday up to 7 a.m. to 8:50 a.m. (EDT), with GolfChannel's telecast scheduled for 8 a.m. to 2 p.m.
Joe Halvorson, an onsite meteorologist, issued the following forecast:
"Best-case scenario tomorrow, the heaviest rainfalls, intensity that is, holds off until noon, one. Then as you get past three or so, then the rainfall rates could increase. I think that's your bes=tcase scenario, that's lighter in the morning, we get done and then it breaks loose after that.
"Worst-case scenario, we come in to moderate to heavy rain right in the morning at six a.m., talking about a tenth of an inch per hour, and then with that rainfall rate increasing as we go into the late morning, early afternoon, maybe on the order of tenth to two-tenths of an inch by the noon hour."
Tiger Woods seemed less optimistic. "It will be curious," he said. "I think if we do play, the problem might be ball in hand [lift, clean and place] everywhere through the green. That would be different. I think I've only done that once in my career. It will be interesting if we even get a chance to play."
Woods, incidentally, shot a 66 on a day on which a four-under-par score was running in place. Indeed, he only moved from a tie for 12th to a tie for 11th and still trails by five.
Rose's move was notable given the fact he has won at Aronimink before, at the AT&T National in 2010. He had six birdies, including four in a row, on a front-nine of six-under par 29, then made nine straight pars coming home.
"I would say it's a struggle actually at times," Rose said. "Not every shot I felt in complete control. Didn't drive it as well today as I did yesterday. Obviously that made it tougher, especially on the back nine. I just kept my nose ahead of the field today."
Schauffele had a share of the lead until he bogeyed the 18th hole. "I guess I hung in there," he said. "I haven't played the cleanest of weekends and I was very aware of that going into the weekend, so just happy to have a chance tomorrow."
Two formidable players—Rickie Fowler and Tommy Fleetwood—are within two shots of the lead, the latter by virtue of a second straight eight-under-par 62.
UPDATE: Shortly after 2 p.m. on Sunday, after several hourly announcements about delays in play due to rain in the area, PGA Tour officials finally announced that there would be no play at Aronimink until Monday, when they hope to play the final round despite more wet weather forecasted.