News
British Open 2018: Where did it go wrong for Jordan Spieth on Sunday?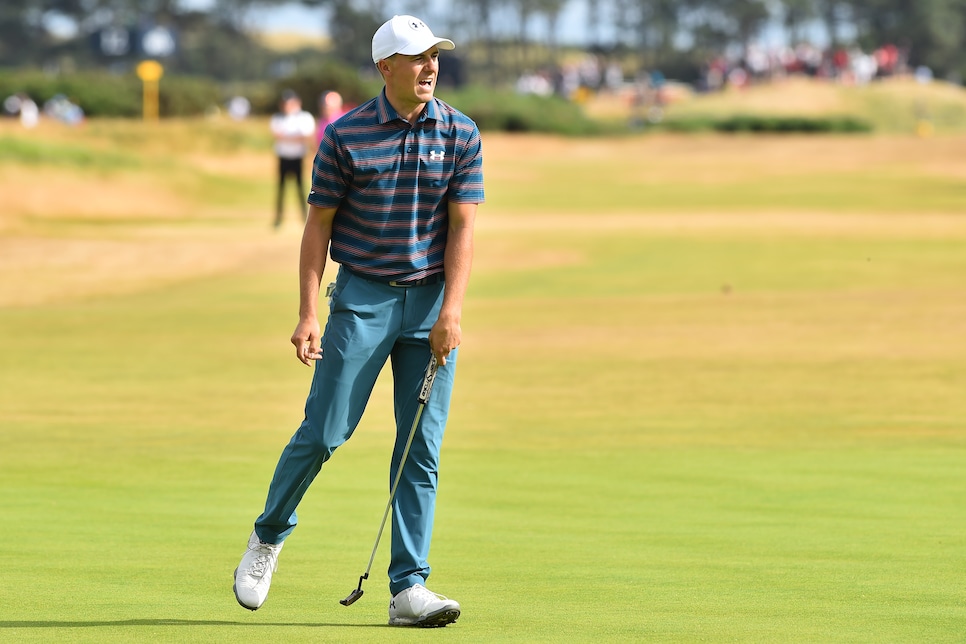 CARNOUSTIE, Scotland—On Thursday morning, Jordan Spieth was driving to Carnoustie for his opening-round tee time in the 147th Open Championship when he missed a turn but managed an effortless and quick about face with the massive Mercedes courtesy SUV on the claustrophobic and cramped streets of the Angus town. "Nice recovery," his fiancée Annie Veret said.
Her future husband has had a few of those in his still young career. If only he'd navigated his way inside the ropes on Sunday at Carnoustie as smoothly.
Francesco Molinari's magnifico performance aside—he played his final 37 holes on the toughest course in the Open rota with nary a bogey and birdied the 18th to win by two—it did not go Spieth's way mostly because of Spieth. Molinari won the tournament, but Spieth also lost it.
While Molinari was busy going blemish-free ahead of him, the defending champion was on his way to a birdie-free afternoon in the day's final pairing after beginning the round with a share of the lead. Worse yet, the 24-year-old Texan, who was seeking to join Tiger Woods, Bobby Jones and Young Tom Morris as the only players to have won at least four majors before age 25, simply made too many blunders to overcome.
On the par-4 fifth, he drove into a fairway bunker and was forced to pitch out, leading to a bogey. One hole later, he pushed his tee shot well right and into the rough to leave an awkward stance. Trying to carry the burn short of the green, he opted for 3-wood and proceeded to hit his ball into a gorse bush.
The search was on and Spieth's ball was eventually found, but a piece of the gorse lodged in his thumbnail. Ouch. What hurt more was a three-putt double bogey on one of the easiest holes on the course. Addio, lead.
"I could have played a mid-iron to the middle of the fairway, but I was trying to take the burn out of the equation by hitting 3 wood to carry it," he said. "It was unlucky. It went into the only bush that's over on the right side. If it misses it, I hit the green and have a birdie putt."
It was also a bad decision given the circumstance. Hindsight's easy, of course. Spieth's game was anything but on this day.
Yet despite going out in 39 he somehow found himself again tied for the lead as he turned toward home on the inward nine. That's when he and playing partner Xander Schauffele were hit with a bad time, though. They'd fallen nearly two holes behind given the eventful front nine.
Spieth said he rushed himself on the par-4 10th and 11th—the latter again being one of the easiest holes and course—and managed only a pair of pars.
"That was a turning point in the round," he said. "If you get to one under on those two holes with a downwind par left, you know, it's a different story."
Instead it was more of the same story: More wayward shots and missed putts, including on the par-5 14th, which Spieth reached in two only to three-jack. On the next hole, he found another fairway bunker off the tee, pitched out and after hitting his approach to a very makable eight feet, missed. Bogey.
One more bogey on 17 and it was game over for Game No. 40 on the afternoon.
"Obviously frustrated with hitting a couple of iron shots in bunkers," Spieth said. "I felt like I had really good control of the ball. I didn't play the wind the right way on those two holes. I was trying to fight it instead of accepting that the wind is going to win out here."
Still, afterward he sounded oddly upbeat, especially for a guy who had just shot 76 -- the worst score of any player in the top 25 on the leader board and the worst final round in a major of his career -- to tumble into a tie for ninth, four shots behind Molinari.
"I played patiently," reasoned Spieth, who added that he'd already processed the frustration by the time he reached the podium. "I put good swings on it. Never got down on myself. Never got angry. Man, I just didn't make a putt today. I hit really good putts, too. My stroke is there. It's back, which feels awesome. And my game all together is back.
"I've had different parts of every single part of my game being at kind of a low point in my career, not all at the same time, but enough to where I haven't really been able to compete. It's all there, and it's moving in the right direction. So I'm actually very pleased coming out of this week."
The ride home just won't include the claret jug, and in the end that's what mattered most.