The Loop
Jordan Spieth and Jason Day battle adorable junior golfers in heated game of golf skee-ball on the Tonight Show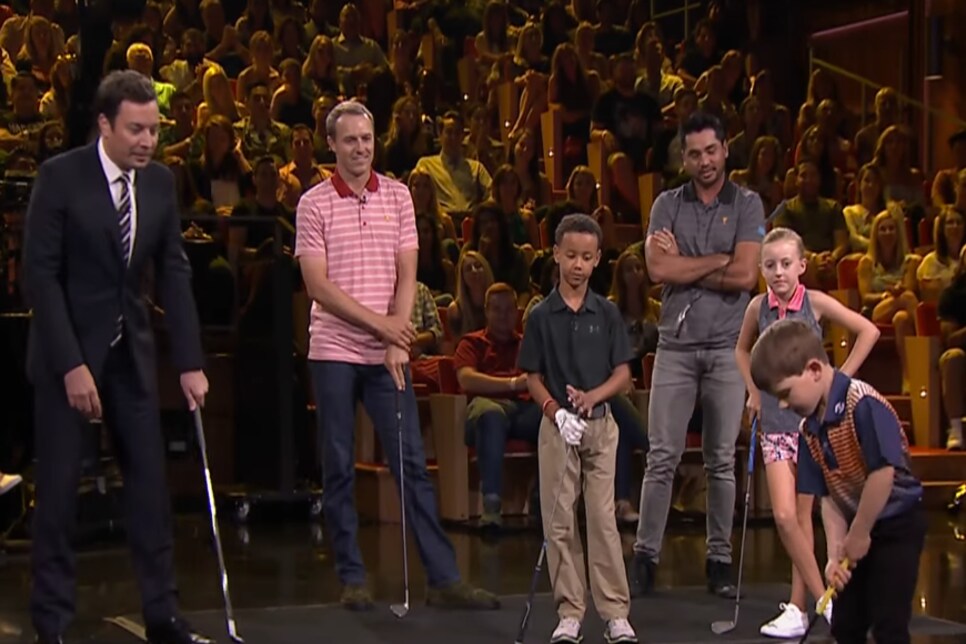 When New York and sports collide—the Super Bowl, SummerSlam, All-Star Weekends, the U.S. Open, the other U.S. Open, the World Series, and so on—you can bet that some point in the build-up said sports' biggest stars will flood the stages Midtown Manhattan to read mean tweets about themselves while throwing perishables at some milquetoast comedian in a nice suit.
This is called Late-Night TV. Late-Night TV is an American tradition.
And so it went once again this week, with Presidents Cup stars Jordan Spieth and Jason Day taking the short (but scenic) ferry ride over from Liberty National to kick it with Fallon and three of the best junior golfers on the planet for the afternoon. As is typically the case when athletes are the guests, however, they did far more than just sit on a couch tell a stupid story about J.J. Abrams, first surprising said junior golfers—a spectacle totally worth it in and of itself—before challenging them to a game of golf skee-ball (which is apparently a thing that exists). Here's how it all went down:
We won't spoil the winning team, but let's just say Jordan and Jason seemed to have a case of the studio audience yips. Here's hoping they get that sorted out by the time Sunday rolls around.