The Loop
Presidents Cup 2017: Jordan Spieth almost tripping into a port-a-potty is the early highlight of Brooks Koepka's week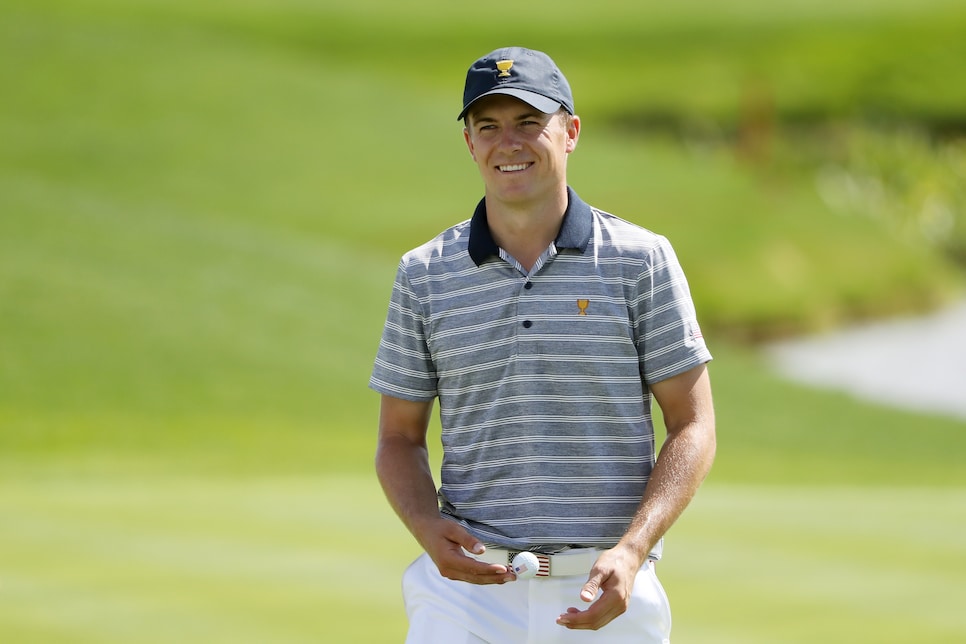 JERSEY CITY, N.J. -- Jordan Spieth the golfer is on pace to break a slew of records. His pursuit will be greatly aided if Jordan Spieth the klutz doesn't break something else first.
On Wednesday ahead of this week's Presidents Cup, the 24-year-old Spieth was asked about his injury history -- or rather, his lack of an injury history. So far.
"I almost trip every day," Spieth answered. "But I haven't had any injuries that kept me from playing golf fortunately."
Wait, wait, wait. Almost trip every day?! That's not the kind of thing you expect to hear from a world-class athlete!
Anyway, Spieth's embarrassing claim was backed up moments later when U.S. teammate Brooks Koepka, standing on the other side of the media center at Liberty National, was asked about the funniest thing he's seen this week.
"I watched Jordan almost trip and eat it today walking off No. 11," Koepka said. "I think he caught his foot in the weeds and almost went right in the Port-a-Potty, which was pretty funny. That was the funniest thing I've seen this week."
Sorry, Jordan, but that does sound pretty funny. And it sounds like you really may have some sort of tripping problem. Then Brooks, who unfortunately didn't get any video of the incident, was asked about the most exciting part of his week.
"That could have been the most exciting thing if he had actually eaten it," the compassionate Koepka continued. "But I'm glad he didn't."
And so is U.S. captain Steve Stricker. Be careful out there, Jordan. Your country and teammates are counting on you this week -- and not just for more unintentional comedy.