The Loop
I made a hole-in-one on No. 17 at the Players with Brooks Koepka watching (Sort of)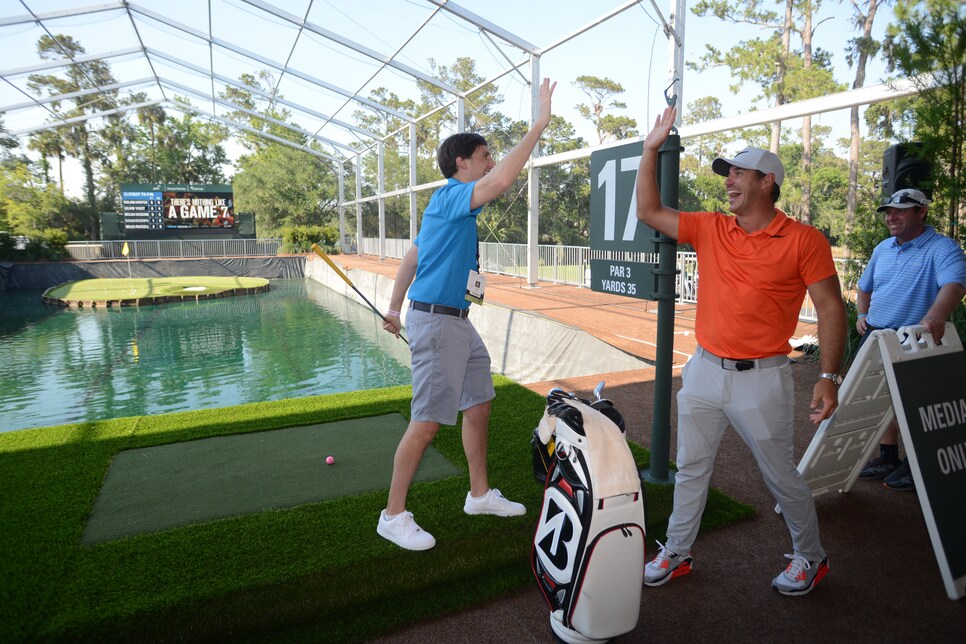 PONTE VEDRA BEACH — My apologies to those who spend a lot of time with me. I am going to be extremely tough to take with this.
The par-3 17th at TPC Sawgrass is considered one of the most intimidating holes in golf. But let the record show that during the week of the 2017 Players -- with PGA Tour winner Brooks Koepka as my witness -- I aced it. Well, sort of.
A few hundred yards from the real thing is a replica that fans can take a crack at. Instead of grass, the tee and island green are covered in Astroturf. Instead of dealing with a swirling wind, it's screened in. And instead of measuring 137 yards, it's only 35 (But it plays longer, I swear).
Nevertheless, on the eve of the PGA Tour's flagship event, with one of its biggest stars watching, I grabbed a 60-degree wedge and did this:
Woo! And here's another angle of this historic shot hit with my press pass dangling from my neck. (It's basically the same angle, but indulge me and watch again.)
And yes, I needed a ricochet a la Louis Oosthuizen at the 2016. And yes, that funnel behind the hole is much more generous than anything Pete Dye has ever designed. But let me have my moment!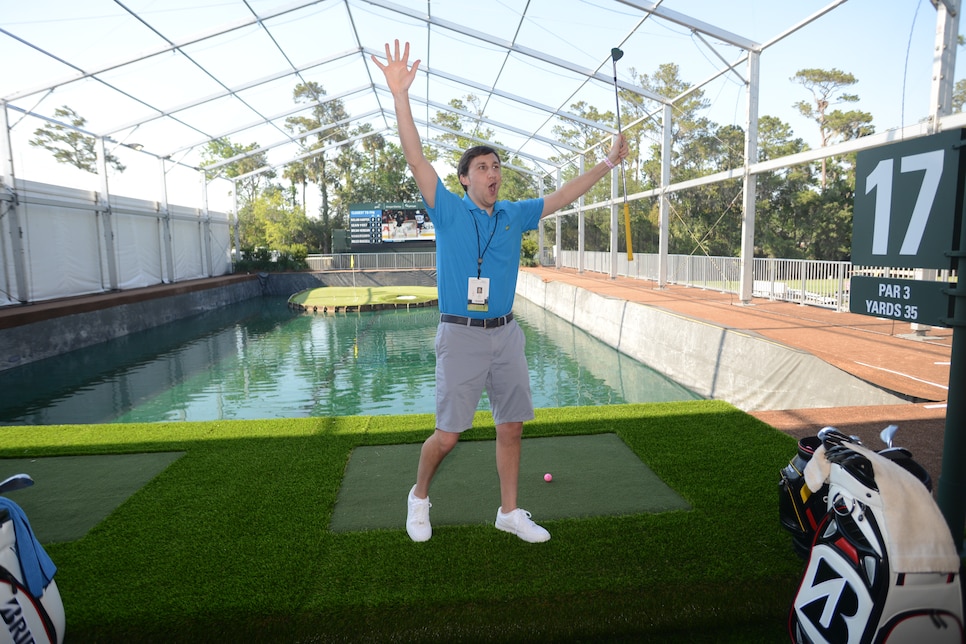 Koepka was on hand for a Michelob Ultra event in which the beer announced an incredible giveaway. Any fan who texts "ULTRA" to 55999 will receive 95 cases (yes, cases) of beer if Koepka makes an ace at any of his remaining PGA Tour events this season. Unfortunately for all those fans, my hole-in-one doesn't get you anything.
But fortunately, there was a PGA Tour photographer there as well to document this landmark occasion. So that means you get to see more photos (Yay!) of this incredible moment that Brooks and I will never forget.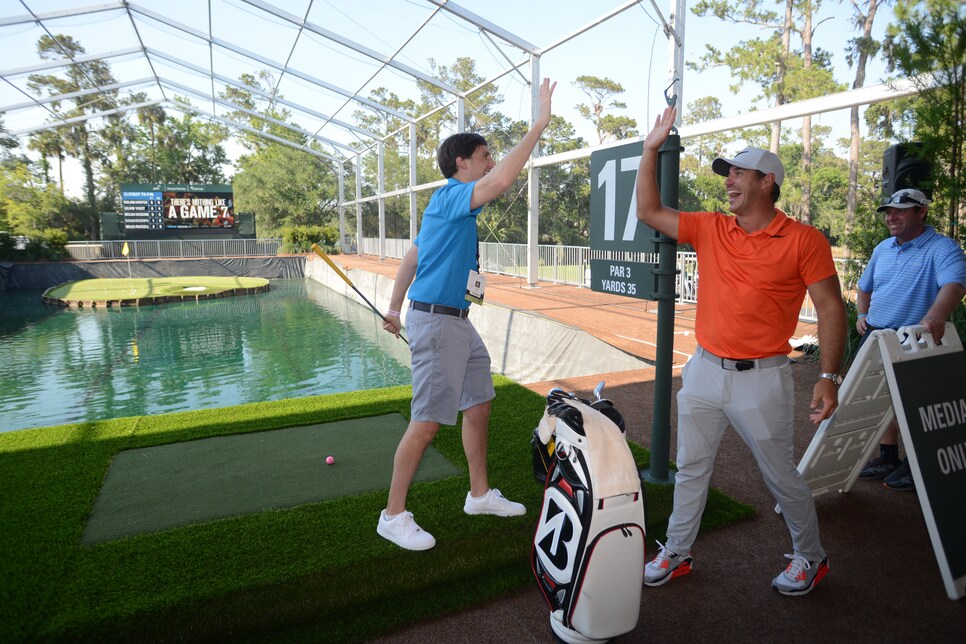 And notice how we didn't botch the high five!
If you know me, you probably know I've never had a hole-in-one. It's a sore spot and something I stopped believing would happen years ago. Just look how unprepared I was for this to happen to. I didn't even think to hold up one finger in the celebratory photo, instead going with a really lame thumbs up. Sigh.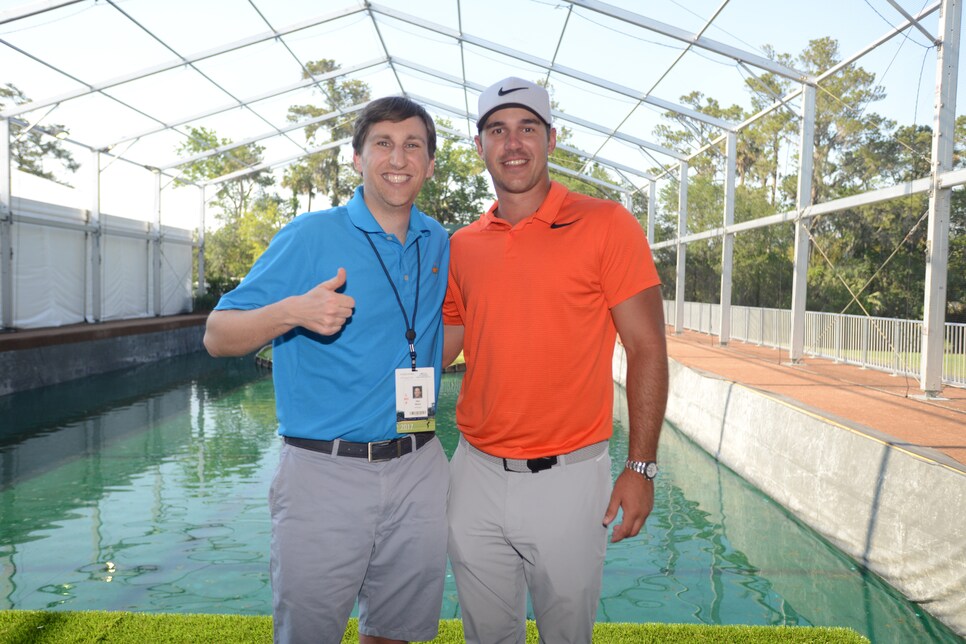 So let the great debate begin: Does this count as my first hole-in-one? This is sure to be a heated segment on ESPN's First Take in the morning. On one hand, it was my fourth attempt (Oh, I forgot to mention that. . .) on a replica hole that's only 35 yards. HOWEVAH, I did it in front of a sizable crowd and got some serious props from a Ryder Cupper.
So how would you rate my short game on a scale from 1-10, Brooks?
"I'd have to say it's pretty good," said Koepka, who went 0-for-5 attempting the shot I drained. "If you're going to hole out, I'd say it's pretty good."
In other words... #BrooksWasHere #BrooksWasImpressed
The best part? (Well, other than the part where I made an ace. Did I mention that?) I didn't even have to buy drinks for everyone. Brooks took care of that.