News
The team that makes Jason Day go
To be a successful PGA Tour pro, the Australian has become the "CEO" of his own "company" that employs no fewer than 13 people. Here's who's who in the Jason Day Entourage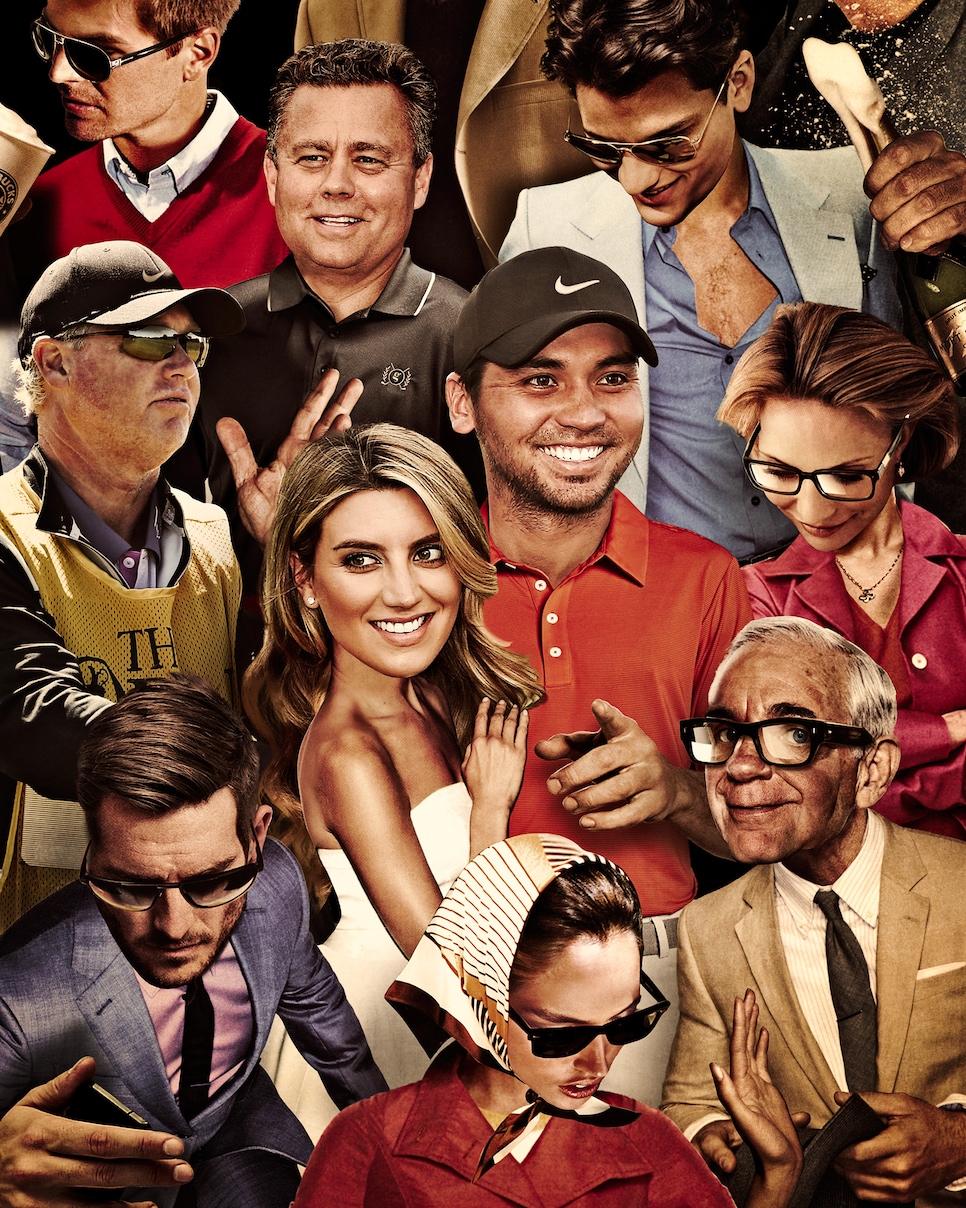 Photo By: Illustration by Eddie Guy
On the surface, golf is the most individual of sports: a lone player lost in thought and in sole control of the outcome. There's no one trying to tackle you, block your shot, hit the ball back at you or duel head to head. It is, ultimately, a one-man island.
But at the highest level, particularly in the modern era, the game's best also function as combination of sports franchise and multi-million-dollar corporation.
During his winner's press conference at last month's British Open, Jordan Spieth used the word "we" 14 times in the 15 questions asked. Other players aren't as expressive about the team dynamic, but a few function similarly.
By the time Jason Day won his first major two years ago at the PGA Championship at Whistling Straits, and reached No. 1 in the world the following month, there was already a well-oiled operation in place with no fewer than 13 people making up his entourage. Among them are wife Ellie, who is everything from consigliere to psychologist to chef; coach and caddie Colin Swatton; and longtime agent Bud Martin. They're the ones most visible every week—in corporate lingo, the board of directors, with the 29-year-old Day running the company as its CEO—but most of the group performs out of view of the camera's lens.
"Everyone thinks you get up and go play golf, and it's all you," Day said. "There are some guys out here that have a caddie and a coach and their agent and that's it, and maybe that works for them. At the start I felt like I could do it all, but you really can't."
In the beginning, the number of people in Day's orbit was indeed smaller. He was only 18 years old, and had just graduated from Hills International College in Jimboomba, Queensland, a 45-minute drive south of Brisbane on the eastern coast of Australia. Having accrued a slew of amateur titles, including the prestigious Callaway Junior World in 2004, Day was ready to pursue his dream of becoming the game's No. 1 player, like his idol whom he'd read about in books, Tiger Woods.
Day's mother, Dening, turned to Swatton, who had coached her son since he was 12, and said, "Now what?"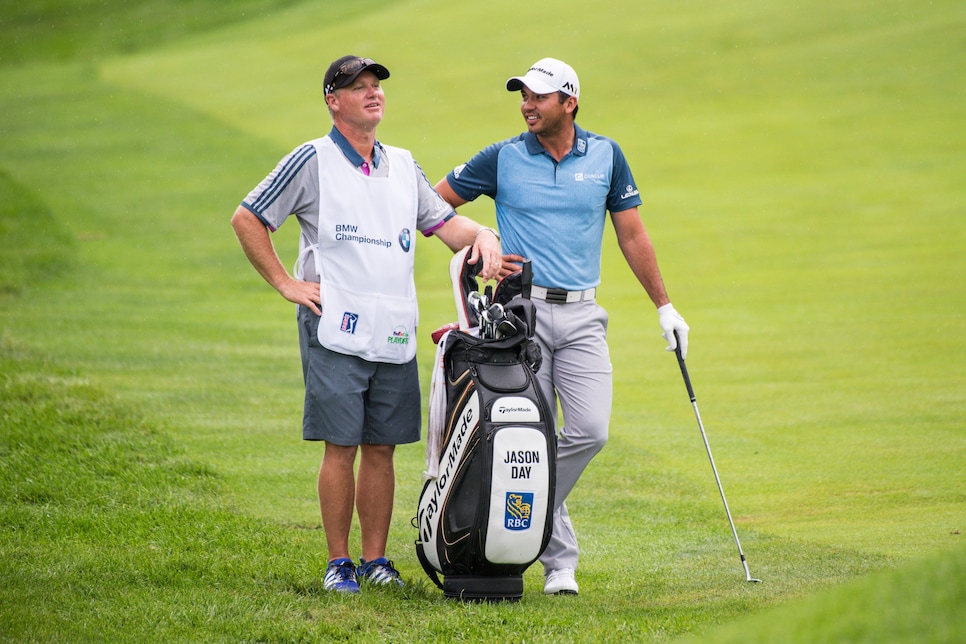 Day set off for the United States, Swatton and Martin in tow, making the cut in five of his first six starts on the PGA Tour while playing on sponsor's exemptions. His best result was an 11th-place finish at the 2006 Reno-Tahoe Open. Later that year, Day survived the second stage of PGA Tour Qualifying School, but bombed out in the final, finishing 15 strokes out of getting a PGA Tour card.
It was only a hiccup. With conditional status on the Nationwide Tour, Day won the following July at the Legend Financial Group Classic. He finished fifth on the developmental tour's money list to earn his card and didn't look back.
Day won his first tournament on the PGA Tour in 2010, at the Byron Nelson, and has added nine more victories since, including a major, a Players Championship , two WGC titles and two FedEx Cup Playoffs events.
As the success grew, so did the support staff. Martin, 55, a slick and notoriously tough agent who inked Day when he turned pro, tapped into his deep Pittsburgh roots and thick Rolodex from more than 30 years on the beat, constructed the back-room operations, with Day signing off on each hiring (and sometimes firing) along the way.
Among the employees these days:
• A medical trio that includes Pittsburgh Steelers team doctor Jim Bradley, on-call physician Andrew Margolis and family doc Ray Pongonis.
• A nutritionist (Randy Grant), trainer (Kevin Duffy, who also works with European Tour pro Andy Sullivan and a few other golfers) and soft-tissue specialist (Dr. Stuart Love, also employed by Marc Leishman, Tony Finau and others) as well as a superintendent (Jason Spencer) of his new personal fitness outpost.
• A childcare manager (Katie Eason, recommended by family and friends) and director of his Brighter Days charitable golf tournament (brother-in-law Clark Harvey).
• Financial advisor Jon Koteski of Oakmont (Pa.) Capital, CPA Jeff Jones and legal advisor Pete Fuscaldo of Leech Tishman Fuscaldo & Lampl in downtown Pittsburgh.
"I'm 55, have kids, have seen the good and bad, and Jason knows I have that experience," Martin says of his role. "But at the end of day it's his decision. You try to give the best advice you can."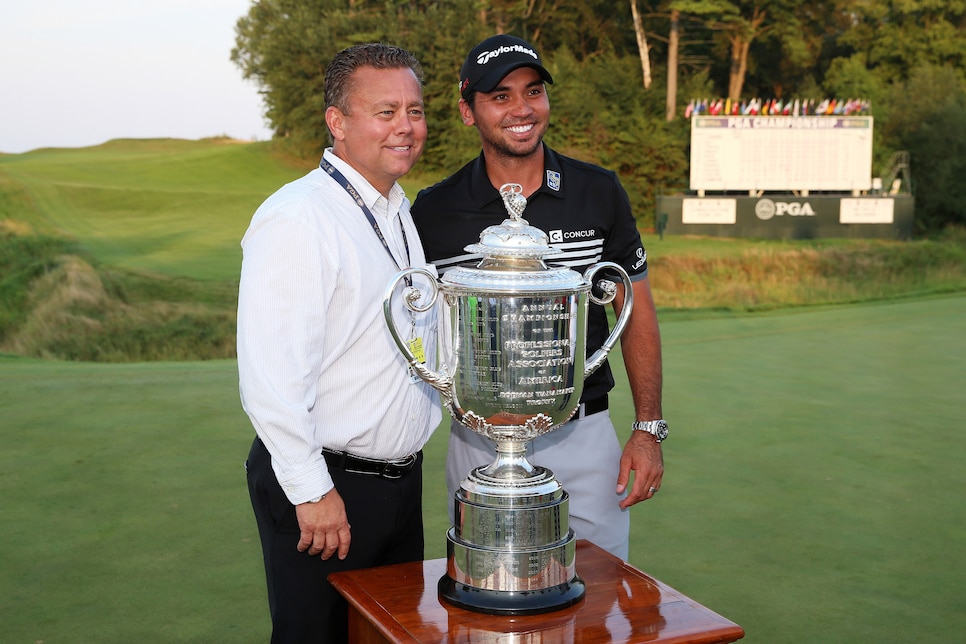 Andrew Redington/Getty Images
Most of that advice comes from Day's own Big Three, starting with the person closest to him.
While Swatton and Martin have been part of the picture the longest—basically since his early and mid teen years—wife Ellie isn't far behind. She met Day in 2005 while working as a waitress at Mavis Winkle's Irish Pub, a restaurant in Twinsburg, Ohio, having moved there from the small farm town of Lucas (population: 600) to pursue beauty school. She was 19, Day 17 and he was afraid to talk to her because he was shy and she was older.
By 2006, though, he started texting her. In town for the Nationwide event, they ran into each other at a graduation party for a mutual friend, and Day made up an excuse about owing her dinner. She went to the tournament—her first—and he won. The following weekend, she drove to Columbus for another tournament and they went on their first official date—dinner at Applebee's and a movie, with Swatton third-wheeling.
The two were smitten and inseparable. They moved in together in the beginning of 2008 and in October 2009 got married. Three years later, they had their first child, son Dash, followed by a daughter, Lucy, in November 2015.
Her role extends beyond far beyond wife and mother, though.
"I'm the only one on the team who's not an employee," Ellie says. "Even the people that have been around forever, no one is going to tell you exactly how it is like I am. At the end of the day, those guys are getting paid and it's their job and people can be a little bit afraid. No one is going to see him at his real self like me."
Swatton, meanwhile, is also in a unique position. No other player on tour employs a full-time caddie who doubles as swing coach, the pair having first met in 2000, a year after Day's father, Alvyn, died from stomach cancer. When Swatton, who is 19 years Day's senior, first took to carrying the bag after Day turned pro, he figured it was a job he'd have for a couple of years until Day landed on his feet and got settled on tour. After that, he planned to go back to teaching somewhere. But like anyone else he could also see the talent.
"There are some guys out here that have a caddie and a coach and their agent and that's it, and maybe that works for them. At the start I felt like I could do it all, but you really can't." —Jason Day
"I took that leap of faith," Swatton says. "I knew he was good, but there's never any guarantees. I thought that if I took on that role it would make his chances a little better. He took that leap of faith with me, too."
Swatton has been on the bag ever since, playing the role of bagman when he's on the course and and swing instructor off it. "It's a balancing act," he says. "We worked hard to understand which hat is on when. Sometimes, I preface the conversation by saying I'm speaking to you as your coach, or say I'm speaking to you as your caddie."
The relationship in each has lasted longer than most, though it nearly ended five years ago.
After every season, Day gathers has Big Three for an annual meeting. Following 2012, that meeting turned tense. It had been a difficult year for Day, and it came to a head in the gathering to the point where Day stormed out of the room.
On the course, Day, who still had just one career victory, had withdrawn from the Masters with an injury, missed the cut at the Players and Memorial, was a non-factor at the U.S. Open (T-59), skipped the British Open for the birth of his son, missed the cut at the PGA and ended the year ranked 37th in the world after finishing the previous year at eighth in the rankings.
Off it, Ellie was dealing with postpartum depression following a difficult first few months in which Dash cried a lot, got sick and kept the young parents awake at all hours.
At one point, Day thought about moving on from Swatton but those around him talked him out of it.
"It was hard to talk about [in the meeting] how hard it was balancing playing golf, being a father and being a husband," Day said. "Everything was back on me, like it was my fault. I was hearing I didn't work hard enough, that I wasn't doing the things I needed and all the things like that. I didn't want to hear any of it."
It also ended up being a turning point.
Day eventually returned and sat down with Ellie, Swatton and Martin. He took the constructive criticism to heart and started acting on it. He won once each of the next two years, and in 2015 ascended to the top of the sport with five titles, including his first major.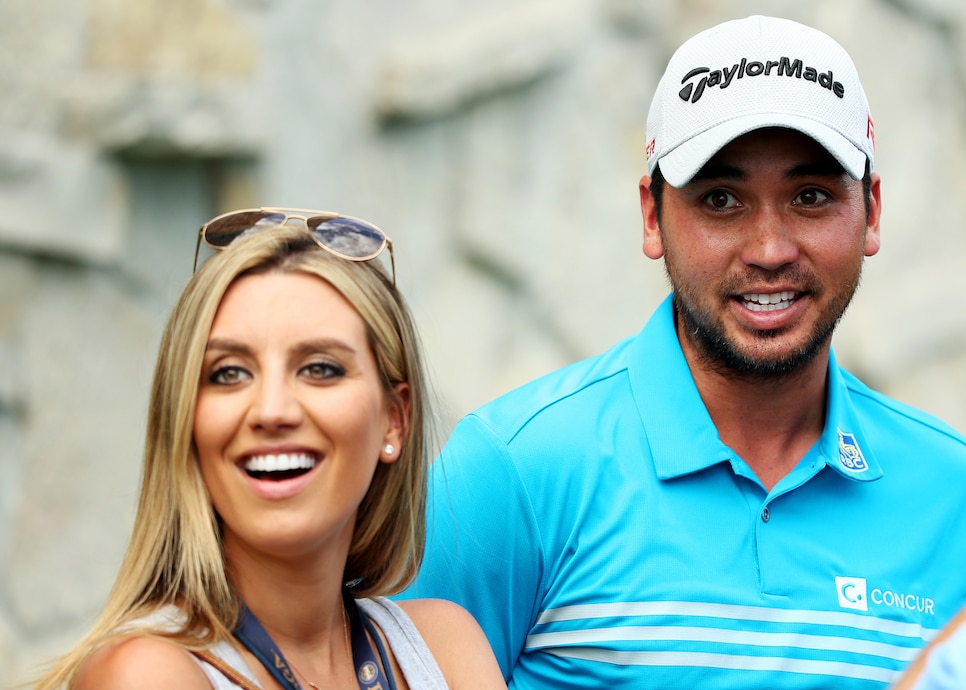 "Up until [then] the meetings had been a lot more intense because we expected him to do that sooner, and so did he," Ellie said. "We were always trying to fix and tweak things to get him where needed be. On my end, I would know what was really going on at home, if he was really doing things he was saying. In 2015, he was doing every little thing he was supposed to be doing."
Added Day: "Golf's a funny game. It's a downward spiral. You lose confidence when you're not playing well, then you don't want to practice. You've got no motivation because you don't want to be on the golf course. When you're going through a tough time, that's when you need to bring the team in the most, listen and work your tail off. You fall down a hole, you're trying to dig out of this rut and when you're not practicing you're digging yourself even deeper."
That work, and all that went with being the top-ranked player in the world, proved admittedly burdensome to Day in 2016. He won three times, yes, but hasn't hoisted a trophy since the Players 15 months ago. In 2017, he has just two top-10s and has fallen to No. 7 in the world. He was also dealing with his mother battling what initially was believed to be terminal cancer. Her condition has since improved dramatically, but the emotion of it all weighed heavily on Day the first half of this year. Coming into the season's final major, he's hopeful to get back to where he once was.
"The hardest thing in golf is motivation comes and goes, but the discipline needs to be there every single day," Day said last month at the British Open. "Unfortunately I wasn't as disciplined at the start of this year as I had been over the last couple of years and the couple of years beforehand, because a lot of the work that went into winning in 2015 and 2016 happened the years prior to that, leading up to it.
"Saying that, I've been working very hard. I've been trying to tick the boxes, and hopefully I can see a light at the end of the tunnel."
To do so, he'll lean on those around him, the way any good CEO would and much the way he did in 2012. In the view of the TV audience and the fans on the course, golf might appear an individual sport, but outside that lens, there's a much larger machine at work making it all tick.
"More information is better," Day said. "At the end of day I have to want it. I feel like no one can beat me if I want it. But I can't do it alone. No one can."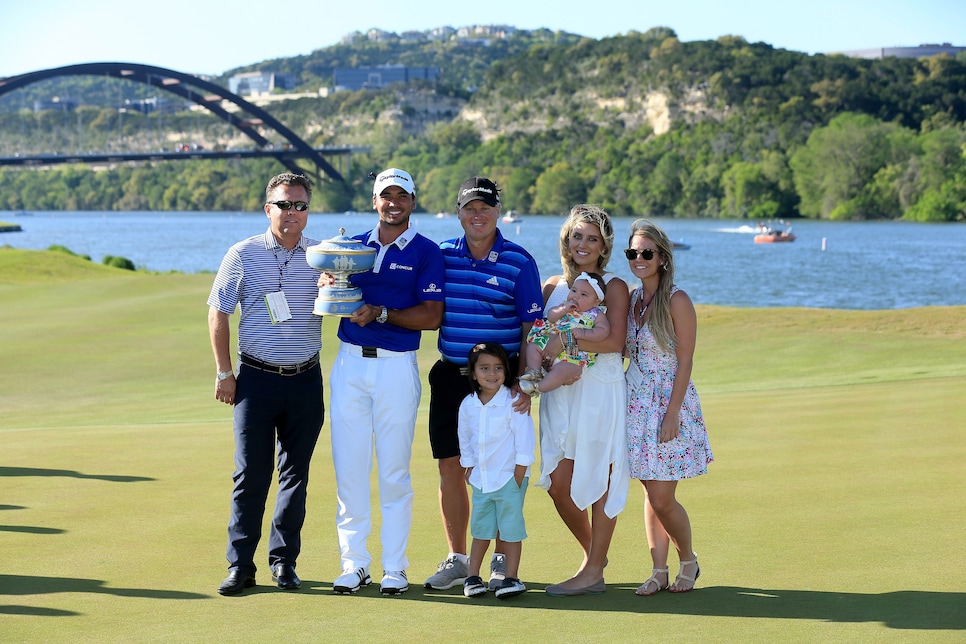 David Cannon/Getty Images