Show Me The Money
Pitt WR Jordan Addison reportedly transferring to USC on NIL mega-deal, will make more than JuJu Smith-Schuster with the Chiefs in 2022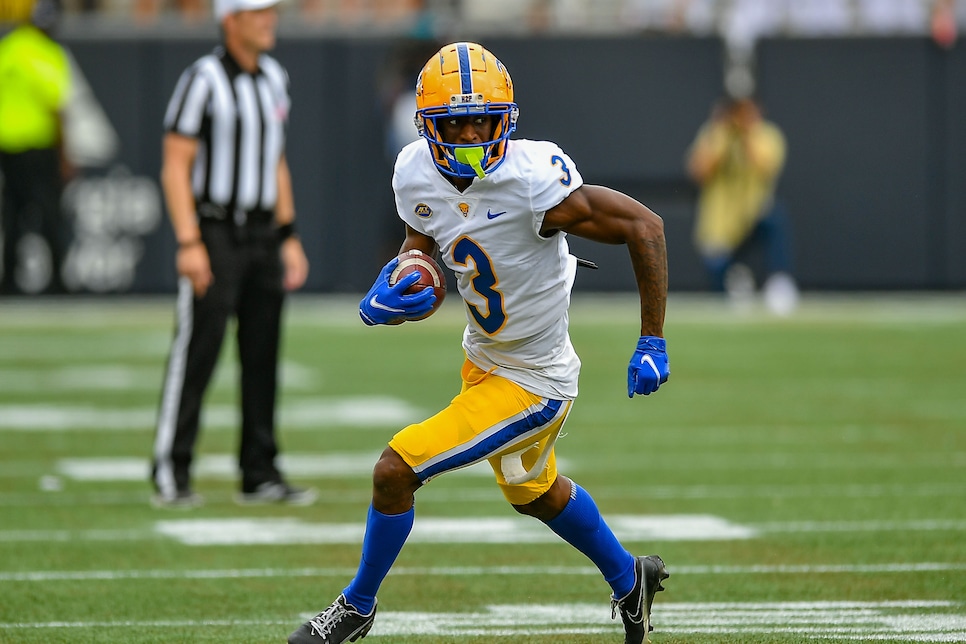 For weeks, the college football world has hung on the future on star Pitt wide receiver Jordan Addison. With Kenny Pickett under center in 2021, Addison racked up 100 catches, nearly 1,600 yards, and 17 touchdowns, averaging just shy of 16 yards per grab. With Pickett headed to professional pastures, however, Addison entered the transfer portal, destination unknown ... until Thursday that is.
That's when—amid a brewing SEC brouhaha over these very sorts of deals—news of Addison's imminent signing with USC broke. It was no real surprise that Addison would transfer to Transfer U, where Lincoln Riley has built the first program in America predicated on poaching, not recruiting, but there was one eye-popping detail:
$3.5 million, the reported value of Addison's 2022 NIL deal with the Trojans.
As Fillipponi points out, that's more than double what Pittsburgh Steelers rookie wide receiver George Pickens is set to make in the pros this season. But Pickens is a rookie, and the NFL has artificial caps on such contracts. More surprising was a comparison to a former Steelers wide receiver.
Smith-Schuster, himself a USC alum, is scheduled to make $3,250,000 with the Chiefs on a one-year prove-it deal this year. Smith-Schuster's stock has plummeted over the past two seasons, thanks in part to his TikTok fixation and the perceptions (earned and unearned) that came along with it. He sat on the market for a while this offseason before the Chiefs pulled the trigger, offering him $2,490,000 guaranteed with a $1,455,000 signing bonus. This is a guy who has 323 NFL grabs and 26 NFL touchdowns to his name. He's 25 and just now entering his prime … and he's about to be outpaid by a true sophomore whose NFL stats are 0, 0, and 0.
That says less about Addison and Smith-Schuster than it does the current state of college football. And despite what Nick Saban says, maybe it's not such a bad thing. Maybe guys will be more willing to stay in school now, hone their craft, and enter the NFL not only more NFL ready, but with a degree and some life experiences in hand. Or maybe this whole thing implodes and Addison becomes the answer to a mildly depressing trivia question, the first and last NIL mega deal. Either way, one thing is certain:
It's going to be messy. Gloriously, perfectly messy. Sounds like college football to us.