Takeaways
Jon Rahm's latest masterpiece, Rory McIlroy's "new" 3-wood shines, and Phil Mickelson's funny pre-round pep talk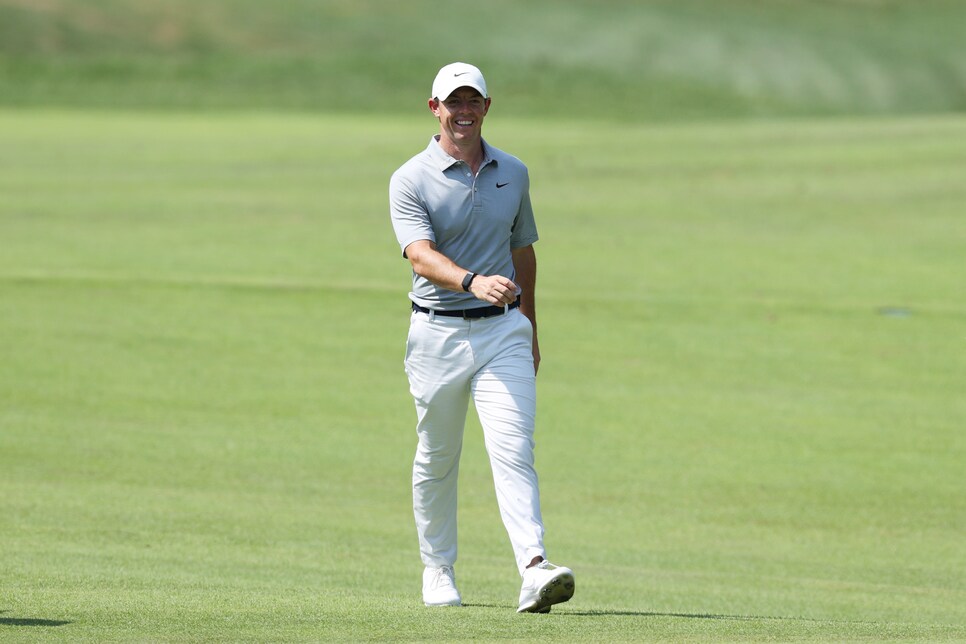 Welcome to Baltimore—or should we say, Birdiemore. The PGA Tour's first trip around Caves Valley Golf Club produced a sea of red comparable to what locals would see at a University of Maryland football game.
Of course, it helped that they played lift, clean and place on Thursday, "based on the remnants of Hurricane Henri that brought 2-3 inches of rain." That pre-round statement from the tour concluded with the following: "We'll evaluate the situation each day and make a decision based on the facts." Well, here are some facts from Day 1 of the second leg of the FedEx Cup Playoffs:
—More than 60 percent of the field shot three under par or better.
—Branden Grace should be demoted to the Korn Ferry Tour for shooting 75.
Just kidding, Branden. But seriously, what happened out there? Did you not get the tour memo about playing preferred lies?
In any event, give these guys a soft golf course—even a long and unknown one—and they will absolutely rip it to shreds.
Here are four other takeaways from Day 1 of the BMW Championship.
Does Jon Rahm ever have a bad week? This is obviously a rhetorical question because the answer is obviously NO. Heck, he never even has a bad day anymore.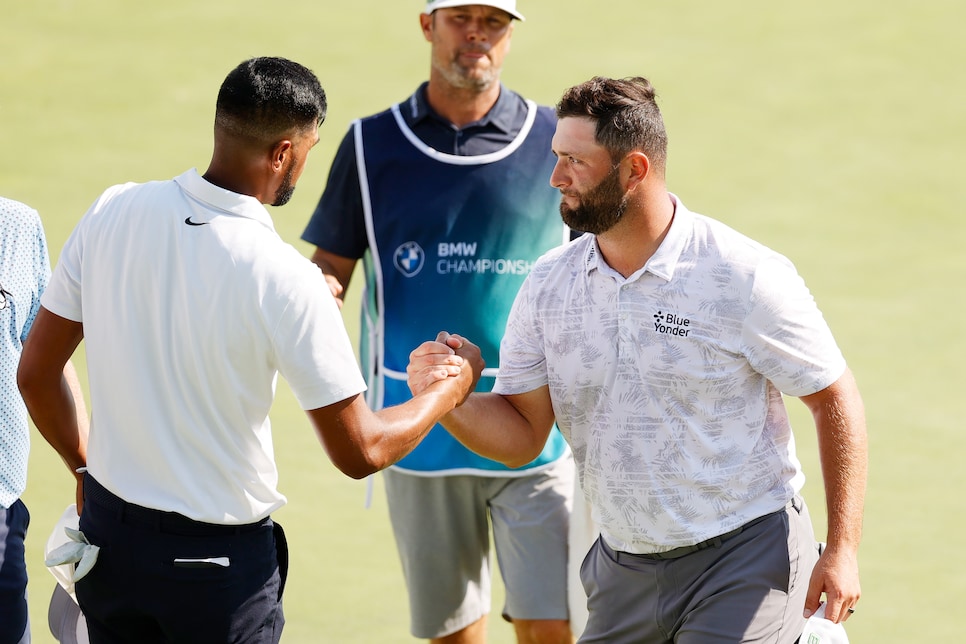 Sure, he blew a back-nine lead at The Northern Trust on Monday, but even that round was a 69. Then again, that's one of the worst rounds he's shot during a torrid stretch that dates back to the PGA Championship. And with a first-round 64 to grab a share of the lead with Rory McIlroy and Sam Burns, Rahm lowered his scoring average over his last 17 rounds to a scorching 67.2. Keep in mind that includes four rounds at a difficult Torrey Pines setup when he won the U.S. Open.
The guy is even sharp behind a microphone right now, drawing praise from Golf Twitter for his "Ted Lasso" comparison in which he said he's trying to be a "goldfish" after his close call at Liberty National.
"It's basically, happiest animal in the world is a goldfish," Rahm told reporters at Caves Valley after his latest bogey-free round. "You know why? He's got a 10-second memory. Played great golf last week, just a couple bad swings down the stretch, and that's the most important thing to remember."
If we were playing as well as Rahm the past few months, we'd like to remember more than the past 10 seconds. But hey, you do you, Jon. It's working.
McDonald's does your body good
Well, it doesn't wreck a finely turned athlete's body, at least. After making a celebratory stop at the Golden Arches at 3 a.m. Monday night/Tuesday morning, Tony Finau returned near the top of another leader board.
Coming off that long-awaited second PGA Tour title that moved him to No. 1 in the FedEx Cup standings, Finau fired a five-under-par 67 despite going bogey, double bogey on holes 13 and 14.
"I would say the freedom comes from just the confidence of coming off last week," Finau said after his round. "I haven't thought too much about it other than I know I'm No. 1 in the FedEx Cup, and I'd like to stay that way at the end of this week. That's most likely going to take a win, so that's why I think that finish was so important, that I don't get too far behind the guys that played really, really well today."
And suddenly, golfers all across the country aren't feeling as bad about fueling up on chicken nuggets and McFlurries.
Phil Mickelson's pep talk worked
The six-time major champ gave himself quite the motivational chat in the car on his way to the golf course on Thursday (don't worry, he wasn't driving). And we might see another one of these videos on Friday based on how Mickelson played. Here it is:
If Phil doesn't sell T-shirts that say "Who is going to ball?" on the front and "This guy" with a big thumbs-up on the back, then what are we even doing here? In any event, Mickelson wound up buttoning up his shirt a bit more than playing partner Harry Higgs on his way to an opening 68.
As the last guy to qualify for this week's tournament, though, Mickelson is going to have to continue to "go for broke" over the next three days if he's going to advance to the Tour Championship. He needs a minimum of a third-place finish to move from No. 70 into the top 30 of the FedEx Cup standings.
Rory McIlroy's new 3-wood worked even better
On the eve of the tournament, the four-time major champ revealed he'd arrived at Caves Valley without a 3-wood after tossing his old one "onto the New Jersey Turnkpike" during the final round of The Northern Trust. But after a lengthy practice session, he felt confident in his new club. Or, rather, his "new old" club. We'll let Rory explain.
"New old 3-wood. It's actually a 3-wood I used last year," McIlroy said. "I went home, I went down to Florida after Northern Trust on Monday night, went into the garage and rummaged through a few different things, got my old putter back out, got my old 3-wood, brought a few shafts out, tried different shafts in the driver, went to a new shaft in the driver, and it seemed to work out today."
Um, yeah, you could say that. Check out this majestic uphill approach from 285 yards out on the par-5 16th:
Positively glorious. McIlroy converted the eagle on his way to posting a 64 to match Rahm and Burns at the top of the leader board after Day 1. And after changing shafts, he hit 13 of 14 fairways with his "new old" driver. Hmm. Be right back, going to toss a few of my clubs onto a highway . . .