News & Tours
Jon Rahm invokes "Ted Lasso" mentality while pointing out hilarious, spot-on parallel with Dustin Johnson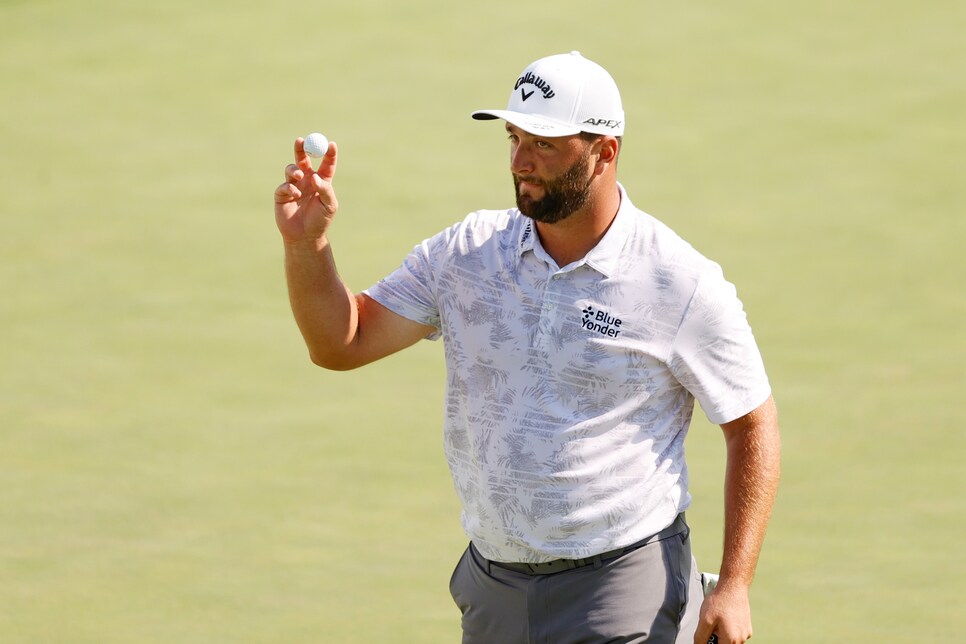 Jon Rahm turned in a marvelous display at Caves Valley Thursday afternoon, which in itself is not a surprise. Rahm is a marvelous player who has made a habit this summer of posting marvelous rounds; his eight-under 64 at the opening round of the BMW Championship was merely maintaining the status quo. But while the World No. 1 entered the second leg of the FedEx Cup Playoffs at No. 2 in the postseason standings, the Spaniard was also coming off the business end of Liberty National's back nine, which saw Rahm kick away The Northern Trust on Monday and fall short of a playoff. Had his Thursday fizzled out, few would have blamed the reigning U.S. Open champ for running short on gas.
Yet there he is, atop the BMW leader board. A position Rahm credits to a wildly-popular TV show.
The show would be 'Ted Lasso,' which details an American football coach taking the reins of a European soccer football club. In one of the program's first episodes, the eponymous character tells one of his struggling players to be a goldfish, one of the happiest animals on earth "because they only have a 10-second memory." It's a warm exchange that becomes a recurring theme throughout the show, and an exchange Rahm has taken to heart.
"I must say, for all those 'Ted Lasso' fans out there, be a goldfish," Rahm said, when explaining how he bounced back from Monday's performance. "If you haven't seen the show, you've just got to check it out.
"Played great golf last week, just a couple bad swings down the stretch, and that's the most important thing to remember."
Rahm's explanation begged a follow-up: Which PGA Tour player has the best goldfish mentality? And while Rahm delivered a response that's obvious in hindsight, it was still a spectacular—and spot-on—answer
"Oh, without a doubt Dustin Johnson," Rahm said. "He has the ability to forget unfortunate moments better than anyone else."
For what it's worth, Johnson—who is coming off a sluggish year by his lofty standards, including a missed cut last week—also enjoyed a strong Thursday at Caves Valley with a five-under 67.