Game Within The Game
Why the BMW Championship boasts the high stakes that a hefty purse can't buy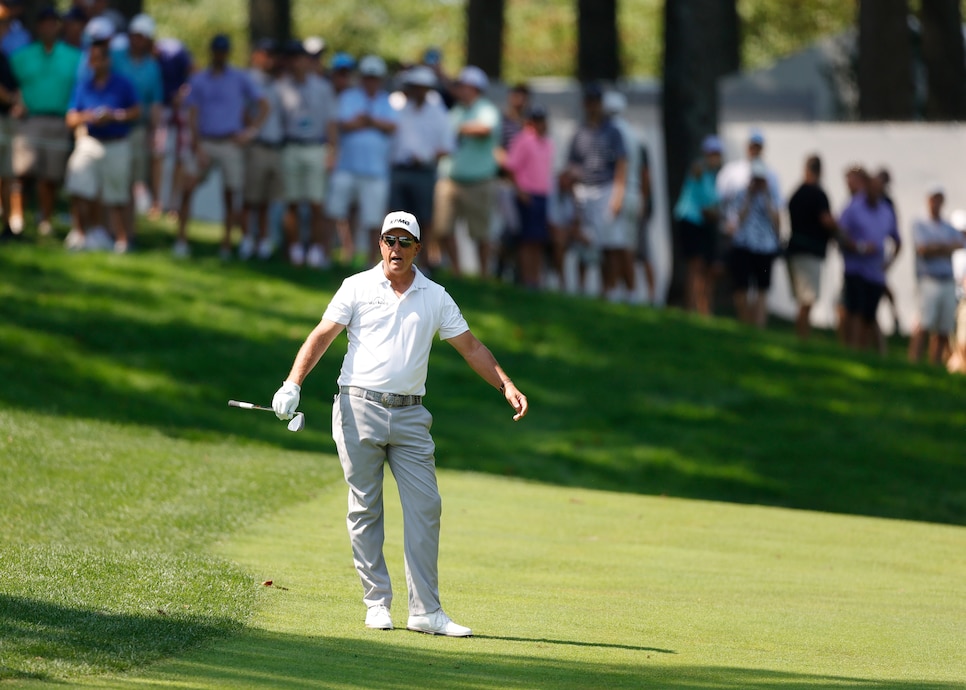 OWINGS MILLS, Md. — The primary motivations of a PGA Tour player can vary, but they generally fall into two buckets—money and legacy.
Those driven mostly on making a living will tailor their schedules, playing styles on the course and mental calibrations around the most secure way to deposit the most cash in the bank account at the end of a given week, year or career. Résumé builders tailor their schedules and think about certain shots, rounds and tournaments based on what it could provide for their legacy relative to their colleagues and those who came before them. The motivations are not mutually exclusive—some players just put one in front of the other—and the résumé builders don't exactly end up with insufficient funds in their accounts.
These motivations can come into conflict for a certain round or tournament, but at this point in the tour season, the 70 players left standing are not hurting for cash or a job with playing status well-secured for next season. That does not mean, however, that the trophy and $9.5 million purse at this week's BMW Championship are the only stakes. It's not that simple and contained. There are multiple games-within-the-game going on that might just be bigger carrots than what the BMW itself can offer.
Among the elite set of players at the top of the game, the push to make a Ryder Cup team is ever present. There's no direct monetary reward in that event, but the motivation to get there as one of the 24 players is year-long for American and European pros. The points race for the U.S. team closes this week and while the seventh player on the points list won't get one of the six automatic qualifying spots, his place on the team is likely secure as a captain's pick. Collin Morikawa, Dustin Johnson, Bryson DeChambeau, Brooks Koepka, and Justin Thomas are on the team. Tony Finau holds the sixth auto spot, but whether he relinquishes it to Xander Schauffele or Jordan Spieth is likely inconsequential. All three will be on the team, regardless of the formality of how they got there.
Then we launch off of the safe terrain and objectivity of a points system and into the nebulous skies of captain's picks. There are many candidates, six formal spots up for grabs, and arguably four or less actual spots up for grabs. Patrick Reed's illness brings more uncertainty to the finalizing of the roster in these next two weeks—potentially opening up the field just a bit wider. This is not a Ryder Cup roster standings update and we're not here to dive into the worthiness of each candidate in the crowded field. We're just simply going to enjoy the added stakes, tension and pressure it might bring over the next 54 holes for a bunch of really talented golfers who have had really strong seasons.
"I obviously haven't been in good enough form to be comfortable for next week, so it's going to take a special week," said Webb Simpson after an opening-round five-under 67. He's 13th on the Ryder Cup points list, but 52nd in the FedEx Cup points list, so he'll need to go for broke and try to win this week just to move into the top 30 in points and advance to the Tour Championship. "Atlanta is probably my favorite tournament of the year, so there's plenty of incentive for me to get there," he added.
Even if Simpson does not move on, he's still a candidate for a captain's pick, though not necessarily on the inside track. Barely on the track, and needing to advance to show off (or "ball" out as he put it Thursday morning) for another week is Phil Mickelson. Despite his major win earlier this year, Phil is 19th in the Ryder Cup points list, and he was the 70th and last player in the field this week. So he'll likely need to win here just to keep playing and give captain Steve Stricker some reason to take him, and then probably do something similarly special in Atlanta or else his incredible streak of being on every team since 1993 will end.
"The only way for me to have a realistic chance of being picked is to get into the Tour Championship and then play well in the Tour Championship," Mickelson said. "That means I've got to finish probably top three I'm guessing. I'm not really sure of the math. I mean, I'm not going to say … I'm certainly a long shot I would say, but I'm starting to play well, and if I can put together three good rounds, you never know." The four-under 68 first round is a start.
Every player up for consideration is asked about the Ryder Cup—Simpson, Mickelson, Daniel Berger, Xander Schauffele, Sam Burns, Harris English. It looms over the championship more than the 20- and 30-foot white grandstand walls encasing the 18th green.
Less ubiquitous is the race that the less-elite (but still elite!) talents are in to advance not just for the buckets of cash available next week at East Lake in the FedEx Cup Playoffs finale, but the opportunities it opens up next year. If you're one of the final 30 at the Tour Championship, it triggers exemptions into the Masters, U.S. Open, Open Championship, and several other premier events on the calendar. It's a massive carrot dangling at this BMW for players like Harold Varner III, Alex Noren, Hudson Swafford, Keegan Bradley, Cameron Tringale, Tom Hoge and others. They don't have the World Ranking, or tour win, to get them in the Masters at the moment but a hot week this week can bring plenty of guaranteed cash next week, and perhaps more critically, schedule security and opportunity in 2022.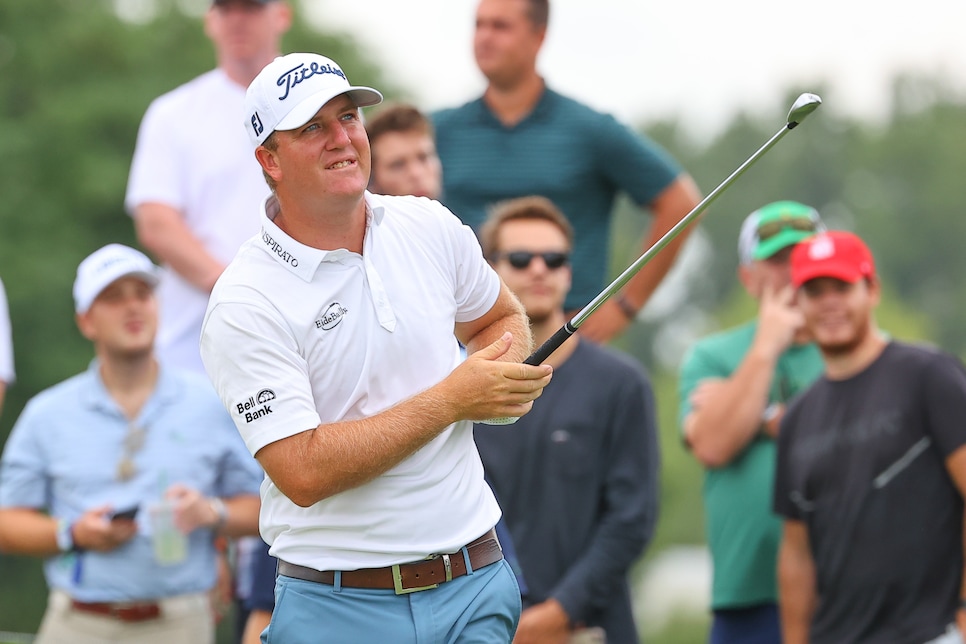 Tom Hoge was ranked 108th in the FedEx Cup standings before a fourth-place finish at Liberty National—which propeled him into the 48th spot entering this week.
Icon Sportswire
Playing in the second group off, Varner set an early pace at Caves Valley with a five-under 67. That became a crowded place on the leader board as more players got out on a first-time PGA Tour host that was yielding plenty of birdies. Varner will need to keep that pace, at the least, to advance into the top 30 to play next week. There's plenty of motivation for the 31-year old, who has never played in the Masters and would have some mail to look forward to around Christmas if he did survive the next cut.
Whether he was playing coy or calculated, Varner didn't seem to have all those perks on his mind on Thursday. "Actually, I don't think about it at all," he said of the benefits that come to next week's 30. "I just know if I make it to East Lake I'm going to make a lot of money, and kids aren't cheap. Yeah, I want to be there. I think I should be there, so it's … I don't see why not."
So, the stakes of this instant event are noteworthy—the purse is hefty and the field is strong and the winner will have accomplished something significant. But there's also plenty of concurrent moving parts beyond just the BMW Championship leader board. As you watch over the next three days, look beyond the circles and squares on the scorecard. It's a tipping point for the opportunity to make plenty of cash not just next week, but also next year. It's also a block to build a career resume, a legacy at a Ryder Cup or a major championship.
Considering the BMW within this context of what it does for a player at future, more prestigious events does not shortchange this championship. It enhances it, raising the stakes for what happens here over the weekend.