Welcome to the latest edition of the Ryder Cup stock watch, where we'll periodically take a look at how the U.S. and European teams are shaping up heading into this year's match at Whistling Straits. Golf Digest writers Joel Beall and Daniel Rapaport assess where Ryder Cup matters stand heading into the BMW Championship.
USA Rankings - Top 6 automatically qualify

1. Collin Morikawa
2. Dustin Johnson
3. Bryson DeChambeau
4. Brooks Koepka
5. Justin Thomas
6. Tony Finau
7. Xander Schauffele
8. Jordan Spieth
9. Harris English
10. Patrick Reed
11. Patrick Cantlay
12. Daniel Berger
European Rankings - Top 4 in Team Points, Top 5 World Points
1. Jon Rahm / Jon Rahm
2. Tommy Fleetwood / Rory McIlroy
3. Tyrrell Hatton / Viktor Hovland
4. Rory McIlroy / Paul Casey
5. Matt Fitzpatrick / Tyrrell Hatton
6. Paul Casey / Matt Fitzpatrick
7. Bernd Wiesberger / Lee Westwood
8. Victor Perez / Shane Lowry
9. Robert MacIntyre / Tommy Fleetwood
10. Guido Migliozzi / Victor Perez
11. Thomas Detry / Robert MacIntyre
12. Viktor Hovland / Ian Poulter
DR: Northern Trust champ Tony Finau's electric back-nine 30 on Monday at Liberty National, which saw him chase down the World No. 1 and put to rest the when-will-he-win-again discussion, all but locked up his place on Steve Stricker's team. With his big game, easy-going personality and strong performance in France, he was likely going to make it anyway, but the victory saw him jump all the way to No. 6 in the points race with just one week of qualifying remaining. It's rather tight between him, Xander Schauffele and Jordan Spieth for that last auto-qualifying position, but you'd think all three of those guys are locks to make the team at this point.
That leaves four remaining spots—one of which, we thought, would go to Patrick Reed. But news that the 31-year-old was hospitalized with double pneumonia would seem to throw his candidacy into question. He's missing this week's BMW Championship, and at No. 26 in the FedEx Cup points standings at present, there's a good chance he misses East Lake as well. Assuming his PGA Tour season is over, does that torpedo his chances to make a seventh-straight U.S. team (Ryder and Presidents Cup)?
JB: Let's state the obvious since this is the Internet and the Internet regularly struggles with such things: Monday's news on Reed's health was frightening, serious and somber. You would think being banged over the head with this type of news over and over the past 18 months would dull its impact, but it continues to cut every time. We consume and digest and judge golfers as entities in the public eye; that is part of the social contract with professional sports and celebrity in this country. But they are also people with private lives, and at this juncture it's worth remembering Patrick Reed is a husband and father. So our discussion that follows is about Reed the golfer and his relation to a golf tournament, made with the assumption that Reed the person is OK and will return to good health in due time …
As for Reed the golfer, the prevailing opinion was that he would make the team no matter what happened during the playoffs. A good outing or two would have been nice for optics and perhaps made for an easier sell, especially given Reed's good-but-not-great year following his Farmers Insurance Open win. Yet Reed's inclusion was always fettered to the same notion that has spurred so much success for the Europeans in this event: that one's past with the Ryder Cup has equal footing, if not outweighs, one's performance leading up to biennial match. In that vein, Reed's season coming to a premature end doesn't change the sentiment.
Of course, it's not that Reed's season is ending, but how. And while the answer seems straightforward, it could be far more complex.
Because the straightforward response would be Reed is out. He is in the hospital battling an infection in both lungs. Even if he was discharged as of this writing, the spectrum for recovery so wildly varies—a patient could experience fatigue anywhere from weeks to months after infection, according to the American Lung Association—that Reed may not be feeling like his normal self until 2022. That does not seem like the profile of a player up for the circus that is the Ryder Cup. In that same breath, we are discussing a golfer who relishes the idea of being impervious to matters that would sink lesser souls. Moreover, what if Reed announces this week that he's out of the hospital, is feeling fine and looking forward to Whistling Straits? Wouldn't that put Stricker in the bizarre position of having to pick Reed as a somewhat sympathetic figure?
Personally, I think the play is for Stricker to get in front of this. Announce Reed will be a part of the team in some capacity. Maybe go ahead and name him a captain's pick, with the caveat that he may not be physically ready by the end of September and if that's the case Reed will be transitioned to an assistant. It diffuses this potential pyrotechnic before it has a chance to be lit, showing respect for Reed and his situation while allowing Stricker to continue to piece together the best 12 parts that he can. Again, the news is still fresh, but at this moment, I think we have to proceed under the belief Patrick Reed will not be one of the 12.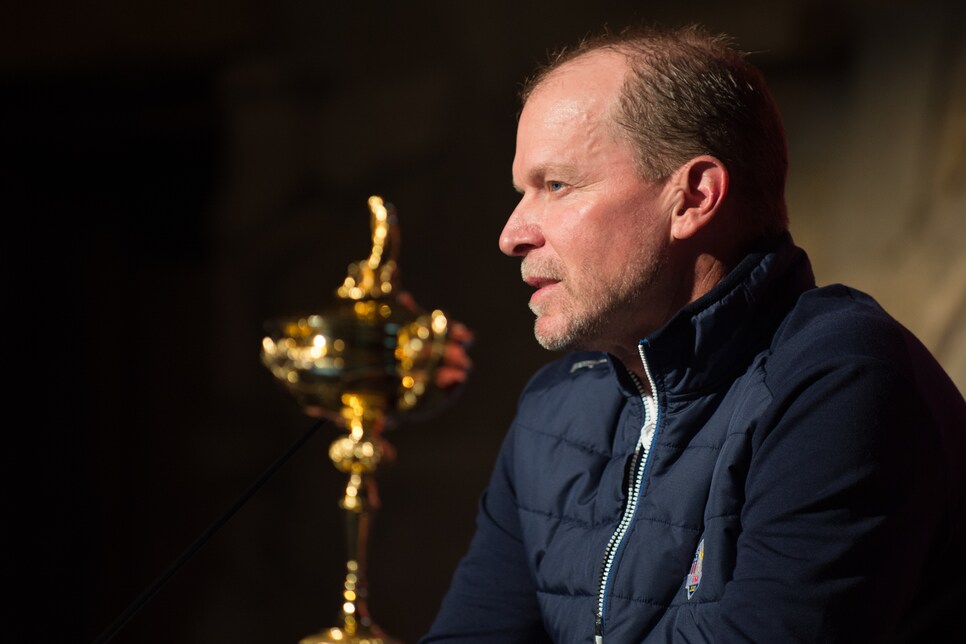 Montana Pritchard/PGA of America
DR: Good on you for clarifying that any discussion about Reed's golfing prospects comes a distant second to his health. Now, moving on …
The early captain's pick idea is an interesting one, I just don't think he's the right candidate for it. It'd be a lovely gesture of goodwill … but is Reed a guy Stricker feels he needs to do good by? Keep in mind, since the last Ryder Cup, Reed: has been penalized for improving his lie in a bunker in the Bahamas; threw gas onto the ensuing fire by doing a digging celebration at the Presidents Cup; watched his caddie in Melbourne punch a fan and get banned from the grounds for Sunday singles; was involved in another rules controversy at Torrey Pines; sent out an all-caps DEFENSE FROM HIS OWN TWITTER ACCOUNT, which was clearly meant to be posted somewhere else; and posted zero top-10s in his last seven starts.
Reed's saving grace has always been his golf; you can tolerate the off-field stuff so long as the on-field stuff excels. If he's not going to be on the team, are we sure the other 12 will want him whispering sweet nothings in their ear as an assistant captain?
We won't know if he'll be physically able to go until we get another update on his condition. But if he's not 100 percent, and given his meh recent form and propensity for controversy, there's a good chance he's left off the squad. It's a perfect out for Stricker.
Let's talk about another potential captain's pick: Kevin Kisner. After his win at the Wyndham, his candidacy has been the talk of social media, and he seems to represent the archetype of the sort of outside-the-box, match-play specific pick that Jim Furyk avoided in 2018. What are your thoughts on the matter? And am I wrong for thinking a different Kevin, albeit one with similar putting skills and mano-y-mano mojo, might be a better pick? We speak of Mr. Na, of course.
JB: But you bring up a good point about the Kevins and an outside-the-box approach. On the latter, Furyk was ripped for not catering his captain's picks to Le Golf National and instead going chalk. Granted, this was after the fact; everyone was pretty damn excited at Tiger Woods, Phil Mickelson, Bryson DeChambeau and Tony Finau as Furyk's selections while ridiculing Europe's decision to bring in war horses. Still, if there was a lesson from Paris, it's that the venue should factor into how a captain will use his picks. The problem is while this theory would have helped Kisner in 2018, it might hurt him—and Na—this go-around.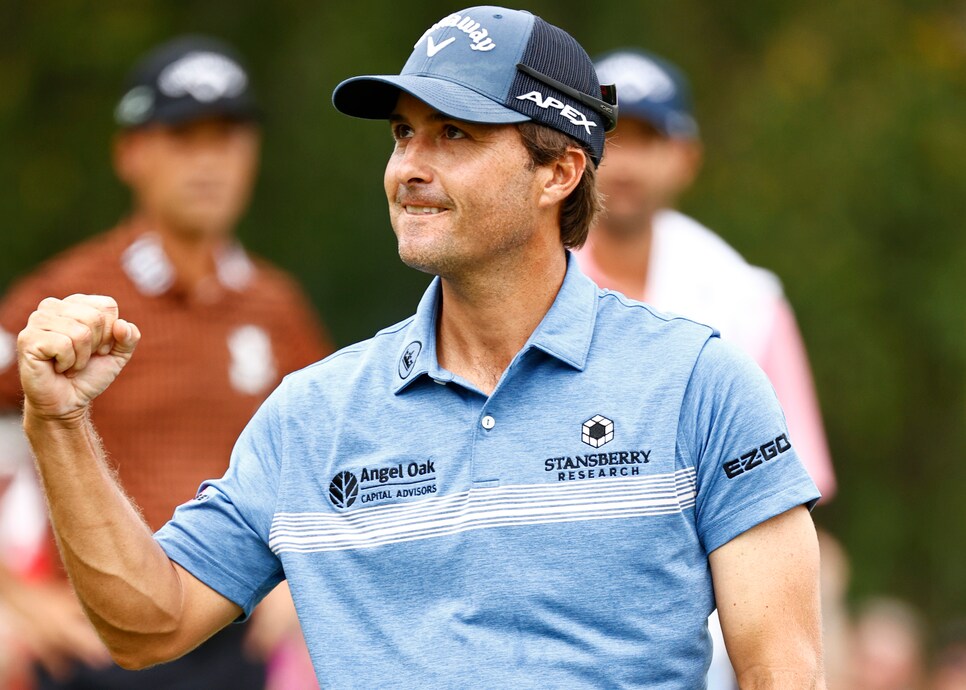 Whistling Straits isn't a one-dimensional course; yes, it's a bomber's playground, as its roll call of winners attests. It also is friendly to those with creative short games; Zach Johnson finished one shot out of a playoff at the 2010 PGA, with Spieth finishing second at the 2015 PGA (and don't forget, Jason Day was lights-out with the putter when he won the Wanamaker that summer). Still, it's an open secret that the PGA of America and Stricker will craft the course's conditions to Team USA's strength. This means the rough, well, won't be so rough and as an extension that should devalue putting to a degree. Not for nothing, Kisner missed the cut at the 2015 PGA; Na failed to make the weekend in 2015 as well, and posted a T-58 at the 2010 PGA.
Worse, this team is short on experience: Out of the eight "locks" only Spieth and Dustin Johnson have appeared in more than two Ryder Cups. Not to get the cart ahead of the horse but Patrick Cantlay and Harris English seem like sure-things too, and neither have played in a Ryder Cup. Suddenly this is a team short on reps (more on this in a moment). While Kisner was beloved at the 2017 Presidents Cup (captained by Stricker, mind you), he's never appeared at the Ryder Cup. Same with Na. I'm not saying it hurts their cases, but it certainly doesn't help.
Which is a shame; Kisner has that "I called next from the parking lot" demeanor that Team USA has desperately lacked (especially if Reed is out), and if Na is willing to stand up to DJ at a WGC event, think of the dust-ups he could incite at a Ryder Cup.
Tossing it back to you, am I wrong for putting English and Cantlay on the team? If so, how many guys have a legitimate shot at the final two spots? Because in my mind, it's down to three, assuming no one comes out of the woodwork the next two weeks.
DR: I want to push back just a bit on the lack-of-experience talk, because it's predicated on the Presidents Cup not counting as team experience. No one is comparing the intensity or import of the two events, but you still play foursomes and fourball matches with a compatriot partner and then singles on Sunday. Of the guys we've mentioned, English and Na would actually be the only guys who haven't represented the U.S. in a team competition, and thus the only true rookies.
I agree that both English and Cantlay are locks. English has two wins on the year and it might've been three had he been playing with anyone beside Bryson DeChambeau on Sunday in Memphis. Cantlay also has two Ws, is third in Data Golf's ranking and 10th in the OWGR, and has a natural partner in Schauffele. I'd suggest they book their plane tickets to Wisconsin now, but something tells me the PGA of America has a swankier travel alternative lined up for the squad.
We're now up to 10, so two spots left. We've already discussed the Reed situation. That leaves the Kevins, Daniel Berger, Scottie Scheffler, Webb Simpson, Phil Mickelson, Will Zalatoris and Sam Burns. Burns and Mickelson would need huge finishes to get back in the conversation, and Zalatoris is likely cooked as he's not in the FedEx Cup playoffs—a discussion for another time—but those other two spots are absolutely, positively up for grabs. Chalk would dictate Berger and Scheffler, but perhaps Stricker wants Simpson's steady leadership around. Factoring in how you think these last two tournaments will play out, who do you think gets those final two spots?
JB: It's Berger and Simpson. More and more sources around the team say Mickelson isn't truly in the running at the moment, and save for a win at Caves Valley this week, I think that holds true. As good as Burns and Jason Kokrak have been, they'd likely need a victory over the next two weeks to get in the mix. I don't disagree that we can't throw out the Presidents Cup, but in all due respect to that event (which means it's about to be disrespected) this is a different beast. The Euro model has proven you need Ryder Cup experience, and with this team in particular, you need age, reason, wisdom. With Mickelson likely out, Simpson fills the void. And if Simpson instead of Scheffler seems like a snub, keep in mind Simpson is ahead of Scheffler in Ryder Cup points, whereas the Europeans are looking at guys WAY down their respective lists to fill out their team.
Speaking of which, there's not as much guesswork with the European team. Their automatic qualifiers are mostly locked, and Ian Poulter and Sergio Garcia seem to have tabs on two of the three captain's picks. Does Paddy Harrington go straight vets with Justin Rose, or does he try to get a young player with the team already heavy on 40-somethings?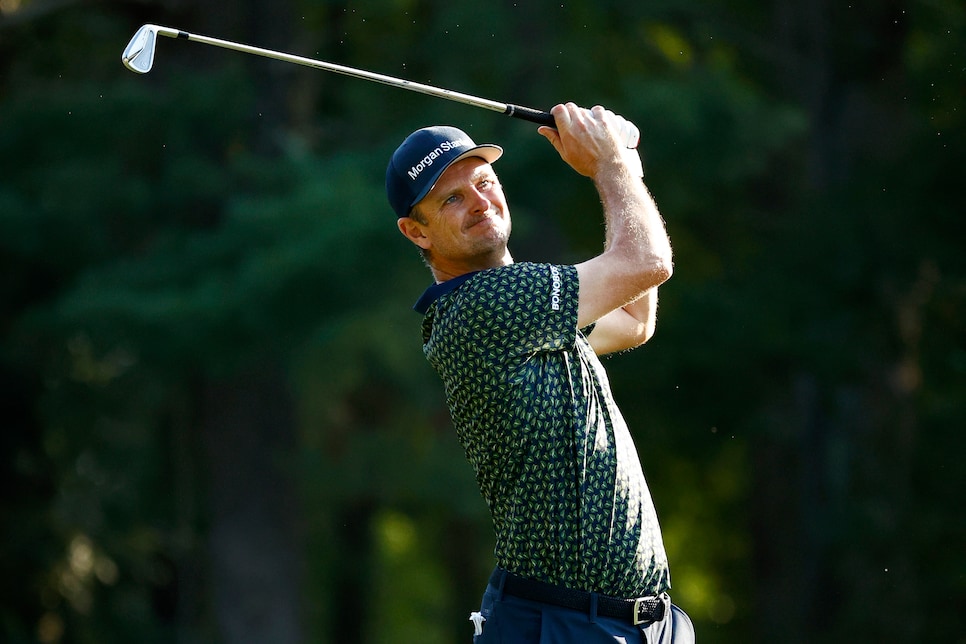 DR: I'd go as far to say, and sources close to the team agree, that 11 of the 12 spots are essentially spoken for. Jon Rahm, Viktor Hovland, Rory McIlroy, Tommy Fleetwood, Tyrrell Hatton, Paul Casey, Matt Fitzpatrick, Lee Westwood, Shane Lowry, Ian Poulter and Sergio Garcia are going to be on the team. I'd wager a large sum on that being the case. The first eight are close to being locks to auto qualify, though the BMW PGA Championship at Wentworth could provide a late curveball if Bernd Wiesberger, Victor Perez, Robert MacIntyre, Guido Migliozzi or Thomas Detry win it. (Justin Rose, incredibly, probably still wouldn't auto-qualify with a victory). That's unlikely to happen, and even if it does, the guys they'd bump out—Fitzpatrick, Westwood or Lowry—would get a pick.
I truly see this as a two-player race between Rose and MacIntyre. Rose brings the experience and has a proven record of performing well in huge events in the United States. Had he made the playoffs, showed some level of form at Liberty National and been OK at Wentworth, Paddy likely would've decided on him and called it a day. Only he didn't—he bogeyed the 18th on Sunday at the Wyndham to miss the postseason, and he didn't enter either the Omega European Masters or Italian Open. Sources have said Harrington wasn't too pleased at the lack of initiative; if the guy desperately wanted in the team, he'd do whatever he could to prove he's playing well enough. On the opposite end of the spectrum is MacIntyre, who's playing in the Korn Ferry Tour Finals to try to lock up his PGA Tour card … only he missed the cut at the Albertsons Boise Open, which, well, not great. I still think it's Rose mainly because they're not a better option. I suppose Alex Noren could build on his T-4 at The Northern Trust and make a late play.
JB: It's an interesting development. I have been somewhat surprised by the Rose whispers, considering he's played on the last four Ryder Cup teams and five in his career. And the MacIntyre Dilemma—which sounds like an awful Netflix miniseries about a 1980s murder case in Aberdeen—isn't helping. Because on one hand, good on him to chase a tour card when his World Ranking would grant passage into most of the meaningful events next year. But as you mentioned, even for a game known for delivering humility, coming out on the business end of Boise will leave a mark. Unless Young Bob gets hot over the next three weeks, whatever hard feelings exist with Rose's schedule will cool when it comes time for Paddy to pull the trig.
This was a pretty American-slanted roster watch, but as we agreed, the Euro team is mostly spoken for. So we'll end on this: Bryson DeChambeau announced he will compete in the World Long Drive Championship, which begins the day after the Ryder Cup ends. Any worries that DeChambeau flirting with golf's version of Home Run Derby could have an upshot at Whistling Straits?
DR: Oh man. The temptation here is to dunk on Bryson, who does seem to be in a pretty profound rut at the moment. (He never even considered speaking with media at Liberty National, for whatever that's worth.) But I think the key word here is after. It's after the Ryder Cup. This isn't Phil switching to Callaway right before the 2004 Ryder Cup; what Bryson does after the week is his business. If it was before, that'd be an entirely different story. The only potential problem I see is the optics, which aren't the greatest in the world. But on the pantheon of Bryson Things, this one feels pretty innocuous. Am I being too kind?
JB: I get the backlash, but genuinely don't think DeChambeau is going to switch his training to prepare for a long-drive contest over the Ryder Cup. Then again, that I had to type that sentence underlines it's always something with this cat, and if he does mess with his swing and come out flat against the Euros, it would be a sadistic, yet fitting, end to this summer from hell for the big man.