If you've read past any of the headlines of the PGA Tour's tentative deal with Saudi Arabia's Public Investment Fund over the past 24 hours, you've undoubtedly seen the name Jimmy Dunne. Unless you're a close follower of the Seminole Pro-Member, then you've also likely asked yourself "Who is Jimmy Dunne, why is his name everywhere I look, and what makes him such a big deal in the golf world?"
Well, in that case, you've come to the right place as we sort through how this ultra golf insider played a key role in brokering a peace deal no one saw coming.
In basic bio terms, Dunne is the vice chairman and senior managing principal of Piper Sandler, an investment bank and financial services company heavily involved in mergers and acquisitions. He was one of the founders of Sandler O'Neill and Partners, which in January 2020 was acquired by Piper Jaffray. Dunne helped Sandler O'Neill grow into becoming one of the largest independent full-service investment banking firms, focusing on the financial-services sector. A graduate of Notre Dame and a Long Island, N.Y., native, he began his career on Wall Street and has risen to become a rather large deal in the financial world. He's also an avid golfer, and his love of the sport not only played a role in saving his life (more on that later) it led to him having a very important hand in what has transpired in the golf world this week.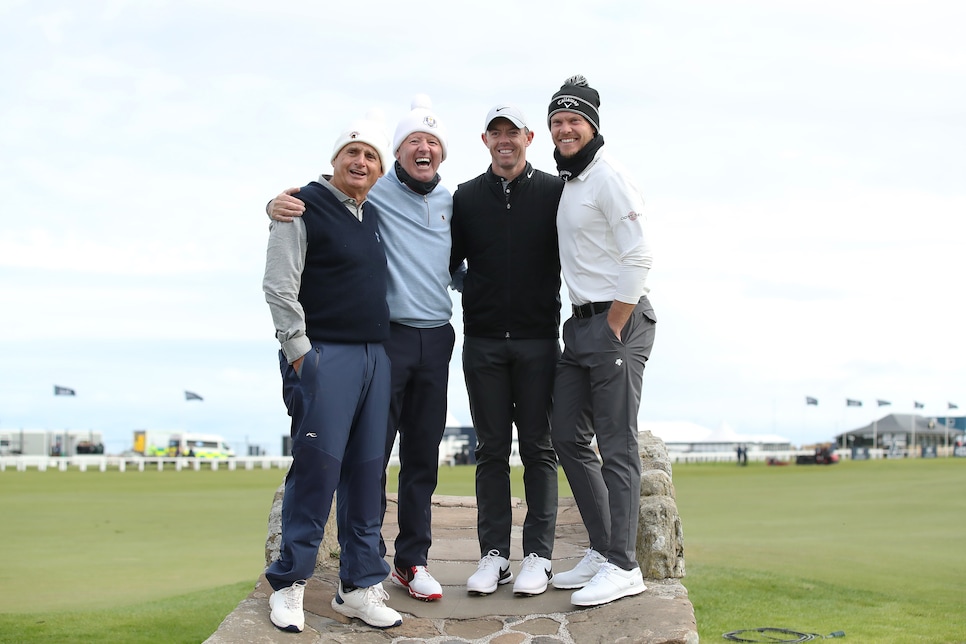 Jimmy Dunne poses with Gerry McIlroy, Rory McIlroy and Danny Willett on the Swilcan Bridge during a practice round prior to the 2022 Alfred Dunhill Links Championship at the Old Course.
Jan Kruger
Well, for starters, Dunne is a member at some of the most exclusive golf clubs in the world, allowing him to rub elbows with some of the biggest power players in the sport. He belongs to Augusta National, Pine Valley and National Golf Links on Long Island, just to name a few. He's also the president at Seminole Golf Club, which plays host to the famous Seminole Pro-Member, annually held the Monday after the Honda Classic. Everyone from Rory McIlroy, to McIlroy's father Gerry (one of Dunne's golf buddies and a Seminole member himself) to Tom Brady shows up to the event.
OK, what does that have to do with the PGA Tour and LIV Golf?
So he's against LIV? But didn't he help broker this deal?
According to everything we've learned so far, yes, Dunne played a huge role in bringing the PGA Tour and Saudi Arabia's Public Investment Fund (PIF) together despite one of his original tasks being to persuade stars to not jump to LIV Golf. PGA Tour Commissioner Jay Monahan mentioned Dunne specifically when talking with the media on Tuesday, noting that Dunne's initial meeting with PIF Governor Yasir Al-Rumayyan paved the way for the framework partnership. And it was Dunne who was the person who actually gave Rory McIlroy the heads up of an announcement coming on Tuesday.
Dunne did all this despite the fact that he was staunchly anti-LIV, sympathizing with the families of 9/11 victims, a tragedy that hit close to home for him. Dunne credits golf for saving his life on Sept. 11, 2001. Instead of going into work in the South Tower of the World Trade Center on that fateful day, Dunne was out of the office trying to qualify for the U.S. Mid-Amateur. He lost many of his close friends and colleagues, and later helped set up a foundation that would pay college tuition for all 76 of the children of his fallen colleagues.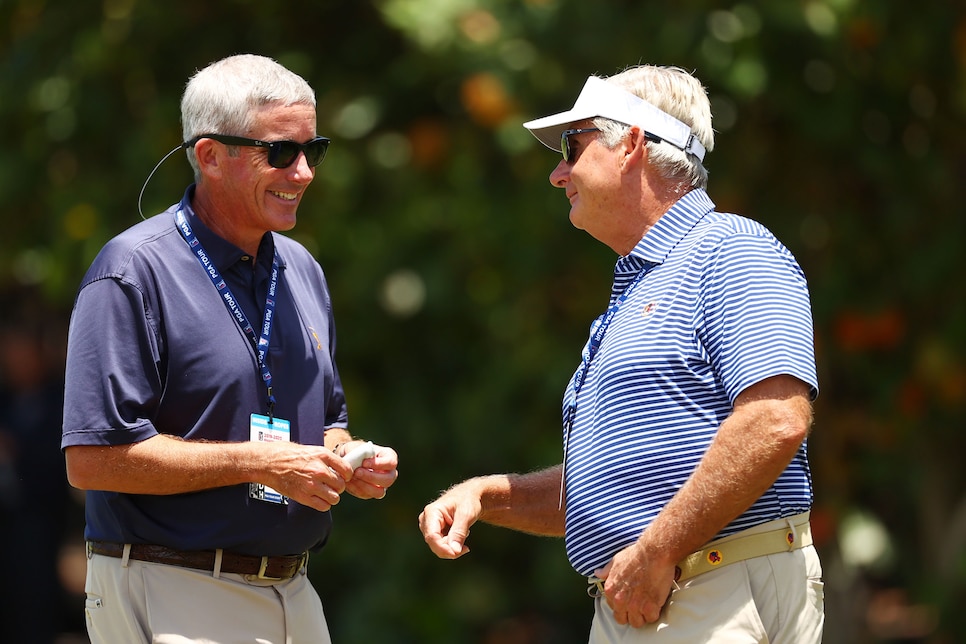 Dunne has known PGA Tour Commissioner Jay Monahan for years, but started working even more closely with him after joining the PGA Tour's Policy Board late last year..
Mike Ehrmann
How critical of LIV was he?
Very. Dunne told Sports Illustrated's Michael Rosenberg last June "I don't like it when they say they're 'growing the game.' That's crap. I don't even like it when they say 'I have to do what's best for my family.' I really wonder how many of those guys, the lifestyle that they were living was so horrible that their family needed them to do this. Just say, 'I'm at a point in my career where I (want to) make five times as much money against much weaker competition and play less.' Just tell the truth. Don't cover it with a lot of crap." Dunne also called out LIV CEO Greg Norman, calling him "the luckiest man in the world" because "he had this vendetta his whole career and he found someone to bankroll it." He was also critical of the LIV format and its absence of the meritocracy factor that makes golf so great. Dunne even went as far as keeping LIV players out of the annual Seminole Pro-Member.
Quite a bit, evidently. Dunne was one of the select few in the know when it came to this PGA Tour-PIF partnership, again highlighting the extent of his influence in golf. Famously known as a cut-to-the-chase guy, it's been reported that Dunne had the first productive conversation with PIF Governor Yasir Al-Rumayyan in regards to "unifying" golf. According to Monahan, "They were able to have a discussion about how we work together to grow the game, how we work together to grow the PGA Tour, and to really get an understanding and start building some trust as we pursued that. The first conversation, that I was not a part of, was the most important. When they came back and said it was a positive conversation and that I should have a follow-up meeting, that's when things started to develop."
Oddly enough, Dunne also had previously called out Al-Rumayyan, who once said that any player who shot 54 on the LIV Tour would get $54 million. "That's like something you'd see on 'Saturday Night Live'," Dunne said of the move. "It's an exhibition, okay?" Dunne has also consistently said that he would never work for the Saudis. In this case, Dunne is working with them, which is an important distinction.