9/11 Retrospective
A Year Of Living Gratefully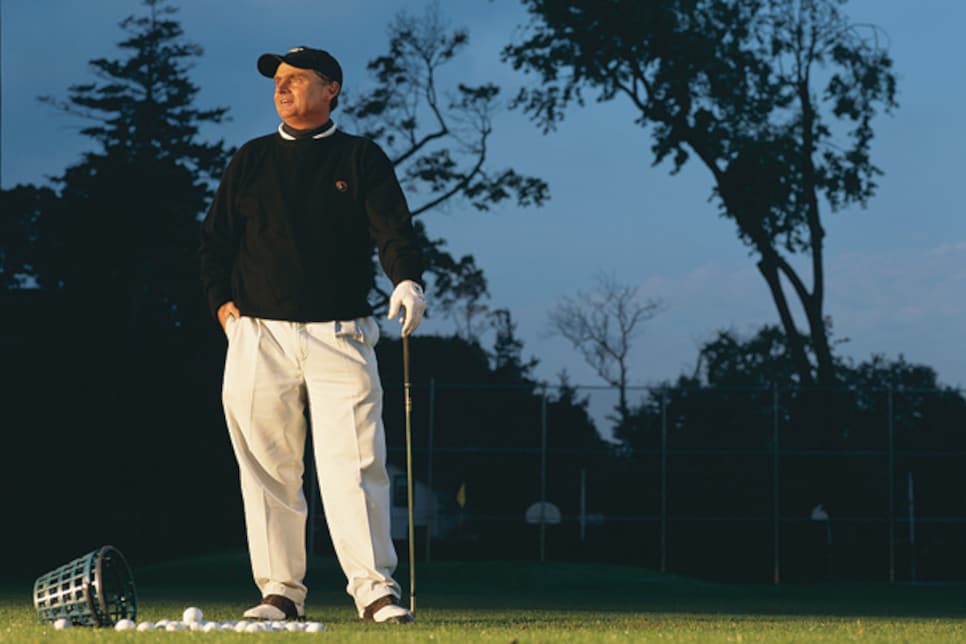 Editor's Note: This story first ran in the December 20, 2002 issue of Golf World magazine.
Whether he was in coveralls or a custom suit, buzzed or sober, finishing a bond trade or the front nine, Jimmy Dunne III always remembered what his father told him: Anticipate. The next conversation, the next deal, the next step. But sometimes lately, as the 18-hour days stacked up one to the next like bad traffic, anticipation yields to reflection. He must look back.
Jimmy was the short one, a second helping stouter than average. He had that look: This boy is going places, but he will raise some hell along the way. Chris Quackenbush was the tall one, a little gawky, the type who would grow into his height. Wore wire-rimmed glasses. Father was a doctor. He looked like the kind of kid you'd want taking a test for you.
They were 14, on a practice range at Southward Ho CC in Bay Shore, N.Y. They were Long Island kids, something always going on. Didn't know each other. The short kid was hitting balls. He already loved golf with a passion, and he was pretty good. The tall kid was new to the game, just learning. He was taking a lesson, grooving his swing, when the pro made him pause. Keep working at it, Chris, and some day you'll be able to hit the ball as well as Jimmy over there.
"I doubt it," the short kid said to the tall kid.
"I'm going to beat you," the tall kid said to the short kid.
Thirty years later a lucky man was on the first tee at Augusta National, wondering what he was doing there. Outside tournament week, without the huge galleries and the hues of spring to frame the holes, the familiar course held a disconcerting sweep that matched his mood. Steadying his hand, he thought to put his best friend's initial on a golf ball. With one bold "Q," Dunne was writing a lot of history.
IF GOLFERS STILL wore metal spikes the pacing would have filled the room with clickety-clacks, but Jimmy Dunne moved across the concrete floor again and again without a sound track, without that old comforting echo of his favorite game. His life was getting worse with each step.
The challenge, the camaraderie, the code—golf had only meant good things to Dunne. But minutes earlier a man with a worried look and a walkie-talkie had approached on the seventh hole, and now the game was backdrop to a different mood.
What a day it promised to be. Dunne was 44. He had been working on his golf, playing better than ever. He held a 1-handicap and was intent on qualifying for the U.S. Mid-Amateur Championship for the first time. On Sept. 11, 2001, the sky was so clear over Bedford (N.Y.) Golf & Tennis Club, 50 miles north of New York City, it was as if someone madly in love with blue had painted it in bold strokes.
"Your first impression of Jimmy is, 'Gee, this guy is out of control.' He's going 100 miles per hour, fidgety, high-energy. If he's your partner, you want to grab him by the collar and say, 'Slow down.' "
—Vinny Giles
Dunne usually took the view from his office for granted, but had he been there on such a pristine day he might have caught himself gazing out the window, north toward the Empire State Building, north toward where he lived along the East River in the 50s.
"Don't call in tomorrow morning," Herman Sandler had said to Dunne as he left the offices of their financial services company the previous night. Sandler was Dunne's mentor. He didn't play golf but that didn't keep him from appreciating how much Dunne loved it. "Nothing is going to happen. Qualify for this mid-whatever-it-is."
Then, on the seventh tee, this man with the walkie-talkie had approached, a man with something on his mind.
"Are my children OK?" Dunne asked him.
"Yes. But you have to call home."
Wondering whatinthehell Dunne played the par 5. On in three, two putts. Routine. But the man was still there.
He left his caddie and his clubs on the eighth tee. Soon Dunne was out of the brilliant sunshine, sequestered in a dim bag room with phones filling his head with anguish and confusion.
There was a television. He didn't know for sure—what did anybody really know then?—but he believed Quackenbush, Sandler and dozens of other friends and colleagues at Sandler O'Neill & Partners likely were dead, victims of the attack on the south tower of the World Trade Center. Surrounded by dread, Dunne insisted on paying Jim Poppe, a retired fireman who had been carrying his clubs. The pro's wife, trying to help, offered him a drink. He said no. Six hours later, a little after 5 p.m., Dunne arrived on a Metro North train at Grand Central Terminal. He ran toward Sandler O'Neill's satellite office at 48th Street, but aware that he needed to appear in control, he slowed down and walked the last two blocks. As he got to the door he sucked in enough air to take him to the bottom of the sea, and then he went to work.
DUNNE HAD MADE it big. He played golf at places where there was someone to shine your shoes, Pinaud talc on the counter, combs floating in that blue stuff, paper slippers to wear out of the shower. Guys like Jimmy Dunne never had to wait for balls to go on sale at a discount store in a strip mall. He could sign for things at some of the world's best clubs, courses on lists and in golfers' dreams, places with little signs and big reputations.
Pine Valley. Seminole. Shinnecock Hills. National Golf Links of America. More than a dozen others. Courses everybody wanted to play, but the best for which most of them could hope was a logoed shirt if they knew someone who knew someone.
To anyone who knew Dunne, it was no surprise that he had been out of the office and on a golf course. When he was in his mid-20s, a girlfriend remarked that their relationship, which had begun in winter, was going so well.
"We haven't hit any bumps yet," Dunne told her. "It'll be spring soon." When spring came, Dunne was gone from dawn to dusk Saturdays and Sundays playing golf. "We didn't make the cut," he says.
When he was dating his wife, Susan, who grew up on the same street in Babylon, N.Y., as he did, he played so much she thought 36 holes was the norm. Flying to Hawaii for their honeymoon, he asked her to quiz him on a list of top courses. She'd name a course, and he'd name the architect. Eventually he'd play every course on the Golf Magazine top-100 list, layouts all around the world, making a friend at every one.
He hit low, boring shots and seldom made foolish mistakes. He thought he could get better if he could just try a little harder on every shot, and he already played hard. "You talk about a personality coming out on a golf course," says friend Andy Armstrong. "If you've got a match with Jimmy, he's a pit bull." Dunne played at least 200 rounds a year, more than some tour pros. All of it was fun, but most of it was for business. "At Sandler O'Neill," he says, "the golf was a weapon."
Dunne had a supersized personality—deep voice, booming laugh—but he wielded the sport gently, respectfully. Building relationships. Brokering deals. In a suit Dunne could be colder than Greenland when he had to be. In an article about Sandler O'Neill earlier this year, Fortune magazine reported Dunne once berated a trader, "The next time you do something smart, monkeys'll fly out of my ass."
But on the course and around a clubhouse—to his clients, his buddies, his caddies—he was good company, nothing but. As a kid, at the munys on Long Island, Dix Hills and Sunken Meadow, his dad told him never to be nervous on the first tee. They played with strangers all the time. Even after James Dunne Jr. got the family a membership at Southward Ho, Jimmy caddied. Fourteen being the minimum age to loop, he was 14 for four years.
"There were the drunks, the black guys and the members' sons," Dunne says. He got along with all of them, watched them, listened to the stories from Kenny, who'd lost an eye at Normandy. He loved the Monday money games with Leroy. Once Dunne was so ticked off at an indifferent shot he bashed the bottom of his bag so hard it broke. Had to cradle the mess like a baby the last four holes, all the while hearing Leroy tell him, "Win or lose the bet today, you're a loser." Dunne never got so mad again on a golf course.
"He's got a great humility," says Ken Langone, one of the founders of Home Depot and a golf friend of Dunne's. "That's what draws me to him. He's the kind of guy people want to work for, the kind of guy they don't want to disappoint. He is endowed with goodness." Dunne's presence filled a room, made you glad to be there. A shorter, Irish version of Michael Douglas, that's what came to mind. When he shook your hand he grabbed your elbow with his other hand. You met Jimmy Dunne, you didn't forget. Those elite clubs—the ones that didn't have to take anybody—wanted him.
He played fast, no practice swings. "Your first impression of Jimmy is, 'Gee, this guy is out of control,' " says good friend Vinny Giles, the former U.S. and British Amateur champion. "He's going 100 miles an hour, fidgety, high energy. If he's your partner, you want to grab him by the back of his shirt collar and say, 'Slow down.' " Dunne lived his life in a hurry. If a restaurant had a wait, he'd order in line. Susan still didn't know how he could be five minutes early for every appointment even though he never wore a watch.
Dunne believed golf exposed people, bared their beauty and their warts. That's what he wished everyone knew. The snapper soup at Pine Valley and the lobster at the National—sure the food was good, but not as good as the people. His crowd made the rules, but they played by them, too. That was the code. You make a 7, you mark down a 7.
A hotshot bond trader when he was in his 20s, Dunne loved the way the numbers talked. "If you lose x, you write it down," he says, remembering those days. "You write the f—-ing number down."
WHEN SANDLER O'NEILL moved into the 104th floor at 2 World Trade Center in 1993, the acre of space was less a matter of symbolism than of practicality. "I viewed it as a columnless trading floor at $19 a foot in 1993," Dunne says. "It was downtown, and as a Wall Street place, I thought we should be downtown." Just four days after Sandler O'Neill set up shop, Islamic terrorists exploded a bomb in the basement of the WTC. That chaotic day six people were killed, and the fear was real, but for the majority the incident was more annoyance than apocalypse. Those who went to the roof shivered in the winter chill, those who walked down to the street got dirty and tired. Those who stayed put kept the creases in their clothes.
Dunne had followed Herman Sandler from the large investment firm Bear Stearns in 1988. Before long, he coaxed Quackenbush to join the new company. They were going to cater to raising capital for small and medium-sized banks. They were a "boutique" firm, although the adjective didn't fit the rough-and-tumble nature of the work, the long hours, the way the bottom line was often the only line. Everything Dunne learned—as a caddie, in Catholic grade school, at Notre Dame, getting an on-campus bar at South Bend into the black—coalesced in his career in the financial district. "Part of it is a Long Island thing," says Armstrong, who runs Spire Capital Partners and is a member at Seminole and Pine Valley. "He's a guy who can mix it up, a scrapper and a fighter. They just get things done. May not be the prettiest thing in the world, but they get things done. It's a man's world, and Jimmy loves it, and that's what the equity-bond trading world is like."
A few days after 9/11, Dunne told The Los Angeles Times, "I'm not a poet. I'm not going to write any poems. I'm not going to write a novel. I'm not going to sing any songs. I'm not a musician. I'm going to do what I can do. I am a Wall Street guy."
"I never drank when there was a problem. I drank when things were good. And things were always good.'
—Jimmy Dunne
But Dunne was also a father, to Seamus, Christopher and Jacqueline, and sometime fairly early on—once it became clear that 66 of the 83 Sandler O'Neill employees who had arrived for work at 2 World Trade Center on Sept. 11 were dead—he realized any good he could accomplish would have to resonate years later, when his kids were grown and someone asked: How did your dad handle things when the World Trade Center came crashing down?
He also had these fathers around him now, friends of his, whose boys had come to work for him, who had died working for him. Dunne loved giving these kids who had grown up around golf a chance. When he looked at them—their spunk, their style—it was like peering at a mirror.
"You take an average kid who grew up in the caddie yard, then played golf," Dunne says. "He's going to anticipate a little bit. He's going to have to know how to react. He's playing a game where you call penalties on yourself, [a game of] integrity, character. I can't think of a place I'd rather go."
It was that way with Mike Edwards, with Kevin Williams, with Fred Cox Jr., with Davis "Deeg" Sezna Jr. They didn't get their jobs because they played golf, but Dunne believed they'd be better employees because they did. "Going to New York, I wasn't sure he was up to it," says Deeg's father, Davis Sr., a restaurateur and golf course owner in the Wilmington, Del., area and a Pine Valley member. "But Jimmy took him under his wing. He said, 'You just send him to me and we'll figure out where Deeg belongs.' If you go to New York and you're going to have your ass kicked, I'd rather have it [happen] by a bunch of guys who genuinely care about you."
Deeg, 22, fresh out of Vanderbilt and a long summer off—at Dunne's urging—to enjoy himself, was in his sixth day on the job. He never got a chance to prove himself, to have Dunne pat him on the back if he did something right or chew him out if he screwed up. Dunne was like that, especially to those young guys he cared about, the ones who came out of golf, who knew the code. Mike Edwards, the son of Dunne's friend Billy Edwards—a former Met junior and multiple club champion at Garden City (N.Y.) GC—caddied for Dunne at Garden City. "He was smart, he was careful," explains Dunne. "He worked 11 years for us."
Kevin Williams had been a caddie at the National, gone to Boston College. He was an Irish-Catholic kid, a sturdy but taller Jimmy Dunne. Just 24, he was fast-tracking to be just like him. "That was Kevin's goal," says his father, Mike, a math teacher on Long Island. "Both my wife and I are teachers. In Kevin's second year, he made more money than I do teaching, and I've been doing it for 30 years. Kevin just worked real hard and did what he had to do, especially at BC. He had a 3.8 average and graduated magna cum laude. He always wanted to do things the right way."
Fred Cox Jr. had promise, but he was treading water. "He was on the brink," Dunne says. "He had a real dash of presence, but he took his job half-heartedly. He was at a point where I told him all he could do was take six months to salvage his reputation, so somebody might hire him, not think he was a 'life-is-a-bowl-of-cherries' kid. I laid it on. I said, 'I loathe the day I hired you. You're an embarrassment.' "
Dunne had done his Vince Lombardi thing before, but this time it clicked. "Such a metamorphosis," Dunne says. "He went from a carefree little boy to a focused, determined young man. The guys around him who wanted him gassed, he started to out-produce them." Freddy's father thanked Jimmy. "He has two distinct sides," Fred Cox says. "Tough, intimidating, relentless businessman on one side and sensitive, giving person, a strong and moral family man on the other."
Dunne knew his friendships through golf ran deep, but he couldn't have imagined how they would help sustain him in the aftermath of 9/11. Eric Gleacher, a New York investment banker and a USGA committeeman, found the firm temporary office space. Langone got in touch with the vice chairman of Verizon to make sure the phones were working. "Jimmy called me and said he needed help," says Langone. "If I had called him, he would have been there for me." After CNBC incorrectly reported Sandler O'Neill—which lost nine of 31 partners—would be going out of business, General Electric CEO Jack Welch personally arranged for Dunne to go on television to refute the misinformation.
Vinny Giles called early and often, but that was nothing unusual. Giles was a legendary amateur and well-known player agent, and Sandler O'Neill had used Giles for some corporate outings in the 1990s. Dunne admired and liked the no-nonsense Virginian, but knew he had a problem. Giles played hard, first tee through 19th hole.
"Look, you have a problem with alcohol," Dunne told him. "At some point, you're going to have to deal with the fact that you can't control your drinking. It was beyond hope, and then we sat down. I just basically went at him for an hour and a half, and then we spoke every day for 18 months."
"He sat down and busted my ass," says Giles. "I was blindsided to a certain extent. It was probably the single-most direct hit I ever took. We spent a lot of time together. He took me to my first AA meeting. Not only did he jump on the situation, he stuck with it." Giles is now 58, sober for more than five years.
The way Dunne helped Giles, Quackenbush had helped Dunne. If not for Chris, Dunne might not spend his Sunday afternoons in the summer on the Deepdale GC veranda quaffing Stewart's diet root beers. "I thought I was bulletproof," Dunne says. "I was making seven figures and spending seven figures. I never drank when there was a problem, I drank when things were good. And things were always good. So I'm driving home with Quack one time. I'm 27. And we had this accident. And I'm going, 'Well, where are we going tonight?' Chris said he couldn't watch me go all the way down. I remember thinking, if it's so bad he would leave me, it's pretty bad. I had one more drinking night, and that was it. My wife and kids have never seen me have a drink, and that's a good thing."
THERE ARE FRIENDSHIPS that go in and out of style, like haircuts and hemlines, and there are those like the one that commenced between Dunne and Quackenbush soon after they bristled at each other the day they met on the Southward Ho practice range. "I think it was deeper than a brotherhood," says Dunne's wife, Susan. "I don't think they did a thing, the littlest thing or the biggest thing, that there wasn't a discussion about."
It had been that way for so long. Jimmy knew Quack was his kind of guy when, just a couple of years after taking up the game, he had gotten good enough to beat Dunne in the Southward Ho junior championship. Even as teenagers, they finished each other's sentences, complementing and encouraging the other.
"I think they appreciated the things each of them had in their personalities," says Kevin Kelly, a friend who caddied with both at Southward Ho. "Jimmy was very impressed with the knowledge and intelligence Quack had, and Quack was impressed with Jimmy's powerful nature. It was a heck of a match. Those two were challenging each other constantly."
They worked together long before Dunne encouraged Quackenbush to join Sandler O'Neill. While they were still caddieing, they bought a couple of ladders, had some business cards printed up and started Tuition-Paying Painters. Once they painted the house of a Shinnecock member, who invited them to play the venerable course one summer day when they were 16. Dunne would come to measure his golf by how good the game felt that golden afternoon, the two of them with the course to themselves, everything in front of them. They got to the 18th tee that day and Quack asked Jimmy how much he would charge to paint the vast Stanford White clubhouse up high on the hill. It would depend, Jimmy answered, whether they got playing privileges.
After high school, Dunne went to Notre Dame and Quackenbush to North Carolina. Once Quack petrified his father by hitching a ride to Indiana in a friend's Cessna, and they had to land in a snowstorm. The pair tended bar during college summers at a place called Solomon Grundy's in Bay Shore, N.Y. Jimmy downstairs and Quack up. When Quack got into law school and Jimmy didn't, they roomed together in Manhattan, Jimmy paying the bills. When Quack bought a beach house in West Gilgo Beach, N.Y., Jimmy soon found a place a couple of houses away.
"His successes were my successes," Dunne says. "There was never any fighting."
Quack stopped drinking soon after Dunne did, but he would still gather with his younger colleagues after hours. His office door was always open. "Jimmy is a generous person, but he was dwarfed by Christopher," says Susan. "Christopher had a following. Honest to God, until he passed away, you wouldn't believe the people who came out of the woodwork. Jimmy would listen for two minutes; Chris would sit and listen to people's problems until tomorrow."
On the surface, they looked so different, too. Jimmy was 5-8 and Quack was 6-4. Jimmy loved to wear khaki shorts and white golf shirts. Quack favored blacks and greys and Hugo Boss suits. He had more style. But their different personalities made the friendship stronger. Quack understood his impatient buddy. If someone criticized Dunne, he had an answer. "The reason you don't like Jimmy," he would say, "is because you're lazy or stupid."
And Dunne learned from his friend who blended common sense, smarts and generosity like no one else he'd met. Each year Quack would pick a Mets game and treat 600 poor children to a day at the ballpark. Before a 1986 World Series game at Shea Stadium, he gave an extra ticket, a ticket that would have fetched $500, to an 11-year-old boy who looked like he would enjoy the game.
"They were out of their minds with grief. 'You killed my son, you killed my husband. They wanted answers, and there were no answers."
—Jimmy Dunne
Shortly after the attacks, Dunne found himself in a New York cab, a foreigner at the wheel. "Guy looked like Osama bin Laden," Dunne says. "First blush, I was out of there. Then I thought about Quack, and what he would have done. Quack would have said, 'Wait a minute. You can't judge everybody.' "
One warm Friday afternoon last May, Dunne beat the traffic out to his beach house. A round of golf with a customer had been canceled. Susan and the kids weren't going to arrive until 7:30. He had a couple of hours, and he ended up at Southward Ho. Sooner or later, he thought, he needed to do this. Dunne bought a light carry bag, put seven clubs in it and went around the front nine by himself. When he got to No. 6, where Quack's hook always seemed to find the sand, he managed a smile.
Every time Dunne returns to Shinnecock, two memories warm him. He remembers that teenage round, he and his best friend throwing their clubs in the backseat of a Volkswagen for the round of their young lives. And he recalls what happened just a couple of years ago, when he struck out getting another scratch player to team with him for a Labor Day low-gross event. After asking everybody but the UPS driver, he reluctantly settled on Quack, an honest 10-handicap.
Wives and kids following them around, they hammed and egged it like never before. There was no way they were supposed to walk into that magnificent clubhouse as winners, but that's what they did. Their names are on the wall to prove it.
FOR THE SURVIVORS of 9/11 the first anniversary approached like a wave they didn't want to come ashore. Around Sandler O'Neill, seven or eight months after the tragedy, most people could count on finding a little more normalcy with each day. Then the buildup to the anniversary began—all the coverage about the remembrances and the debate over what should become of the WTC site—and emotions stirred all over again.
The milestone caused Dunne's family and friends to marvel—or was it cringe?—at how he had been able to go at such a pace for so long. Heart attack, stroke, depression—they considered all the possibilities. By December Dunne was down from 180 to 155. The marathon days, only a few hours of fitful sleep a night, the burden of rebuilding the firm to honor all those who had perished. That was Dunne's motivation, the motivation of everyone left behind.
"I was worried about him, but I didn't know what to do," says Susan Dunne. "I knew the inner turmoil going on, and I knew there would be no inner peace. These people didn't die in vain, so I held my breath and hoped Jimmy would not be in a shell of a business, that the families of all these people could be taken care of."
Sandler O'Neill acted quickly in the aftermath of 9/11 to take care of its extended family. Led by Dunne, the company was as generous, perhaps more so, than any devastated by the disaster. Commissions and generous bonuses went to relatives of the company's dead. Families were promised their health insurance would be taken care of for five years. A foundation was established to aid the children of those lost—there were 71 of them under 18—and $7 million has been raised.
"I can't imagine what it is like in the last 30 minutes each night before he falls asleep."
—Bob Cummings
Nearly a year after, Sept. 8, 2002, Dunne was in the cozy den of his Manhattan apartment. His 9-year-old son, Seamus was nearby trying out his campaign speech to become class secretary of the fourth grade. Shelves of business and golf books lined one wall. On a coffee table in front of a 36-inch television housed in an armoire of rich wood was a sheet of typing paper with a message written in thick black marker, framed simply. "Hello Jimmy, God Bless You And Yours."
It was from Vito Crestcente, Dunne's longtime caddie at the National. Dunne doesn't know where he'll hang it, but it'll be somewhere he'll see it often. When Vito was too sick with cancer to walk 18, Dunne would take a cart and have him read a putt every other hole, so he'd feel needed. Dunne loves caddies. They have a sense. Following the disaster, so many people struggled with what to say. Things often came out awkwardly. When Dunne heard someone tell him, "Sorry about your little problem," it made him mad. Forever more, there would be lots of things—disagreements, broken promises, delicate situations, poor investments—but not problems.
The caddies, Dunne remembers, their vocabulary was perfect. "A pat on the back, an arm on my shoulder," he says. "Just right." Those midnights when an empty room was as noisy as Times Square, Dunne would get on the phone. He'd call millionaires and school teachers. He'd call Rocky, one of the regular caddies at Pine Valley. One late night, Dunne shared the comfort he'd gotten from reading a book of psalms someone had given him.
"I was all excited about one of the psalms I had discovered," Dunne says. "So I read it to Rocky and he said, 'Jimmy, that's the 23rd Psalm. Everybody knows that one. That's like saying you just heard of George Washington. Do me a favor: Don't tell anybody this story, because it'll make you look like an idiot.' "
Dunne was seated in his leather chair, more sturdy than plush. With his psoriasis, which flared with the stress, getting comfortable isn't always easy. A phone and laptop computer were within reach. His e-mail is always on. The day the bomb went off in the World Trade Center garage in 1993, a client was stunned to see Dunne had made a trade at 4 p.m. after walking 104 flights in the dark and the smoke. Always direct, Dunne sends short messages, with no caps and little punctuation.
On "60 Minutes," with Steve Kroft, he was as eloquent and feisty as he has been throughout this ordeal, throughout the days when people were hoping against hope that someone might be found alive, throughout the days of hugs and backrubs for relatives who had just delivered a comb or a toothbrush, something to identify a fragment of a loved one.
A dozen months and a thousand tears later, Dunne still hears the disbelief.
"Sure, people screamed," he says, the words tightening like type kerned to fit a narrow column. "They were out of their minds with grief. 'You killed my son, you killed my husband.' They wanted answers, and there were no answers."
Amid the tumult there were the soft voices of Davis and Gail Sezna peeking out of the despair of a crisis center a couple of days after 9/11. Gail displaced Dunne's guilt with gratitude for giving her boy a chance. "Davis had kind words, too," Dunne says. "They could have really damaged me that day, and they didn't. Maybe I would have recovered. I don't know."
Dunne looked intently at himself on television, watching himself talk about how the firm survived without those people he loved so much, how it survived thanks to the generosity of others, competitors who usually tried to beat Sandler O'Neill but who had helped them because they played by the rules, because they never monkeyed with a scorecard. The firm completed every deal it had pending when 9/11 occurred.
As soon as the segment ended, the phone started ringing. "Let's go back to the old rules," he told Susan as she came into the room, a call on hold. "Widows and fathers only."
The following day, Sandler O'Neill had a benefit at Deepdale GC, a quick ride east on the Long Island Expressway. It was to raise more money for the foundation supporting the surviving children. Nick Price and Davis Love III were there. Billy Edwards was there, too, but got only as far as the parking-lot side of the clubhouse. He heard the laughter, the sound of young men having a good time, and had to return to his car.
TWO DAYS LATER, on the first anniversary, Dunne was up by 3:30 a.m. He got out of bed, showered, slicked back his hair, put on a gray suit and kissed his children while they slept. By 4:30 he was in the back of a Lincoln Town Car. His driver, Naftali Telor, wheeled down the FDR Drive, past the United Nations, toward a downtown forever altered. Sandler, who lived on the west side, and Dunne used to argue which route down Manhattan was quicker. They never could decide. Telor pulled up to the corner of Church and Fulton streets. It was as close as he could get to Ground Zero.
Dunne had been here before many times, when there was rubble where there had been gleaming skyscrapers, and more recently when there was a massive pit where there had been rubble. He could be nowhere else this hour, this day. He walked, eyes fixed, toward the lights illuminating the hole in the ground, six stories deep. What happened to the guys who used to park his car? Did they live or die? He walked past the sightseers and the mourners and the homeless, past the banners, the pictures and letters to the dead.
He got to the northeast corner, within a block of where the towers had stood. Security said he could go no farther. Realizing this was his altar, he made the sign of the cross, put his elbows on a police barricade, dropped his head in his hands and prayed. For a few minutes he rubbed his temples with his thumbs, paying his respects and reaffirming his resolutions.
"I said what I had to say."
He was back in the car, back to the new offices at 919 Third Avenue, back for another Sandler O'Neill memorial, eventually back to work when the markets opened at 11 o'clock. At Ground Zero, the names of 2,801 victims were read aloud. It took two and a half hours. A strong wind whipped dust into the eyes of the assembled, dust they were slow to rub away. Former New York mayor Rudolph Giuliani began the roll call of the dead. The first name was Gordon M. Aamoth Jr., 32, one of the 66 Sandler O'Neill employees to perish. Not long after, he read the name of 50-year-old Frank Brennan, one of the hundreds of employees lost at Cantor Fitzgerald, an investment banking firm in the north tower hit by the first hijacked plane. Dunne had been best man at Brennan's wedding. It struck Dunne—still does—how shocking Brennan's death would have been had it occurred at another time. The way it happened was just another marker of the hell.
By the time Quack's name was read, Dunne had looked at the Yankee tickets for their Sept. 11, 2001 game with Chicago. He has them in his office. Quack was supposed to go to Yankee Stadium Sept. 10 for the fourth game of a series with the Red Sox, but it was rained out. Unlike Jimmy, Quack always stayed the whole nine innings. If it hadn't rained, Quack would have gotten home late, probably wouldn't have gotten to work early. Dunne has done the math.
Laugh as we always laughed at the little jokes we enjoyed together.
Play, smile, think of me, pray for me.
Let my name be ever the household word that it always was.
Let it be spoken without affect, without the trace of a shadow on it.
— From "What Is Death?" by Henry Scott Holland
Suki Sandler, Herman's widow, read that poem at the big Sandler O'Neill memorial service in Carnegie Hall Oct. 4, 2001. On his better days, Dunne tries to believe those words, believes Chris and Herman and those good young men, the flesh and blood of his friends, would tell him the same thing if they could.
It is not that he is alive and they are not. The guilt is sneakier than that. The guilt wears soft soles. The guilt comes up from behind in those rare moments when something feels almost as damn good as it felt before those murderers aimed jets full of people at towers full of people. When he's hugging one of the kids, when he's digging into his favorite, Susan's pot roast, when he sits in that timeless locker room at Seminole listening to Vinny tell Hogan stories—that's when it's hard.
"I can't imagine what it is like in the last 30 minutes each night before he falls asleep," says Bob Cummings, a good friend. "When I ask him how he's doing, I get, 'I'm fine,' but with a little look in his eyes that says, 'I'm lying, but I'm not going to tell you more than that.' "
On Sept. 12, after the anniversary tributes were over and the morning shows had moved on to their cooking segments and musical guests, Davis Sezna wrote Jimmy an e-mail. "It's time to release Jimmy," Sezna says. "I told him it was time that he start taking care of himself and his family, that he can't take care of us all." But some gifts cannot be exchanged.
Jimmy Dunne might not ever look into a clear blue sky and fail to see clouds, but he is here to take in the view. He recovered one item, and one item only, from his office. Months after the attacks, he got a call. The searchers had found his 4-year-old daughter Jacqueline's social security card. That's what he's got. The future.
He'll look ahead. He'll look around. And he'll look back.
To those caddieing days, his only burden someone else's 30-pound bag over his right shoulder, arriving hot and hungry at a halfway house. "There were some guys who would let you get a soda," Dunne says. "There were some guys who let you get a soda and a hot dog. And there was the rare guy who would let you get a soda and a hamburger. And you knew who those guys were. You knew."