Cause and Effect
Looks like Jim Harbaugh's little NFL flirtation is having some unintended consequences up in Ann Arbor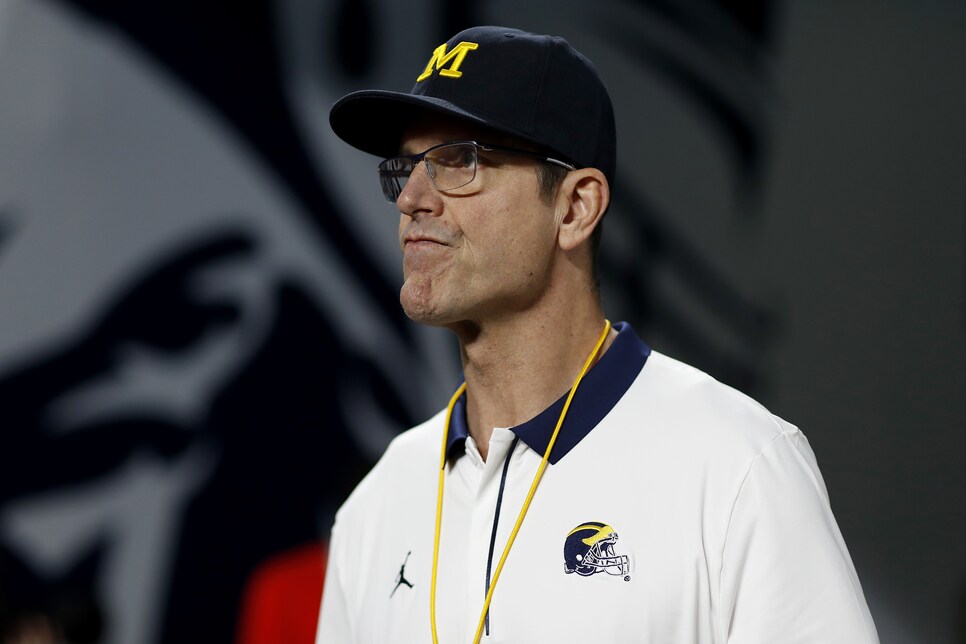 Since New Year's Eve, perhaps no one in college football, except maybe Bryan Harsin, has had a more fascinating arc than Jim Harbaugh. After leading Michigan to their first victory over Ohio State, first Big Ten title, and first College Football Playoff berth under his command, Harbaugh decided to sell off some stock. What began as "he couldn't, could he?" rumors, quickly became concrete as Harbaugh was credibly linked to NFL head coaching jobs in Minnesota and Miami. Last week, the situation arrived at its tipping point, when Harbaugh left Ann Arbor, possibly for the final time, to interview with the Minnesota Vikings. According to The Athletic, Harbaugh's departure was more "sayonara" than "see you soon," with the Michigan ball coach allegedly saying goodbye to colleagues and recruits before setting sail for Minneapolis. Less than 12 hours later, he announced he was coming back.
The Athletic's chronology of the day's events suggests that Harbaugh's presence generated a palpable buzz throughout the Vikings' organization. He was shown the facilities, he greeted potential co-workers. Things we're going well. But then sometime around 3 p.m., the tide turned. "The tenor started to change," The Athletic wrote, "and if there was any momentum at Harbaugh's back as he tried to secure the job, it disappeared." What happened in between remains something of a mystery, but one thing was clear: Harbaugh didn't turn the job down, the job turned down Harbaugh.
Both Harbaugh and the University of Michigan spun this as a victory—a triumph of spirit and soul as opposed to the defeat it allegedly was. Less than a week later, however, and the aftershocks of Harbaugh's flirtation are now starting to be felt.
Sometimes the offer is just too good to refuse, right? Well, in the case of Josh Gattis, a black coach, it was about more than just money.
It doesn't take a sewing machine to unravel this thread. In Harbaugh's presupposed absence, Michigan had begun forming a succession plan and Gattis wasn't part of it, at least in the capacity he wanted to be. Not only had his boss abandoned him, but so had his employer. In the end, Gattis traded Ann Arbor in February for South Beach.
Needless to say, it's not easy to bounce back from the mid-winter loss of one of the best OCs in college football, but as Wolverines fans well know, it can still get worse. It can always get worse.
Losing Gattis is bad. Potentially alienating defensive coordinator candidates (Mike Macdonald left the team to join the Ravens in January) or current members of the coaching staff would be an unmitigated disaster. We're not saying that's what's happening, but would anyone be surprised? Did Harbaugh really think he could leave everybody on the rack while publicly courting NFL jobs and then walk back through the door like nothing happened after botching the interview? Cause and effect. Action and consequence. You reap what you sow, and Harbaugh has sown some serious mistrust in the last couple of weeks. Where it all goes from here is anybody's guess, but this should serve as a reminder to Michigan fans to enjoy the good times while they last, because last they never do.