The Loop
Jim Harbaugh is not a fan of eating chicken for the most Jim Harbaugh reason ever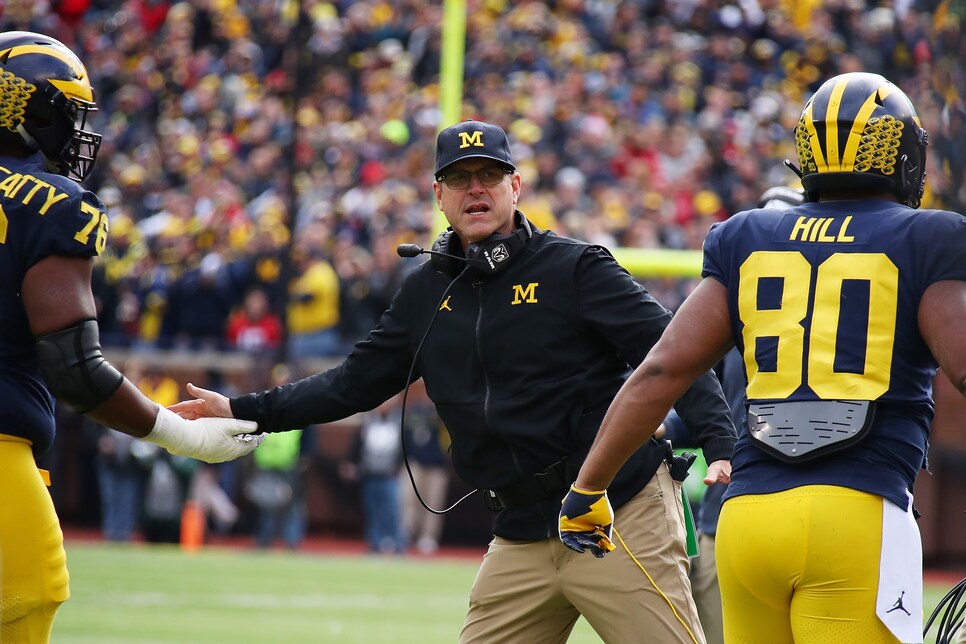 Jim Harbaugh is certifiably insane, something an alien could pick up on within five minutes if it were placed on the sidelines inside the Big House on a Saturday in the fall. But the craziness is hardly limited to the sidelines, as Harbaugh's off-the-field oddities are even more perplexing when you consider this is a 54-year-old adult we're talking about.
Yet somehow, even with this impeccable resume of maniacal behavior, he still finds ways to add to his legendary streak of utter insanity. The latest example? His thoughts on why eating chicken is bad revealed in a story told by former Michigan quarterback Wilton Speight, who spoke to Bleacher Report for a piece on the Wolverines' potential new starter under center, Ole Miss-transfer Shea Patterson:
The full story, which you should definitely give a read here, has plenty of other interesting tidbits on both Harbaugh and Patterson, who had a whirlwind of a few years in Oxford. But it's the chicken story from Speight, who transferred to UCLA for his final season, that's making the rounds, as does any quirky Harbaugh tale. To be frank, this is the least surprising news ever. Of COURSE Harbaugh doesn't eat chicken, and of COURSE it's because he thinks it's a 'nervous bird,' as Speight tells it. Harbaugh is the most typical red meat and potatoes guy on the planet, and you will not ever catch him consuming such an inferior protein as chicken apparently is in his mind. Need his thoughts on salad, which I imagine are identical to Ron Swanson's:
That being said, perhaps Michigan's quarterbacks should mix in a few late-night Chick-fil-A runs when coach isn't watching. A. Because Chick-fil-A is incredible, and B. because the QB play at Michigan hasn't exactly been stellar since Harbaugh took over. If Jake Rudock, Speight, John O'Korn and Brandon Peters all stuck to their coach's strict diet over the last three seasons, it ain't working. If we could give any advice to Patterson, it would be to load up on nervous bird heading into the season.