The Loop
Urban Meyer throws shade at Michigan while Jim Harbaugh has to stand there and take it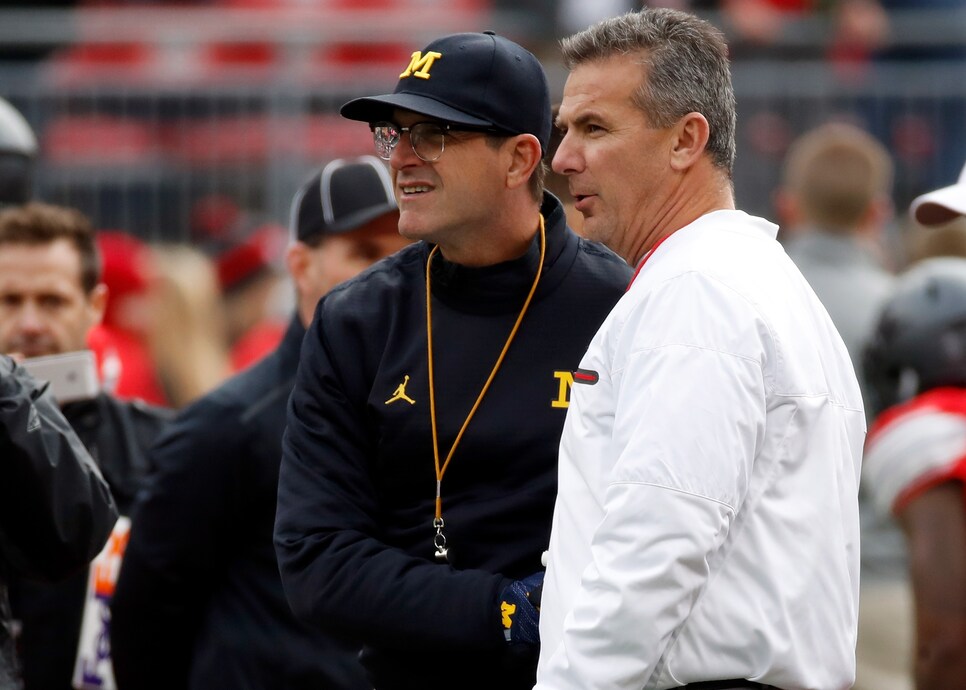 This video is going to look and sound pretty innocuous at first. There's Ohio State ballcoach Urban Meyer addressing a bunch of recruits in some generic practice dome somewhere in the bread basket of America. Cliches about teamwork are bandied about, threats of two-a-days are brandished, and the players begin to drift off, dreaming of the fresh hells they'll inflict upon poor ol' Rutgers come September. Around the two-minute mark, however, things suddenly things take a turn for interesting town, when Michigan coach Jim Harbaugh enters the shot just as Meyer fires up some classic Ohio State-Michigan shade. LET THE MIND GAMES BEGIN!
Needless to say, this is no coincidence. Meyer knew damn well who was delivering the other half of that "Best of the Midwest" keynote, and timed his molten verbal jabs to perfection.
"How do you play in a big game?" Meyer asked the crowd of incoming freshman while staring directly at Harbaugh. "I have no desire to watch a game when you beat the hell out of someone 40-0" he continued. "I want to see the rivalry game [zing]. I want to see you on fourth down [oh snap]. How do you perform 4th down when the team needs you?"
By the usual Buckeye-Wolverine standard, this may seem subtle, but make no mistake: This is the work of a true passive-aggressive black belt. Don't believe us? That's OK, let's just focus on fourth down effort then, starting with this completely, totally unrelated example. Michigan fans, this is the part where you might want to look away...