War of Words
J.B. Holmes hits back at "John Bradley" rumors with cryptic tweet about his ... Scrabble skills?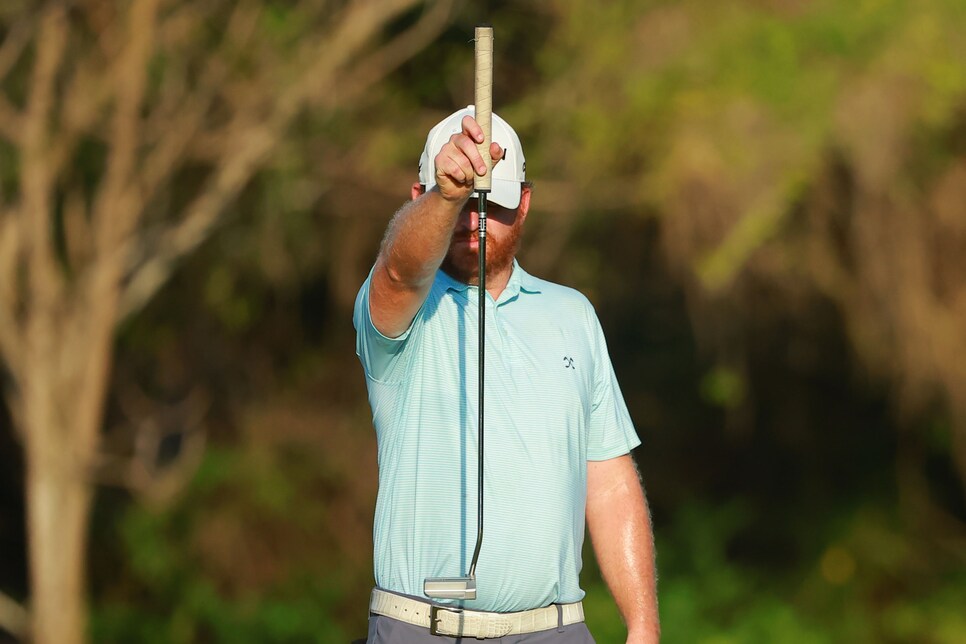 The golf controversy of the weekend didn't go down at the Chuck Schwab, where leader Emiliano Grillo double bogeyed the 72nd hole to reverse force a playoff after his ball took a Huck Finn-like trip down a nearby stream. Nor did it come at a Canadian Open qualifier, where an unnamed (and unprepared) player carded a borderline-NSFW 121. Hell it didn't even happen at LIV D.C., Where Controversy LIVs (still workshopping that slogan, bear with us).
Instead it allegedly took place at a scramble event in Tennessee where PGA Tour pro J.B. Holmes reportedly entered under the alias "John Bradley" in an attempt to con local golfers out of tens of dollars in Cracker Barrel gift cards.
Evidence is scant. Eyewitness accounts are conflicting. Some are saying it's 100 percent true, some are saying it's a complete fabrication. Others are undecided, marooned somewhere between fact and fiction waiting for a sign from a higher power.
No divine confirmation has been forthcoming, but golfers did hear from self-professed Scrabble god J.B. Holmes on Tuesday afternoon, who confirmed that he has gone by "John Bradley" in the past … when competing in the arena of words.
How the slow-play savant beat that little hourglass timer while laying down triple-word score after triple-word score, we'll never know, but it is the only thing we have any hard evidence of. We all see it with our own two eyes sitting proudly on Holmes' shelf flanked by his pair of Ryder Cup trophies. It could be Photoshopped, but does Holmes look like the kind of guy who knows how to use Photoshop to you?
Anyway, we'd say that settles that, but it probably doesn't. Golf Twitter loves nothing more than beating a dead horse until gets up and wins the Triple Crown. Call it a hunch, call it cynicism, but we're guessing the revolvers on Holmes' trophy aren't the last smoking guns in this saga.