Instruction
U.S. Open 2020: Playing a really tough course? Here's how to adjust your strategy and swing
If you're invited to play Winged Foot or any brutally difficult course, these are the shots you need to exceed your expectations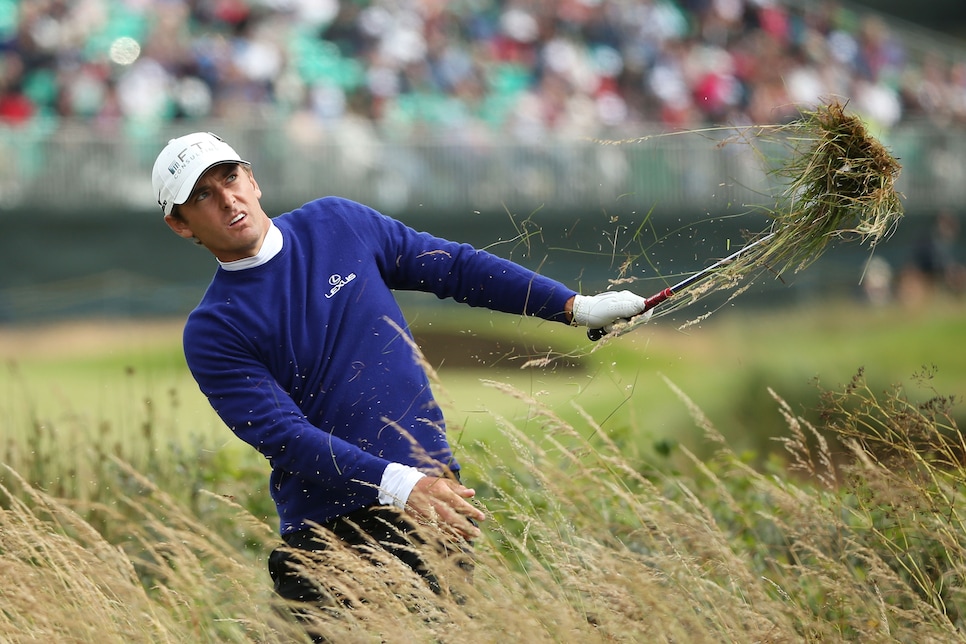 Charles Howell III plays out of thick rough during the 2012 Open.
(Photo by Andrew Redington/Getty Images)
It won't take long for the "What would you shoot at Winged Foot?" takes to start rolling in once we get a closer look at what kind of diabolical tortures the USGA has planned. As you speculate about whether or not you could break 150, we asked three top teachers who work at exceptionally hard courses of their own to offer strategic and technical advice should you get the call to test yourself that way.
Long hole? Don't automatically pull driver
Even if you play from the correct set of tees, there will be long par 4s and par 5s that can seem overwhelming. And most golfers will instinctively pull driver. That's not necessarily the best move, explains Bernie Najar, Golf Digest 50 Best Teacher and Director of Instruction at Caves Valley Golf Club outside Baltimore, which will host the PGA Tour's 2021 BMW Championship, and was a previous site of both the Senior U.S. Open and U.S. Mid-Amateur. Caves Valley is 7,300 yards of rugged challenge for its members on a standard day, never mind when the rough is high and greens slick. "When people play a long, hard course, they tend to try to gear up with the driver and try to hit it farther, but, ironically, that makes the course even harder to play because they're out of position when they inevitably hit it more crooked," says Najar. "For most players, a 450-yard par-4 is a three-shot hole anyway, so you want to prioritize getting it in play off the tee and positioning yourself at a yardage you like for a shot to the green."
One of the biggest misconceptions about strategy is that closer is automatically better, says Najar. "I'll be playing with a student who decides to hit 3-wood to get the ball somewhere 'close' to the green, but then leaves themselves with a 40 to 80 yard shot that even tour players don't like to hit," says Najar. "Those in-between shots are hard to judge and you can't put as much spin on the ball as you would with a full swing. You're better off being 100 or 120."
Slight adjustments will help you master a tight-lie chip
Top Florida teacher Alana Swain coaches at the PGA Tour Performance Center at TPC Sawgrass—annually one of the most challenging stops on the PGA Tour during Players Championship week. Her advice is equal parts emotional control and technique. "Begin your day as conservatively as possible, so you can ease into the round and build some momentum," says Swain. "Nothing will reinforce how hard a course is more than making an ugly number on the first hole, which can beat you before you really even get started. Leave yourself with putts below the hole so you can make some confident strokes early, because those set the tone for the round."
One notable feature of most tour-level courses in the United States is tight greenside lies. Having some experience and insight on how to hit a 15- to 30-yard pitch shot from a tight lie is crucial.
"A lot of amateurs struggle from tight lies because they don't understand that the bounce has to interact with the ground, not the leading edge," says Swain. "That means sliding the club through impact without wrist hinge, not hitting down and making a big divot. There's actually way more forgiveness hitting it a little behind the ball even on a tight lie as long as you feel the club slide instead of dig."
If you get out of position, focus on getting back—not being a hero
Golf Digest 50 Best Teacher Kevin Weeks is the Director of Instruction at Cog Hill Golf & Country Club outside Chicago, which has also hosted the PGA Tour's BMW Championship on its 7,600-yard Dubsdread course. Weeks says that the key skill for navigating a hard course with deep rough is to not compound one mistake into a cascading chain of two or three in a row.
"When you get out of position, you have to get back into position right away, and that's a hard pill for some players to accept," says Weeks. "You have to understand if you can get a club like a hybrid on the ball or if you're better off just pitching out to the fairway grass and resetting." One basic rule of thumb? How much of the ball is exposed in deep grass, Weeks says. If less than a third of the ball is at the top of the grass, or the grass is especially thick, you're going to have trouble keeping any speed through impact with a non-wedge.
Another get-out-of-jail trick to apply is to use your bunker technique more often than you think, says Weeks.
"When I was dating my now-wife, she was playing in the U.S. Women's Open and having trouble with the thick grass around the green," says Weeks. "I told her to play that shot like a bunker shot, hitting behind the ball on purpose with plenty of speed. It won't spin like a shot out of the sand would, but the speed and loft will make the shot fly high and land soft. Don't be afraid to play more toward the middle of the green instead of getting cute and trying to drop it on top of a tight pin."