News
How the Outlaw Tour, a mini tour out of Arizona, filled the void of live golf during quarantine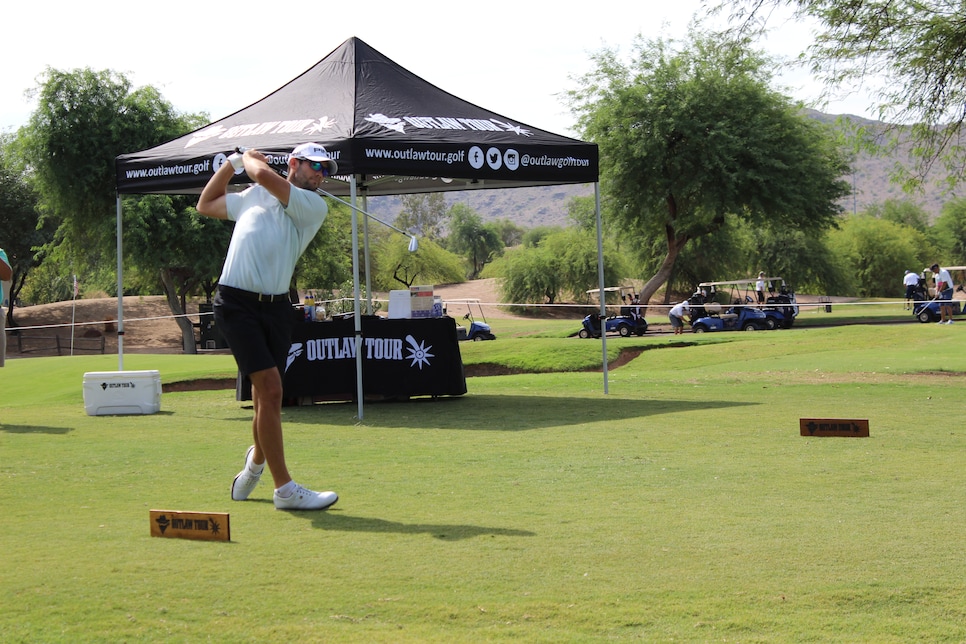 The first thing you should know about starting a mini tour is that you almost certainly won't get rich doing it. Cory Powell knows this. He wasn't kidding himself when he teamed with a few investors in the Phoenix area to build the Outlaw Tour. A former mini-tour player himself, his motivation was less cash-chasing and more opportunity-making. He wanted to provide his fellow grinders with worthwhile tournaments to play in.
That doesn't mean he'd pass on an opportunity if one presented itself.
It all started back in March, when COVID-19 asked most of the country to rethink how it did things. Three of the LPGA Tour's events in Asia had been cancelled to the virus, so Anna Nordqvist decided to tee it up in an Outlaw Tour event against men. She opened with eight birdies, zero bogeys and a share of the lead after an eight-under 64.
"I saw all the media attention," Powell said. "It seemed like every day there were more and more announcements of events being canceled or postponed. I sensed an opportunity."
Powell knew more high-profile players would turn to the Outlaw Tour, which was acquired by the Golden State Tour in January. A number of PGA and Korn Ferry Tour players live in the Scottsdale area, and courses were allowed to stay open in Arizona throughout the pandemic. He also knew there'd be hyper-attention paid to Outlaw Tour events from the golf gambling community, which suddenly had few options to satisfy the itch. The first Outlaw Tour to be featured on DraftKings was the Orange Tree Classic, which ran April 7-9. Carson Roberts took home $4,500 for shooting 23-under and winning by six, and fantasy players embraced the opportunity to build any sort of golf lineup.
Gamblers, of course, have little patience for scores not being reported immediately. Bear Heiser noticed a lag in results being posted, and was frustrated when he couldn't follow Outlaw Tour action in real-time and see how his DraftKings lineup was faring.
"We were like, why are the scores not updating?," Heiser said. "I called the pro shop of the club that was hosting. I was trying to get the person to go out and get some live scores, because I just wanted to know how the players were doing. She was clueless, and she clearly seemed frustrated—like everyone was asking."
Heiser went to the Outlaw Tour's website, saw Powell's contact info and sent an email.
"I said, there's a huge opportunity here, with a dedicated audience who wants to engage with the product."
It was all Powell needed to hear. He'd been kicking around an idea to live-stream events for quite a while, and by the next day, they'd hammered out a plan to broadcast featured groups live—on Periscope, first, before moving to Twitch. Those groups included top Korn Ferry Tour players like Dylan Wu and K.K. Limbhasut.
"No knock on the PGA Tour," Powell said, "but the way the golf is broadcast—it's a highlight reel of the top 25 players, of shots from the green back to the tee. What we've done, we're not televising golf from the green to the tee and everything in between. It's really more telling the story of the round, giving the consumer the journey."
Both Powell and Heiser know the eyes of the golf world have returned to the bigger tours, but they remain committed to parlaying their newfound notoriety into sustained success.
The idea? Create the equivalent of Major League Baseball's spring training. While the PGA Tour's wraparound schedule does not include a real offseason, the feeder tours—the PGA Tour China, PGA Tour Latinoamerica, and the Mackenzie Tour—don't have enough events to fill the year.
"If we can create the same type of atmosphere, and do the same thing for golf, I think we're really on to something."