News
How does being on the Tour Championship bubble affect strategy this week? Phil Mickelson and others explain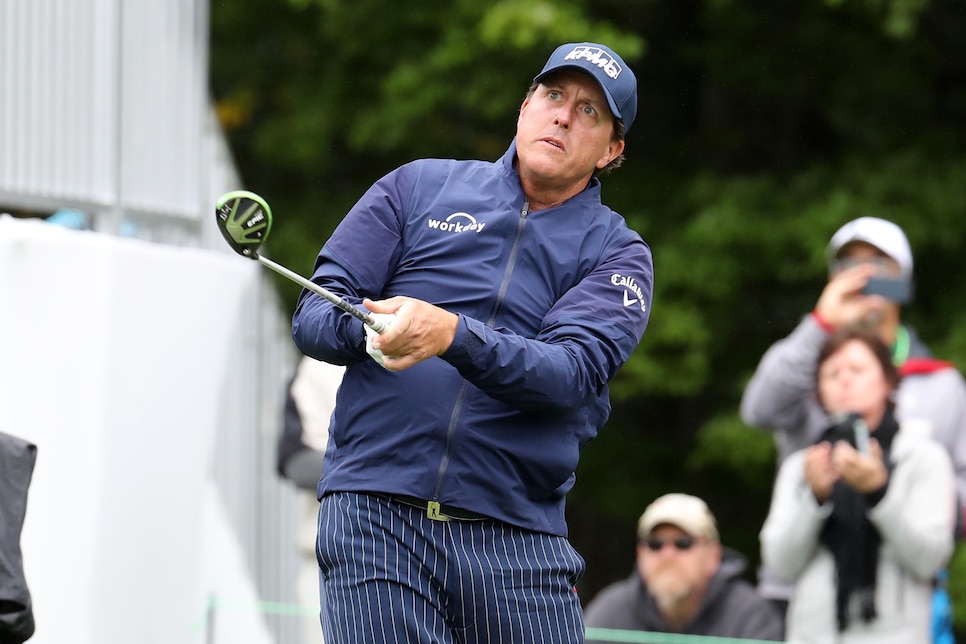 LAKE FOREST, Ill. -- Sean O'Hair has a game plan for this week's BMW Championship, and he sounds suspiciously like the guy who didn't come all this way to lay up.
The third event in the FedEx Cup Playoffs, the BMW Championship is a no-cut tournament that determines the unkindest cut. At the end of the week, only 30 of the 70 players advance to the Tour Championship, the season finale on the PGA Tour held at East Lake Golf Club in Atlanta.
At 65th in the FedEx Cup standings, O'Hair needs an exceptional week at Conway Farms Golf Club to reach the Tour Championship for the second year in a row and reap the rewards that go with it, including a berth in the Masters. He's not leaving any doubt about his strategy.
"I'm either going to play really good this week or really bad. I don't think there is going to be anything in between," O'Hair predicted. "I'm pretty much going to put it all on the line this week. I've got nothing to lose. I'm going to go for broke and see what happens. When you're back is up against the wall, sometimes that's when you play your best."
"You have to have the mentality that you're capable of putting it all together," said Billy Horschel, who in 2014 assembled a breathtaking run, finishing 2-1-1 in the final three events to not only reach East Lake but pilfer the FedEx Cup title. "You've gotten this far so you have to think you're talented enough. You have to go out with a cockiness that your game stacks up and then just go out and do it."
Horschel doesn't need the kind of miracles he did three years ago, standing 38th this week. But the winner of this year's AT&T Byron Nelson will need a solid four days to achieve his first appearance at East Lake since his magical run in '14. "I know what I need to do," he said firmly.
Likewise, Phil Mickelson, at No. 36, doesn't have to win to advance. The Hall of Famer just has to build on the T-6 finish he submitted at the Dell Technologies Championship that ended on Labor Day. Feeling refreshed after making dietary changes to address a testosterone deficiency, the left-hander is determined to make it to Atlanta so he can play his way into the Presidents Cup after being named one of Steve Stricker's captain's picks last week.
Not that winning isn't on his mind. "I really feel like I can win again now that I have things figured out," said Mickelson, who also thinks he has solved his frustrations on the greens by adjusting the loft on his putter.
Two-time major winner Zach Johnson, 54th in the standings, won here at Conway Farms four years ago. He'd dearly love a repeat to erase what has largely been a forgettable season, one in which he'll miss just his second Presidents Cup since 2005.
"The beauty of the FedExCup is that you can put yourself in position to not be in this position. And I put myself in this position," Johnson, 41, said. "So the only thing left for me to do is to play great golf, because that's my only choice if I want to go to East Lake. You get what you deserve."
Will he play more aggressively than if this were a regular-season tournament? Well, define "more aggressively."
"You are who you are and you know what your game is," he said. "Now, there's going to be some situations where you're going to be more aggressive. The right club with the right number to the right pin, then you've got to go. But in general, in this day and age, you have to play aggressively. That's the way the game is. Guys are just too good."
Keegan Bradley agrees that pedal-to-the-metal golf is almost mandatory. "I play aggressively in most events anyway. It's really what you need to do now," said Bradley, who enters this week 48th in the FedEx Cup standings. "I don't think you can just throw all caution to the wind here. But coming down the stretch, you have a drivable par-4 and a reachable par-5 and then you might take some chances if you think it will push you over the top."
In the balance, some unusual decisions and shot selections could be witnessed this week, all in an effort to squeeze in one more week of competition.
"Yeah, I might hit some shots I normally wouldn't," O'Hair said. "It comes down to, do I want another week off or play in the Tour Championship and qualify for a lot of great tournaments next year? Kind of obvious what the answer is. So, I will go for it as hard as I can."