News
South Florida-based golfers still sifting through Irma damage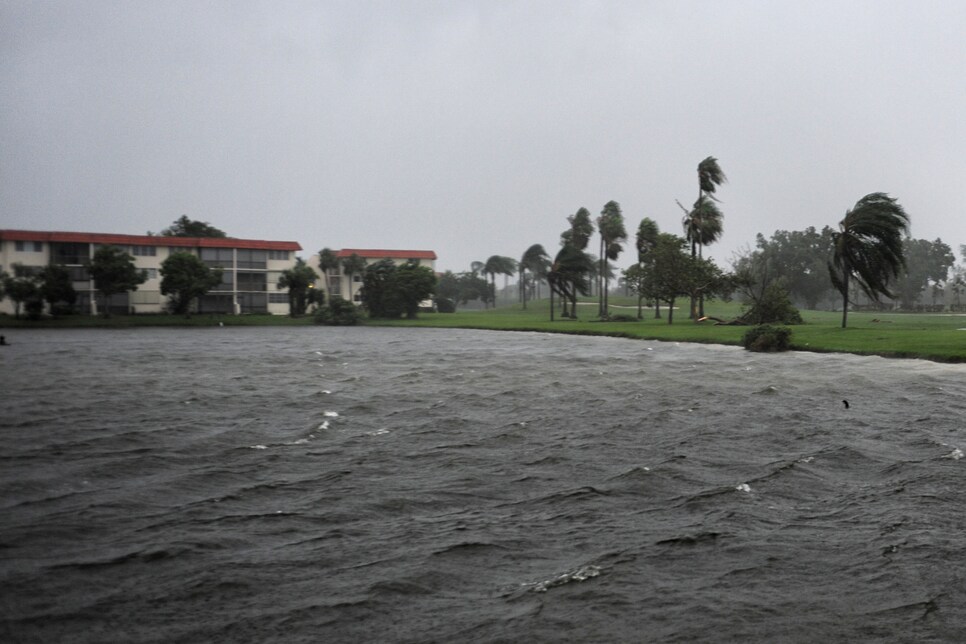 MICHELE EVE SANDBERG/AFP/Getty Images
South Florida is home to hundreds of players across multiple pro tours. With good weather, no state income tax and a bevy of courses and colleagues to grab a game with, it's a no-brainer for many.
Over the weekend, though, there was little golf being played in the Sunshine State. At one point, Hurricane Irma engulfed pretty much the entire peninsula. Florida is more than 400 miles from south to north and all that was visible on my weather app was the giant green, yellow and red blob spinning and spewing destruction.
The Jupiter area and south to Miami were spared a direct hit but damage was everywhere. It included countless trees uprooted, downed power lines, blown-out windows and roofs that were ripped off, and flood waters that rose to at least four feet in the heart of downtown Miami.
Tiger Woods, Justin Thomas, Rickie Fowler, Brooks Koepka, Michelle Wie, to name a few, were among the players who got out of town before the storm. Others, like Greg Norman, rode it out.
"All good," texted Justin Thomas before adding, "I think."
The Keys and areas of the Caribbean got hit much worse. In Florida, the west coast just south of Tampa took the brunt.
Gonzalo Fernandez-Castano lives in Key Biscayne, and he and his wife, who just had their fourth child, were forced to evacuate. The family drove to North Carolina, where Gonzo then flew on to Idaho for this week's Web.com Tour Finals Series event in Boise.
One golf pro from Naples' Tiburon Golf Club, home of the QBE Shootout, fled to just outside Jacksonville, only to see the storm shift back east. He didn't know whether he and his brother, a chef and novice golfer, would still have a place to live when they got back.
"Fence and tree damage to my house and parents' house but nothing otherwise," said tour player George McNeill, who lives in Fort Myers. "Others weren't so lucky. It's not real good [south] of us. If it was a Category 5, we'd all be in a different place."
The storm tracked north through Orlando, causing more havoc there, and eventually to Jacksonville, too, where it knocked out power and sent the massive St. John's River overflowing into parts of the city's downtown. At TPC Sawgrass to the south, the Stadium Course's island 17th green was partially submerged. In preparation for the storm, the PGA Tour, which is headquartered down the street, sent many of its critical assets north.
On Monday night, hundreds of utilities trucks were streaming southbound on Interstate 95, trying to restore power for the millions who lost it. Others worked to clear debris from streets, or begin various levels of repairs.
In the aftermath, "all good" was mostly the message from many in the golf community, though. They know others have it a lot worse.
McIlroy Wants To Move Past Disappointing Year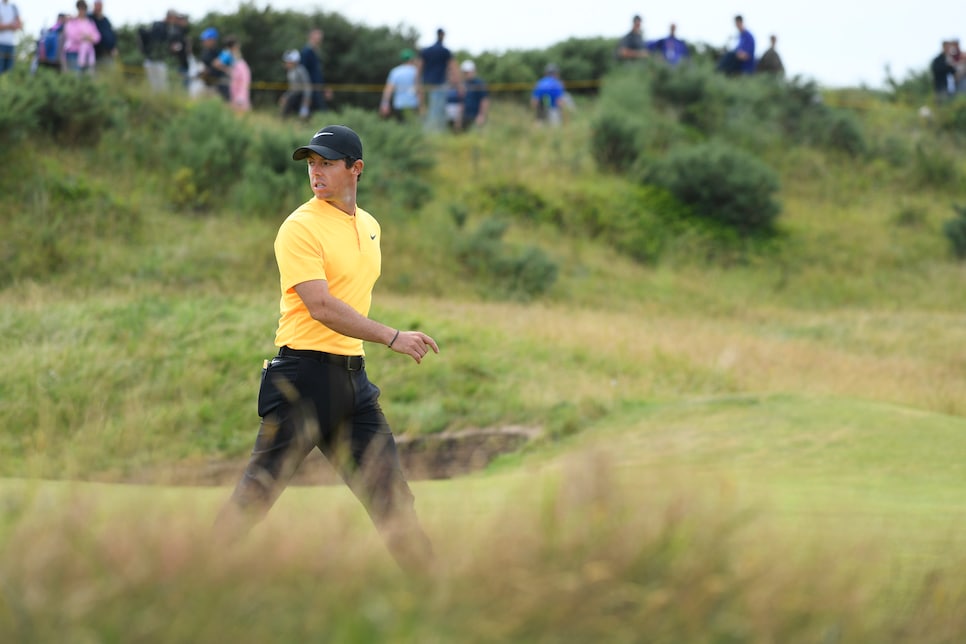 How does Rory McIlroy describe his play at the moment?
"I'm sort of waiting for the season to end," he said after missing the cut at TPC Boston two weeks ago. "That's reflective of the way I'm playing. It's frustrating. I've been caught in two minds for a couple months now."
That feeling might not last much longer. Barring a top-five finish at this week's BMW Championship, McIlroy's season will come to an end prior to the season-finale Tour Championship for just the second time since 2013.
The reigning FedEx Cup champ hasn't won since last year's victory at East Lake and between injury, an equipment change and getting married 2017 has been disjointed for McIlroy.
At times it was the putter or his wedges, other occasions his iron play or driving. None of it has come together for four days in the same week, even though he has a half-dozen top 10s.
"I've been trying to play well and feel like I can but it hasn't happened," McIlroy said. "I'm not even taking two steps forward and one back, I'm just sort of standing still."
And soon probably sitting down, which might not be the worst thing in the world at this point for a spent McIlroy, who can turn his attention to next season.
The Odd Man Out Of Presidents Cup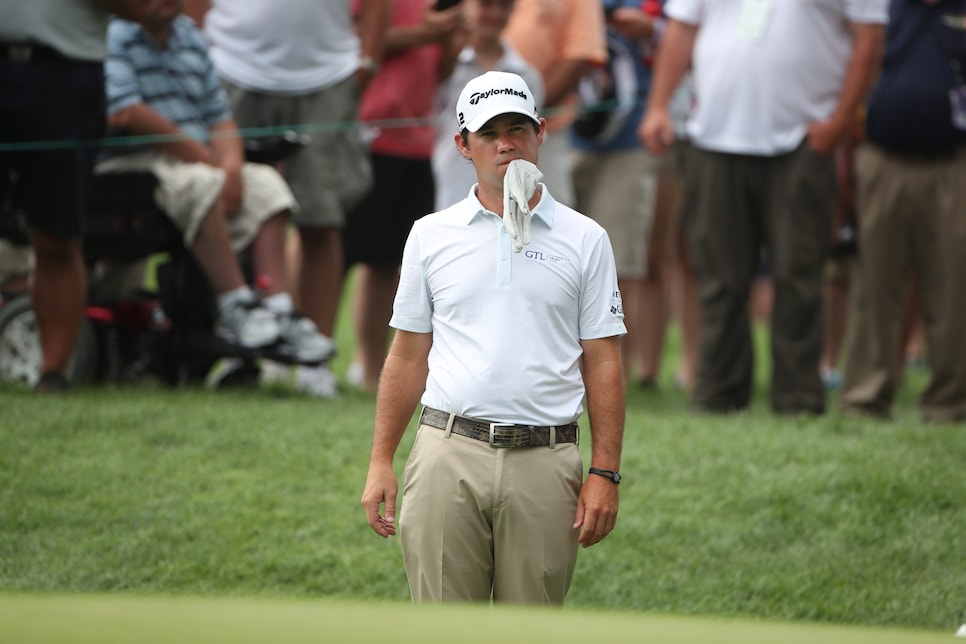 Last week Phil Mickelson and Charley Hoffman were announced as Steve Stricker's two captain's picks for next month's Presidents Cup. Neither was a surprise.
The common thinking on the inside was that if Hoffman qualified, Stricker would pick Kevin Chappell, and vice versa, which is what happened. Mickelson was always in the mix, particularly after some sudden good play and re-focus and energy that came following a recent doctor's visit.
The odd man out? Brian Harman, who one could argue was more worthy than either captain's pick. The 30-year-old finished 12th in the standings with seven top-10s, including an impressive win at the Wells Fargo Championship and a runner-up at the U.S. Open. He's also a terrific putter and his personality (and game) suit match play perfectly.
Harman played on two winning Walker Cup teams as an amateur, too, and his personality would gel well with his teammates.
Of course, Harman was disappointed at being the one left off the Stricker's squad, but he wasn't necessarily surprised.
"I felt like I needed to make the team on my own merit," Harman told Golf World. "I was never confident in getting a pick. Maybe if I was closer to the top 11 I could have made more of a case.
"It's a huge disappointment to not be picked. It was a large goal to try to make the team. It's gonna bother me for a long time. It sucks. There's no other way to put it."
Hoffman, however, has a half-dozen top-10s, has been in contention a number of times, including in majors, and finished 11th on the points list.
Mickelson has played on every Presidents Cup and Ryder Cup team since 1994, boasts a 17-4-7 record in the last seven Presidents Cups and tied for sixth at TPC Boston two weeks ago to move up three spots to No. 15 in the standings.
Take the names off those three resumes and which two are you picking?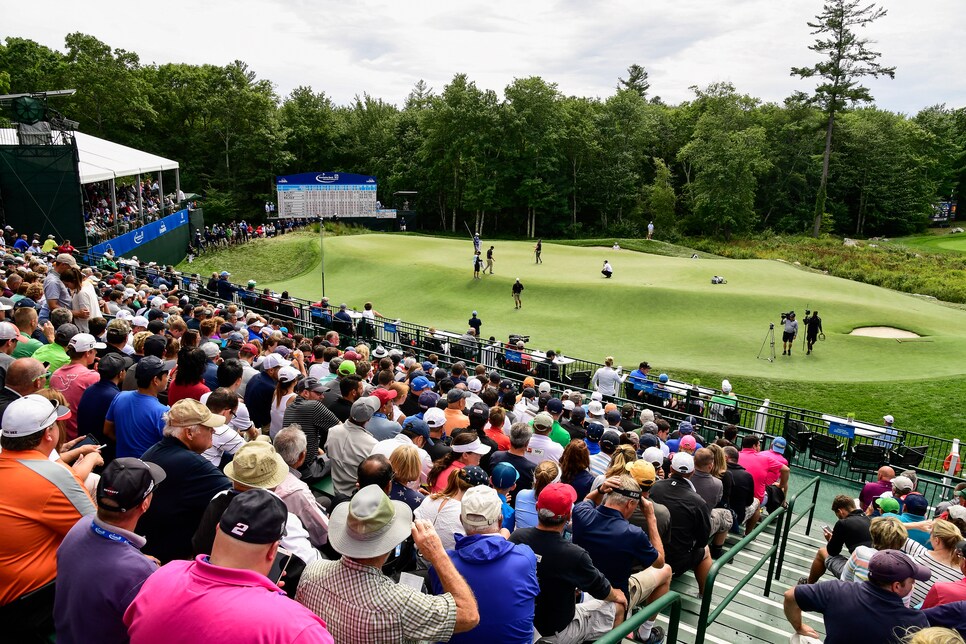 1. I think the tour will try to figure out a way to stay in the Boston area in some capacity, despite the likelihood of the Playoffs going from four events to three once the schedule is re-worked for 2019. Commissioner Jay Monahan has deep ties to what has long been a golf-crazed area. "I know it's very much in the air still on if we were to go to a condensed schedule, there's still a chance that we would still move up here every other year or something," said Jordan Spieth, who added that he has been involved in some of the discussions the tour has had with players. With the BMW Championship being played in Philadelphia next year, it doesn't seem crazy to think that event could be held outside Boston at some point, too.
2. I think rivalries, like the one between Jordan Spieth and Justin Thomas, are more entertaining when the two sides don't like each other. But it's also understandable (and still pretty good) when they do, especially given a longstanding friendship and the quality of the golf. It worked for Jack Nicklaus, Arnold Palmer and Gary Player; it works for this generation.
3. I think that you can look for something in the coming days from me about how to help the relief efforts for Hurricane Irma. While it wasn't catastrophic in South Florida because of the storm's last-minute shift west, the area was still hit hard. Worse off are some islands in the Caribbean, the Florida Keys and parts of the west coast of Florida. As bad as the damage is, people coming together to help has made things a little easier.
The Playoffs have been all about star power, historically as well as this season with Dustin Johnson and Justin Thomas winning the first two events. Don't expect anything different at this week's BMW Championship, which heads back to Conway Farms north of Chicago. This will mark the third time the tournament has been played at the Tom Fazio-designed track that has modest fairways and greens and some funky spots for mishits. Zach Johnson and Jason Day won there in 2013 and 2015, respectively, and Jim Furyk shot arguably the most impressive of the PGA Tour's 59s there when he did it four years ago. Going into this year's event, two players jump off the page: Hideki Matsuyama and Rickie Fowler. Matsuyama is seventh in strokes gained/approach shots and tied for seventh at Conway Farms in 2015, plus he's been on a hot streak most of the past month. Fowler, meanwhile, has also had a torrid run with just two finishes outside the top 15 since the U.S. Open. He's also one of the game's better ball-strikers, checking in at strokes gained/approach, and he finished fourth in the event in 2015. I'll give the nod to Fowler, who while blowing a few chances this year, seems due to pick up his second win of the season.