The Loop
Tiger Woods hangs with Sloane Stephens, Lexi Thompson gets doused with milk & stunning changes to a golf trip staple
Welcome to another edition of The Grind, where we are saddened by the big news involving our favorite chain restaurant. Chili's is slashing its glorious menu by 40 percent and this directly affects me in two golf-related ways. The first is my streak of eating at the same Ponte Vedra Beach Chili's during the Players Championship for five consecutive nights over the past seven years. That comes out to 35 dinners there in a row during the tournament, a feat that has been greatly aided by the chain's expansive -- and obviously, delicious -- food choices.
Then there's the matter of next year's HGGA Championship champions dinner. As you probably may not definitely don't remember, I won my annual golf trip's coveted green jacket this past July, meaning I get to pick the menu (i.e. pick a reasonably priced restaurant) for next year's champions dinner. I assumed I would host at a Chili's wherever next year's trip takes us (That's the beauty of Chili's. They are EVERYWHERE.), but now I'm going to have to re-evaluate. It was hard enough getting over Chili's discontinuing the Awesome Blossom a few years back, but a total menu overhaul? This is going to take awhile to recover from. In the meantime, here's what else has us talking.
U.S. amateur golf: The Americans cruised to a 19-7 victory at this year's Walker Cup, AKA the Walkover Cup, at Los Angeles Country Club. The 12-point difference came on the strength of three players (Maverick McNealy, Doug Ghim and Collin Morikawa) winning all four of their matches. They let you know about it, too, in this photo: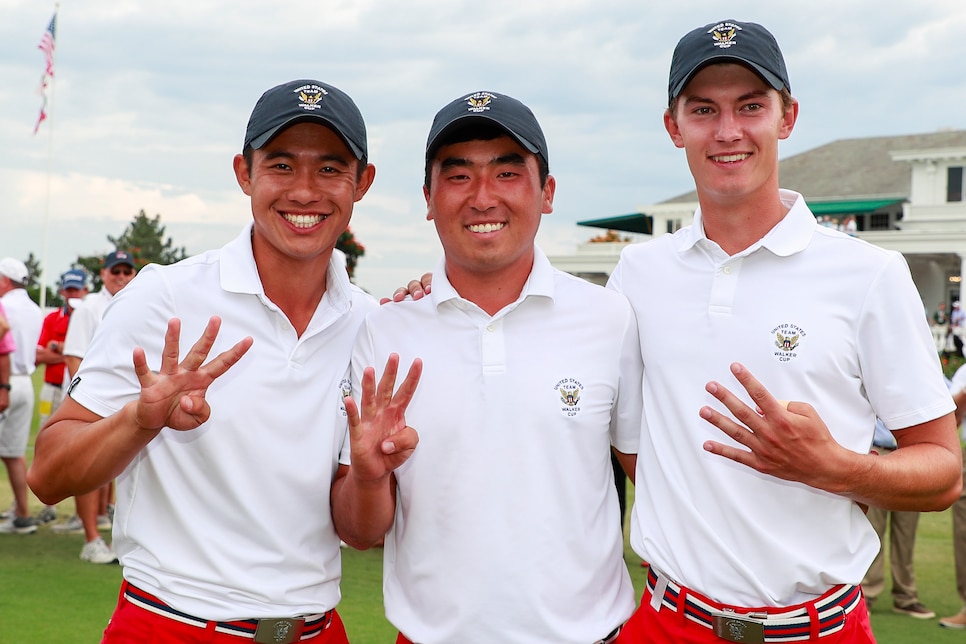 Throw in the fact that PGA Tour superstars Jordan Spieth and Justin Thomas are just a couple years older than these guys and you have to feel pretty good about the future of American golf.
Lexi Thompson: Lexi won her second event of the season at the inaugural Indy Women in Tech Championship and got to do an actual victory lap on the Indianapolis Motor Speedway. Sounds fun!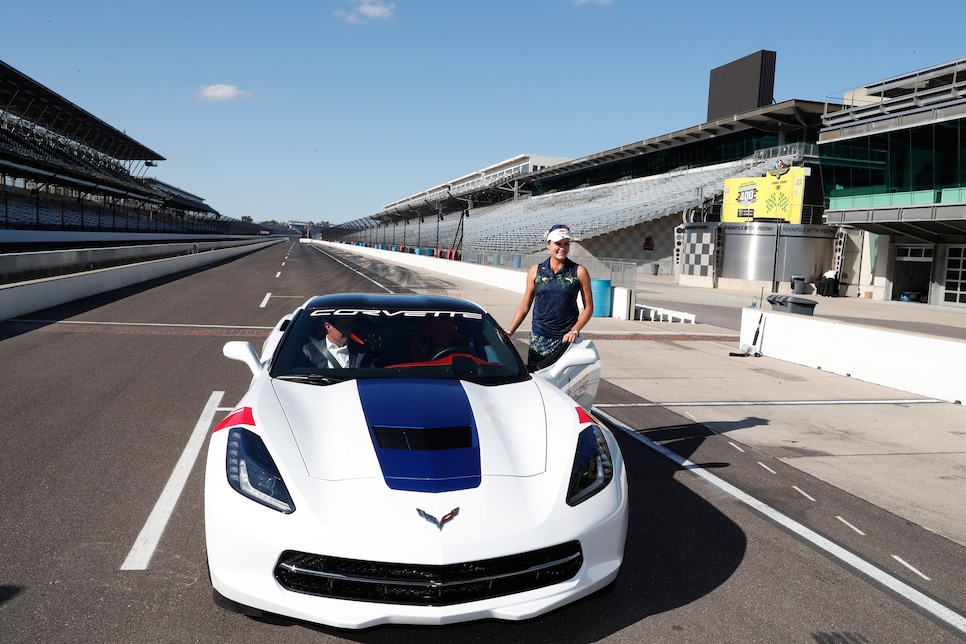 Like the Indy 500 winners, she also got to dump milk on her head. Sounds. . . not so fun!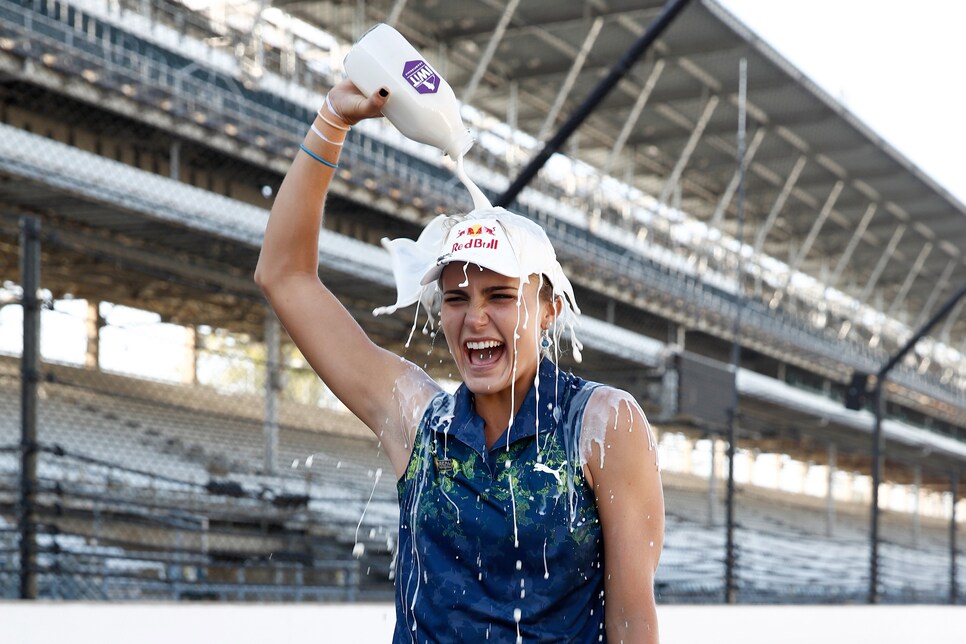 "Yeah, I guess all the tradition behind winning, kissing the bricks, pouring the milk on me, kind of regretting it now because I feel really gross," Thompson said after. The winner's check probably made her feel better.
Short par 3s: Speaking of fun, LACC turned the already short par-3 15th hole into a 78-yard pitch and putt on Saturday morning. And why not? Unlike gargantuan par 3s that have become the norm in recent years, a setup like this is actually fair to everyone. OK, so I'm partial because my favorite course to play, Myrtle Beach's Caledonia, has a par 3 of a similar length and my favorite club is my 60-degree wedge. But still, I think every course should have one of these mini holes in addition to a drivable par 4. That's a campaign platform I can get behind.
Lydia Ko's season: Ko had a nice week in Indy, finishing runner-up to Lexi, but it was a reminder that we've seen so little from the former No. 1 this year. It was just Ko's second top-five finish of the season and she is still searching for her first victory of 2017 after winning at least three times in each of the past three years. On the bright side, she still doesn't turn 21 until next April. There's plenty of time to figure things out.
Greg Norman wielding a chainsaw: We thought he'd learned his lesson after nearly cutting off his left hand three years ago. NOPE. Norman is still flaunting his favorite power tool:
The PGA Tour returns with the BMW Championship, the third of four FedEx Cup Playoff events. After this week, players need to be in the top 30 to move on to the Tour Championship for a crack at that $10 million bonus. Get ready to watch NBC/Golf Channel's Steve Sands work his magic on a whiteboard!
Random tournament fact: This is the third time that Illinois' Conway Farms, AKA that place where Jim Furyk shot 59, has hosted the event. You probably don't remember that because now he's "Mr. 58."
RANDOM PROP BETS OF THE WEEK
-- The U.S. will win next year's Ryder Cup by 12 points: 1 MILLION-to-1 odds
-- The U.S. will win this year's Presidents Cup by 12 points: 10-to-1 odds
-- There will not be a upset bigger than someone from North Dakota winning Miss America: LOCK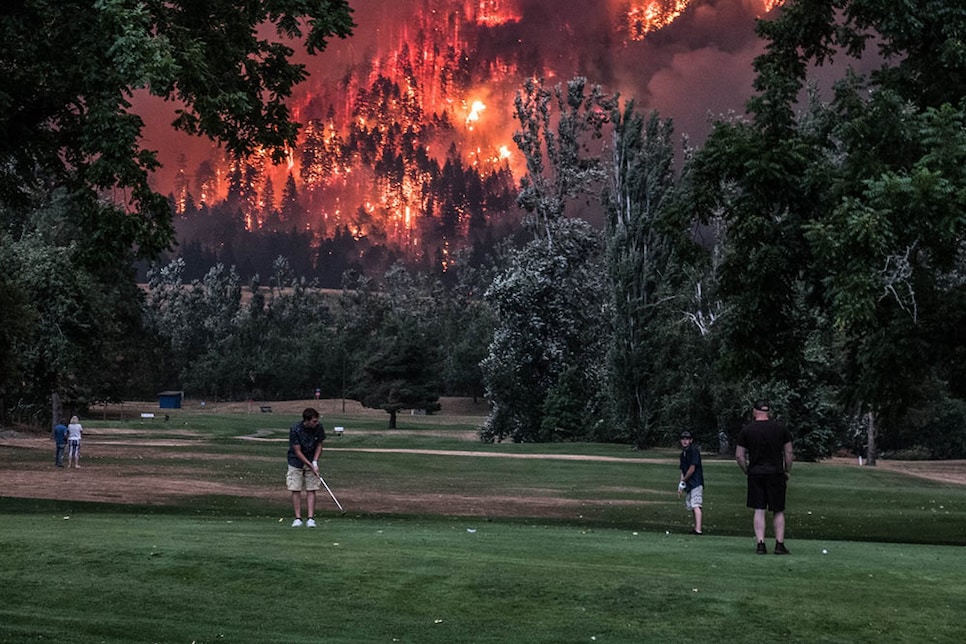 Actually, there's a river between Beacon Rock Golf Course and Washington and that wildfire in Oregon, but the photo, taken by novice photographer Kristi McCluer, is stunning.
Not to toot our own horn, but, OK, we're tooting our own horn. Check out this video The Loop put together of some memorable touchdown celebrations reimagined on a golf course:
My apologies to Deion Sanders for that high-stepping impression.
VIRAL VIDEO OF THE WEEK (FRUSTRATED GOLFER DIVISION)
This comes courtesy of Josh Scobee, the best golfer among pro athletes when he retired from the NFL earlier this year:
Notice how the guy didn't throw out his golf bag. Smart. It's never the bag's fault.
THIS WEEK IN TIGER WOODS SIGHTINGS
Tiger Woods avoided Hurricane Irma by taking his kids to NYC to attend Rafael Nadal's semifinal and final matches at the U.S. Open:
(Side note: Why has everyone conceded tennis' GOAT title to Roger Federer when Rafa trails him by just three Grand Slam titles while owning a 23-14 career head-to-head record against him? Hmm. . . )
Tiger also took a pic with newly-crowned women's winner Sloane Stephens:
By the way, both Stephens and Nadal won $3.7 MILLION for winning the U.S. Open. Might be time for the USGA to step up the prize money again next June.
THIS WEEK IN CELEBRITIES PLAYING GOLF
This was the first NFL opening weekend in 31 years that didn't feature Chris Berman, but it seems the legendary ESPN broadcaster enjoyed his time on the course instead. And not just any course, but Royal Portrush. So you could say, He could. Go. All. The. Way. . . . to Northern Ireland. Sorry.
"I had to see my wife. We got married last July, I love her and she's super hot. She's my babe." – Justin James on why he did a Lambeau-esque leap into the crowd after winning the Volvik Long Drive Championship. As you can imagine, this was his wife's reaction: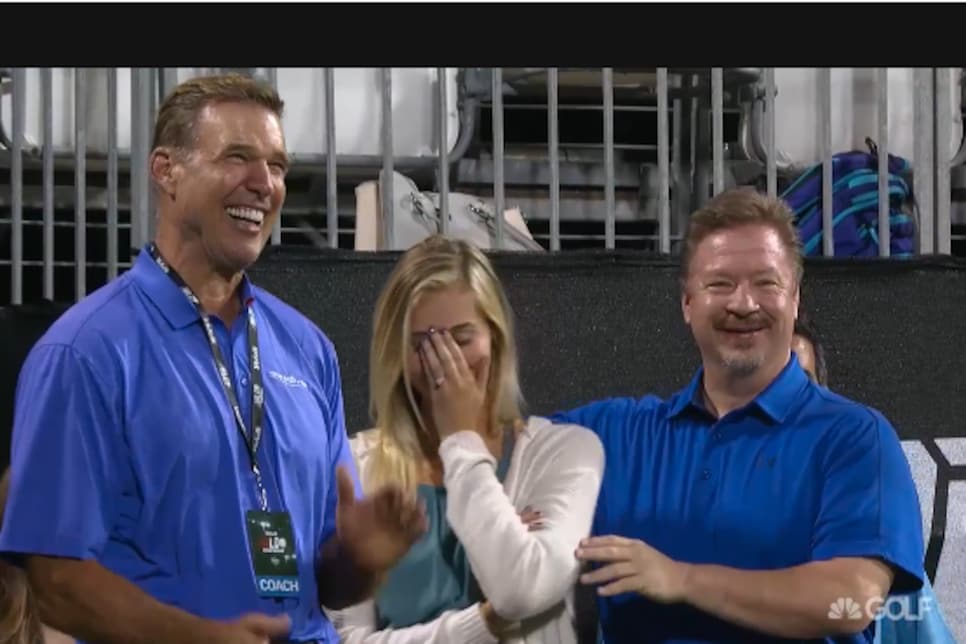 THIS WEEK IN DUSTIN JOHNSON-PAULINA GRETZKY #SB2K17 PUBLIC DISPLAYS OF AFFECTION
Justin Thomas and Jillian Wisniewski took a stroll around Chicago.
Walking around that city is great, but guys, you should really take the boat tour of all the buildings. Good stuff. Meanwhile, Rickie Fowler and Allison Stokke hit up Wrigley Field. Literally. Here's Allison showing off her swing and nearly nailing a Cubs player with a line drive:
Colin Montgomerie won the first-ever PGA Tour Champions event in Japan. Unfortunately, that still doesn't make up for the fact that he never won a PGA Tour event in the U.S. . . . Jim "Bones" Mackay will be inducted into the Caddie Hall of Fame this week just a couple months after parting ways with Phil Mickelson. That was quick. . . . Two-time European Tour winner Lee Slattery missed the birth of his second child (he watched via Facetime) because he had to play while he was "on a run of good form." Dare you to try that line out at home. . . . And finally, to those mocking me for loading up on Coke Zero last month at Costco, that liquid gold has already been replaced by the new Coca-Cola Zero Sugar: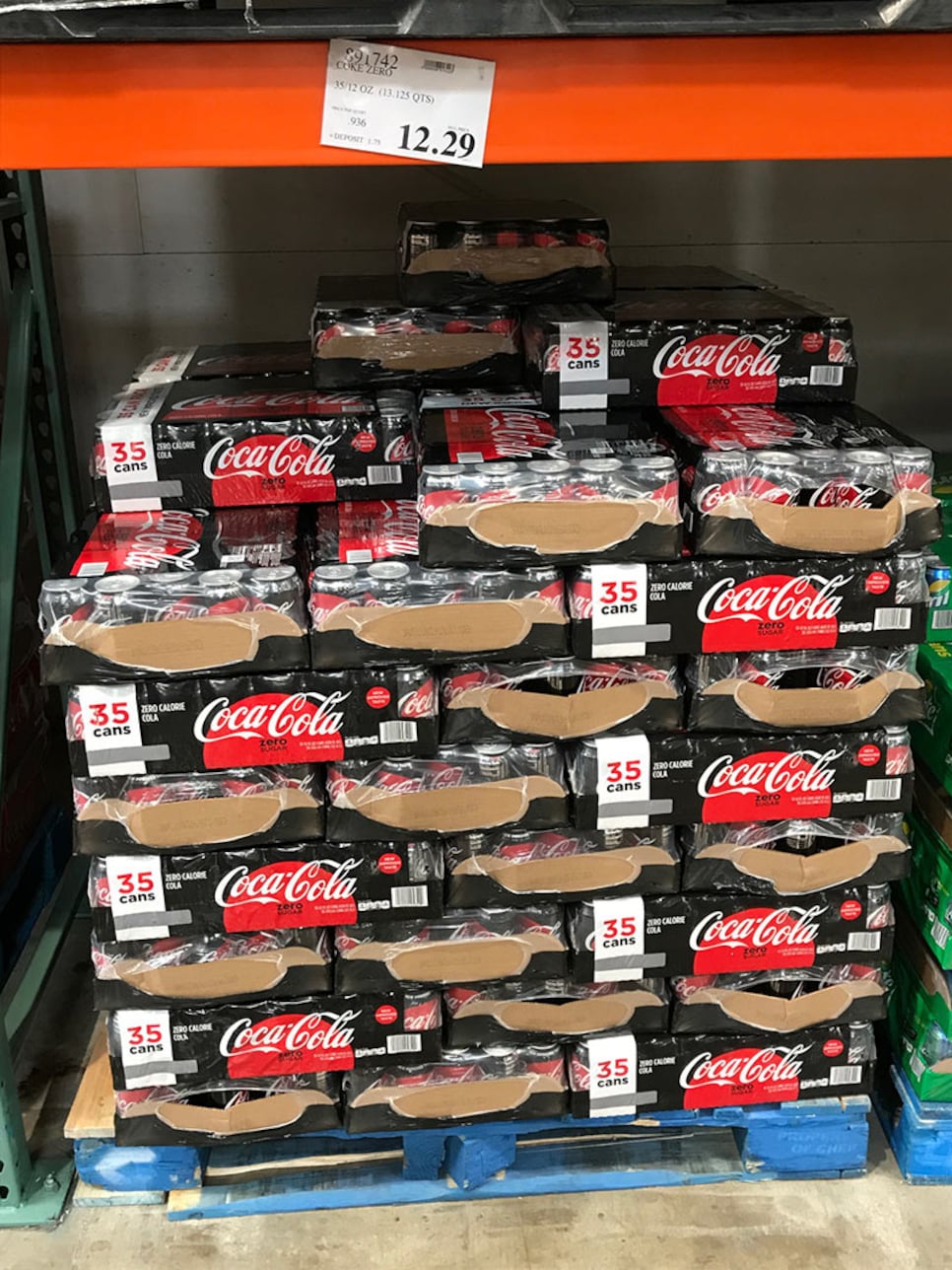 First, changes to Coke Zero, and now, Chili's. What's next? Are Hershey's Kisses going to be discontinued? I don't know how much more I can take.
RANDOM QUESTIONS TO PONDER
Will Phil make Bones' HOF introduction speech?
Does Chris Berman make sound effects on the golf course?
Have I eaten my last Cajun chicken pasta from Chili's?