News
USGA tests Walker Cuppers with a 78-yard par 3 at Los Angeles C.C.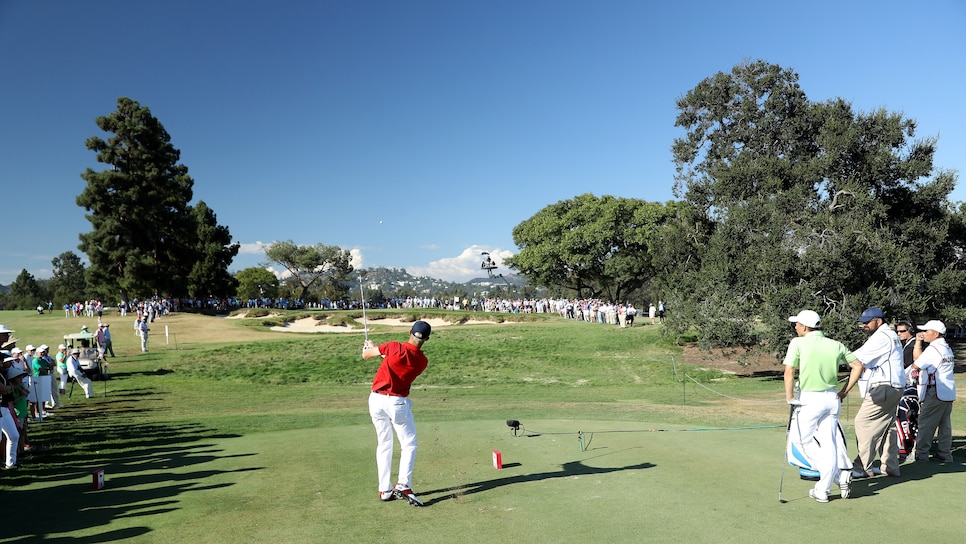 Who says it's all about the long ball in golf these days?
At the Walker Cup on Saturday afternoon, the USGA moved up the tee on the par-3 15th hole at Los Angeles Country Club's North course from the 133 yards it played in the morning to 78 yards, making it the shortest recorded hole ever in a USGA championship.
That's not to say the hole was a push over. The pin position on the right side gave players a landing area of only seven yards, requiring plenty of touch to have a realistic chance at making a birdie. Plus players had to decide just how hard to actually swing given that it was less than a full wedge for all of them.
"Half the battle was trying to decide whether to use a tee or put it on the ground," said U.S. team member Doug Ghim, who halved the hole with a birdie before defeating David Boote of Great Britain & Ireland in their afternoon singles match. "I don't recall ever playing a hole that short since I was like maybe 6 years old, and I used like a 7-iron then. But, yeah, that was pretty wild. I was just lucky enough to just barely get it over the bunker and have enough spin to keep it on the green. But, yeah, it's a cute little hole; really enjoyed it. It's just a little unnerving to have 80 yards off a tee box."
The hole turned out to be a pivotal one in the anchor match of the afternoon singles session. American Maverick McNealy saw his wedge shot just stay on the back of the green and then spin down to just off the front right of the green, while his opponent, GB&I's Scott Gregory saw his ball bound over the green into a back bunker. McNealy used a putter to roll in a 15-footer for birdie to take a 1-up lead. McNealy then won the next to holes for a 3-and-1 victory that gave the U.S. team a decisive 8-4 overall lead entering Sunday play.