News
U.S. dominates singles, opens an 8-4 lead after first day of Walker Cup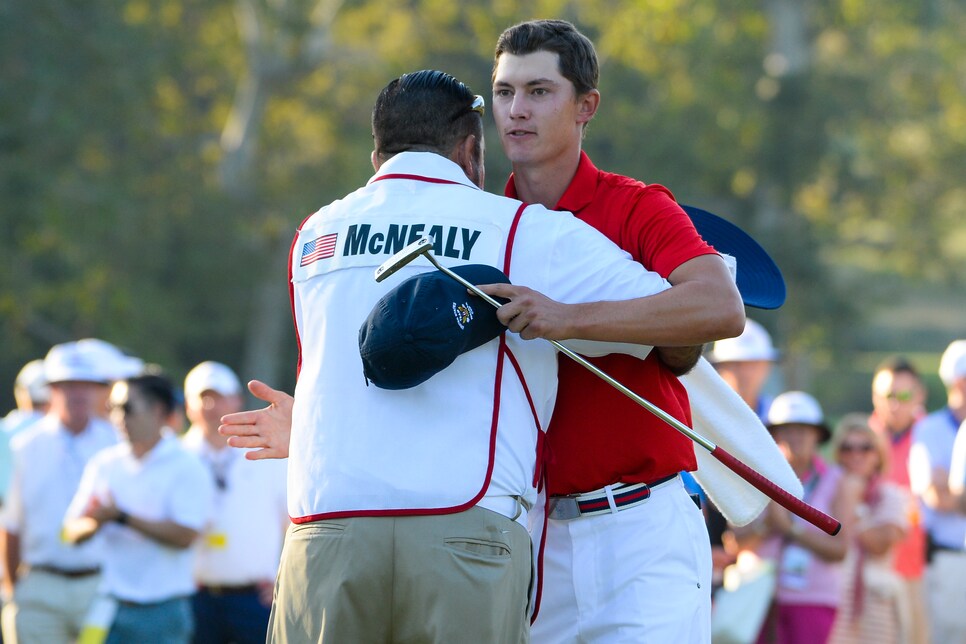 LOS ANGELES — It was a star-spangled banner afternoon for the U.S. Walker Cup team on Saturday, the Americans closely following a script, had there been one.
After playing Great Britain & Ireland to a 2-2 tie in morning foursomes, the U.S. won six of eight singles matches in the afternoon and will take an 8-4 lead into Sunday morning foursomes on the North Course at Los Angeles Country Club.
"I couldn't be more proud of these guys," U.S. captain Spider Miller said. "Braden [Thornberry] flipped his match, Mav [McNealy] flipped his match, Norman Xionx flipped his. Yeah, I'm very pleased. It was a huge momentum change for us. We were down, 5 to 3, at one point."
The GB&I team has an experience advantage in foursomes, given how often its players play that format in Europe. But when the U.S. played them to a draw, the talent advantage took over.
The U.S. team features seven of the top 12 players in the World Amateur Golf Ranking, while the GB&I team has only two of the 12. Of those seven Americans, six won their matches, including McNealy, their highest-ranked player at No. 2. McNealy came from behind to beat Europe's highest ranking player, Scott Gregory (seventh in the WAGR), 3 and 1, to close play for the day.
In the morning, McNealy had teamed with Doug Ghim to defeat David Boote and Jack Davidson, 5 and 4, in their foursomes match.
McNealy was 2 down through 11 holes, but eventually squared the match by holing a 16-foot birdie putt from the fringe on the 78-yard, par-3 15th hole. He won five of the last six holes, including the last three.
So, two years after going 0-2-1 in the seven-point U.S. loss in the Walker Cup at Royal Lytham and St. Annes, McNealy has evened the score, going 2-0 on Day 1.
"This is big for me," McNealy said. "I really, really wanted to play well this week, for my teammates, for my country, for Captain Miller. And it's a great start today, but there's a lot of golf left and those guys are playing awesome so we got to keep the pedal down."
Thornberry, the NCAA individual champion from the University of Mississippi, delivered the first American point in singles, a 2 up victory over Harry Ellis. Thornberry was 1 down with three holes to play, but won all three, the last when he hit his 6-iron approach shot from 200 yards to inches of the pin at 18.
"I pushed it a little bit, but we're not going to tell anybody that," he said of the match-winning 6-iron. "But it was fun and I'm just glad I could get the victory.
"I was getting a little behind the eight ball there on about 13 and I told myself to just stay patient, maybe he'll make a little mistake and I can capitalize and I can throw some birdies in there, which was what I was able to do. I hit a good wedge in there on 14, and Captain Spider came up to me and gave me a pat on the back and told me I could do it, and I kind of took that and rode it."
Xiong, the Western Amateur champion, was three down through five holes in his match with Connor Syme, squared it at 10 and took the lead for good at the 12th hole, winning 2 and 1.
Collin Morikawa took a 1 up lead on the first hole, never trailed and defeated Paul McBride, 3 & 2. Will Zalatoris was a 2 up winner over Matthew Jordan, and Ghim defeated David Boote, 2 and 1.
Los Angeles Country Club member Stewart Hagestad, the reigning U.S. Mid-Amateur champion, suffered one of two U.S. singles losses, 3 and 2. Cameron Champ, meanwhile, was routed, 6 and 4, by Robert McIntyre of Scotland.
"The feeling in the camp is one of disappointment, really," GB&I acting captain Andrew Ingram said, "although we are disappointed we still think we can win. We just had a team meeting the feeling is strong in the camp."