Fantasy Advice
Houston Open 2021 DFS picks: Why Sam Burns will keep making you money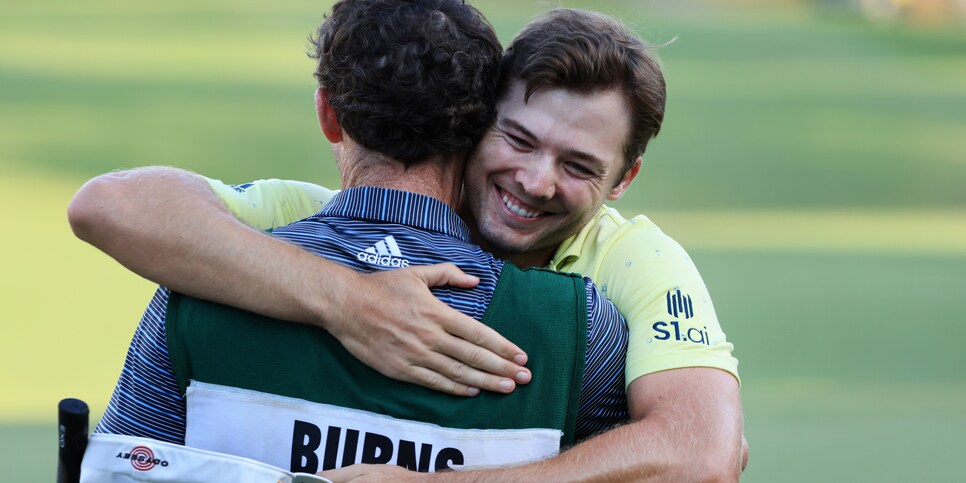 The winning score last year, by Carlos Ortiz, was only 13-under par—this course played as the fifth-toughest non-major course of the year. Memorial Park can boast penal rough and difficult par 5s to provide defense to the game's best. Par will often be a good score this week and birdie-streaks will be rare.
Here are my favorite plays (and fades) in each price range.
Price range: $9,000 and above
High Upside: Cameron Smith ($10,200 DraftKings | $11,600 FanDuel)
Expect Smith to fly under the radar in a stacked tier of popular golfers. Smith hasn't played often—only five events since the Olympics, but he's been in contention nearly every week. He started his season with a T-9 at the CJ Cup, marking his fifth top-15 finish in his past six starts. Smith is shaping up to be an excellent leverage play in the upper pricing range.
Safest Option: Talor Gooch ($9,300 DraftKings | $11,200 FanDuel)
Many might categorize Gooch's T-11 last week as a disappointment, considering his final-round 74. But Gooch has been a staple on the top of the leaderboard this season—with finishes of top 11 or better in all four starts. Now he goes back to Houston where he's finished fourth in each of the past two seasons.
Most Likely To Disappoint: Adam Scott ($9,600 DraftKings | $10,600 FanDuel)
Scott contended at the CJ Cup, finishing T-5, but this price is about $1,000 too expensive. His driver has been suspect at times this year, and Bermudagrass is (by far) his worst putting surface. He's lost 0.20 strokes putting per round on Bermuda since 2010, the worst rate of any golfer priced $7,800 or more.
Pick To Win: Sam Burns ($11,100 DraftKings | $12,000 FanDuel)
All signs point to Burns in Houston. In his past 24 rounds, he's gaining more than two strokes per round on the field. Bermudagrass is his best putting surface—to the point where he's earned two wins, a T-2 and a T-18 in his last four starts on the surface. Finally, he finished seventh at this event last year. That's recent form, course history and course fit—all the boxes have been checked.
High Upside: Jason Kokrak ($8,900 DraftKings | $10,200 FanDuel)
Kokrak has struggled mightily as of late, but Memorial Park should be a great fit for his game. When Kokrak is going well, he's lethal with both his driver and his putter. That's the combination that you'll need around a long par-70 course
Safest Option: Maverick McNealy ($8,500 DraftKings | $10,400 FanDuel)
The past 12 events for McNealy has produced seven top-25 finishes with only one missed the cut. In his two starts in Houston, you guessed it, he's had two top-25 finishes, including a T-20 at Memorial Park last season.
Most Likely To Disappoint: Marc Leishman ($8,700 DraftKings | $10,300 FanDuel)
Leishman is a difficult golfer to handicap, and there might be reason for optimism based on his recent T-4 in Napa and T-3 at the Shriners. However, Memorial Park will be much more penal out of the rough, something that Leishman tends to find himself in quite often.
Pick To Win: Russell Henley ($8,900 DraftKings | $9,800 FanDuel)
When you think of long, difficult par-70 setups, Henley's name might not be the first that pops up . . . but it should. Since the start of 2010, Henley has gained 1.31 strokes per round on Par-70s over 7,250 yards. That's the best mark in the field by anyone with at least 50 rounds, per the RickRunGood.com golf database. He's never lost strokes to the field in 13 events under these conditions.
High Upside: Taylor Pendrith ($7,200 DraftKings | $8,600 FanDuel)
Pendrith had a close call in Bermuda, leading after 54 holes before falling to T-5. After missing the cut at Mayakoba, he's had a few extra days to decompress and get back to his strengths. Those strengths include distance off-the-tee, something that will be important at Memorial Park, and he's got plenty of upside to spare.
Safest Option: Chad Ramey ($7,500 DraftKings | $9,200 FanDuel)
Ramey has been solid during his first four PGA Tour starts, making the cut in his most recent three and earning top-20 finishes in each of his past two. We are learning a little more about his game each week, and he appears to be an excellent approach player who can hold his own on tour.
Most Likely To Disappoint: Jason Day ($7,400 DraftKings |$9,400 FanDuel)
Day continues his abbreviated schedule, playing only five times on tour since the PGA Championship in May. The concern for Day, statistically, is his putter. The weapon that once propelled him to the No. 1 player in the world has let him down. He's lost strokes in seven of his last 10 measured starts, per the RickRunGood.com golf database. He might get more attention this week with a top-10 here last year, but there are too many red flags for me.
Pick To Win: Keith Mitchell ($7,000 DraftKings | $8,600 FanDuel)
Mitchell is certainly a high-risk/high-reward player who flashed upside at the CJ Cup, finishing T-3. That's his third top-eight finish in his past eight starts. Mitchell will look to lean on his excellent driver and roll in enough putts to make noise this week.
High Upside: Sepp Straka ($6,700 DraftKings | $8,300 FanDuel)
There is no safety in Straka, but he's certainly capable of popping. He made the cut at Bermuda and Mayakoba as he turns his attention to Houston. He's earned back-to-back top-five finishes at this event, including a T-5 at Memorial Park last year.
Safest Option: Paul Barjon ($6,000 DraftKings | $7,000 FanDuel)
Barjon is the bare-minimum price of $6,000, which is probably $800 below where it should be. Barjon is a Korn Ferry Tour graduate who won on that circuit last year and has made both cuts on the PGA Tour this season. Just finding the weekend would be plenty of value at this price point.
Most Likely To Disappoint: Pat Perez ($6,800 DraftKings | $8,300 FanDuel)
Perez just made his 500th start on tour last week. It's been a slow start to the season for Perez, missing the cut in three of his four starts while finishing T-44 at the Zozo, a no-cut event. In his only trip to Memorial Park, you guessed it, he missed the cut.
Pick To Win: Denny McCarthy ($6,600 DraftKings | $8,100 FanDuel)
We are starting to see signs of life from McCarthy, who made the cut in Bermuda and then finished T-15 in Mayakoba last week. McCarthy gets to play on Bermuda greens this week, where he gains 0.82 strokes putting per round in his career, per the RickRunGood.com golf database. To add some context to that number, he's by far the best on the planet when it comes to putting on Bermuda.