News
The confidence-boosting reason Carlos Ortiz's Houston Open win could completely change his career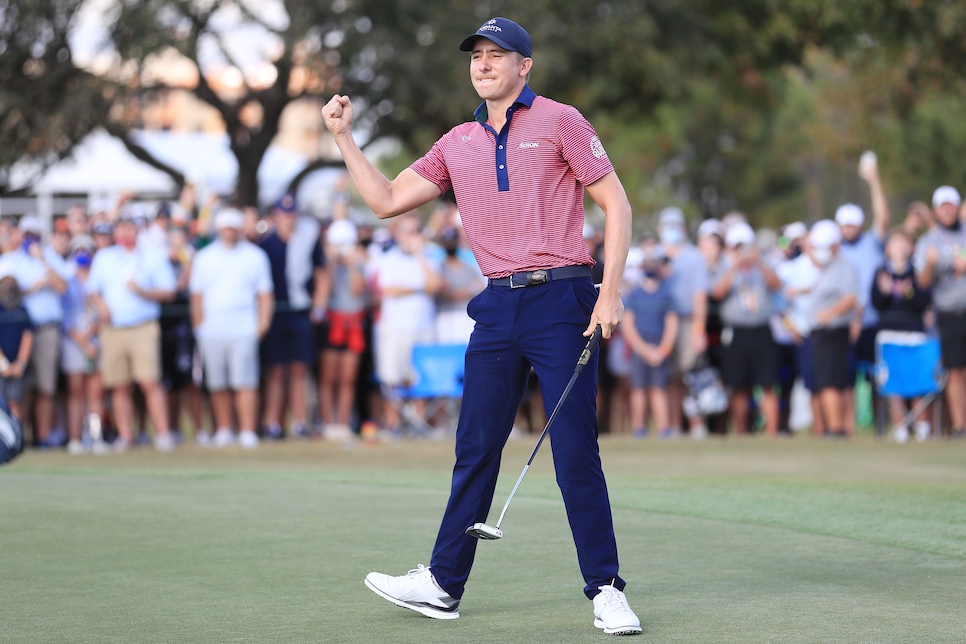 The impact of a breakthrough victory on the PGA Tour isn't just from the win itself, but many times how it was achieved. When you perform with a measure of calm, stare down the No. 1 player in the world, tender a bogey-free 65 and cap it all off in style with a birdie on the 72nd hole when protecting a one-stroke lead, there are incalculable dividends to reap.
It might take some time for the benefits to manifest, for Carlos Ortiz to absorb the full measure of his victory Sunday in the Vivint Houston Open. But the young Mexican probably is OK with that. Because there is the win, finally. There is the validation. That's enough, for now.
How he uses the experience is a story worth watching, yet one that can wait for another day. Maybe the tears he shed in the aftermath at Memorial Park Golf Course will water the seeds of potential.
On Sunday, at a refurbished course with enough bite to leave marks on the unsuspecting and untidy, Ortiz was rewarded for his punctiliousness, registering his maiden tour victory in his 118th start and joining an illustrious group of surprising fall winners. With all of seven top-10 finishes in his career and ranked 160th in the world, Ortiz, 29, somehow summoned the resolve to beat World No. 1 Dustin Johnson and fast-closing Hideki Matsuyama by two strokes.
"I knew I was capable of doing that because I know myself, but obviously validating that and then showing it, it definitely gets me more confidence. Overall, I'm just happy the way it played out," Ortiz said after finishing at 13-under 267 at Memorial Park, which was hosting a PGA Tour event for the first time since 1963 after being renovated by architect Tom Doak with an assist from four-time major winner Brooks Koepka.
Ortiz, who earned $1.26 million, more than a quarter of his prior career earnings, is the third tour winner from Mexico, joining Victor Regalado and Cesar Sanudo. Regalado was the most recent winner from south of the border, claiming 1978 Ed McMahon-Jaycees Quad Cities Open by a stroke over Fred Marti.
It was easy to see that the victory, Ortiz's first since a three-win season on the Korn Ferry Tour in 2014, was incredibly meaningful to the slender man from Guadalajara. Tears welled in his eyes as he stood on the putting green after his right-to-left curling 22-foot birdie effort found the cup for the clincher. His voice trembled in his initial post-round television interview.
"I don't even know what to tell you, just a feeling I've had before, I miss it and it's unbelievable the way this feels," he said. "I played great, and it was challenging at the end. I saw there's a couple people playing really good, too, so I knew I couldn't just like lay it up to the greens and then expect to win so I had to finish strong."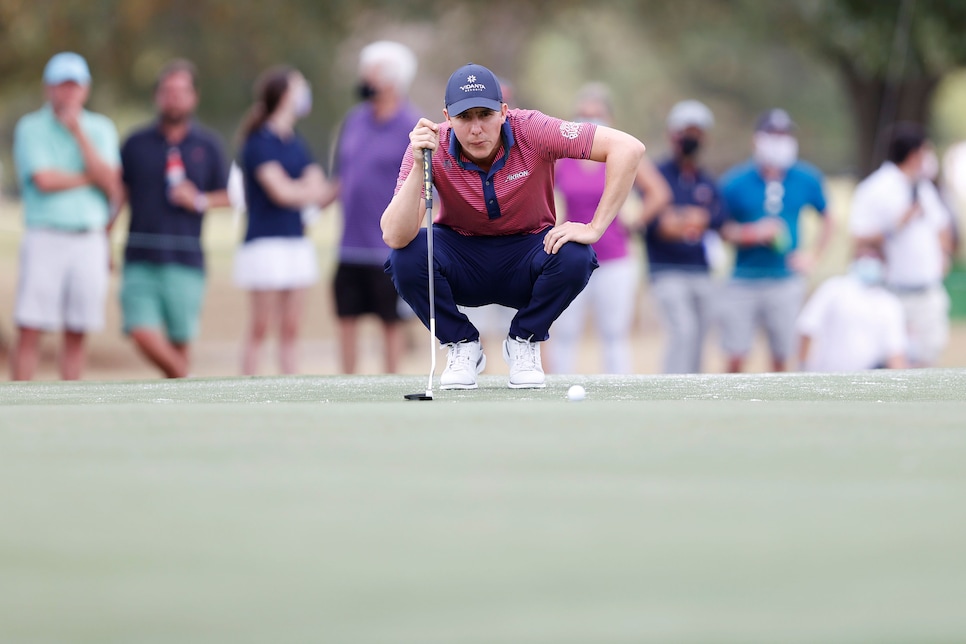 Ortiz held his ground against the World No. 1, Dustin Johnson, and former World No. 2, Hideki Matsuyama, which potentially could give him a psychological lift beyond simply grabbing his first career PGA Tour title.
Carmen Mandato
In addition to the birdie on the home hole, Ortiz displayed his grit when he birdied the par-5 16th hole that broke a tie with Johnson. A 6-iron from 222 yards that dribbled to within eight feet of the cup, set up an easy two-putt for the lead.
Chalk that up as another arrow to stock his mental quiver. He knew it was in there somewhere. He knew he had the chops to execute under pressure and to win again.
"I just had to stay aggressive, stay patient, stay in the present. I wasn't really worried about other people," Ortiz said. "I know from experience that if I worry about myself and I do the best I can to stay aggressive, for the most part it's going to work out."
Ortiz qualified for the Masters, though not the one that commences Thursday. He will have to wait until April— hopefully, if it remains on schedule—to make his debut at Augusta National Golf Club, where his younger brother, Alvaro, became the first Mexican to compete in the tournament in 2019. The elder Ortiz will cool his heels at home in Dallas.
Meanwhile, some of the pre-tournament Masters favorites departed from Memorial Park without hardware but feeling a bit more hard-wired in form.
Start with Johnson, making his first start since testing positive for COVID-19. He bogeyed five of his first nine holes on Thursday and six in all in an opening 72 and then proceeded to shoot 66-66-65. The former U.S. Open champion, who finished in a share of second to Tiger Woods in last year's Masters, suffered just three bogeys over his final 54 holes on a course that induced more triple bogeys or higher than any so far this season—and that includes the U.S. Open at Winged Foot.
Matsuyama, who hasn't won in more than three years, nearly pilfered the trophy. The Japanese veteran buried seven birdies in a tournament-low 63, a springboard to covet going into the year's final major for a player who has finished in the top-25 in four of his last six major starts.
Then there's Koepka, who joined Johnson (and Xander Schauffele) as runner-up to Woods 19 months ago. The Floridian also started slowly after an experiment with a new driver, a decision he admitted was "stupid." You always get honesty from the four-time major champ. He ended up tied for fifth at eight-under 272 by posting consecutive 65 on the weekend.
"It was nice, build some confidence I guess going into Augusta scoring well," he said. "The first two days, it's a shame I put in a new driver. Never should have done that, probably cost me the tournament, but at the same time playing well, just got to play well next week."
Koepka, who missed the U.S. Open in September to rest a knee injury that has hampered him much of the year, converted 20 birdies for the week. Local knowledge may or may not have been a factor. Oddly, none of his peers sought insight on the new venue. Then again, maybe they sensed where that might lead.
"No, nobody asked me for advice," Koepka said, "but I wouldn't give it up either way."
Tough crowd in Houston. Carlos Ortiz can add that to his ledger of reasons for satisfaction.