The Masters
Masters 2022: Nicklaus, Player, Watson hit opening tee shots to begin Masters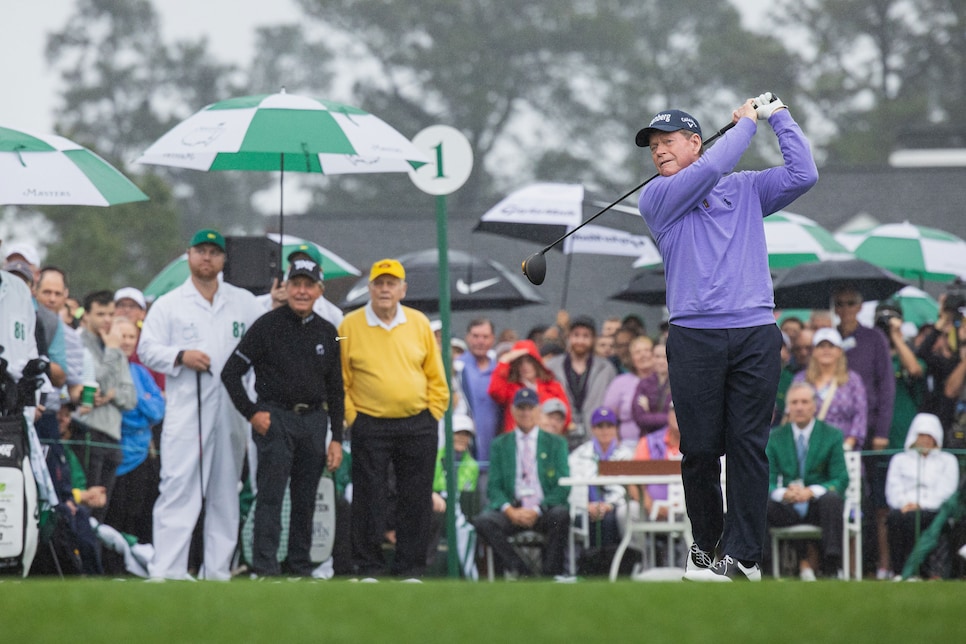 AUGUSTA, Ga. — It has rained and rained hard the last two days in Augusta. But by Thursday morning that monsoon had turned into a mist, allowing the Masters to get underway and to do so with one of its most celebrated traditions.
Longtime honorary starters Jack Nicklaus and Gary Player were joined this year by Tom Watson as they strolled through a gathering of Augusta National members, players, family, friends and fans to the first tee.
The tradition of Honorary Starters at the Masters began in 1963 with Jock Hutchison and Fred McLeod—players who won the PGA Seniors' Championship at Augusta National in 1937 and 1938—starting the tournament with ceremonial tee shots. Other players who have been Honorary Starters include Byron Nelson, Gene Sarazen, Ken Venturi, Sam Snead, Arnold Palmer, Nicklaus, Player and Lee Elder. Watson is the latest to join these ranks, named as an honorary starter this past January.
The men, with 11 Masters wins between them, did their duty—first Player, followed by Nicklaus and then Watson—striking their shots to begin the 2022 tournament in earnest. They played to the crowds, reveling in the moment and delivering a scene that exemplifies why this tournament means so much to so many, encapsulated by Watson delivering a short speech on what this honor means to him.
"I would like to say how honored I am to be with Gary and Jack," Watson said. "I've watched his ceremony many times in the past … to be part of this, I'm truly humbled."
The constant drizzle made the tee shots' trajectories tough to decipher. Where they landed is besides the point. What matters is after a patron-less Masters in the fall of 2020 and a limited gallery last spring, the first tee was surrounded once again to honor this tradition unlike any other.
More Masters 2022 stories from Golf Digest