The Loop
Hideki Matsuyama's hidden talent, Sergio Garcia gets over a major hurdle, and a pair of golf newlyweds enjoy the Super Bowl
Welcome to another edition of The Grind, where we're still trying to figure out how the Atlanta Falcons lost that Super Bowl. Sure, we've seen plenty of collapses in golf, but this was something else. This was having a three-stroke lead on the final hole of a major and pulling driver. Then taking an unnecessary bold line on your approach shot and eventually making a triple bogey. Then not recovering and losing in sudden death. OK, so this was Jean Van de Velde on a football field.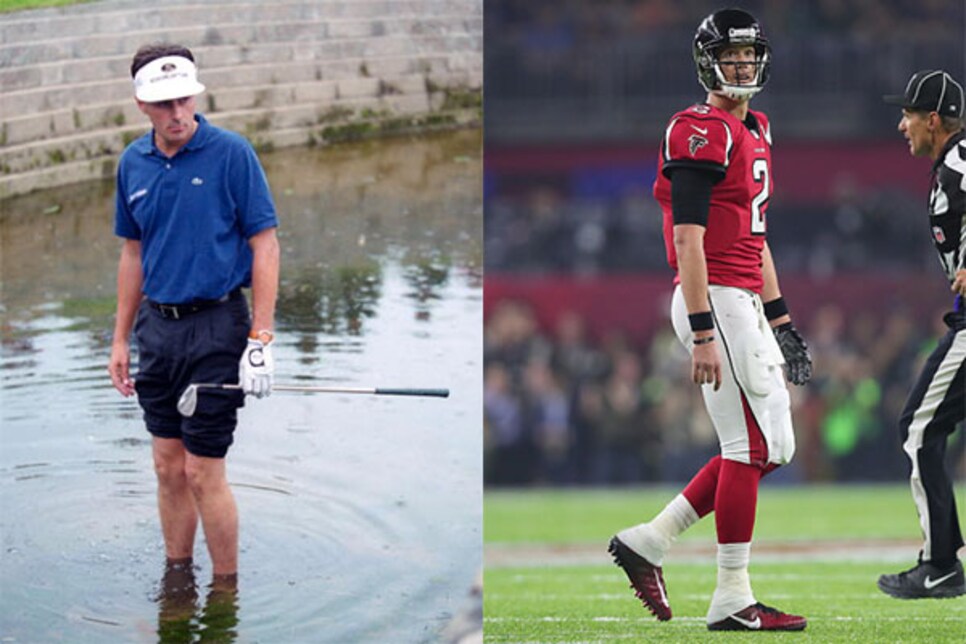 But there was a lot happening on the golf course as well. So in addition to the Falcons' indefensible fourth quarter play calling, here's what else has us talking.
Hideki Matsuyama: Another week, another top-notch performance from the rising superstar. For a second consecutive year, Matsuyama won the Waste Management Phoenix Open in a playoff. His only mistake is that he didn't finish the job before the Super Bowl kicked off. Matsuyama now has two wins and two runner-ups in his first seven starts this season (plus that Hero World Challenge title). The most surprising part of all this is that somehow he's still only No. 5 in the Official World Golf Ranking.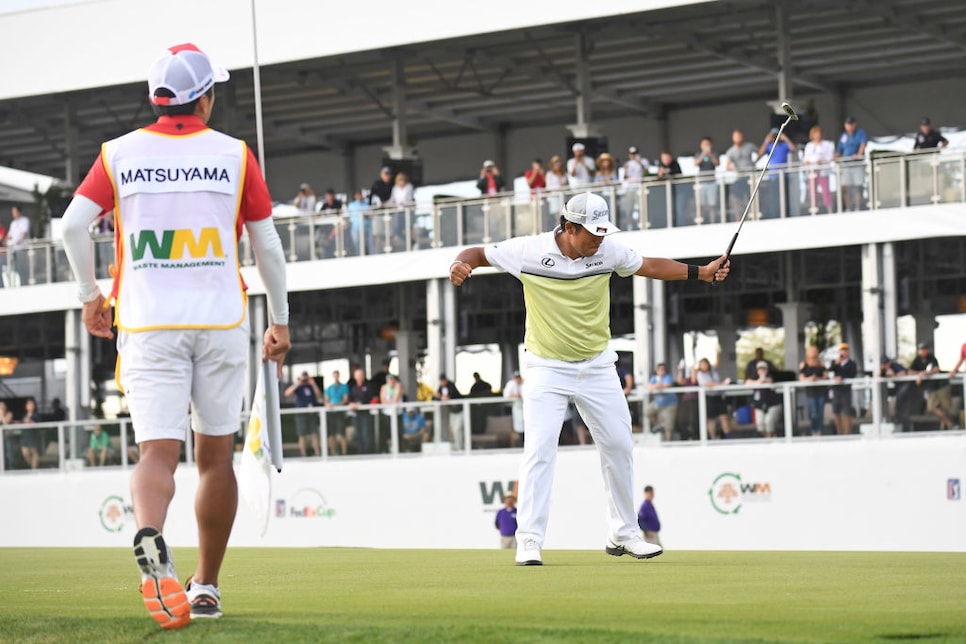 We also learned about Hideki's secret talent: Being able to throw a filthy curveball (2:33 mark):
Look at that late movement!
Sergio Garcia: What a week for brilliant ball-strikers, huh? While Matsuyama won in Phoenix, Garcia took down Henrik Stenson in a duel in Dubai. The Spaniard moved back into the top 10 in the OWGR and picked up that all-important first win as an engaged man.
The only thing Sergio does better than compress a golf ball is sweet talk a lady:
TPC Scottsdale's 17th hole: Yeah, yeah, the 16th hole is cool, but we've heard enough about it. Meanwhile, the tournament's most exciting hole is the drivable par-4 17th that features water to the left and behind the green (as Rickie Fowler found out in 2016). And it was only fitting that this year's tournament ended right here with Matsuyama, who plays short of the green every time with a 3-wood (Discipline!), making birdie.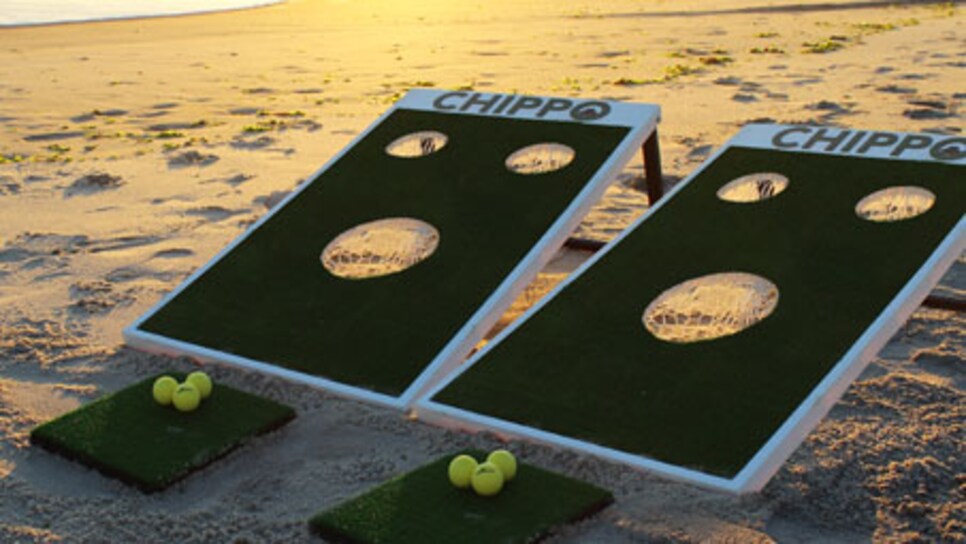 Of course, I'm a little biased since Chippo pretty much involves the only two athletic activities I'm decent at. Yes, I consider cornhole a sport.
Tiger Woods: Two weeks ago, the golf world was filled with optimism about the 14-time major champ's return. Now, it's being flooded with prop bets about him retiring. Woods' trip to Dubai was nothing short of a disaster as he cringed his way to an opening 77 before withdrawing the following day with back spasms. We hope the real reason was either the bad weather, getting sick of all the Brexit talk from playing partners Matt Fitzpatrick and Danny Willett or that he was offered last-minute Super Bowl tickets. Otherwise, it's tough to remain optimistic at this point.
Air Jordans: Photos of the newest incarnation of this line -- this time, as a golf shoe -- were released on Monday, and while everyone seemed to swoon over them, I don't get all the fuss. Call me old fashioned, but basketball sneakers are meant for the court. What's next? Skechers on the golf course? Oh, right. Matt Kuchar. Sigh.
Steven Bowditch: Look, we're huge fans of Bowditch, in particular his hysterical, self-deprecating Twitter feed. And we understand he's had battles with alcohol and depression in the past, but he made a huge mistake. And he knows it.
It's also a reminder to be careful out there. Not only when you get behind the wheel, but if you see a friend who probably shouldn't about to. In any event, we're glad no one got hurt and we're pulling for Bowdo to come back from this.
The PGA Tour heads to Pebble Beach for the AT&T Pro-Am. If you're not a fan of seeing more golf shots from celebrities than tour pros, you might want to sit this one out.
Random tournament fact: This is where Justin Timberlake did this last year:
This is also the only sporting event that Bill Belichick smiles at even when he loses.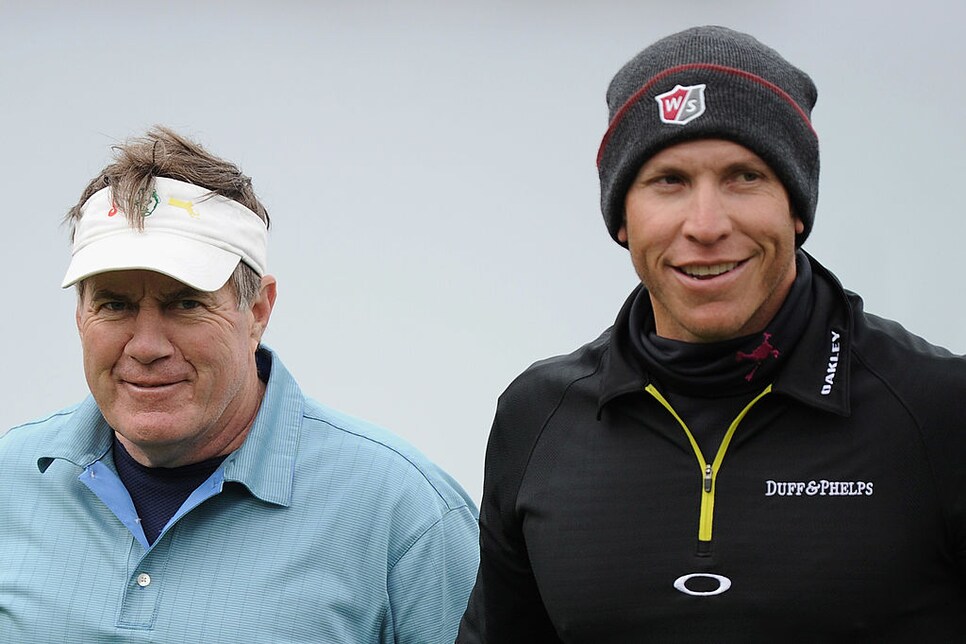 RANDOM PROP BETS OF THE WEEK
-- Hideki Matsuyama will win the 2017 Masters: 10-to-1 odds (Actual odds, down from 30/1 in August.)
Tiger Woods will win the 2017 Masters: 50-to-1 odds (Actual odds, up from 20/1 two weeks ago.)
-- Tiger Woods will finish in the top 20 in a full-field event this year: Even odds (Actual odds. This is getting sad.)
PHOTO/INSTAGRAM OF THE WEEK
VIRAL VIDEO OF THE WEEK (TRICK SHOT DIVISION)
How about Patrick Reed showing off his trick-shot game. And in front of the huge crowds on the 16th hole!
VIRAL VIDEO OF THE WEEK (CUTE KID DIVISION)
It's a little old, but it also might be the cutest video you see all year. Check out this little kid going crazy for Jon Rahm's winning putt at Torrey Pines:
VIRAL VIDEO OF THE WEEK (DRUNK IDIOT DIVISION)
Even in that state, that guy couldn't believe the Falcons' play calling down the stretch.
"The only play was to pitch out, but that's not really, you know, what I like to do." – Phil Mickelson on why with his ball buried in the rough and behind a tree he decided to hit driver. Yes, Phil really did that. Here's proof:
THIS WEEK IN BELEN MOZO MAKING US FEEL BAD WITH HER TRAINING
Another week, another intense workout video for Golf Digest:
Looks like her boyfriend works out, too. . .
THIS WEEK IN DUSTIN JOHNSON-PAULINA GRETZKY-GIRAFFE PUBLIC DISPLAYS OF AFFECTION
THIS WEEK IN KEEGAN BRADLEY-JILLIAN BRADLEY PUBLIC DISPLAYS OF AFFECTION
The honeymoon in Rome looked nice, but the newlyweds may have had even more fun together at the Super Bowl.
The U.S. Open is raising its purse $2 million for this year's event and the winner will now take home $2.16 million. Even if the champ is involved in two unnecessary rules controversies, it will be well worth it. . . . The LPGA's season opener drew the best rating ever for a regular season LPGA event on Golf Channel. Of course, it probably helped that Americans finished 1-5 for the first time at a tournament since 2011. . . . AT&T will be handing out 2,000 of these cool Jordan Spieth koozies/mini golf bags at Pebble Beach: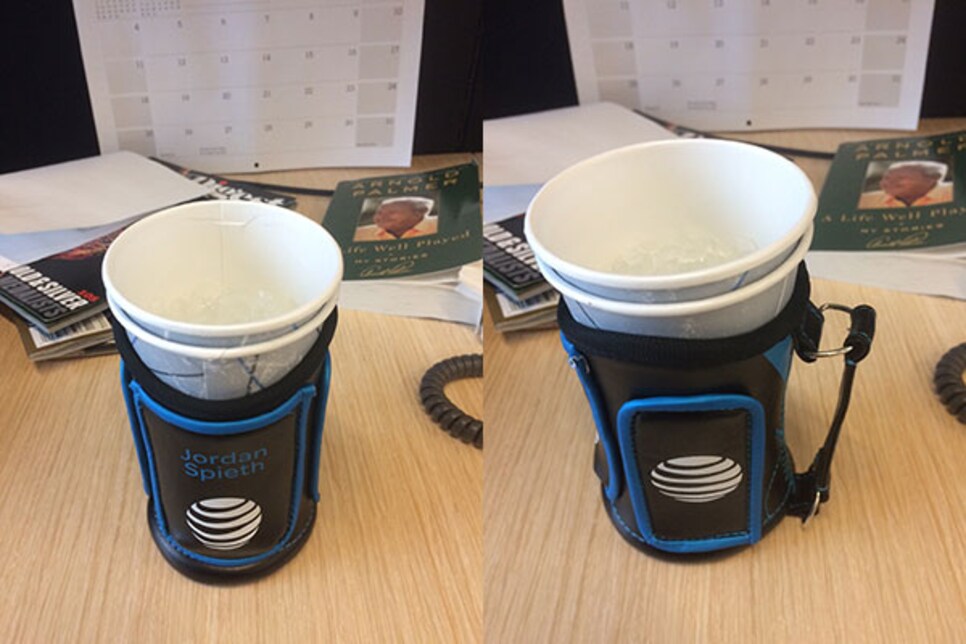 As you can see, they're great for the office. Calm down, it's just for cups of ice water. I'm dainty.
RANDOM QUESTIONS TO PONDER
When will Tiger Woods return to action?
Who will win a major first: Hideki or Sergio?
Seriously, how did the Falcons lose that game?