Hideki Matsuyama's Masters triumph gave the golf-loving country of Japan its first-ever men's major title. And the 29-year-old joined Y.E. Yang as the only Asian-born players to win a major.
Though Matsuyama has been one of the best players in the world for a while, becoming a Masters champion will vault him into higher echelons of the game. Here are a few things you might not know about the Japanese star.
1. His father introduced him to the game at age 4.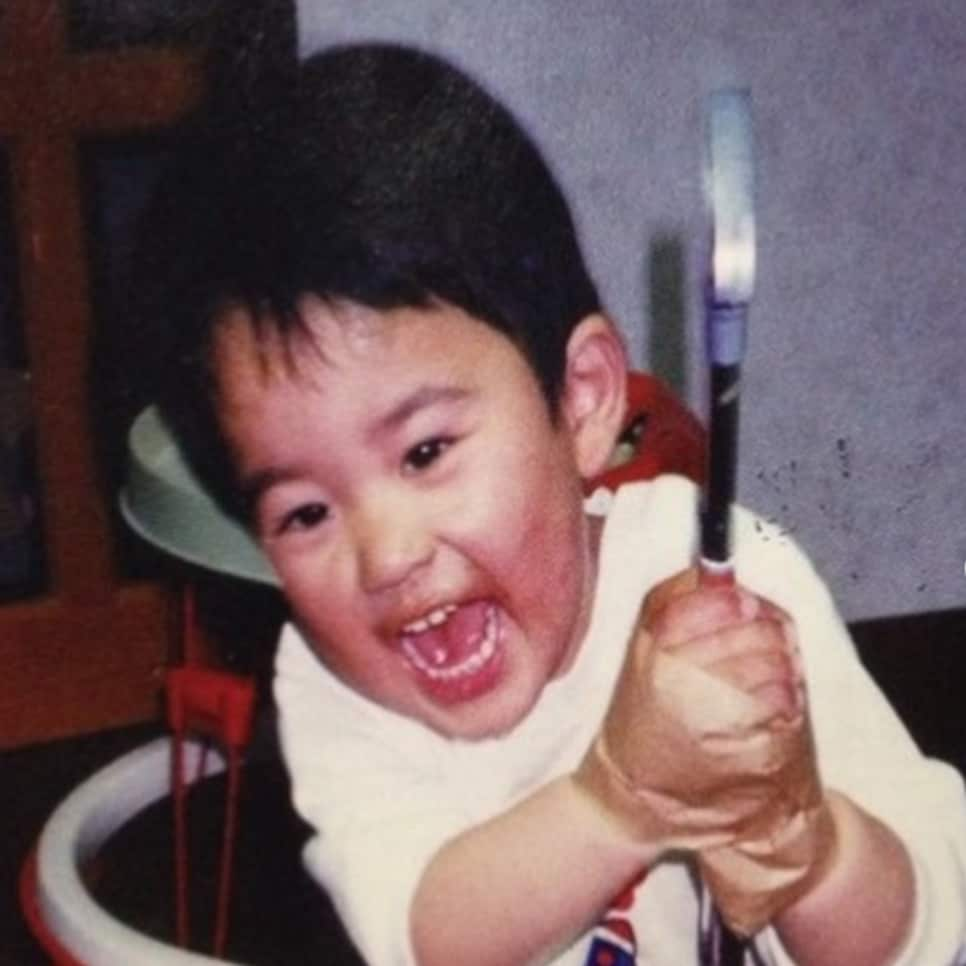 Golf was something Matsuyama quickly took to. By the time he reached high school in Japan, he had moved to have better access to facilities to practice.
2. Matsuyama won the Asia-Pacific Amateur in 2010 to earn an invitation to the Masters, but he almost did not travel to Augusta in 2011.
After a deadly earthquake devastated the city of Sendai, Japan, a month before the 2011 Masters, Matsuyama considered not playing. He was a student at Tohoku Fukushi University, and though he was in Australia at the time of the quake, he returned to his dormitory to see it destroyed. He did go play, becoming the first Japanese amateur to compete at Augusta, and would go on to earn low amateur honors.
"I was very happy to be here, to play four rounds here at Augusta," Matsuyama said. "There are some hard times right now in Japan. Hopefully my play was able to bring some encouragement to those that are in need right now."
Later that year, Matsuyama became the first (and to date only) golfer to repeat as Asia-Pacific Amateur champion.
3. The same course where he won the Asia-Pacific Amateur in 2010, Kasumigaseki Country Club, is the host venue for golf in the 2021 Summer Olympics.
Nick Faldo even speculated that Matsuyama would be a torch-bearer for his home country. When Matsuyama was asked after his Masters win, he said: "It'd be quite an honor if I am in Japan when that happens, and they ask me."
4. Upon turning pro in 2013, Matsuyama dominated the Japan Golf Tour.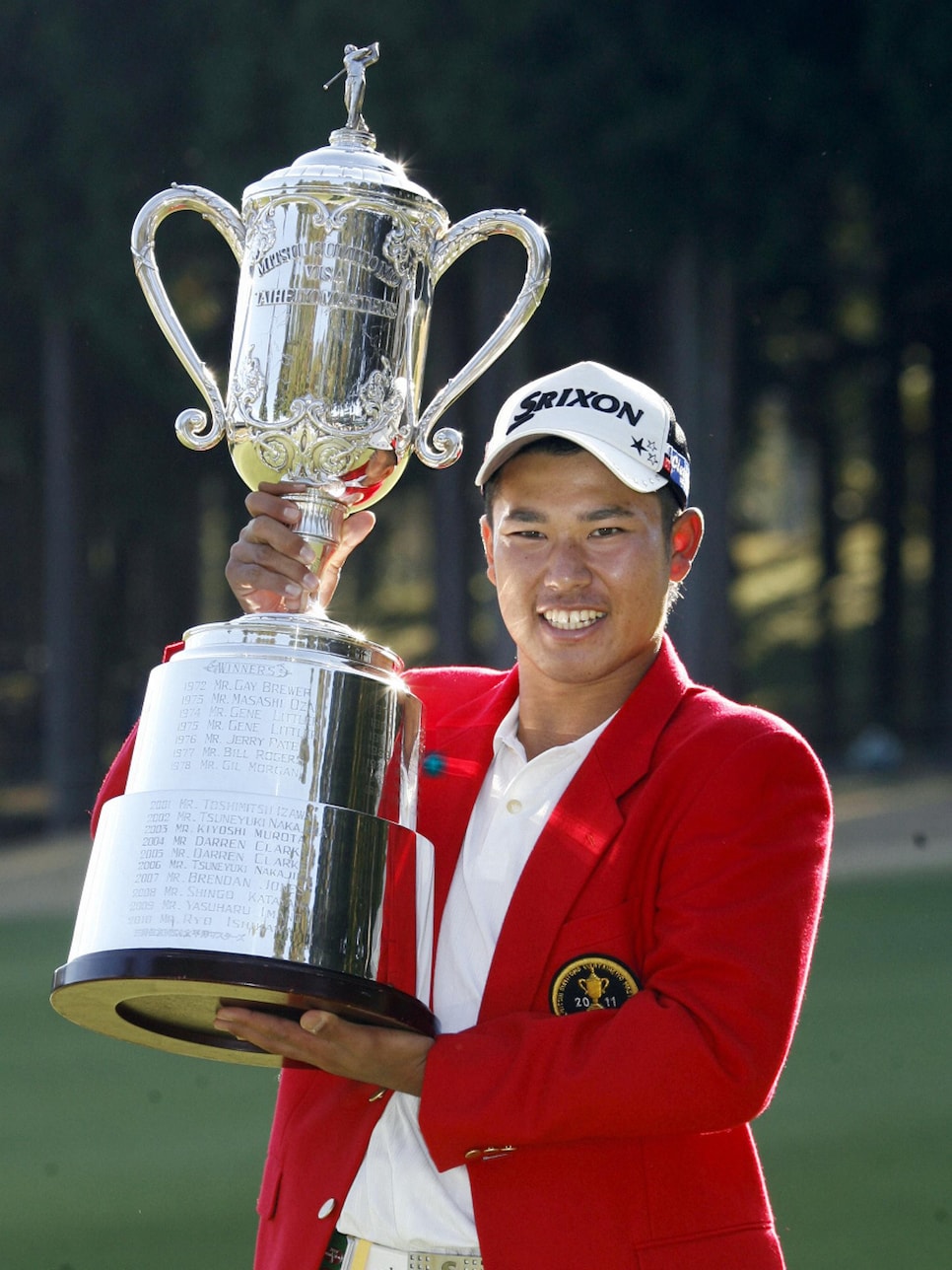 Hideki Matsuyama became just the third amateur to win on the Japan Golf Tour (following Masahiro Kuramoto in 1980 and Ryo Ishikawa in 2007) when he won the Taiheiyo Masters in November 2011.
Kyodo News
Hideki won his first Japan Golf Tour title as an amateur in 2011. In just his second start as a pro in 2013, he won his second title on his home tour, and by the end of that year he would win three more times to become the tour's first rookie to be its leading money winner. All told, he's won eight JGT titles, including the 2016 Japan Open, which is considered a major on the tour.
5. Matsuyama is a very quiet superstar.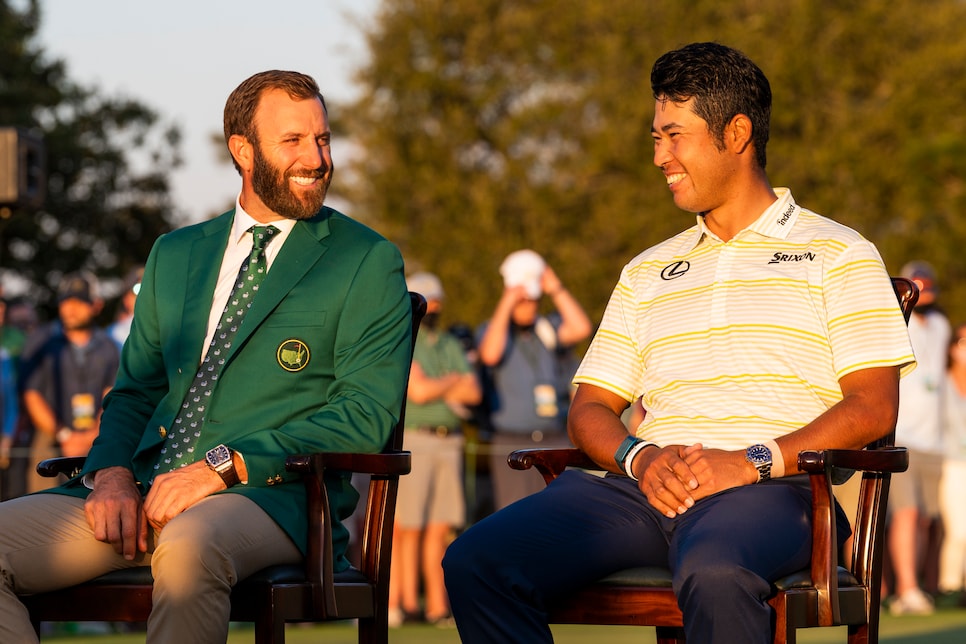 Even among the Japanese golf media—who follow his every move—the common refrain is that though Hideki doesn't speak much English, he speaks even less Japanese.
6. Matsuyama is so reserved that he did not reveal to the public that he was married until he announced the birth of his daughter, Kanna, in 2017.
When asked why he never mentioned his wife, Mei, he said: "No one really asked me [if I was married], so I didn't have to answer that question. But I felt that after the [2017 PGA] would be a good time, because our baby was born and I thought that would be a good time to let everyone know."
7. After a runner-up finish at the 2017 PGA Championship at Quail Hollow, Matsuyama rose to second in the World Ranking—but hadn't won since July 2017 until his Masters victory.
Matsuyama's first PGA Tour win came in Phoenix in 2015, and he had won five times in the U.S. prior to the Masters, but his most recent victory at the 2017 WGC-Bridgestone Invitational, leaving him winless for 1,344 days until his triumph at Augusta.
8. As you might've seen during the Masters ceremony in Butler Cabin, Matsuyama uses an interpreter for interviews.
His English is reportedly OK, but he's used Bob Turner, an interpreter who has also worked for Tiger Woods and Adam Scott on their trips to Japan, for all interviews. And when he goes out to dinner with other players, Turner will help translate for him.
9. Matsuyama is just the seventh player in Masters history to earn low-amateur honors and win the green jacket.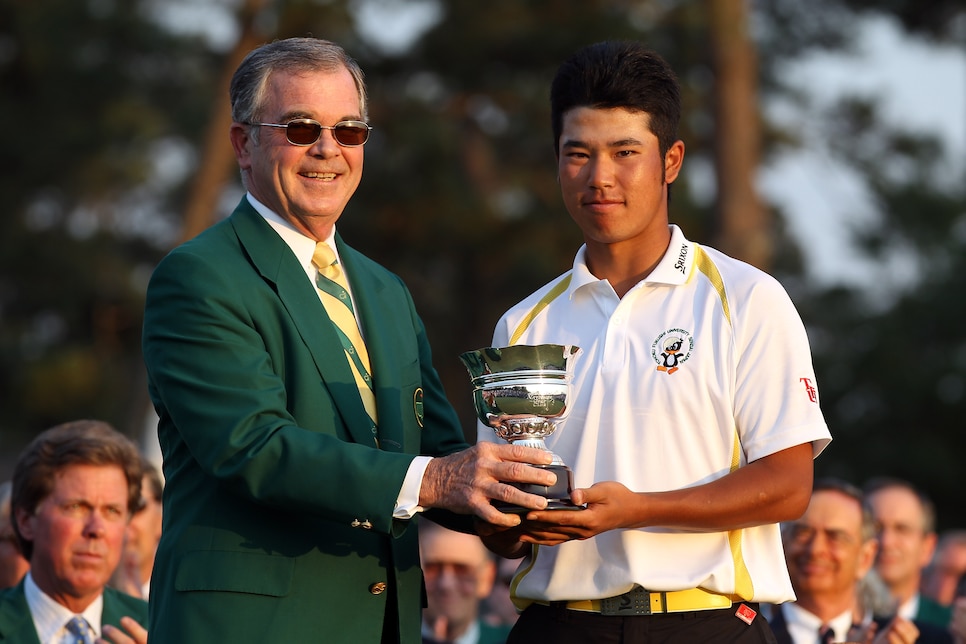 Hideki Matsuyama is presented the trophy for low amateur from Billy Payne after the final round of the 2011 Masters Tournament.
Ross Kinnaird
He joins Jack Nicklaus, Cary Middlecoff, Ben Crenshaw, Tiger Woods, Phil Mickelson and Sergio Garcia to have done it.
10. Matsuyama didn't always have his patented pause at the top. He admitted it developed as he looked to generate more power when he first came onto the PGA Tour.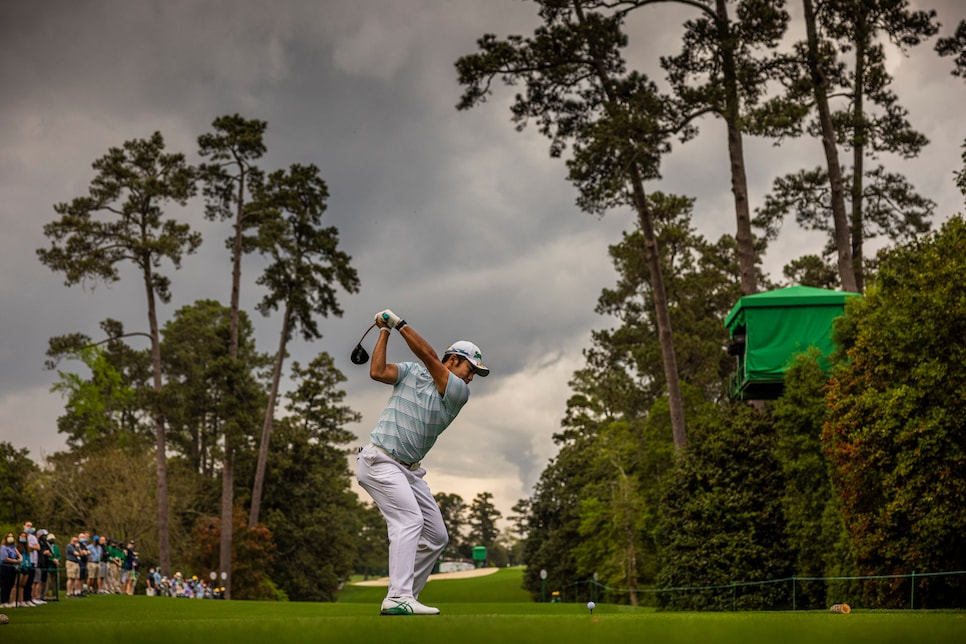 "When I first came to the PGA Tour in 2013, everyone was hitting it a long way, so subconsciously my takeaway was getting faster, because I wanted to hit it farther," Matsuyama told Golf Digest a few years ago. "I wanted to slow down my backswing, and I think that's when I really noticed the pause."
11. Hideki hired a swing instructor for the first time in his career in December.
He started working with Hidenori Mezawa, and among the things he's working on with Hideki is getting away from that pause at the top of his swing.
12. In the past seven years, Matsuyama is the only golfer to be ranked in the top 10 in strokes gained/approach.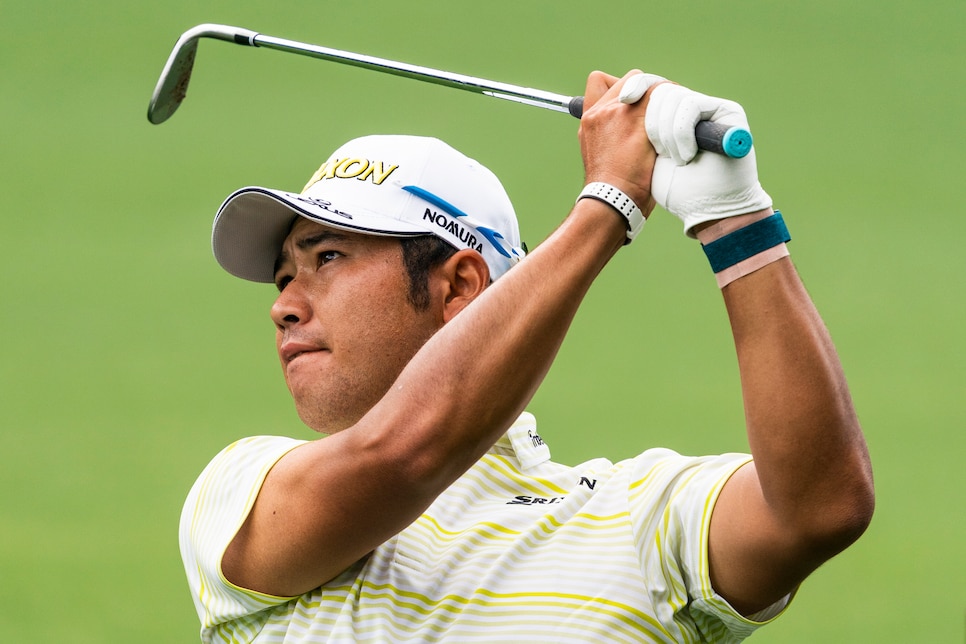 Though putting has always been his weakness, he ranked in the top 15 for strokes gained/putting at Augusta National in 2021—helping him to victory.
13. The Japanese star is said to live humbly—driving a minivan at his U.S. base in Windermere, Fla.
At age 29, Matsuyama has made more than $33 million in on-course earnings, but apparently likes to spend his money in other ways.
14. As far as Champions Dinner menus might go for next year, Matsuyama is apparently a huge sushi fan.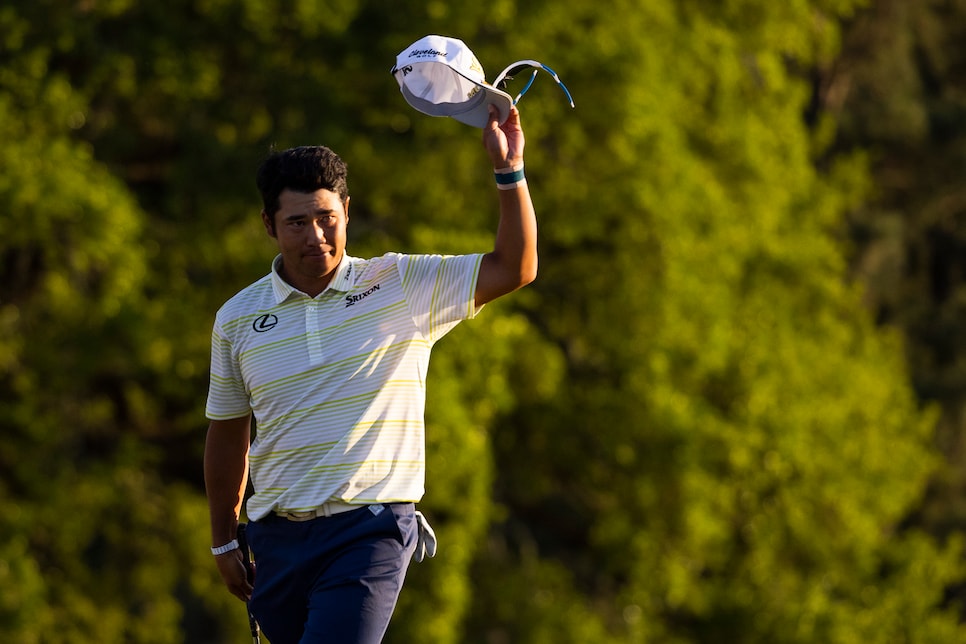 According to Webb Simpson, who dines frequently with Matsuyama, Simpson told our Alan Shipnuck: "We always get sushi. He loves sushi. When I played in the Dunlop Phoenix [tournament in Tokyo], he invited me to dinner, and the restaurant shut down for him. He ordered for me. Yeah, that was a little more like kind of the raw sushi, like the stuff was living, and then it was killed and we ate it right away."
15. ESPN's Andy North estimated that Matsuyama's win could be worth close to $1 billion in ancillary income.
"I think Hideki could compare to Ichiro and Sadaharo Oh," Nobuhito Sato, a board member of the Japanese Tour, told GolfDigest.com, in reference to the baseball stars.