LIV Golf
Report: Greg Norman tells LIV Golf staff, 'We're not going anywhere'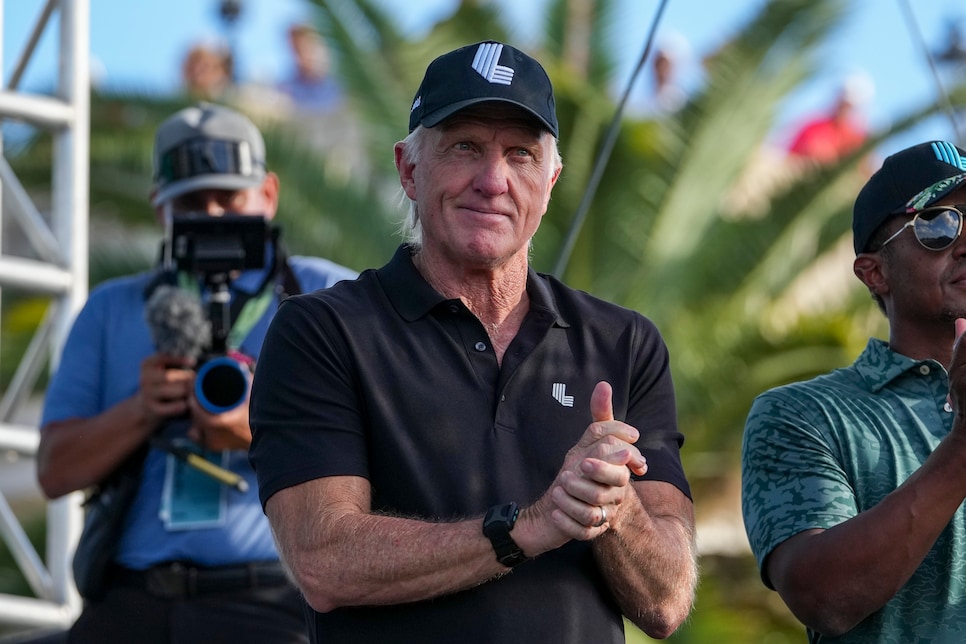 PGA Tour commissioner Jay Monahan said he doesn't envision LIV Golf events running concurrently in 2024, and there's belief the PGA Tour's new deal with Saudi Arabia could fold the Saudi-backed circuit entirely. LIV Golf CEO Greg Norman, it appears, has other plans.
According to Sports Illustrated, Norman told LIV Golf staffers on a Wednesday call that the league "isn't going anywhere."
"LIV is and will continue to be a standalone enterprise," Norman told staffers, according to SI. "Our business model will not change. We changed history and we're not going anywhere."
Norman also added there would be no changes to current operations and planning was underway for 2025.
Tuesday's press releases announced a new partnership between the PGA Tour and Saudi Arabia's Public Investment Fund, which is the financial backer of LIV Golf … but not LIV Golf itself, raising the question what role if any LIV Golf will have in the newly created golf entity. Monahan told the media Tuesday that he doesn't foresee LIV Golf events being run concurrently next season and when asked if he envisions LIV existing at all in 2024, Monahan replied, "We're in a framework agreement. We haven't concluded the definitive agreement. I have not had the opportunity that I'm going to have to conduct a comprehensive empirical evaluation. I don't want to make any statements or make any predictions."
Monahan said there's a commitment in place to make a "good-faith effort to look at team golf and the role it can play going forward." Additionally, in his memo to PGA Tour members, Monahan wrote that LIV golfers will have a pathway back to their former respective tours. Speaking with the media Monahan said while no formal process has been set, discussions are ongoing on how those players will ultimately return.
Rory McIlroy, who has served as the de facto spokesperson for the tour over this past year of civil strife in the game, was less diplomatic when speaking ahead of this week's RBC Canadian Open, stating his hope that LIV will cease operations and that those defected have to face the consequences of their actions.
"The people who left the PGA Tour irreparably harmed this tour, started litigation against it. We can't just welcome them back in," McIlroy said. "That's not going to happen. I think that was the one thing that Jay was trying to get across yesterday is, guys, we're not just going to bring these guys back in and pretend like nothing has happened. That is not going to happen."
Also unclear is Norman's new station. According to PIF's governor, Norman did not find out about the peace treaty between LIV and golf's tours until moments before the governor's scheduled CNBC TV appearance to discuss the deal. "I made a call just before this and of course he is a partner with us, and all the stakeholders that we have with us they had the call right before this interview," Yasir Al-Rumayyan told CNBC.
Norman has been the CEO since LIV Golf's launch, but had not been seen or heard from as much in LIV's second season. There had been multiple calls for Norman's departure regarding any potential peace talks between LIV and the tours, with Tiger Woods saying last December that Norman "has to go." Norman was not listed in any of Tuesday's formal announcements.