SPONSORED
These cold-weather golf layers will keep you warm in early spring rounds—and are currently on sale.
*In partnership with adidas. All products featured on Golf Digest are independently selected by our editors. However, when you buy something through our retail links, we may earn an affiliate commission.*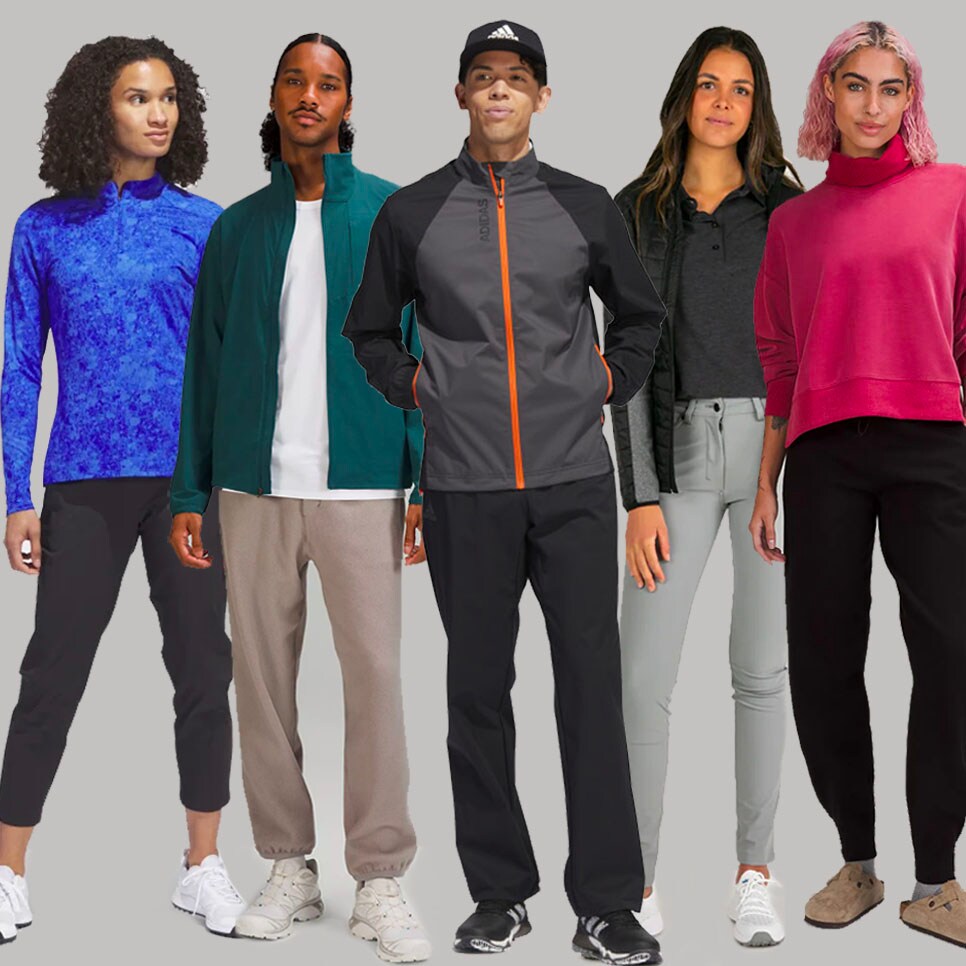 If you live in a colder climate and are looking to get back on the golf course as soon as possible, you'll have to be thoughtful about selecting layers that insulate, allow for full mobility—and it doesn't hurt when it all looks good in the process. Investing in quality layering pieces for golf can get pricey, and that's why it's smart to shop early and take advantage of end-of-winter sales. To help, we've rounded up the best layering options under $100 that'll keep you warm without breaking the bank.
RELATED: Neutrals versus bold brights: The best golf pullovers and quarter-zips to match your style and stay warm
adidas Women's Golf
Base layers do not have to be boring. We love this women's printed long sleeve from adidas with a royal blue marbled design. The shade is versatile and can be paired with almost any color shell or vest and is an easy way to add personality without having to worry about clashing. It would layer nicely over the white Textured Full-Zip Jacket, another solid staple piece to round out any golf wardrobe.
Abacus
Abacus is a great golf-focused outerwear brand to consider when looking for pieces optimized for cold-weather golf. The 37.5 technology was engineered to maintain the perfect body temperature within the garment by removing sweat vapors when things get too hot and trapping energy for heat when you need to warm up. The women's Bounce Fleece Sweater uses this technology, and is currently just $99 (regularly $165). The men's 3D Turnberry Fleece is designed for a balance of lightweight insulation, breathable coverage and soft-fleece-provided warmth. For an even lighter layer, the Men's Long Sleeve quarter-zip pullover adds a touch of warmth for windy days and UV protection that is necessary regardless of the temperature.
adidas Men's Golf
Great for finding budget-friendly options to stay warm in the preseason, adidas has slashed a ton of prices on men's, women's and youth golf apparel. The first item that caught our eye in the sale was the men's Provisional Full-Zip that is water-resistant and has a flashy contrasting orange zip detail to brighten up the gray and black jacket. Also on sale, the Made to Be Remade Crewneck sweatshirt is a versatile layering piece that can be worn in casual cold-weather rounds or layered over a golf shirt for a preppy and upscale look. The men's Cold.Rdy Quarter-Zip pullover is also discounted and coming in at $57. It's an insulating piece made in part with recycled materials. The lively colorway has an athletic look and feel that'll elevate your layered look, without sacrificing warmth.
Todd Snyder
Todd Snyder is a menswear brand that has become more popular with golfers after recent collaborations with FootJoy. The brand has stylishly versatile layering pieces that can easily be incorporated into on-course looks while bringing unique, fashion-forward upgrades. For example, the turtleneck sweatshirt has the comfort of a hoodie, with a more refined look. And velour might not be one of the first materials you think of when it comes to golf apparel, but this polo would look great under a vest or over insulated base layers. For a more traditional look, the quarter-zip pullover, currently 52-percent-off, brings old-school athletic styling, a roomy fit to optimize layering and is made with a cozy heavyweight French terry fabric.
Straight Down
Straight Down is holding a 60-percent-off sale on a variety of layering options for men and women. Sizes are limited on many sale items, but we've got our eyes on the insulated and hybrid jackets that are at very budget-friendly prices, like the men's Yukon Jacket that has 100g/m insulation in a puffy pullover silhouette. On the women's side, the Sierra Jacket is a thermal full-zip with a bit lighter insulation (60g/m), but has side panels for mobility and moisture-wicking properties to help support body temperature regulation.
lululemon Women's
These bright cold-weather golf options bring colorful spring vibes while also adding warmth. The turqoise hoodie will shine on its own or under a puffer vest; the royal blue shade on the half-zip is ultra stylish and can be paired with almost any color; and the bright Another Mile Vest is almost $50-less than the regular price for a simple way to add a ton of style to on-course layered looks. 
lululemon Men's
On the men's side, the Textured Knit Half-Zip Sweater is a great insulating option under $100. It has a roomy fit that is easy to layer over a golf shirt or base layer and an upscale design that is versatile enough to be worn for post-round plans. Plus we love the modern jewel-tone shade that can be paired with most trouser colors. The Metal Vent Tech Midweight Half-Zip is an extra-bright option that is ultra-ventilated but heavy enough to provide extra warmth in low temperatures.
Rhone
If you're looking to add some brighter shades to your layering options, Rhone's sale section is a great place to check. The Commuter Quarter-Zip is a comfortable mid-layer that comes in a variety of colors, has a medium-weight sweater knit fabric and a tailored fit that is easy to dress up or down. The Delta Pique Long Sleeve Polo is a lightweight option with a more athletic fit and we're big fans of this greenish-blue shade that'll add some color, without going overboard. Also on sale, the Reversible Montage Fleece Full-Zip is a more casual layer that has a bold alpine-inspired pattern on one side and quiet navy on the reverse.