Stores & Style
How the traditional idea of a pro shop is changing to meet today's golf fashion standards
Golf streetwear is taking off, with traction from non-golf media and traditional fashion brands catapulting the style into almost mainstream. As this space of golf and fashion grows the spaces to find them are growing alongside. These previously only digital brands are more and more getting physical locations for their fans to visit. These are more than normal retail stores, too; golf-focused stores in urban areas not directly connected to a golf course, will turn them into havens for golfers to converge on and coalesce. These emerging golf brands are some of the first to make the jump from digital to retail, but definitely will not be the last.
Metalwood La Brea store
Metalwood Studio has been infusing the eclectic logos and catchy catchphrases inspired by the vibe of 1990s streetwear with classic silhouettes and more traditional golf accessories. Their products are either sleek and low-key with dark colors with only one embroidered "Metalwood" branding or have huge logos plastered right on the front; there is no in between, and that is all unapologetically by design. The brand puts as much effort into creating on course polos as they do for their casual wear t shirts, and the diversity of their products helps make them attractive to both established golfers and streetwear enthusiasts that might not have any interest in golf. While the brand has a solid digital presence, playing a big part in the interconnected world of golf fashion on social media, opening a store in a high fashion California neighborhood will bring in people who would have never set eyes on the brand.
RELATED: Styled after vintage college-issued golf bags and apparel, the Jones X Metalwood collection is an ode to student athletes
Malbon Golf SOHO
Malbon has been leading the pack when it comes to merging streetwear with golf fashion since launching in 2017. They put out fantastic street clothes as often as they do refined course clothes, and all of them feature their high quality materials and Buckets logo—an expressive little golf ball with eyes modeled to resemble a variety of personas from Tiger Woods to The Grateful Dead. While they previously had a physical location in Los Angeles, California that has since closed, the brand recently opened up a permanent flagship store in the SOHO neighborhood of NYC. The store, like many others, is designed to be more than a retail space, a place for golfers to gather, compare games, and look good while doing it. Malbon is focused on growing the community and investing in the sport, so putting a store in a fashion focused neighborhood, surrounded by sportswear powerhouses like Nike and popular fashion brands like Aritiza, will help bring non-golfers in to see what the hype is about. As said by Stephen Malbon, the brand's co-founder alongside his wife Erica, "We want to extend our presence into physical experiences and retail. New York City is a global hub and is so rich with culture and diversity so it seems like a natural next location for us as a brand." Malbon's unique vibe, one that combines a hustler's mentality with a laid back lifestyle, the epitome of work hard play hard, is perfect for the denizens of NYC.
RELATED: Malbon Golf to mint second 'Buckets Club' NFT collection this week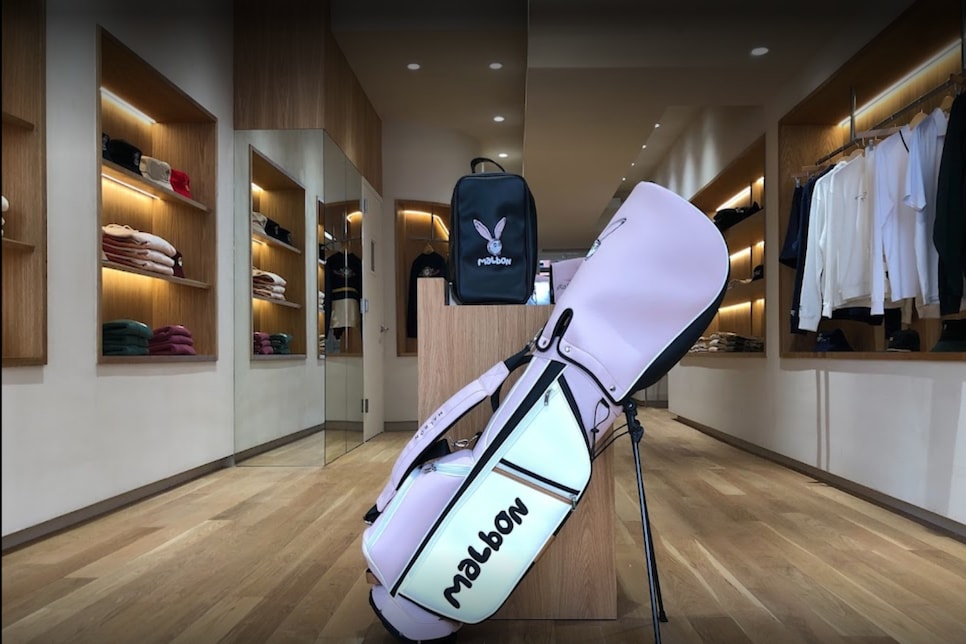 Hypegolf Popup SOHO
One of the most recognizable names in this golf space, Hypegolf is more of a facilitator to spotlight noteworthy brands and for the golf community to have a place to connect. They started, like most, on Instagram as an offshoot of pop culture and lifestyle brand Hypebeast, which covers sneakers, fashion, cars, watches, movies, and anything that can be chalked into today's "culture". Hypegolf is all about integrating this culture into golf, and vice versa, and does so with collaborations, featured posts, tournaments, and most recently, a pop-up store in SOHO, New York City. Featuring pieces from Puttwell, J.Lindenberg, and more, as well as some of their own, the Hypebeast Clubhouse was a pop-up that ran May through June of this year as an evolved, fashion-focused pro shop. Every piece of clothing and equipment was curated to showcase the new direction golf is heading. Anyone could walk in to browse products and hit on the simulator, and the SOHO location meant a lot of fashion-focused people, who might not necessarily play golf, were able to stumble across this location and become immersed in this rising golf world. Hypegolf also hosted weekly parties and networking events with brands like Oakley and Tag Heuer, which brought a lot of recognizable people to the store as well. Hypegolf continues to be the most accessible avenue into this side of golf, taking the familiarity of mainstream popular culture and fusing it with golf to make the sport seem familiar and inviting.
RELATED: Hypegolf's pop-up showed why the brand is trying to modernize golf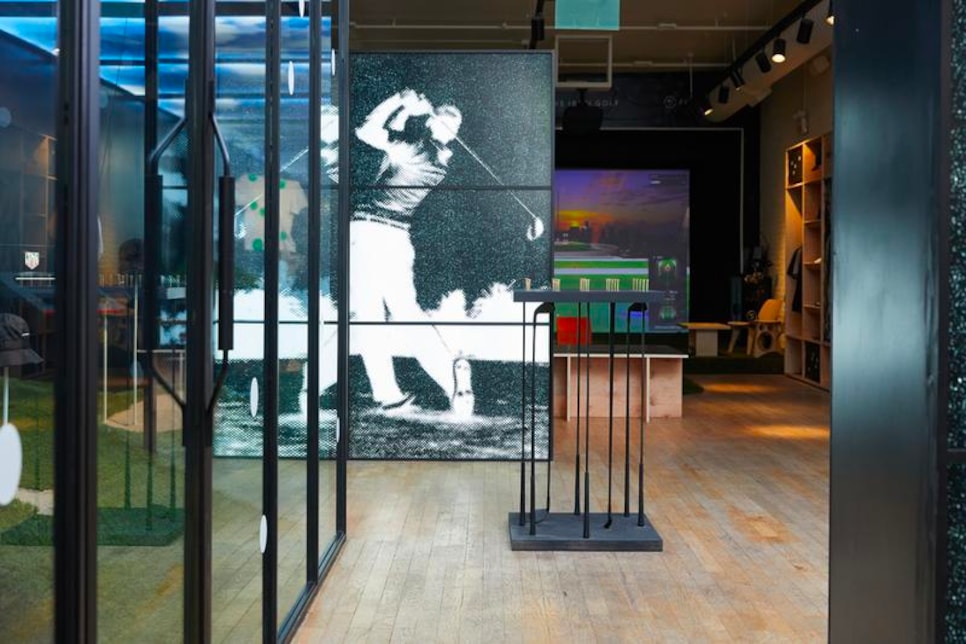 Bogey Boys popup Seattle
In 2018, rapper Macklemore, on a whim, played a round of golf that changed his life. Not only did he realize he enjoyed the game, but he absolutely fell in love with it. He was inspired to create the clothing line Bogey Boys, which is focused on creating modern versions of seemingly old-fashioned golf gear. They take these classic golf designs, like pinstripe polos with huge collars and checkered vests, and revitalize them with modern material. They do this as much as they venture out and go nontraditional, like cheetah prints and design plastered cardigans. They are definitely making sure that their clothes stand out and are unmistakably their own, which is important for an emerging company. They now have the opportunity to do this on a new scale with the opening of their Seattle pop-up shop. The brand had a rotating showcase of products, so there was always something fresh for returning customers, as well as events meant to bring together golfers established and new like concerts and putting contests. While it was only open for a limited time, closing its doors in March, another one has already opened, ensuring the Seattle area is not left without a collection of fashionable golf gear. It left such a lasting impression on the area, Five Iron golf is putting one of their simulators a few streets away, and Macklemore is going to be one of the owners of this new establishment.
RELATED: Hip-hop artist Macklemore's obsession with golf caused him to do something crazy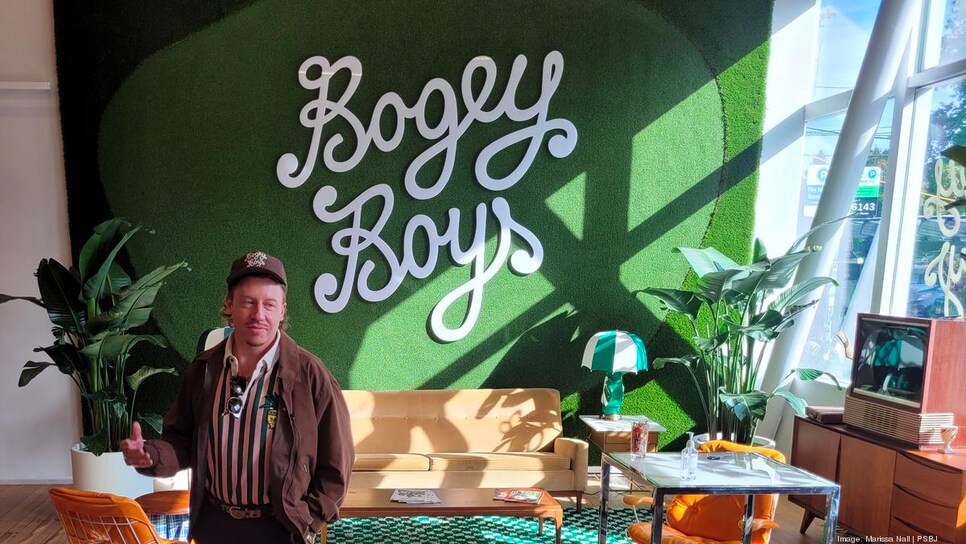 Quiet Golf Pro Shop
Quiet Golf Club is not as established a brand as Malbon or Metalwood, but they are just as invested in the movement, evident by their quick rise to popularity. While they do not have a deep inventory of products currently, what they have available is high quality and unique to the brand, with designs ranging from funny to fancy, and accessories that will make your bag stand out like bandana or realtree print. Even though they do not have a large following, they already have a physical presence in California which will be paramount in helping this brand create traction. With designs like the anatomy of a golf ball and different types of grass, the company's innate love for the game is showcased right on all their products. And with their modern design, a lot of their clothing would look just as at home in any streetwear store, so a physical location will help to draw people in just off the product alone. There, they will be able to see all the golf inspiration and why this sport is enough to inspire a fashionable company like this.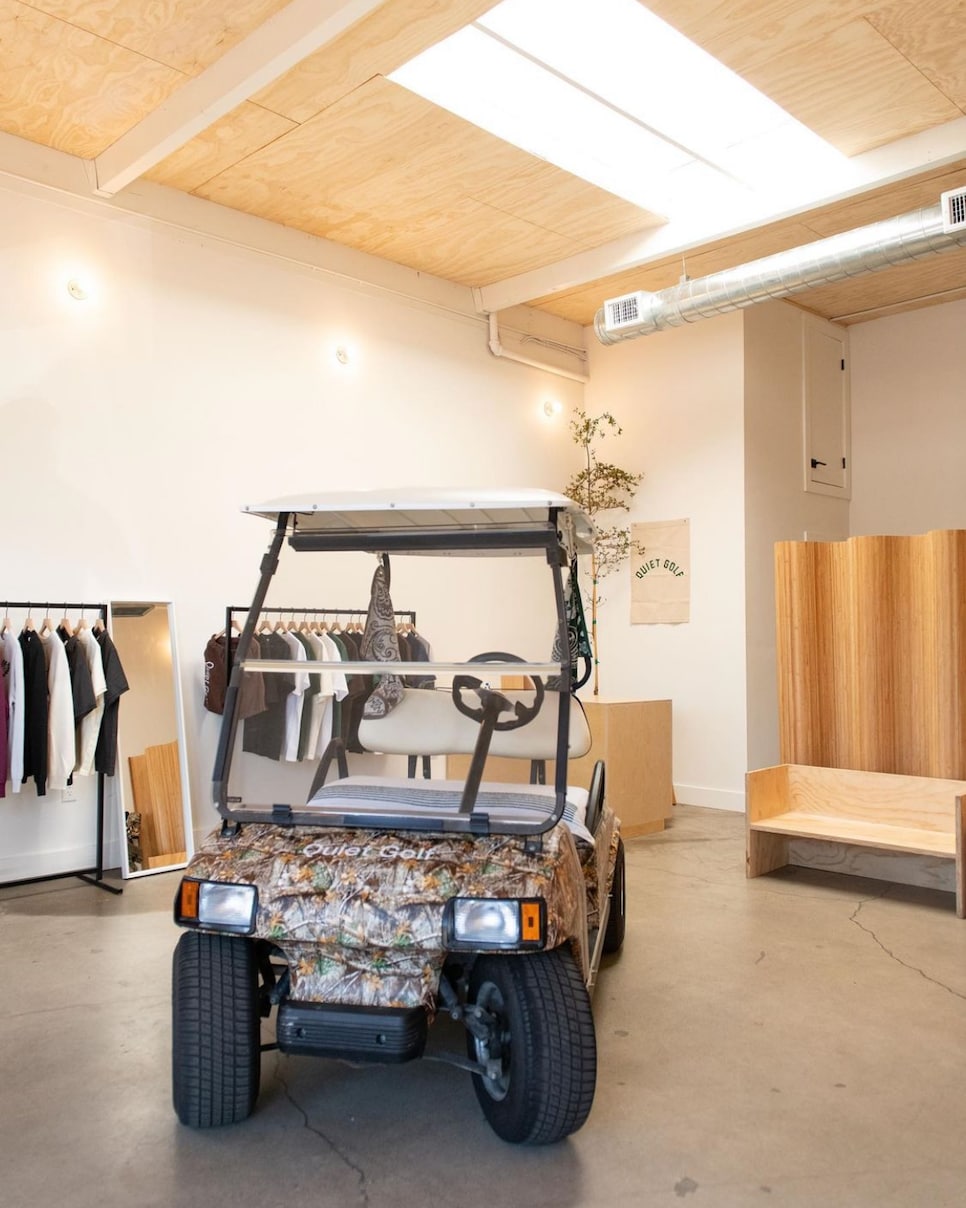 As golf clothing moves into an entirely new design, one based on streetwear and high fashion, the idea of a golf shop is evolving as well. These new golf stores are changing the game when it comes to pro shops and retail spaces, turning the idea of a store into more of an experience. Moving past just trying to move product, as the products start to sell themselves, it allows for these brands to focus on other aspects of golf and their mission. Doing this in a physical space allows for people to experience the brand up close and personal, getting to see more of just a picture of a product and the price. Being able to converge with others who love golf, fashion, and all in between is the best and fastest way to ensure the growth of the game and its fast-growing fashion scene.