Fact Check
What this story about golf's 'existential crisis' gets wrong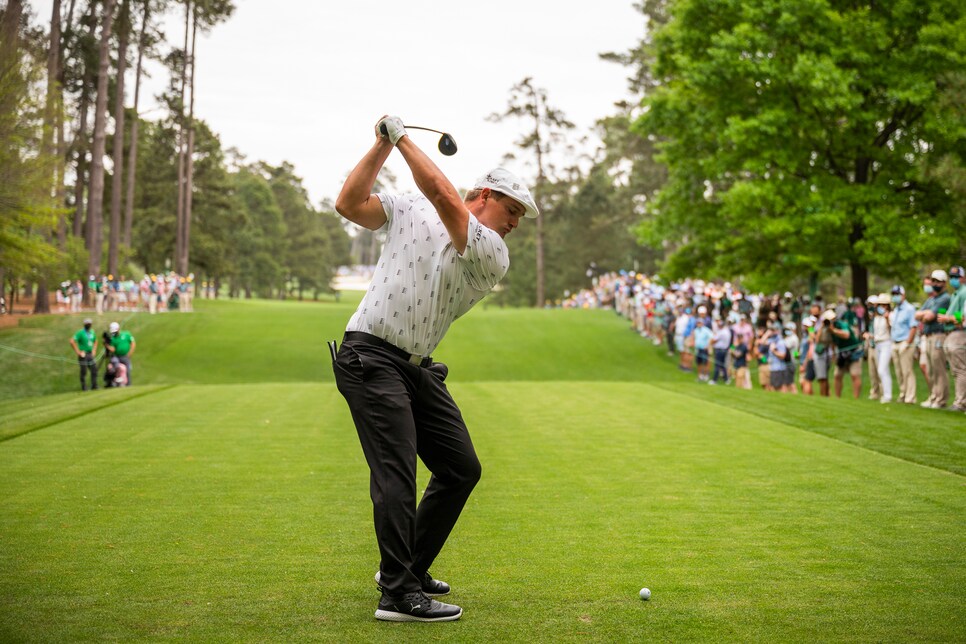 When stories from non-golf sources have headlines like "Golf is facing an existential crisis"—see this week's opus from Wired UK—all of us around these parts get defensive or worried or at least intrigued. And usually, very quickly, frustrated, disappointed and very much wishing someone had at least given us a call.
We're not here to argue about the distance question. It's clear tour players are longer today than they were a generation ago. The average driving distance is 16 yards longer today than it was in 2002, the year the ruling bodies issued a Joint Statement of Principles saying driving distance was a concern. It's clear golf's ruling bodies are moving as aggressively as they ever have to significantly curb distance, launching a Distance Insights research project and then proposing and investigating new equipment rules in February to further roll back distance. Whether those rules actually will be implemented or developed is still very much an open question. But given the "sky is falling" tone of the piece, which centered its thesis on the prodigious distance of Bryson DeChambeau as the harbinger of armageddon, we think some fact-checking is in order. So let's look at a few themes in the piece and see if there might be more there than what the story shows us.
The piece opens with an explanation of how pros play the 16th hole at Winged Foot's West Course, site of the 2020 U.S. Open. A par 4 that played 508 yards, the story tells of DeChambeau's massive 365-yard drive. Fine. But those dramatic elements are preceded by the suggestion that tour pros routinely play the hole as a three-shotter, to wit: "The first 250 yards of fairway are straight, fringed with trees. An average male professional golfer ought to be able to hit this far from the tee."
CORRECTION: Ought to be able to? The average driving distance at the U.S. Open was 311 yards. Carry on...
The story continues: "The typical pro would aim to hit his second short to the fairway just in front of the green. The third shot, known as the approach, would knock the ball onto the green, as close to the hole as possible."
CORRECTION: As even the most marginal golf fan might realize, tour pros do not play par 4s as three-shot holes. A review of the shot-by-shot data for Sunday's final round found that of the 61 players in the field only two who hit the fairway on Sunday played a second shot short of the green.
The story then suggests, "DeChambeau was not a popular winner."
CORRECTION: Perhaps we're quibbling here, but "popular" is a curious term. Is DeChambeau's Mr. Know-It-All attitude winning over his tour brethren? Well, he's certainly never going to be confused with Fred Couples, but as to whether DeChambeau's attempted stranglehold on the game is playing out in popular culture, it's fair to say he's not unpopular in the mainstream. He's golf's version of a freak show, and one of the enduring scenes of recent major championships is DeChambeau blasting balls on the range while his fellow players watch with wonder.
The distance lament continues with a reference to golf course architects' adversarial relationship with golfers and equipment companies. Architect Tom Doak talks about the course designers playing "defense" against the equipment companies' "offense" and then says, "If it got to the point where elite golfers are hitting a wedge to ten feet from the hole all the time, then no-one is going to want to watch."
CORRECTION: The average distance to the hole from 125-150 yards on the PGA Tour is 23 feet. Exactly what it was in 2002. Are there a lot more shots hit from that distance today then in 2002? Yes, close to double by our accounting. Are they any better at it than they were back then? No. In fact, proximity to the hole from any distance is worse today than it was in 2002. It was 35 feet back then, two-and-a-half feet closer than it is today.
The story describes the ruling bodies' alarming concern over the increase in driving distance. "The R&A believes that if it doesn't act now, there is a risk that many of golf's historical courses, including St Andrews, become obsolete. It is also mindful that ever-longer courses are more expensive to build and maintain and have a greater environmental impact. It is threatening new regulations on equipment that would stop drives getting longer and remove the imperative for architects to design 8,000-yard courses."
CORRECTION: Imperative? Let's look at this two ways. First, as an issue for major championship venues and professional tournaments. The average PGA Tour course length is currently a click over 7,200 yards, a number that has moved maybe 150 yards in the last quarter century and hardly at all in the last decade. While the U.S. Open this year at Torrey Pines has tees that stretch to nearly 7,700 yards, the USGA's John Bodenhamer, senior managing director of championships, recently told Golfweek, "Depending on the weather and the wind, it will play anywhere from 7,200-7,400 yards."
Looked at more specifically, there are plenty of "short" courses on tour that continually hold their own. Harbour Town, Colonial, Pebble Beach. So we're not sure there's an imperative there. Moreover, the long hitters aren't dominating the game by any means. Of the current top 30 in driving distance on the PGA Tour, only four have won tournaments this year. Of the top 30 in the current FedEx Cup standings, only eight are in the top 30 in driving distance.
But the larger question is one the story misses entirely. Focusing the game's existential crisis entirely on the elite game ignores the vigor of the game played by the other 99.99 percent of golfers. Golf in the U.S. is coming off its most enthusiastic year in a quarter century in terms of participation, rounds played along with record-breaking quarters in equipment purchases, and none of those players are obsoleting the Old Course.
Driving distance among recreational players, according to the GPS-based stat tracking app Arccos, has decreased in recent years, down to about 222 yards. Research from the ruling bodies themselves shows average golfers hit it shorter today than they did in 2005. Would reducing their non-threatening distance increase interest in the game?
The piece's final narrative returns to DeChambeau's mammoth (and wildly popular) drive at Bay Hill's sixth hole on his way to victory. Its concluding line: "Another course had been tamed."
CORRECTION: Yes, DeChambeau won at Bay Hill. But he won only after having to make a five-foot putt on the closing hole to beat Lee Westwood by a single shot, despite outdriving him for the week by nearly 30 yards.
Ultimately, what gets lost in the pyrotechnics of stranger-danger headlines decrying elite driving distance is how the game—at all levels—remains a challenge across a range of skill sets that provides opportunities for a diverse talent pool.
Oh, and about DeChambeau. Mr. Existential Crisis himself averaged 326 yards during Thursday's first round at the Masters. That's 45 yards farther than Justin Rose. And 10 shots worse.
MORE MASTERS 2021 STORIES FROM GOLF DIGEST: