Ryder Cup
Ryder Cup 2021: Friday morning pairings for the United States and Europe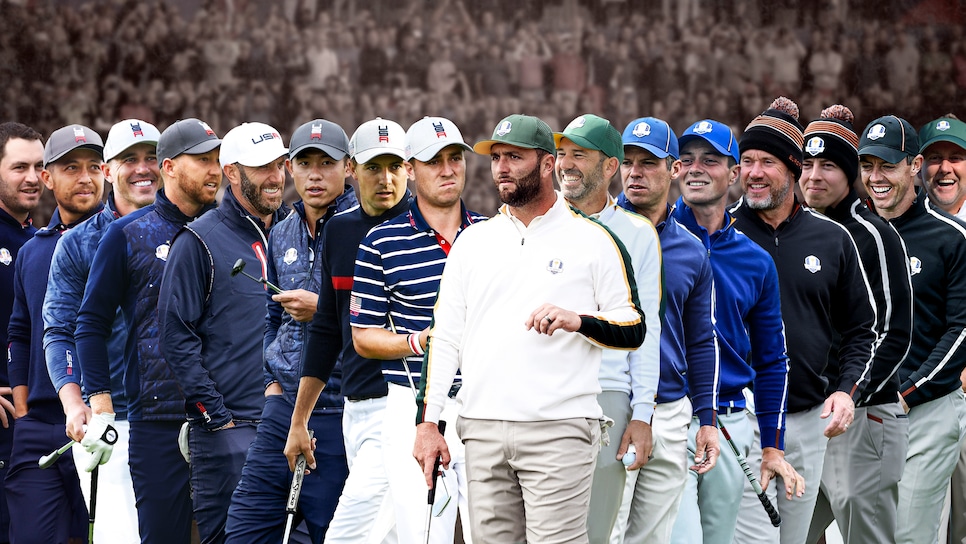 HAVEN, Wis. — Steve Stricker and Padraig Harrington announced their lineups for Friday's morning session of foursomes (alternate shot) at the 43rd Ryder Cup. And both captains are leaning on their top players to draw first blood.

Leading the charge for the United States will be Jordan Spieth and Justin Thomas. Boasting a combined four major victories, Spieth and Thomas were the rare duo to find success at the 2018 Ryder Cup, racking up a 3-1 record in Paris. They will be the first group Friday morning, facing the Spanish pair of Jon Rahm and Sergio Garcia.
Dustin Johnson and Collin Morikawa will be the second group out for the Americans, where they will play Paul Casey and Viktor Hovland. Match No. 3 will see former Florida State teammates Brooks Koepka and Daniel Berger take on the English duo of Lee Westwood and Matt Fitzpatrick.
Rounding out the morning session will be Olympic gold medalist Xander Schauffele and PGA Tour Player of the Year Patrick Cantlay against Rory McIlroy and Ian Poulter. Schauffele and Cantlay played together in all four team sessions at the 2019 Presidents Cup.
The first match begins at 8:05 a.m. EDT (7:05 a.m. local time), with the matches following in 16-minute intervals. The afternoon session of four-ball (best-ball) will begin at 1:10 p.m. EDT (12:10 p.m. local). Pairings for the afternoon will be announced Friday during the foursomes matches.
The Americans are looking to win for the third time in their last four home starts, while the Europeans hope to continue their overall dominance in the event with victories in seven of the last nine matches.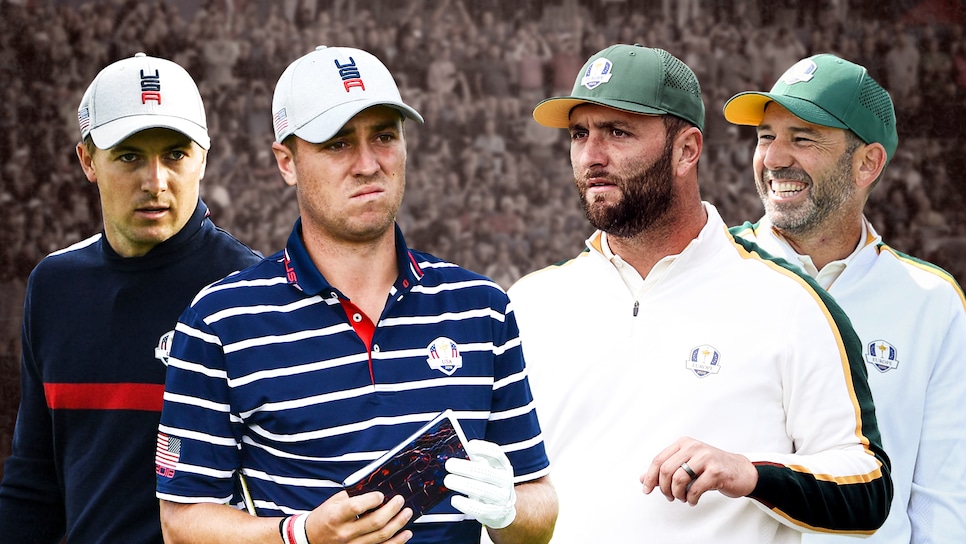 Match 1, 8:05 a.m (EDT): Jon Rahm and Sergio Garcia vs. Justin Thomas and Jordan Spieth
Commentary: There was no way Captain Stricker was going to let the fiery Thomas cool his heels for one damn minute, and if you are going to get out to a fast start, the Thomas-Spieth duo was the way to go. Except that Captain Harrington threw his best player out there in Rahm, the World No. 1, with countryman Garcia for the same reason. This is high-stakes starting match. —Dave Shedloski
A heavyweight battle here, with the all-time Ryder Cupper and the World No. 1 taking on the U.S.'s most fiery player (Thomas) and its most popular (Spieth). Both captains starting with a bang. —Daniel Rapaport
Tremendous way to kick this thing off with these two pairings. The Spaniards would seem like a natural fit, though they didn't play together three years ago in Paris. —Tod Leonard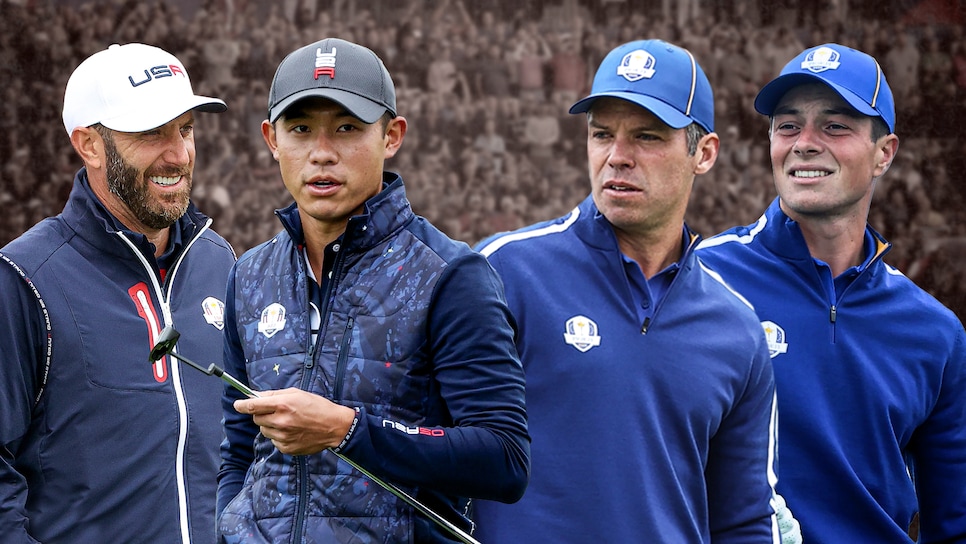 Match 2, 8:21 a.m.: Paul Casey and Viktor Hovland vs. Dustin Johnson and Collin Morikawa
Commentary: Both captains opting to pair their best young players with experience. If you're into two-yard fades, Morikawa and Johnson will be as good of viewing as you'll ever see. I'm keen to see how Hovland carries himself in his first Cup, as he tends to be pretty stone-faced on tour. —DR
Much in this one depends on Morikawa's health and form, but the Americans figure to be formidable as bomber and ball-striker. Would have liked to see Hovland draw a more dynamic partner. —TL
This is a tricky one. None of these players showed great form in the waning weeks of the season. It remains to be seen if Johnson's strong record at Whistling Straits is the deciding factor in a match where no one might make a putt. —DS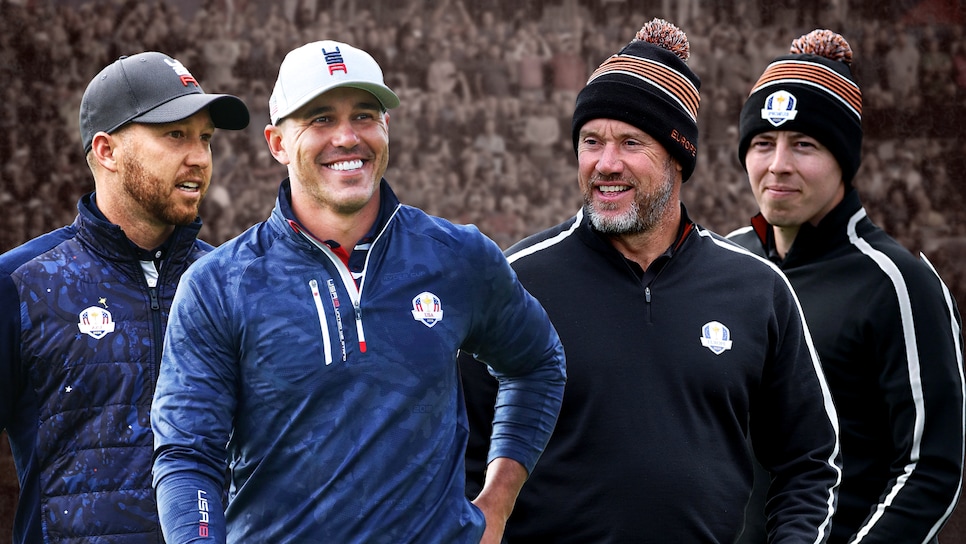 Match 3, 8:37 a.m.: Lee Westwood and Matt Fitzpatrick vs. Brooks Koepka and Daniel Berger
Stricker: "They play golf at home together and they enjoy being with one another. Daniel is a wonderful foursomes player. He controls his ball really nicely. Good short game. Great putter. He's a natural fit for the foursomes."
Commentary: Harrington really went with mentor and young gun with this one, though I just don't see enough firepower here to beat the Americans. —TL
Not a bad idea getting Fitzpatrick baptized alongside the steady Westwood. Koepka and Berger, the Florida State boys, were foursomes losers together in the 2017 Presidents Cup, but Stricker obviously thinks they have some kind of mojo. We'll see. —DS
Fitzpatrick's caddie, Billy Foster, spent years on Westwood's bag. Westwood's caddie, Sam Westwood, is Lee Westwood's son. A bit of a contrast in styles here; Westwood and Fitzpatrick are two of the straightest hitters here, wile Koepka and Berger tend to make things a bit more interesting. —DR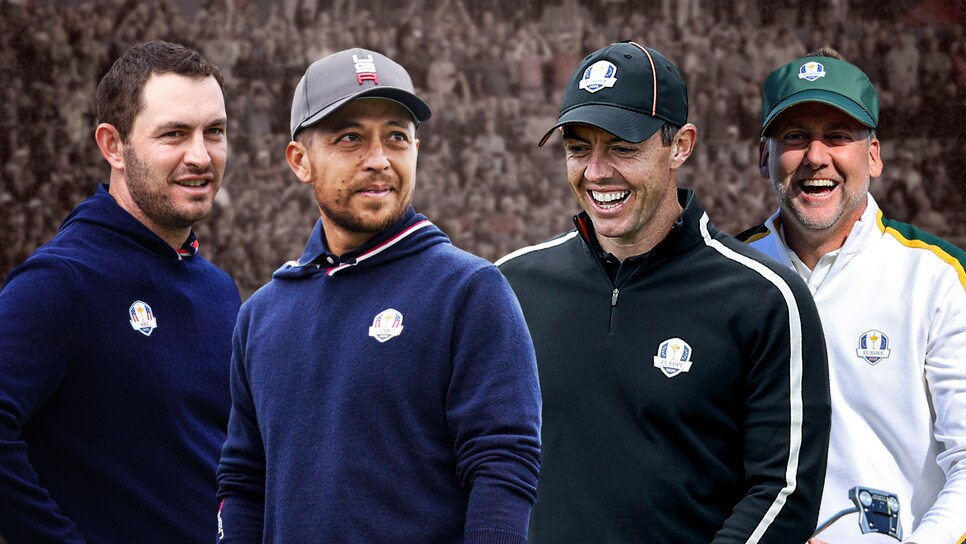 Match 4, 8:53 a.m.: Rory McIlroy and Ian Poulter vs. Patrick Cantlay and Xander Schauffele
Stricker: "Xander and Patrick have had success in foursomes in the Presidents Cup, so we thought it was a natural fit for them to do foursomes here tomorrow morning."
Commentary: The second clash of heavyweights of the day and a fascinating dichotomy in attitudes; you've got California cool against two men who've been known to raise their voices in these things. —DR
Wow. Rookies versus the Euro stalwarts. Feels like the young Yanks are underdogs, which plays right into the mentality of the X-Man and Cantlay. —TL
Anchor matches have a real air of importance, maybe beyond the opening game, so no surprise that heavyweights populate this final foursomes game. McIlroy and Poulter have experience together going back to 2012 and might be the perfect answer to the solid California duo who paired so well in the 2019 Presidents Cup. —DS
MORE RYDER CUP PREVIEW STORIES FROM GOLF DIGEST