America's 'It' twosome
Ryder Cup 2021: Patrick Cantlay and Xander Schauffele hope to be America's answer to the Moliwood bromance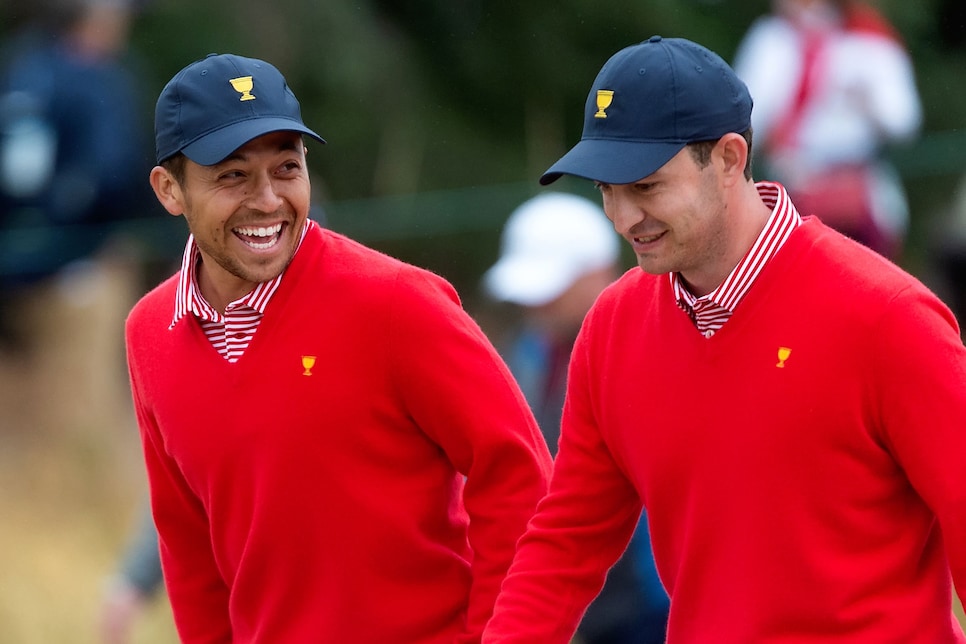 Xander Schauffele and Patrick Cantlay went 2-2 when paired together at the 2019 Presidents Cup. They've since become even closer friends.
Icon Sportswire
HAVEN, Wis. — The knock on American Ryder Cup golf has always been that they don't play well in the pairs sessions, and the stats bear that out. The cumulative singles record since 1983, when the Ryder Cup first became competitive, is 108½-107½ in favor of America, practically dead even, while the pairs score favors Europe 158½-127½. These failures invite a slew of sociological theories about why the U.S. lacks the collective spirit, but the quickest way to turn the tide is for American to turn out a few legendary pairs in the mold of Seve-Olazabal, Poulter-Rose, or, more recently, the "Moliwood" pairing of Francesco Molinari and Tommy Fleetwood, who lit up Paris in 2018 to the tune of a 4-0 record.
Here at Whistling Straits, Steve Stricker might have the first legitimate American version of such a pairing in the form of Patrick Cantlay and Xander Schauffele. The two Americans played together in Melbourne at the 2019 Presidents Cup, but managed just a 2-2 record. Fine, competent, but certainly nothing extraordinary. They'll be reuniting at least once at this year's Ryder Cup, starting in the foursomes session on Friday morning, with Stricker sending them out together in the fourth match against Rory McIlroy and Ian Poulter. It's a wise move, as the two victories they scored in Australia came in foursomes.
A lot has changed since Melbourne. While they were compatible then, how about now? Well, to hear Cantlay tell it, they're bosom buddies.
"I don't think either of us would have gone out of their way to be friends with each other," Cantlay said, "but then spending that time together, we realized that we really got along with each other. I think he's incredibly smart, and I think he's incredibly conscientious. He is someone that probably brings out the best in me. He's more positive, and he has a way of being more light as opposed to me being serious. Yet he's very quiet and reserved, so we kind of have that bond, and yet he balances me out a little bit."
The friendship blossomed to such a degree that the duo visited Napa Valley together last week with their significant others. And they went while not even competing in the PGA Tour event in Napa that week.
"Taking the trip to Napa was very natural," Cantlay said. "It was like, I'd really like to spend time with Xander and Maya. That's kind of how that came about. ... And so before the stretch of the playoffs where I knew I was going to be playing lots of golf tournaments and be on the road for a number of weeks. I thought, Man, I need something to look forward to and asked if he wanted to go to Napa, and he said that sounded great. And we had an unbelievable time."
Schauffele also felt the bond at the Presidents Cup and credited their chemistry with the foursomes wins.
"I think we sort of became very comfortable with each other and sort of friendly and that sort of helped," Schauffele said. "We're very transparent. I think if I hit a bad shot or he hits a bad shot, we don't really care. We both know we're trying our hardest. … We just understand each other pretty well, and I think that helps us play well together. Even if we're quiet or whatever you want to call it, not talking, we just know we have each other's back."
The friendship may have truly begun on the long flight from the Bahamas to Melbourne in 2019, when the two drank coffee and played multiple games of gin because neither wanted to lose. Recently, they've both achieved huge individual success, with Schauffele winning the gold medal at the Olympics and Cantlay winning the FedEx Cup title and PGA Tour player of the year. Now, they'll try to cap a terrific year with success as a team, and if any Americans can capture the chemistry and excellence of the Moliwood team, it's these two.
The only question that remains is what to call them. Schaufflay? Cantele? Pander? Xandrick? Whatever the case, they'll take a few wins against the Europeans in Wisconsin over a perfect nickname.