ABU DHABI — He hasn't won a tournament anywhere, anytime, or on any tour since he became the "champion golfer" of 2018 at Carnoustie. But that 4½-year drought might just be headed towards an overdue close. Halfway through the Abu Dhabi HSBC Championship, former Open champion Francesco Molinari is tied for the lead with Italian compatriot Guido Migliozzi. The pair sit at 10-under 134 after 36 holes at Yas Island Links, one-shot ahead of Australia's Jason Scrivener.
Evidence of Molinari's struggles since he lifted the claret jug is not hard to find. The 40-year-old Turin native is currently ranked 166th in the World Ranking, a far cry from his peak of fifth. And only once, at last year's BMW PGA Championship at Wentworth, has he finished in the top 10 at a DP World Tour event since his brush with glory at the 2019 Masters, where he finished T-5.
So it has been a long hard road over the last few years, one well-travelled, too. Following his Open victory, the Molinari family (wife Valentina and kids Tommaso and Emma) moved from their London home to a new abode in Los Angeles. No small undertaking.
Finally, however, the signs are good. At last week's Hero Cup, where he captained the continental side to victory over their Great Britain & Ireland counterparts, Molinari emerged unbeaten with 3½ points from his four matches. It was, according Denis Pugh, to the six-time DP World Tour winner's swing coach, a productive time both on and off the course.
"Last week was great for Fran," Pugh said via phone back in England. "As captain of his side [the Continent of Europe], he was put in a position where he had to think of nine others. He couldn't focus on his own game too much. That distraction was actually a benefit. It got him thinking more about just going out to play golf. Before every round he had other things to think about."
Pugh cautions that it's still early in Abu Dhabi. "We don't stop after 36 holes," he said. "But this is encouraging. Whatever happens over the weekend, he has more to add to his positive bag than the negative bag. The negative bag has been pretty full the last couple of years. But this week has already given him something to draw on going forward."
Not surprisingly, Molinari was making equally positive noises at the end of a second round that appeared to have stalled when three shots were dropped on the 16th and 17th (his seventh and eighth). But six birdies thereafter did more than resurrect the three-time Ryder Cup player's chances this week; it reaffirmed the work he and Pugh have recently undertaken.
"I was lucky in that, before 2018. I never had any big dips in form," Molinari says. "It's pretty hard to go a whole career without a time like that. But it did. I was chatting about it with Denis this week. I think it happened because we were pushing and pushing and pushing to get better, and obviously when you work like that, there is a risk of taking a wrong turn. Then it's hard to turn it around. But I'm happy to take the bad, two, three years in exchange for the success that I had in 2018, 2019.
"There were many, many, many low points," he continues. "But at the end of the day, it's golf. I was lucky to have my family to sort of fall back onto all the time. No one likes hitting the ball wayward and shooting high scores, but it's part of the game. Hopefully it looks like I'm doing better. I'll be even more appreciative of the game if I can turn it around."
On the evidence of this week at least, he is headed in the right direction, both technically and mentally. Certainly, Pugh was pleased with at least one aspect of his long-time charge's play.
"I was happy to see the way Fran played today," says Pugh, who also works with former Ryder Cup player, Ross Fisher. "He shot that number without any harassment. The poor start tested him mentally as well as technically. And he came through it. It's really boring to say this, but we have been working on simplifying everything. To the point where he can go out there with a clear mind and hit the shots he can see. He has done a lot of good work making himself technically better. But my job this past week was just to get him playing golf better.
"Everyone wants to hear there has been a magic move," says Pugh when asked what has been helping Molinari of late. "But there hasn't been. All we have done is make things as simple as possible. As a player you have to look for something that will help you not play poorly. And yes, you might find something on the range. But what you do there is very different from what happens on the course. So all Fran has done is simplify his technical thoughts to a level where he can play golf again."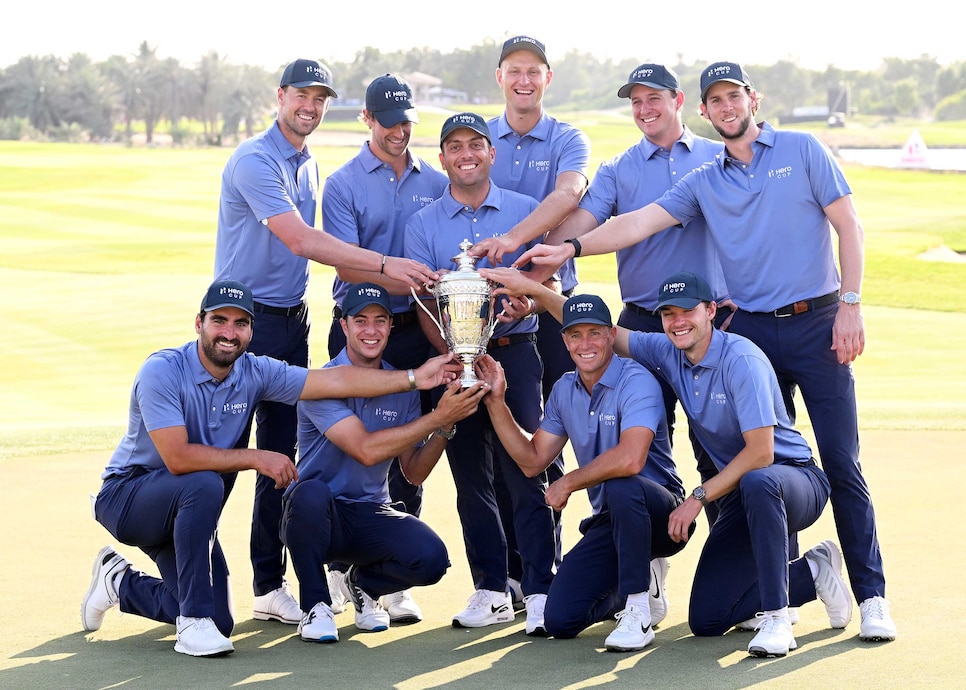 Not only did Francesco Molinari captain Continental Europe to a win at the Hero Cup last weekend, but he secured 3 1/2 points with his own play.
Ross Kinnaird
Still, one thing does continue to linger in the Molinari mind. This year's Ryder Cup will take place in his homeland, just outside Rome at the Marco Simone Country Club. So he isn't short of motivation, or reminders from those around him.
"I've got [Ryder Cup captain] Luke [Donald] and his vice captains [one of whom is Francesco's older brother, Edoardo] telling me not to think about it," says Molinari with a smile. "But you know how it is, the more someone tells you not to think about something, the more you do. So it's there. I can't really not think about it.
"If I'm going to be there, I want to be contributing to the cause and to the team," he continues. "I don't want to be there for any other reason. There is a long way to go though. It is nice to see some positive signs. But there is still loads I can improve. I just need to stay on that path. Then we'll see in September where we're at."
That'll be Rome, by the current sound and sight of things.