Chevron Championship
For potential U.S. Solheim Cup team members, the year's first major is a test, and so far their grades are high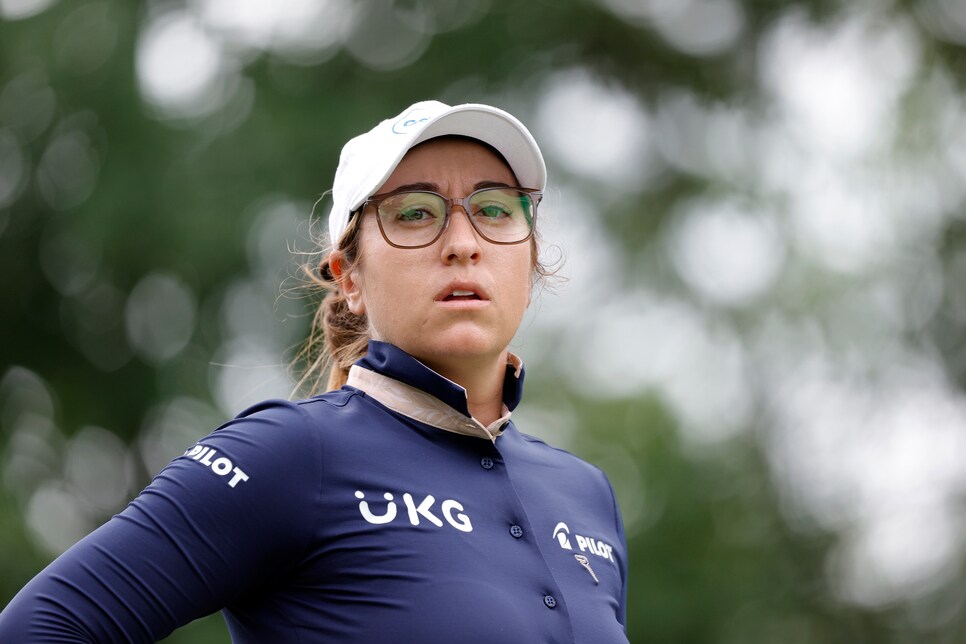 THE WOODLANDS, Texas — Team USA Solheim Cup Captain Stacy Lewis set the stakes for possible players on her team in her press conference Tuesday ahead of the Chevron Championship. Considering that Carlton Woods and Finca Cortesin in Spain, the Solheim's home in 2023, both use Bermuda grass, the performance at the major is crucial to prove a case to Lewis.
"It's what we're going to see in Spain, so definitely looking at that," Lewis said. "Looking for them to just get some experience of playing on the big stages and playing in front of bigger crowds when things matter a little bit more."
It's no wonder that it's paramount to come through with a solid week on a major stage for those just inside or on the bubble of earning their way onto the Solheim roster. Past Team USA members Marina Alex (-4), Angel Yin (-3), Megan Khang (-2), and Ally Ewing (-2) all responded with under-par rounds in the morning wave.
"We're always thinking about that," Alex said. "I feel like every European and American player within the Solheim year, they're stressed, and they're trying to do their best to make that team, and I know how important that is."
The top seven on Team USA's points list earn automatic bids to the 2023 Cup. Alex sits in 12th, taking a patient approach to the start of the season. She explained that it takes multiple events to get into the groove, even after 10 years on tour. However, the 2019 Solheim member felt that moment may have clicked at last week's Lotte Championship.
Even with a T-38 finish, her third consecutive result of either T-38 or T-39, the 2022 Palos Verdes Championship winner is excited at the progress.
"For the first time all year I had an under-par round to start an event versus a par or over-par round," Alex said. "It was, as crazy as it sounds, it definitely helped in some way."
Yin, a two-time Solheim member in 2017 and 2019, shared that the last few seasons have been challenging. She feared losing her card last season, beating herself up before her game did over mistakes. The 24-year-old suffered a back injury that forced her to withdraw from last season's Amundi Evian Championship. A third-place finish at the 2022 Founder's Cup last May kept Yin's tour card safe, but the doubt about her game remained.
Recently, Yin's been shooting in the 60s consistently at Wilshire Country Club in Los Angeles, her home course and home of next week's JM Eagle LA Championship. It has yet to translate to success on tour in 2023, with her two starts resulting in a missed cut and a 76th-place finish. However, she's finally finding the self-belief to bring those rounds to competitive play. It translated Thursday, as her three-under 69 matched her best round of 2023.
Yin needs to string those performances together, as she sits far behind the pace in 32nd in Solheim points. It'll take multiple top finishes to have a chance to play in her third Cup.
"Of course I'm thinking about it since I missed the last Solheim," Yin said. "I really want to play in this Solheim again. It's in Spain, so I really like Spain, I really want to go. Our field is strong this year, especially for Team USA. Everyone is playing really well, so I've got to play really well."
Khang is the seventh player on Team USA's Solheim points list. The 2019 and 2021 team member last played at the DIO Implant Open, posting a T-13. It was her best result of the season. However, with two weeks away, Khang admitted beginning the opening major a little too hyped up. She started at three-over par through her first five holes. After getting her caddie, Jack Fulghum, to read greens with her, Khang rebounded, polishing off her final 11 holes at five under to card a 70.
Khang's process-oriented approach mirrors her perspective on trying to make her third Solheim team.
"I sound like a broken record whenever it comes to Solheim," Khang said. "Every week we come, we try to take care of business, the task at hand, which is the tournament that we came here to play in, and for me I kind of say, hey, if I do my best, just focusing on the tournament, everything else will follow, whether it's points, money, rankings."
Ewing sits in 13th on the Solheim points list. Heading into Chevron, the 2019 and 2021 team member spent a week with her coaches alongside watching her husband, Charlie Ewing, coach the Mississippi State women's golf team at its SEC championships.
The 30-year-old's been in contention at multiple major championships, including being in the final pairing alongside eventual champion Patty Tavatanakit at the 2021 ANA Inspiration. The three-time LPGA winner shared she's now got the experience and confidence to know she has the game to be a major champion.
Similar to the most important lesson she's learned at majors, in order to make the Solheim team, all she can do is execute the shots in front of herself.
"I've played two Solheim Cups and that's a team I want to be on, but I think good golf will take care of itself," Ewing said.
That's all the aspiring Team USA members can do with 54 holes of the Chevron Championship left in front of them.
MORE CHEVRON CHAMPIONSHIP COVERAGE