LPGA Tour
Amid health scare, Nelly Korda says she couldn't bring herself to watch much of last year's Chevron Championship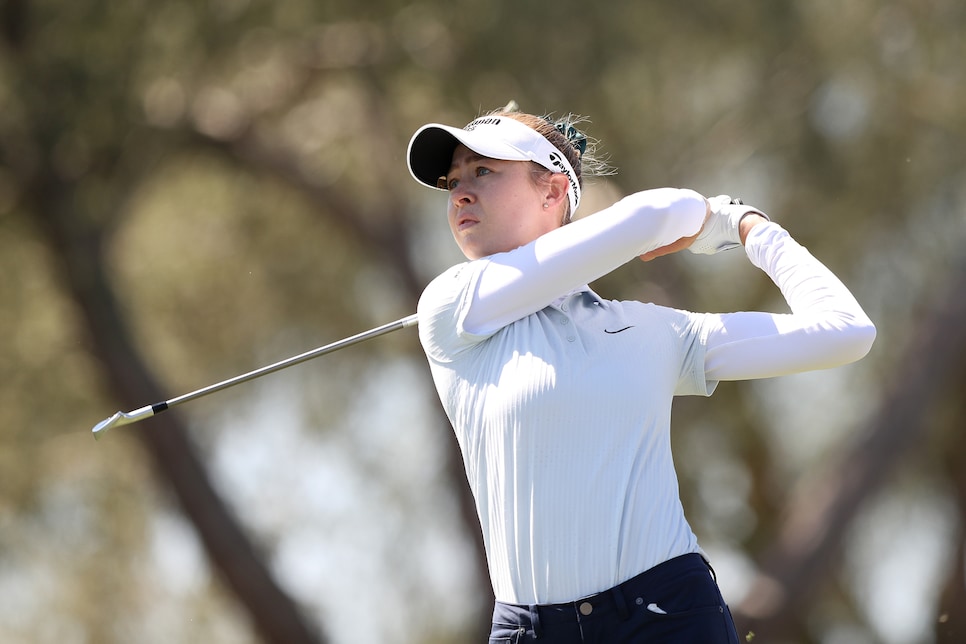 Nelly Korda plays a shot during the LPGA Drive On Championship.
Meg Oliphant
THE WOODLANDS, Texas — Nelly Korda, like most of the LPGA Tour, was in Southern California during the Chevron Championship a year ago. However, unlike her tour peers, the No. 2 player in Rolex Women's World Rankings wasn't in the field. Instead, the top American on the LPGA sat in Los Angeles as she rehabbed, working to return to professional golf amid a medical absence due to a blood clot.
Between the emotions of being unable to play and focusing on rehab, Korda tuned out the LPGA's last visit to the Dinah Shore Course.
"I honestly could only watch the last couple holes on Sunday because my sister was in contention," Korda said. "But other than that, I stayed away from the TV."
Now back in the Chevron Championship fold with her health in hand, Korda returns prepared to contend for her second major title.
Following a T-6 at the DIO Implant Open in early April, her fourth top 6 finish of the season in five starts, Korda took the two weeks preceding the Chevron Championship off. She went to Augusta National, spectating for the first time at the Masters on Saturday.
"[That] was probably the worst day to watch," Korda joked. "It was freezing."
Then, the 2021 KPMG Women's PGA Championship winner spent last week getting into shape. She started by cleaning up her self-described loose ends of her game by drilling with a swing guide. It allows Korda to clean up her backswing, which tends to wrap around her body, before focusing on playing for the remainder of the week.
"I just felt like every day I was kind of striking the ball a little different," Korda said of what she needed to tidy up.
Her inconsistent ball-striking makes her steady start to the year all the more impressive. The nine-time winner explained that she's missed in the correct spot during the season to allow her short game to shine. She's 48th on tour in scrambling at 64.7 percent, the best season of her career and ten percent higher than 2022.
That improvement also ties to Korda's effort to understand the courses she's competing on. Korda and her caddie Jason McDede talked to the Carlton Woods superintendent, learning that they will vary green speeds depending on the weather.
"We'll see how it plays on Thursday, but I like the golf course, and as a Florida girl, I like Bermuda," Korda said.
Korda played 18 Monday and successfully played as a single Tuesday morning before the start of the pro-am to continue preparing. Korda is upbeat that all the work she's put in over the last year, from the necessary rehab to be able to play to the minor tweaks of her swing, may allow her a chance to leap into the pond next to the 18th Sunday.
"I think it's positive and negative that I'm playing well, and I don't think that I've had my best stuff yet," Korda said. "So hopefully I can continue working on my game and peak in the right moments."