Chevron Championship
The dish Jennifer Kupcho served as defending champion of the Chevron says a lot about her as a golfer and person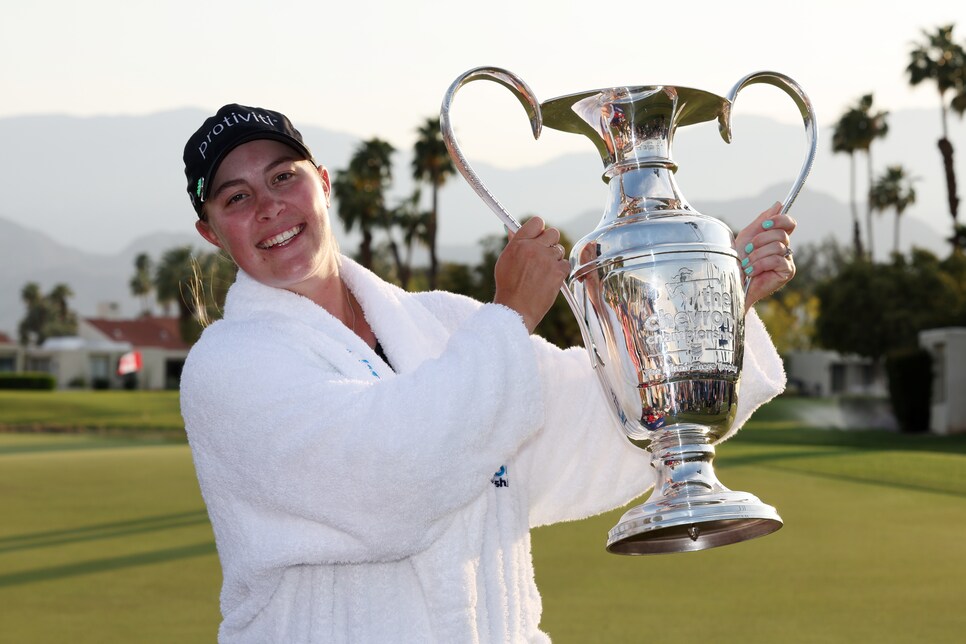 Jennifer Kupcho celebrates with the Dinah Shore Trophy after winning the 2022 Chevron Championship.
Harry How
THE WOODLANDS, Texas — Do you remember the taste of mac and cheese as a child? The delight when your parents start making it as the aroma wafts through the kitchen?
Defending Chevron Championship winner Jennifer Kupcho never let go of that sensation. The blue-and-yellow boxed Kraft Mac & Cheese, ironically a past sponsor of this event, remains her favorite food. It's the one item on the menu she requested at the champion's dinner Monday night cooked by Michelin star chef Thomas Keller.
"He did an amazing job," Kupcho said. "It was not too rich. It was obviously not Kraft Mac & Cheese, but it was amazing. It was really good."
Joking about her favorite dish juxtaposes the chaos she went through 24 hours before the start of her breakthrough victory last year at the Dinah Shore Course in Rancho Mirage, Calif. Her helter-skelter Wednesday did not foreshadow a major title.
"I was in a bit of a panic last year, actually," Kupcho said. "I was struggling hitting the ball, so I had a little bit of a panic, calling my swing coach, working with the Ping rep, trying to figure out what was going wrong with my swing and hitting the ball, and I would say I'm a little bit more relaxed this year. Feel like I have my feet under me and ready to go."
She overcame the litany of challenges and earned her breakthrough victory. Kupcho, the winner of the inaugural Augusta National Women's Amateur in 2019, shared that the major title made her feel more comfortable that she could win going forward. Lizette Salas has had a front-row seat to the 25-year-old's emergence. She played alongside Kupcho during the 2021 Solheim Cup, the first two rounds of last year's Chevron Championship, and teamed up with her at the Dow Great Lakes Bay Invitational, where the tandem won this past July. The only victory Salas didn't see was Kupcho's triumph at the Meijer LPGA Classic last June.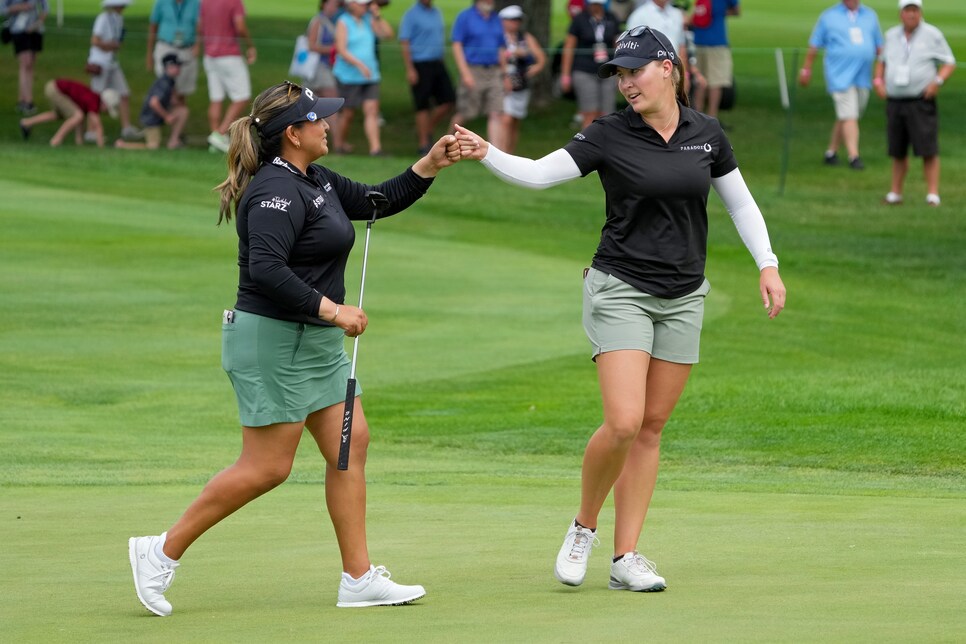 Lizette Salas and Jennifer Kupcho teamed up to win the 2022 Dow Great Lakes Bay Invitational.
Dylan Buell
"To win out here is tough, let alone three different times," said Salas, who has two wins in 11 years on tour. "She's evolved very fast, but at the same time we kind of expected it, and I knew at the same time, I think she also expected that from herself."
Kupcho's confidence is now as much a staple of her game as mac and cheese is to her diet. Salas explained that Kupcho eats her favorite dish up to four (!!) times a week during tournaments.
Salas sees the self-belief on the course in the consistency of how Kupcho carries herself. Kupcho is at ease when they play together, chatting and joking on various topics, from music to asking Salas about her relationship status.
Even when Kupcho expresses her frustration on the course, she also laughs some of her poor shots off. She balances her fun-natured side with Salas alongside a quiet fierceness. Down the stretch of the Dow Great Lakes Bay Invitational, the tandem kept to themselves to combine for their first victory.
"We didn't want it to be our fault in case something bad happens," Salas said. "But I think we were just trying to keep it cool for each other."
Kupcho brings that coolness to the first of her three title defenses, starting at Carlton Woods on Thursday. She arrived at the Woodlands Saturday to prepare at her own pace. While her hard work has paid off in success on the course, most notably, for her, she's earned fans' support everywhere she goes.
"One of the biggest things at Mission Hills was everybody was calling my name as well as calling 'Go, Colorado,'" Kupcho said the Littleton, Colo., native. "That's just really special to me, and I think that's kind of continued throughout last year and through this year."