The Grind
A FedEx Cup champ gets engaged, John Daly gets drunk on TV, and the most jaw-dropping golf shot of the year
Welcome to another edition of The Grind, where we can't believe how much happened this past week. Even with the PGA Tour observing Labor Day, golf fans were treated to a golfer-hosted cooking show teaser, a FedEx Cup champ getting engaged, and a beloved major champ getting drunk for a TV appearance. And that's before we even get into the actual golf that was played. It's almost too much to keep track of, but we'll do our best. Let's get to it. Before something else happens. Wait, something else definitely just happened.
Oliver Wilson's long putting: The English tour pro ended a nearly eight-year winless drought thanks to making two 65-foot birdie putts over a five-hole stretch during the final round of the Made in HimmerLand tournament. Here's the second bomb, which came on No. 17 and all but sealed his second career DP World Tour title:
But the even better highlight came after when the former Ryder Cupper who has struggled in recent years got emotional talking about battling back to the winner's circle:
Great stuff, Oliver. It's the kind of scene you probably won't get on the LIV Golf circuit. That being said . . .
Dustin Johnson showing some emotion: Regardless of where it happened, it was cool to see DJ get so fired up after burying a long putt of his own for a walk-off playoff eagle at the LIV Boston event to beat Joaquin Niemann and Anirban Lahiri. Good thing this hit the hole or it might have wound up in the Boston Harbor:
That's about as animated as we've ever seen him. And he certainly looked like a guy who won (an additional) $4 million, although that's still unclear with this renegade league. Brother and caddie Austin looked pretty pumped as well. Anyway, LIV Golf got a much-needed first dramatic finish. Although the team stuff is getting silly as DJ's Aces won a third consecutive event. Is this the start of a new sports DYNASTY? No, but seriously, DJ, Patrick Reed, and Talor Gooch are cleaning up.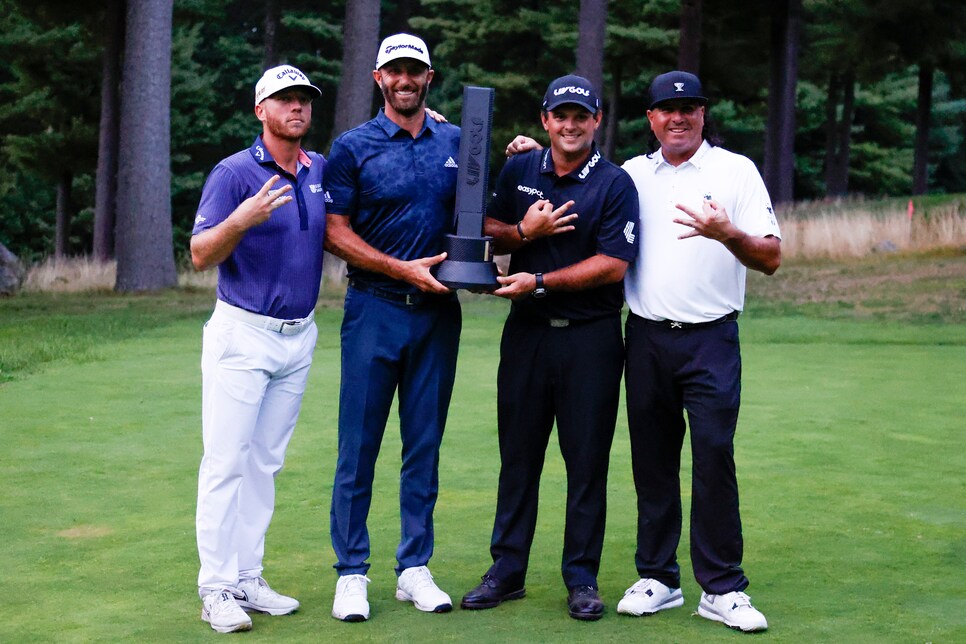 PGA Tour newbies: As usual, the Korn Ferry Tour Championship gave us a bunch of incredible stories of golfers taking the step to the next level, but we'll focus the guys in the top and bottom (No. 25) spots. First, Justin Suh, who was considered an equal part of the vaunted Class of 2019 along with Collin Morikawa, Viktor Hovland, and Matt Wolff.
The USC product took a couple extra years, but with his win at the KFT's season finale, he looks ready to finally join those guys at the highest level. Well, not Wolff, because he's a LIV guy now, but you get the point. But no one took a more circuitous path to the PGA Tour than Kyle Westmoreland, an Air Force grad who put his golf dreams on hold to do five years of military service, earning the rank of captain:
And now at 30 he'll be a PGA Tour rookie. Congrats to The Captain.
Brandon Matthews' drive: Matthews will be another PGA Tour rookie beginning next week, but this was so incredible that it deserves its own category. Needing an eagle to make the cut at the Tour Championship, Matthews went for the water-protected 18th hole at Victoria National with his tee shot on Friday—and hit the freaking green. Check it out:
A 370 carry! That's the most jaw-dropping—and one of the clutchest—golf shots of 2022. And what happened right before is pretty darn good as well:
That's classic. Unfortunately, Matthews missed the eagle putt, but even The Captain had to be impressed with that landing. In any event, that's the kind of firepower Matthews is bringing to the PGA Tour starting next week.
Messing up travel plans: This story probably had a happy ending, but only depending on how long James Morrison had to spend on re-booking his flight and hotel room—and how long he had to spend on the phone doing those things—after packing his bags early thinking he was going to miss the cut. Morrison proceeded to shoot a second-round 62 to make the cut easily:
Golf's a stupid game, alright. But we love it. With his first top-25 finish in months, Morrison earned 28,500 Euros, which is worth, wait a minute, the Euro is worth LESS than the dollar now?! Wow. Still, that should easily cover any cancellation costs.
Playing against twins: Well, identical twins. They're sneaky. Just look at the prank Jeremy and Yannik Paul pulled on their unsuspecting playing partners during the Korn Ferry Tour Championship pro-am:
How could you ever play alternate shot against them? You'd never know if they were hitting the correct shot! Anyway, keep an eye on those Paul brothers.
Serena Williams losing: I burned a rare TV sports pass from the wife on Williams' third-round match against Ajla Tomljanovich and was disappointed to see Serena's U.S. Open—and career—come to an end. On the bright side, it turns out this Serena Slayer is also a golfer:
Thoughts? Well, the grip could use some work. And sadly, those jeans might not fly on some courses. But looking pro-am ready otherwise!
The PGA Tour is off once again, but the BMW PGA Championship, AKA the DP World Tour flagship event won last year by PGA Tour star Billy Horschel will be taking place at Wentworth. And the drama revolving around the 19 LIV guys competing in the event has reached a Chris Pine vs. Harry Styles level. Talk about worlds colliding!
Random tournament fact: Ben An holds still holds the tournament scoring record (21-under) at Wentworth from his six-shot romp in 2015. For a guy who "can't putt," that's pretty darn good.
RANDOM PROP BETS OF THE WEEK
—There will be a fistfight between golfers at Wentworth this week: 5-to-1 odds
—Brandon Matthews will drive the 18th green on a par 4 next season: 2-to-1 odds
—Brandon Matthews will draw a crowd next season: LOCK
More of a screengrab, but damn. Tiger Woods looks as jacked as ever. Hopefully we see those gunz back on the golf course soon.
Or we could just call this the "John Daly being John Daly moment of the week:"
Considering JD's beloved Hogs held off Cincinnati in a battle of ranked teams, it's probably a safe bet this two-time major champ had a few more celebratory beverages that night.
VIRAL VIDEO OF THE WEEK (HOLE-IN-ONE DIVISION)
As an aceless golfer I'm always jealous of hole-in-one stories, but this is pretty cool, especially because it was caught on video:
Congrats to Susan and Billye. And kudos to Payne's Valley for recording all those shots. Every golf course should have a camera running on all their par 3s.
VIRAL VIDEO OF THE WEEK (POST-HOLE-IN-ONE DIVISION)
Introducing "Tod," who our Hally Leadbetter caught up with after being on the flight "Tod" bought a round of drinks for to celebrate his first hole-in-one:
Of course, I'm also jealous of "Tod," but that's a classy move right there.
THIS WEEK IN PUBLIC DISPLAYS OF AFFECTION
Congrats to Patrick Cantlay on using his annual couples trip to Napa—a (much) more mature version of the old #SB2K trips—to pop the question to longtime girlfriend Nikki Guidish:
I bet they're both happy he waited until after receiving that $15 million FedEx Cup bonus to buy that rock. Talk about Patty ICE, am I right? And speaking of sparing no expense, Dustin Johnson and Paulina Gretzky celebrated their first LIV (individual) victory together: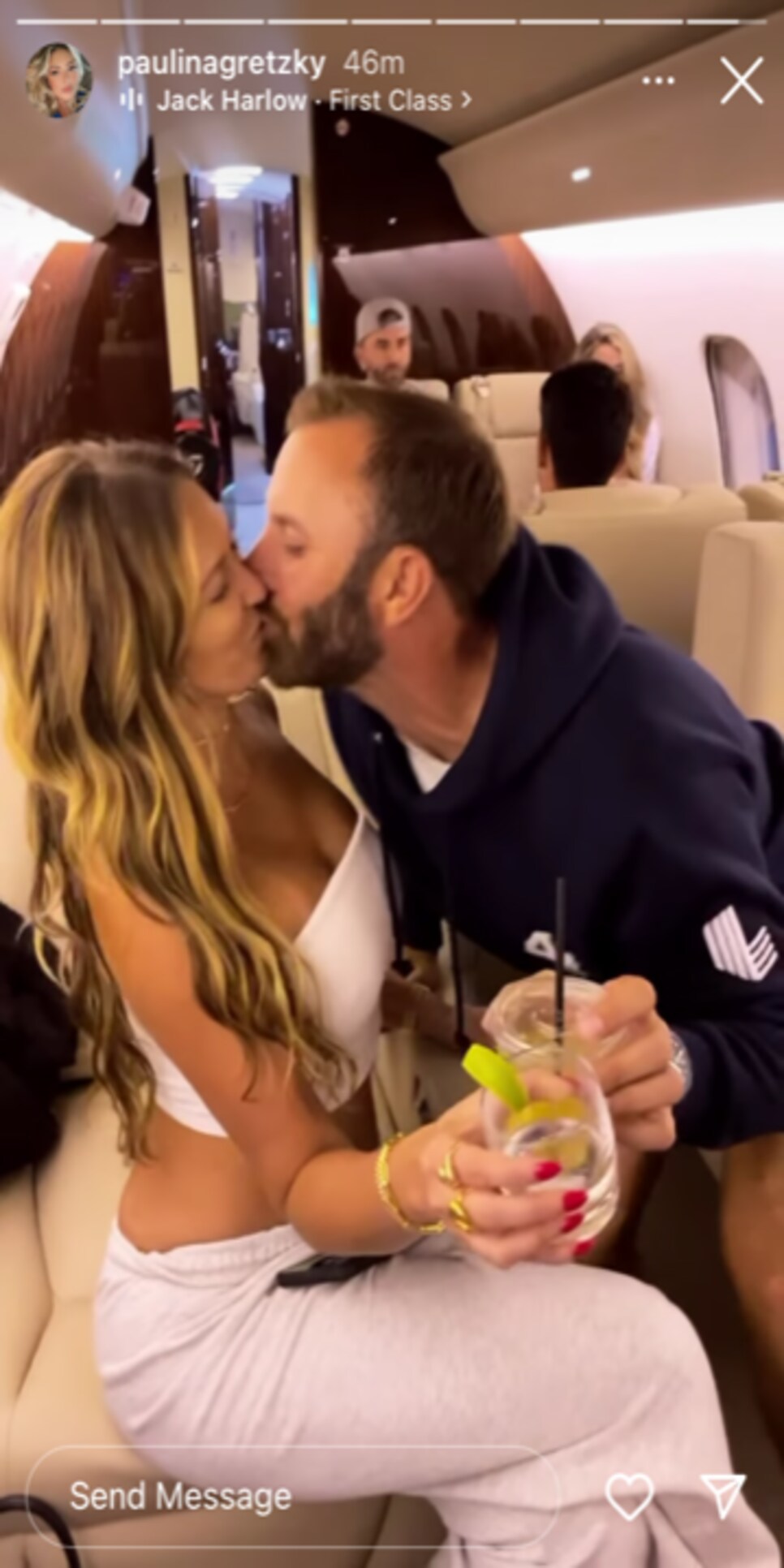 Awww. We've missed you guys.
THIS WEEK IN PUBLIC DISPLAYS OF EATING
Looks like Andrew 'Beef' Johnston found the perfect way to pass the time while nursing a thumb injury—host a food show!
Looks good, Beef. And that's some good looking beef as well. Seems like a match made in heaven.
"I don't drink, but I need a beer." —Kyle Westmoreland. We hear you loud and clear, Captain.
Congrats to Gaby Lopez for winning her third career LPGA Tour title at the Dana Open by birdieing the final hole to cap a Sunday 63:
I might start yelling, "VAMOS!" when I make a putt. . . . Congrats to Italy for winning gold in the World Amateur Team Championship, the country's first medal in the even in 32 tries. No word on if its the trio of Italian teens yelled "ANDIAMO!" on big putts (Look, mom, all that Italian I took in school finally paid off!). . . . RIP Herb Kohler, who in addition to overseeing a plumbing empire, had a major impact on golf, specifically at Whistling Straits. And if you want to read a beautiful obit, check out what our Jerry Tarde penned about his longtime friend. . . . A piece of the handwritten leaderboard from Tiger Woods' pro debut at the 1996 Greater Milwaukee Open sold for $69,000 at auction. When told of this, Golf Digest's John Strege, who covered the tournament, asked, "Why didn't I think of that?" Why, indeed, John. . . . And speaking of Wisconsin golf tournaments, in my effort to needle editor Ryan Herrington by keeping alive my streak of mentioning the 2022 HGGA Championship, AKA my annual buddies trip, here's me wearing the green jacket to our commissioner's Labor Day party and holding up the updated winner's plaque: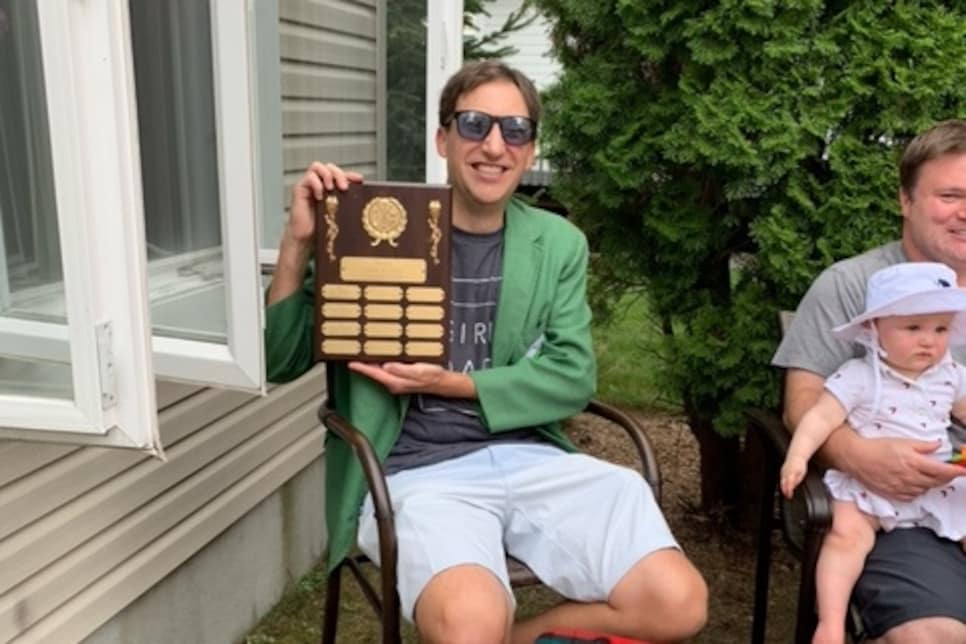 And yes, that baby is wearing a Mammoth Dunes (the site of our championship match at Sand Valley) hat. We take our golf trip seriously. Way too seriously.
RANDOM QUESTIONS TO PONDER
What Tiger tournament souvenirs should I have grabbed?
Has the world of golf ever been (nearly) this crazy?
How many more days until the 2023 HGGA Championship?