News
Fantasy Golf Picks: Jordan Spieth or Justin Thomas at the Tour Championship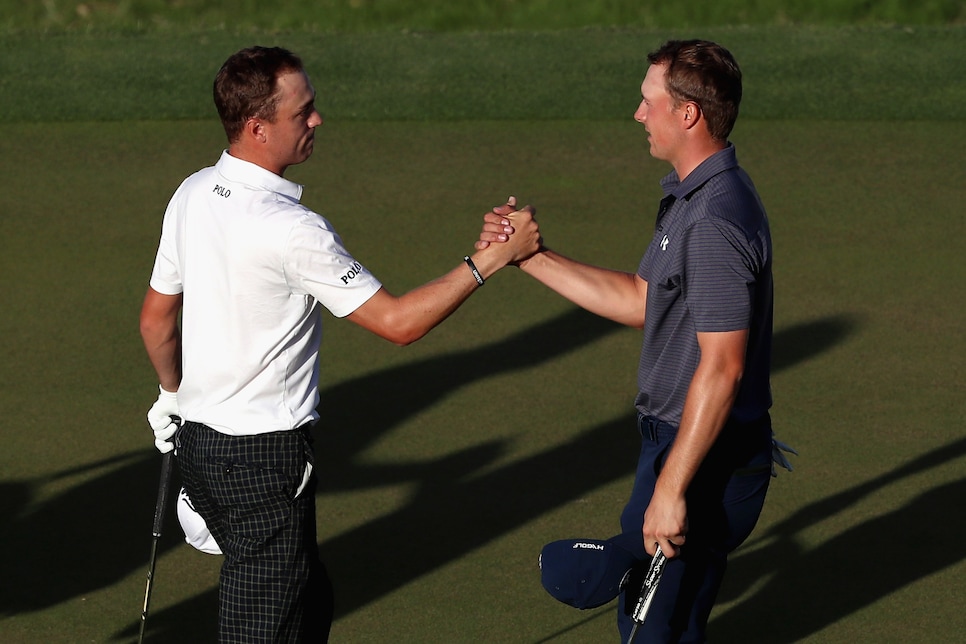 You may have heard, but a few PGA Tour pros are playing for a few dollars this week at the Tour Championship. And a couple of those guys, Justin Thomas and Jordan Spieth, have their sights on winning the tour's Player of the Year Award. How do we see the season finale playing out at East Lake? Here's a look at our weekly fantasy golf picks.
Jordan Spieth: In four career starts at the Tour Championship, Spieth has two great finishes (A T-2 in 2013 and a win in 2015) and two not-so-great finishes (A T-27 in 2014 and a T-17 in 2016). In other words, Spieth is going to contend because it's an odd-numbered year. OK, so it's not that simple, but seriously, doesn't it just feel like we're setting up for another memorable Spieth moment? How about this run he's been on since holing that bunker shot at the Travelers Championship: Win, win, T-13, T-28, 2, 2, T-7. Pretty special. So -- admittedly, mainly on a gut feeling -- I'm going with Spieth over Thomas this week. What happens after with the Player of the Year Award if Spieth wins? Well, in that case, I'm glad I don't have to vote on it.
Rickie Fowler: One of my main contentions the past few months is that Fowler has played far too well this season to only have one win. Well, now he's down to his final chance to add to that surprisingly low total. That Honda Classic victory back in February may have been his only victory (so far) in 2018, but he also has 10 top 10s, and five additional top 3s, including a runner-up at last week's BMW Championship. And at second in strokes gained putting and strokes gained total for the season, no one is more due to lift another trophy.
Matt Kuchar: After a tough start to the year, Kuchar has been his old money-making self since a T-4 at the Masters. In his past 15 events, he's finished in the top 17 11 times and he's finished in the top 10 in three of his past four starts, including a T-5 last week at Conway Farms. Kuchar's East Lake track record isn't particularly impressive with T-10s in 2012 and 2015 (remember, it's just a 30-man field) being his best performances, but his ability to get to East Lake is. This will be Kuchar's eighth consecutive time teeing it up in the season finale, the longest current streak by three years. Dollar, dollar bills, y'all.
Patrick Cantlay: I've been riding this guy all playoffs, so why stop now? In his postseason debut, Cantlay has gone T-10, T-13, T-9 to jump all the way to No. 29 from No. 78 at the start of the playoffs. That climb will continue this week for a player who would have started a lot higher had he not been limited to just nine starts during the regular season. What a stud.
Just missed: Paul Casey and Marc Leishman.
And for those of you playing other fantasy golf formats:
Yahoo! lineup: Rickie Fowler, Jordan Spieth, Matt Kuchar, Patrick Cantlay (Starters); Marc Leishman, Paul Casey, Kevin Na, Jon Rahm (Bench).
Knockout/One-and-done pick: Rickie Fowler.