News
The PGA Tour's player-of-the-year race is over … or is it?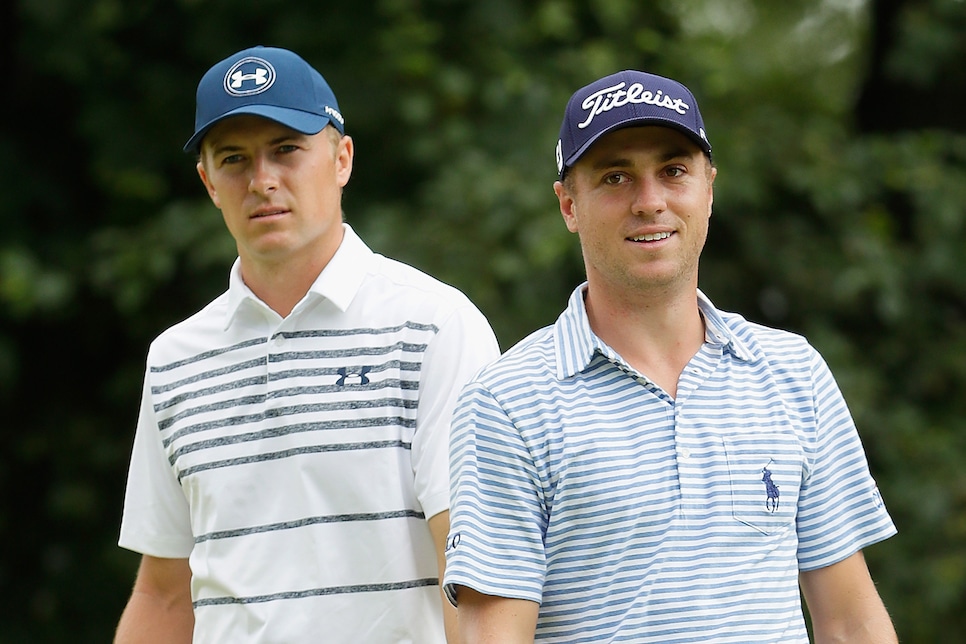 If Jordan Spieth weren't the chaser, you'd say the race for golf's Player of the Year awards was over. His friend and fellow 24-year-old, Justin Thomas, has five victories including a major to Spieth's three with a major. Thomas is so far ahead of Spieth in the points standings for the PGA of America's player-of-the-year honor—the winner of which has been duplicated by the PGA Tour's players' vote for POY the last 25 years straight—that Spieth will have to win the next week's BMW Championship and the Tour Championship to catch him.
But Spieth leads big-time golf in will and ambition. He has the most acute sense of the moment—and the ability to rise to it—since Tiger Woods. As improbable as the feat would be, Spieth's aura (and the fact that he's finished second in the first two playoff events) makes it feel possible.
"2 down 2 to go till @Presidents Cup. … " Spieth tweeted after Thomas outdueled him at Boston. It seemed an innocuous reference to being halfway home in the playoffs with a slim lead in the FedEx Cup points standings. But I'd be surprised if Spieth was unaware that it also suggested that in his "match" with Thomas he's figuratively 2 down with two to go but looking for a way to rally.
It's always good to see a highly competitive race for the Player of the Year awards as a year winds down. There's no argument that the golf POYs don't quite carry the same cache as MVP awards in major team sports (in golf, winning a major championship is the holy grail). Still, golf's top-player honors offer important historical assessment and clarity.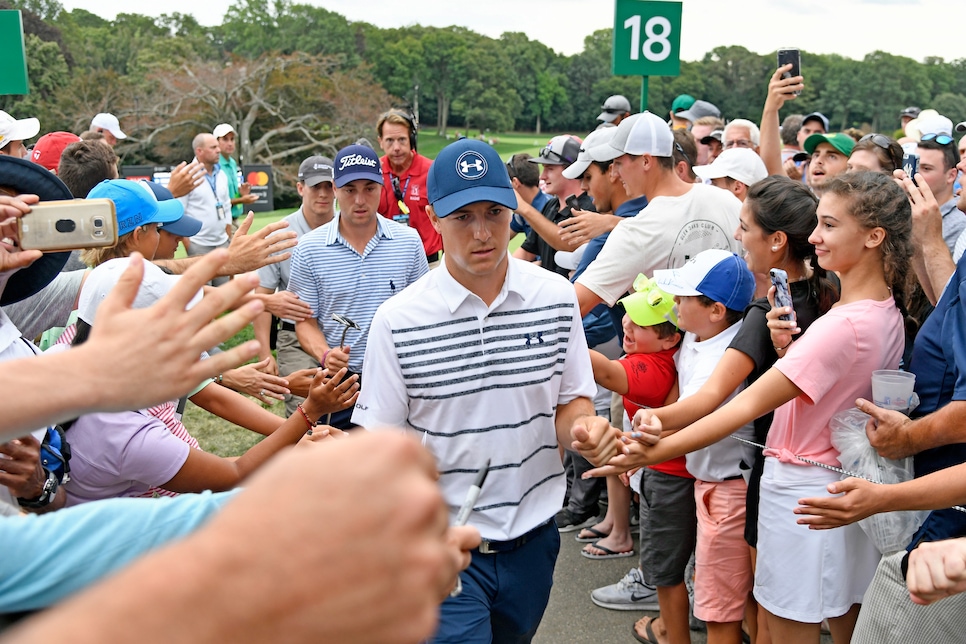 For one-time winners of the awards, especially, a POY is a significant mark of distinction just below achieving No. 1 on the World Ranking. POYs also can loom large on a prospective Hall of Fame resume. The PGA Tour POY, with the recipient receiving the Jack Nicklaus Trophy, is particularly satisfying because it's determined by a vote of the players.
POYs help associate a player's exceptional individual performance with a specific year. It's why 2016 will always belong to Dustin Johnson, 2015 to Spieth and 2014 to Rory McIlroy. And a look back at the PGA of America POY, which has been given since 1948, shows that it's pretty good at defining eras. Ben Hogan won four POYs, Jack Nicklaus five, Tom Watson six, and Woods an astounding 11.
Perhaps the best evidence that the POYs really matter is the extent to which players are hurt when they believe the voters got it wrong. In 1950, Sam Snead won 11 events (although no majors), and beat Hogan in a playoff for the Los Angeles Open. He was also second five times and won the Vardon Trophy. But Hogan, who won just one tournament, the U.S. Open at Merion in a dramatic comeback from a near fatal car accident, was voted the PGA Player of the Year.
"I still don't think it was right," Snead told Fred Robledo of the Los Angeles Times in 1991. "That couldn't happen today, because they just go by your record." Indeed, it wasn't long before the PGA of America switched from the vote to a points system.
The PGA Tour still uses a confidential vote to determine its POY, one that's left some of its losers miffed. In 1990, Greg Norman, won two tournaments, was second in two others in which Robert Gamez and David Frost beat him with dramatic hole outs on the 72nd hole, had 11 top-10 finishes in 17 events and won the Vardon Trophy. But he was passed over for Wayne Levi, who won four times but had only one other top-10 and missed nine of 23 cuts. In 1996, Phil Mickelson won four times, but the players chose Tom Lehman, whose two wins were the British Open and the Tour Championship. Mickelson has never won a POY award.
This year, because the four wins each by Johnson and Hideki Matsuyama don't include a major, only Spieth can make the POYs a contest. If Spieth were to win out, he'd pass Thomas on the PGA of America point system if the latter failed to record at least a T-9 in one of the final two events (one T-10 by Thomas could put them in a tie).
Factoring into the PGA Tour vote, a clutch closing rush of two victories would also give Spieth the FedEx Cup, as well as likely overtake Johnson for World No. 1 and lock up the Vardon Trophy. Arguably, this could be considered more "extra credit" than Thomas might garner with his 59 in Hawaii and his record nine-under-par 63 at the U.S. Open.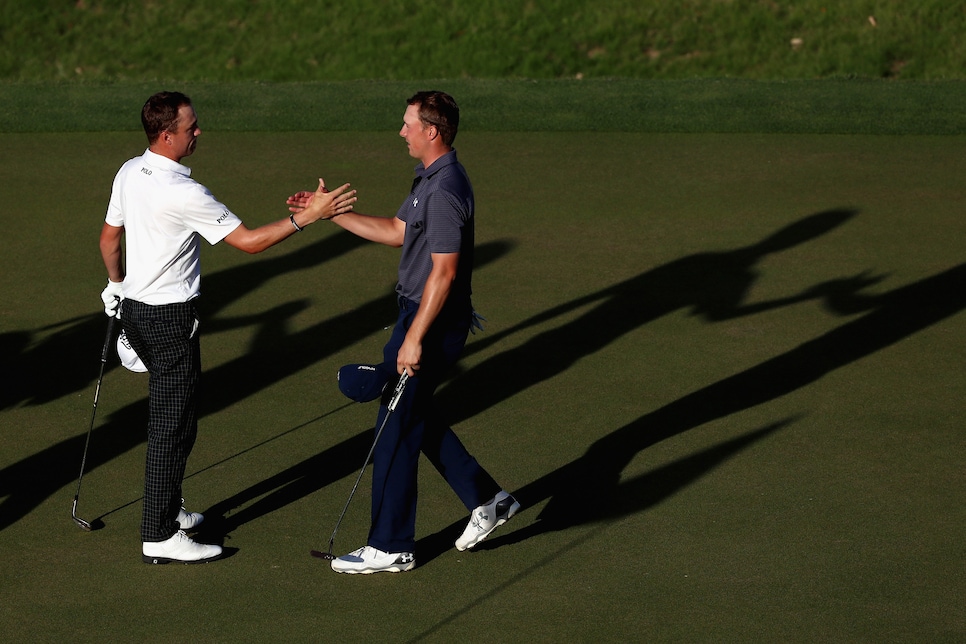 The intangible tally also would favor Spieth. For pure spectacle, Spieth's major at the Open Championship was superior to Thomas' PGA Championship victory. And while there is no denying 2017 has been a dramatic and perhaps portentous coming out for Thomas, Spieth with his three majors and all-timer tracking would give him the superstar bump.
Of course, Thomas could win the next two events and all the attendant spoils, making him the most definitive POY since Woods in his heyday. Whatever happens, what's clear is that the better the narrative, the more the Player of the Year distinctions in golf matter. And on a rare off week, contemplating Spieth's possibilities means the chance for a truly special season finale ain't over.