News
Dustin Johnson sure sounds like someone ready to slip on the green jacket next week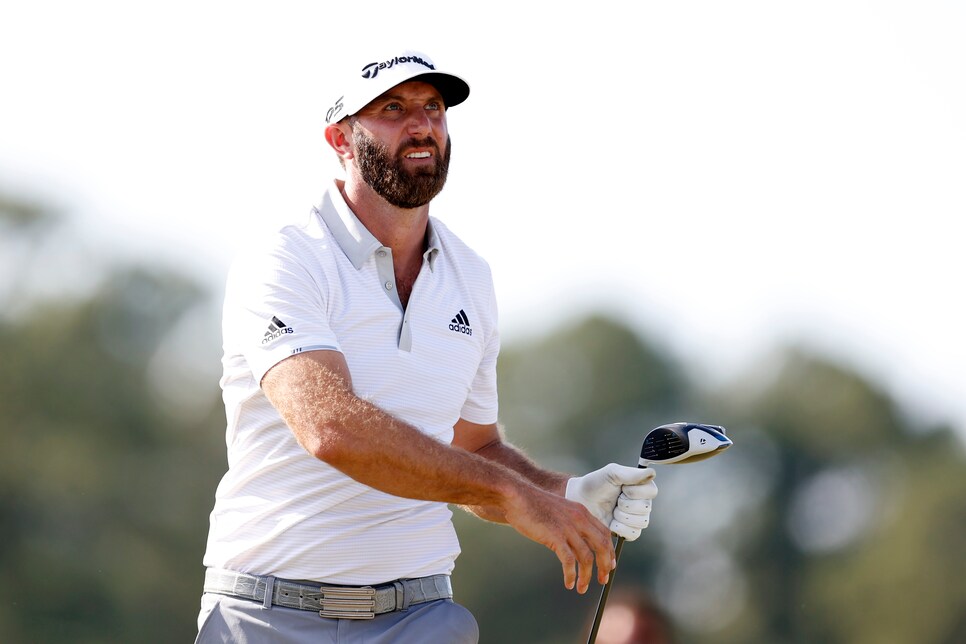 Dustin Johnson plays his shot from the 18th tee during the third round of the Houston Open.
Carmen Mandato
On a day when media outlets finally called a winner in the Presidential election, Dustin Johnson made a pretty declaration himself: He's going to win the Masters next week.
OK, so the World No. 1 didn't quite come out and say it in those words, but boy, did he sound confident on Saturday following a second consecutive 66 at the Vivint Houston Open.
"Yeah, I mean, obviously after the first nine holes I've played pretty solid and I like the way I'm playing, I'm swinging well," Johnson told reporters after. "You know, seeing a lot of similarities of how I was playing back when I was playing really well a couple months ago."
Johnson made it sound like his torrid stretch that culminated in a Tour Championship title in September and PGA Player of the Year honors is ancient history. It's obviously not, but it feels like that to him since he hasn't teed it up since a T-6 at the U.S. Open in September and had to withdraw from back-to-back events due to a bout with COVID-19. By the way, that T-6 is his worst finish in his past five starts, having won or finished runner-up in the other four.
The first nine holes Johnson was referring to came on Thursday when the 23-time PGA Tour winner made his return to competitive golf and promptly made five bogeys before making the turn. But whatever rust he arrived with in Houston has been knocked off.
Johnson made no bogeys in his third tour of Memorial Park Golf Course, and walked away knowing he easily could have made more than four birdies had it not been for a balky putter that cost him (-.404 strokes on the greens). In every other important strokes-gained stat, however, he's improved with each round, including a field-best 4.863 strokes gained/tee-to-green on Saturday.
At six under, Johnson will enter the final round just three shots back of Sam Burns. But with that patented strut, he seems on pace to track down another title and carry some serious momentum into the Masters.
"It's nice to get out and get some reps," said Johnson, who finished tied for second at last year's Masters, one shot behind Tiger Woods. "The game's feeling really good going into next week and obviously we've still got another day tomorrow and I feel like I'm in a good position with a chance to win."
That's not a good sign for the leaders on Sunday—or for anyone else teeing it up at Augusta National next week.
Here are three other takeaways from Saturday's third round at Memorial Park.
Jason Day is hitting bombs again
Speaking of green jacket contenders playing well, as our Brian Wacker noted Friday, the Aussie looks to be he in good health finally. And it's certainly translating off the tee.
Day's final five swats with the driver all traveled at least 312 yards, and more importantly, found the fairway, including a towering 330-yard bomb on No. 18. Overall, he averaged 322.1 yards per poke and ranks third in the field at 320.6 yards.
Those aren't Bryson DeChambeau numbers, but they're not too shabby, either. And he looked like the guy who was fearless with that club in his hands when he won the 2015 PGA Championship and ascended to World No. 1.
It's been two-and-a-half years since Day won his 12th and most recent PGA Tour title. Although he showed signs another win might be coming with four straight top-seven finishes following the PGA Tour's re-start in June, he's cooled off since with two missed cuts and nothing better than a T-38 in his past six starts.
"I think the golf swing is holding up quite nicely and the body is, too," Day said after.
Only a stunning three-putt on the final hole kept Day out of a share of the 54-hole lead, but it didn't keep him out of the final threesome on Sunday, when he'll play with Burns and Carlos Ortiz again. OK, let's talk about the leader ...
Sam Burns has a chance to change his life on Sunday
And change the wallets of the Golf Digest "Be Right" Podcast trio—yours truly, Stephen Hennessey, and Christopher Powers—who all bet on him at 80-to-1 odds or higher before the tournament. No pressure, Sam.
But seriously, what a tremendous opportunity for Burns, who got off to a rough start on Saturday after taking his first 36-hole lead on the PGA Tour. But he bounced back, playing the final six holes in three under and making a terrific par save from short of the green on No. 18 to shoot a two-under-par 68 and grab his first 54-hole lead. (STOP THE COUNT!)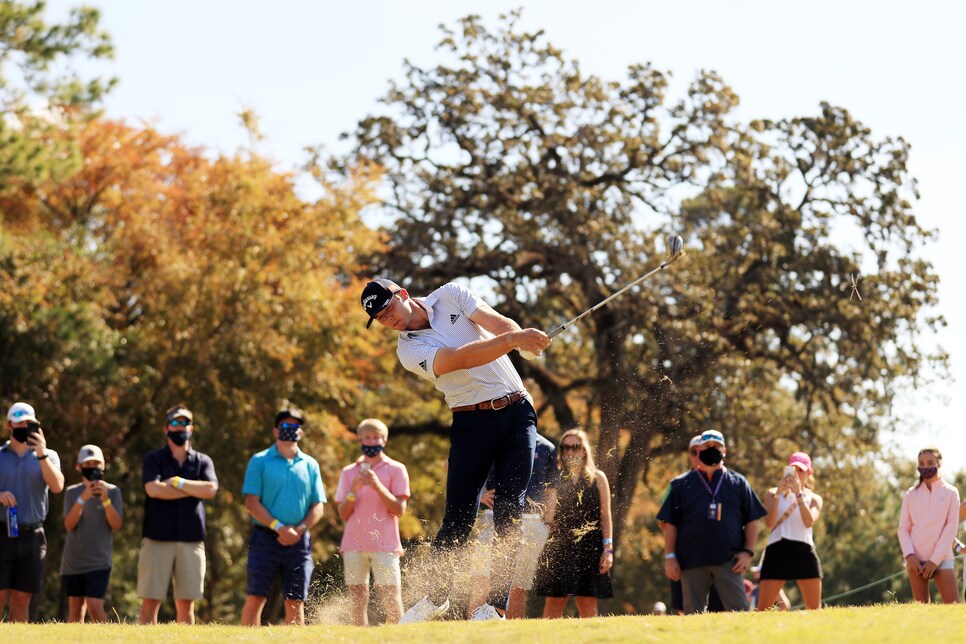 Sam Burns plays a shot on the fifth hole during the third round of the Houston Open.
Carmen Mandato
People have been expecting this kind of a performance since he outplayed Tiger Woods head-to-head in the final round of the 2018 Honda Classic to finish T-7. Burns won on the Korn Ferry Tour a couple months later, but has managed just five top 10s on the PGA Tour in 60 starts as a pro.
Despite winning the Jack Nicklaus National Player of the Year Award for the 2016-'17 season while at LSU, Burns is probably known most for that round with Woods. But while he plans to channel that experience on Sunday, the 24-year-old doesn't seem too concerned about winning his maiden PGA Tour title.
"Yeah, I don't know what to tomorrow has in store for me, but I think we're just going to go out there and stick with the game plan that we've had all week," said Burns, who is not in the field at next week's Masters. "If it happens, great. If it doesn't, great, and go from there."
I wish I could have the same attitude about Burns' final round, but again, I've got some serious cash on the line as well.
Memorial Park Golf Course is no joke
The Tom Doak-reconstructed muny is back on the PGA Tour for the first time since 1963 and it has more than proven it can withstand the onslaught of today's tour pros. Even more impressive is that it hasn't needed a lot of length to play tough.
Phil Mickelson and Grayson Murray showed us that with their respective snowmen on par 3s the first two days, and Saturday didn't get much easier with the par 70 still playing over par at 70.279 and no one reaching double digits under par through three rounds.
"I think this golf course, you know, it's not a matter of if, it it's a matter of when, when this golf course will hit you," said Burns, who overcame four bogeys in his first 11 holes to maintain his lead.
As PGATour.com's Sean Martin noted on Saturday, there already had been more triple bogeys in the first two rounds (28) than there were during the entire U.S. Open (27) at Winged Foot. That's some serious carnage.
Of course, not everyone struggled. In addition to those mentioned above, Brooks Koepka matched the low round of tournament with a Saturday 65. Uh-oh. Maybe we shouldn't start sizing up DJ for that green jacket quite yet ...