Drive, Chip and Putt
Drive, Chip and Putt competitor's amazing life story continues with victory at Augusta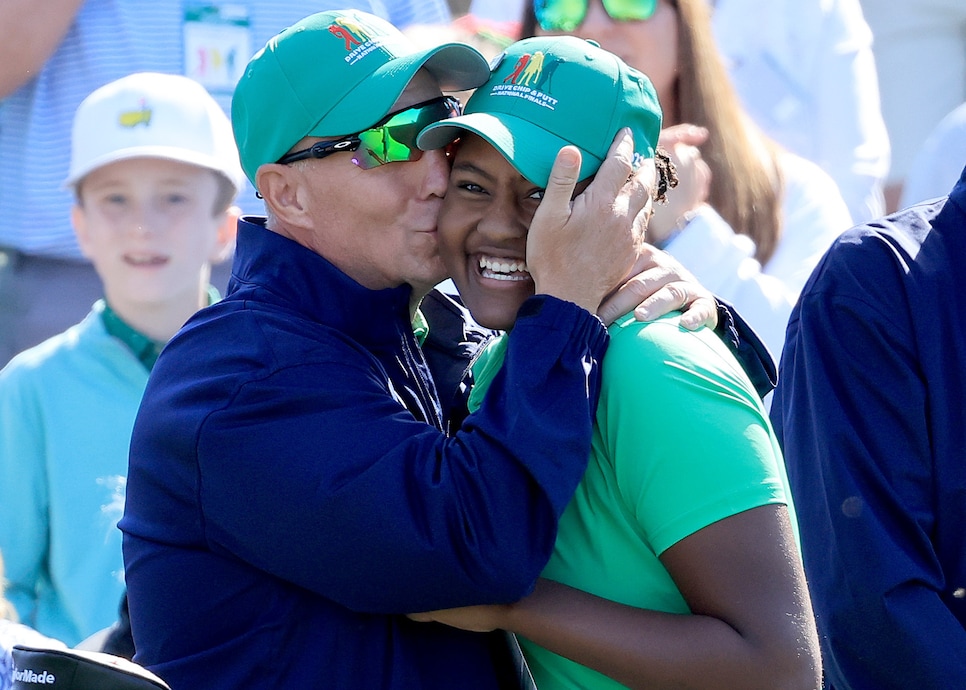 Maya Palanza Gaudin is congratulated by her father Steve Gaudin beside the 18th green as they realize that she has won the Girls 12-13 year group title during the Drive, Chip and Putt Championship at Augusta National Golf Club.
David Cannon
AUGUSTA, Ga. — Maya Palanza Gaudin had an amazing story before she set foot on Augusta National Golf Club on Sunday and won the Girls 12-13 Division of the Drive, Chip and Putt National Finals.
As a newborn in her native Ethiopia, Maya was in grave danger when her biological mother died shortly after childbirth. No woman in her Southern Ethiopian village, near the Kenyan border, was lactating to be able to breastfeed Maya.
So, her father and uncles carried Maya on their backs and walked 55 miles to the safety of the nearest hospital. Once Maya was nourished and safe, her father produced the most unselfish act of love and put her up for adoption. That was her best chance at a good life.
The couple who took Maya into their lives were a golf-loving couple from New England who have been based in Abu Dhabi since Maya was 2. Maya's surrogate father, Stephen Gaudin, was an overseas-based agent for the FBI who is now retired, and her mother, Cassandra, works in the American embassy in Abu Dhabi.
The pair are lifelong golfers, having met at a golf outing at Cape Cod, and introduced Maya to the game at age 5.
"The way I see it, Maya's birth mom gave her life [and] Maya's birth father saved her life, and our job since has been to love, nurture and provide every opportunity to Maya to embrace her life including this wonderful gift of golf," Cassandra told Masters.com.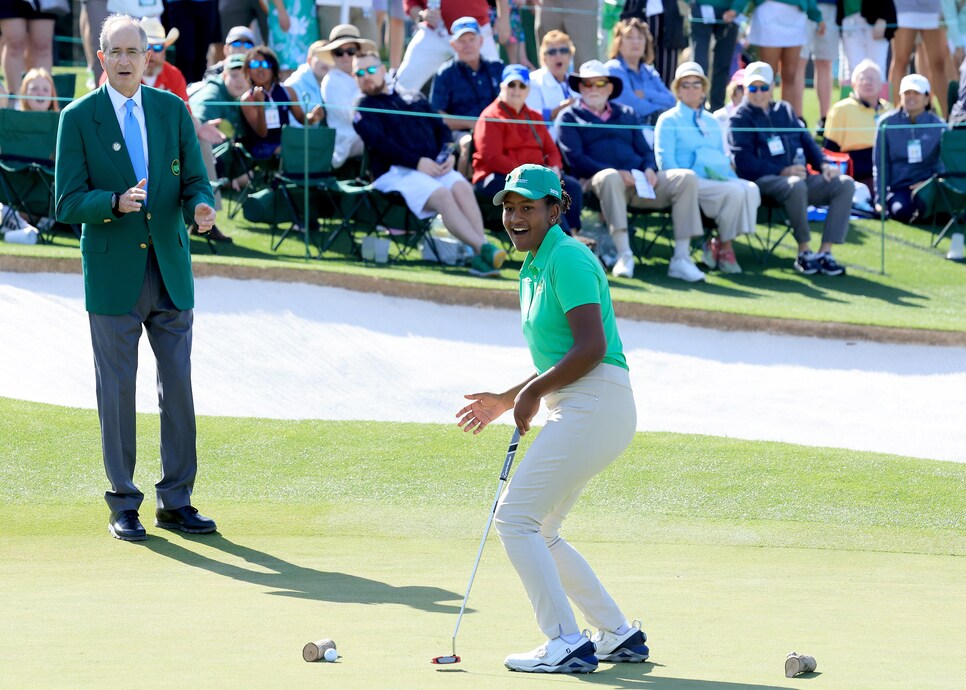 Maya Palanza Gaudin reacts to her putt on the 18th green in the Drive, Chip and Putt.
David Cannon
Maya's talents on the course were quickly evident, so Stephen and Cassandra invested time and money into their daughter's passion. (Maya's sister, Willa, is also adopted and loves the game of golf.) Maya has won the junior club championship at Yas Links in Abu Dhabi, where she plays, and which hosts the Abu Dhabi Golf Championship on the DP World Tour.
Through the connection with Yas Links, she has teed it up with Rory McIlroy in DP World Tour pro-ams, as well as Thomas Pieters and Robert MacIntyre. The elite pros know Maya so well by now that, when her parents were looking for her at Yas Links in January, McIlroy told Stephen and Cassandra, "I just saw her. She's inside.'"
"He's so nice to me," Maya said of four-time major winner McIlroy. "He's very kind. I get to see him almost every time when he comes to Abu Dhabi tournaments."
Before the 2023 Drive, Chip and Putt Finals, Maya had enjoyed junior golf success overseas. She won a major junior tournament in India several years ago before stepping up in Europe and claiming the U.S. Kids European Championship in Scotland last year. "I got to play at St. Andrews afterwards," Maya said. "We drove up there. It's a close second to this course [Augusta]."
But there was one gaping hole in her junior résumé. She wanted to compete in the Drive, Chip and Putt National Finals at Augusta National on Sunday before Masters week, a competition in its ninth year in 2023. Her absence from the National Finals was not for a lack of trying.
"Six times [I tried to qualify], but it would've been seven with the COVID year," a proud Maya said after her victory.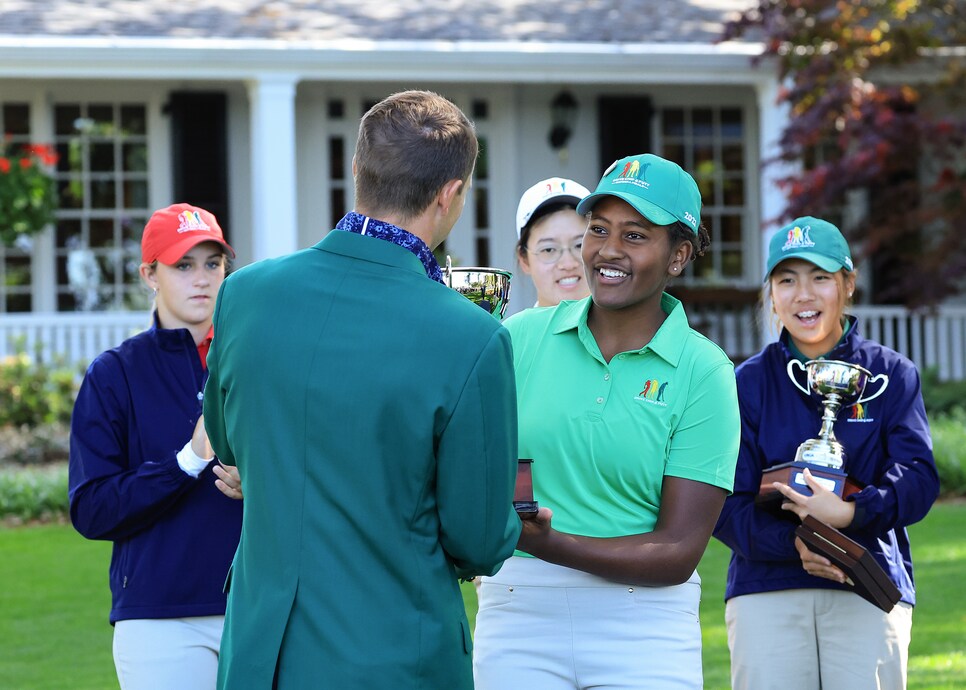 Maya Palanza Gaudin is presented with the Girls 12-13 trophy by Jordan Spieth.
David Cannon
Participants compete in three skills (Drive, Chip and Putt) and hit three shots per skill for a total of nine shots. With 26 points, Maya won the Girls 12-13 years category by four points. Narah Hope Kim, a local from Georgia, and Ruihan Kendria Wang, from Washington, were tied second.
Naturally, with her passion for golf and her backstory, Maya was emotional. She said it was a miracle she was even alive, let alone playing golf. "It probably wasn't supposed to happen, but it did and it's surreal. I don't really have any words for it," she said. "[It's] very surreal. I can't believe it. Just coming here was surreal and then winning is on a whole 'nother level."
The next step for Maya is obvious—compete more in U.S. junior golf tournaments. Each summer, Maya and her parents travel to the U.S. and she tees up in New England PGA junior tournaments. She has tried to qualify for the U.S. Girls' Junior three times. Eventually, Maya dreams of competing in the Augusta National Women's Amateur. She watched eagerly this weekend as American Rose Zhang, the superstar amateur from Stanford, won the event.
"It was very exciting. Congratulations to Rose," Maya said. "The last two holes were nail- biting for me. I can't imagine how it was for Rose. I would love to play in that tournament."
With her credentials and perseverance, all signs point to Maya potentially securing a return to Augusta National.
MORE GOLF DIGEST MASTERS PREVIEW STORIES: