Masters
The old and the young cross paths in a uniquely Augusta way during the Drive, Chip and Putt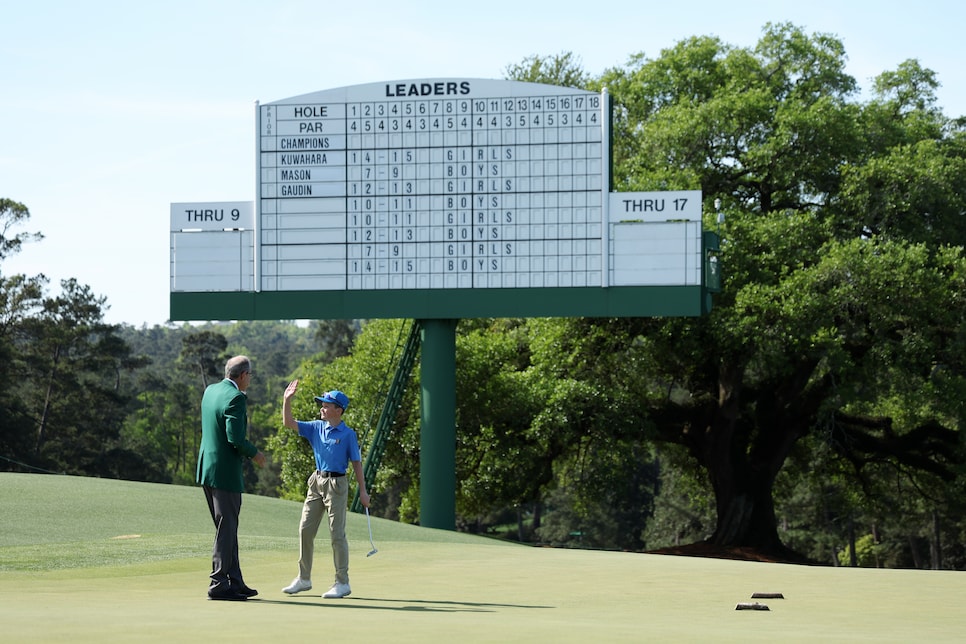 Brady Shaw of the Boys 10-11 group competes during the Drive, Chip and Putt Championship.
Christian Petersen
AUGUSTA, Ga. — Six decades separated Bernhard Langer from his fellow golfers, an expanse that would be notable anywhere else but here, for this is a place not bound by the constraints of time.
Their tournament was Sunday, the Drive, Chip and Putt National Finals, held on Augusta National's practice facility and 18th green. Langer's begins on Thursday, when he will compete in his 40th Masters against players more than 40 years his junior. "Compete." Don't laugh. Yes, Masters winners are invited back in perpetuity, playing under the guise of a forever victory lap for their conquests. Many qualify as ceremonial golfers. Langer has no appetite for ceremony. He is here to compete. Yes, we said it twice. Any doubters needs only to look back to 2020.
That was the year Bryson DeChambeau, fresh off overpowering Winged Foot, was supposed to break Augusta National. DeChambeau led the Masters field in driving distance that week in the unusual November edition of the event. Langer was roughly 60 yards behind him. DeChambeau shot 286 for the week. Langer, then 63, shot 285. You better believe Langer is here to compete.
Langer was here Sunday at the Drive, Chip and Putt, not to watch, but to work. Fifty yards to his left 12- and 13-year-old boys did their best to send their balls far and straight for the distance competition. Fifty yards to his right, 7- and 9-year-old girls worked their wedges like magic wands on the pitching green. Langer was undeterred by his surroundings, beating ball after ball after ball, working his way through his irons—or should we say hybrids. Langer has a lot of hybrids in his bag. Most older folks do. But most folks, no matter their age, can't hit like Langer.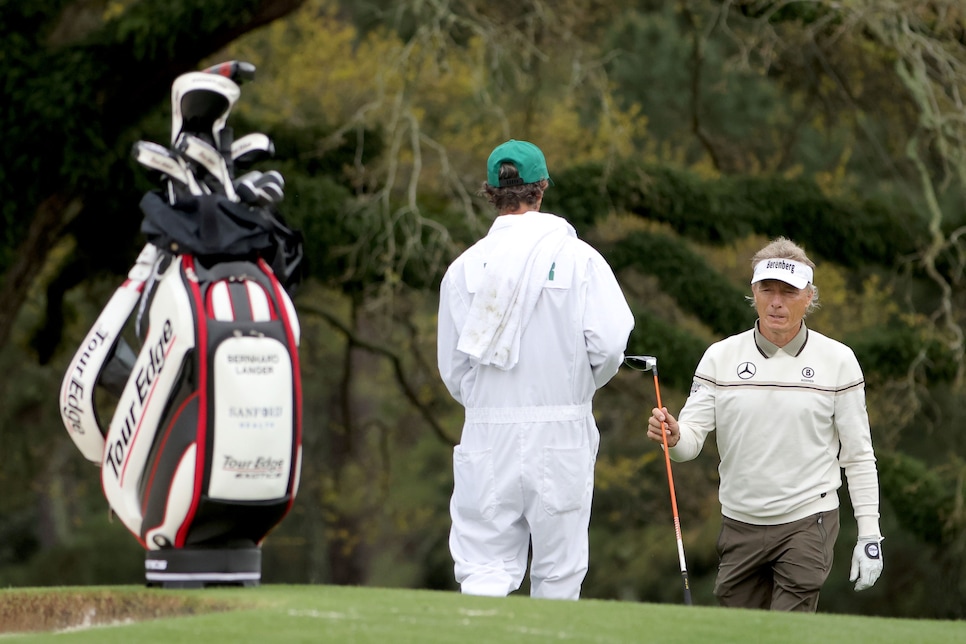 Bernhard Langer, seen practicing ahead of the 2022 Masters, was grinding again on Sunday at Augusta National ahead of his 40th appearance in the event.
Jamie Squire
The kids watched. That doesn't happen much, does it? We don't tend to give our elders much attention. We let life pass them by without stopping to ask if they're still along for the ride. Here at Augusta National, life is different, and the kids would turn their heads away from the competition and gaze over at the man. He is the paradigm of health for his age, but diet and fitness cannot conceal the wear of a life lived on the road, of a life in this sport at the professional level and the physical and emotional toil it brings. Langer looks good, but he also looks 65. No matter; the kids were looking not because he was not one of them. Instead, their gaze was ahead, where Langer was peppering a flag some 150 yards away. Game was recognizing game.
Or maybe they were looking his way because they want to be like him. Many of these kids only look like kids by age. They are dressed like professionals, they carry themselves like professionals, they have professional coaches, they have professional equipment and bags, they have swings that some professionals wish they had. Some look very serious because this is a serious competition, and when they shake the hands of Jordan Spieth and Scottie Scheffler—Masters winners that were on hand for the festivities—they are not meeting their heroes but their future peers.
They are good. They hit the ball at distances that may have the USGA instituting rollback tomorrow. The putting, lights out. It's impressive. However, this is a game, and that is apparent at the Drive, Chip and Putt, for there is a joy that can only be produced by the innocence of youth. A joy many of us don't realize in the moment then spend an entire lifetime trying to replicate.
The Drive, Chip and Putt is still in its infancy, at least compared to other Masters traditions, started in 2014. It has slowly worked itself into the fabric of the week, and that's no small feat. It feels right, it feels good, it feels like the rest of the tournament does, which is a celebration. That is at the heart of every Masters tradition.
Other tournaments have traditions. They are not the same. Take the Champions Dinner. The PGA Championship has a champions dinner. Maybe a third of its past victors attend, and most are in that week's field. Last year's defending PGA champ didn't even show up. Attendance at the Open Championship's party, when it's held, is better, but only slightly. The Masters' champions dinner, everyone is there. To honor the tournament, to honor each other and what they once did. To remember when they were younger men, and to let the younger men know how good they have it.
Langer was once a younger man. When he was, he won this tournament twice, in 1985 and 1993. Thirty years from then to now. In that interval he's become the greatest 50-and-older player the game has seen on top of a career that featured more than 40 European Tour wins. He is a legend. But legends are products of the past, and this week is meant to be lived in the present.
When he was done with his work, Langer exited to the left of the range. He stopped to chat with some of the participants, as well as kids in attendance waiting in the children-only autograph sessions. Langer signed for all before heading towards the clubhouse, walking under the veranda to the course. He was off to play a practice round. He was off to be young again.