Hell Hath No Fury...
Danny Ainge says beating Michael Jordan in a golf match sparked MJ's record 63-point playoff performance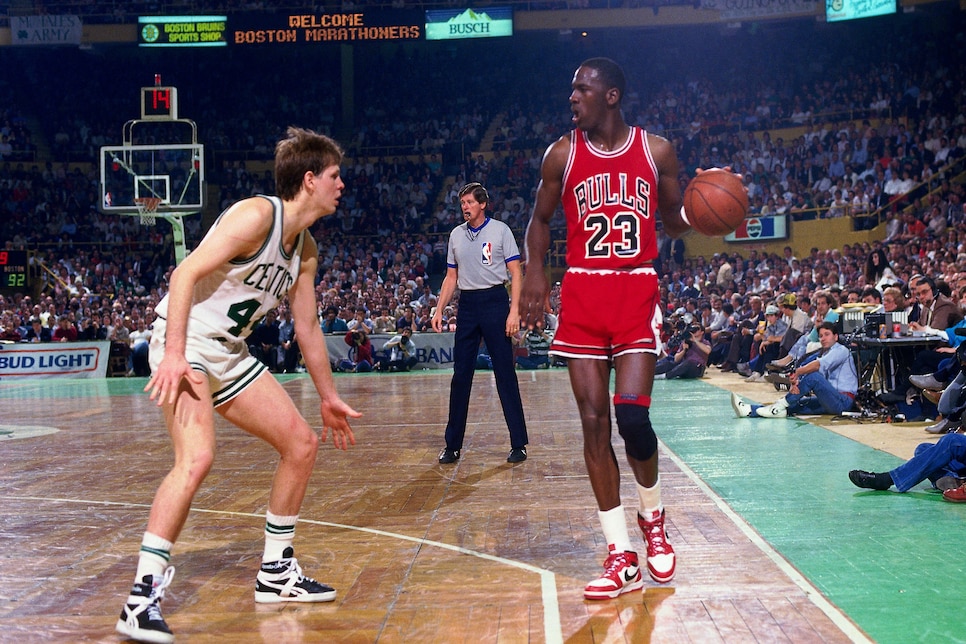 Michael Jordan is the uber competitor. No one will ever hate losing more, no one will ever take anything as personally and no one will ever have the ruthlessness (nor ability) to exact greater revenge. This was true on the hard court, but it was also extended to the golf course, where Jordan's all-encompassing need to win was equally legendary. On a few rare occasions over the years, these two supercells converged, creating a whirlwind that destroyed everything in its path. According to Boston Celtics legend Danny Ainge, that's exactly what happened on April 20th, 1986.
Speaking to the Knuckleheads Podcast earlier this month, Ainge recalled Game 2 of the Boston Celtics' first-round playoff matchup with the Chicago Bulls in 1986. The Celtics outlasted the Bulls 135-131 in double overtime, but Jordan hung 63 on the dynastic defense, breaking Elgin Baylor's single-game playoff scoring record set back in 1962. After the game, Larry Bird said "I think it's just God disguised as Michael Jordan." MJ's mark still stands to this day.
So what prompted this record-shattering explosion? According to Ainge, it was the mistake of taking Jordan's money on the golf course the day before.
Jordan would eventually wise up and start playing golf matches on his terms just as he did basketball games. For instance, Scottie Pippen still believes Jordan once bought him a shiny new set of golf clubs just so he could take his money on the golf course. But Jordan was still a pup in 1986. He was just a second-year player and had sat out much of the season with a broken foot. He had a lot to learn about how the big dogs handled business off the court. Ainge made the mistake of teaching him.
Ultimately it didn't bite the Celtics too badly. They would go on to win the NBA Finals a few weeks later and are still regarded as one of the most dominant squads in NBA history nearly 40 years later. Ainge's innocent round of golf woke the bull within Jordan, however, and for the next two decades, that bull spared nothing and no one.
I think we speak for everyone when we say thanks a lot, Danny.