Dunhill Links Championship
We'll forgive these Danish pro twins for dressing alike in their round at St. Andrews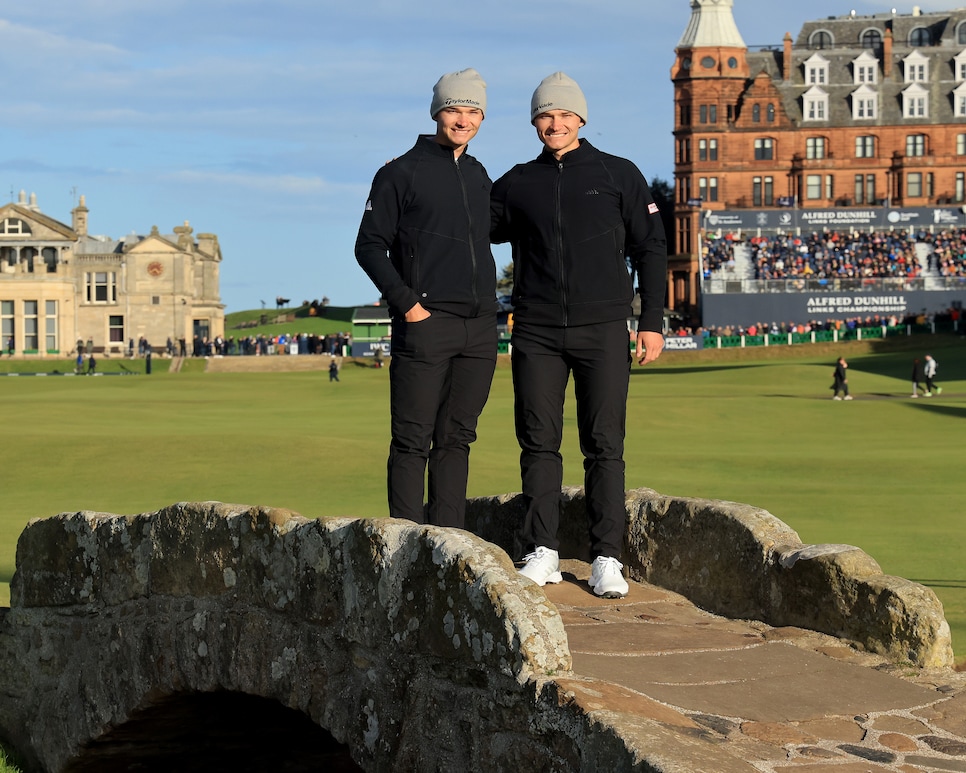 Nicolai Hojgaard (left) poses for a photograph with brother Rasmus on St. Andrews' 18th hole on Day 3 of the Alfred Dunhill Links Championship.
David Cannon
Are you one of those people who roll your eyes when you see parents dress up their twins in the same outfits beyond, say, the age of about 5? We raise our hand here in full agreement. It strikes us as, well … a bit creepy. Like those pranks identical twins play on their romantic dates.
But we'll give the Hojgaard twins of Denmark a happy pass. Rasmus and Nicolai, as you may know if you follow European golf, are among the two best players in their part of the world at only 21 years old. And on Saturday, they were paired together for the first time on the DP World Tour, on the Old Course at St. Andrews in the third round of the Alfred Dunhill Links Championship. They didn't shy away from the opportunity to celebrate their twin-ness, dressing exactly alike in gray knit beanies, black pullovers, black pants and white shoes.
The DP World Tour got video of the two checking in with the starter at St. Andrews, who, of course, had to ask them to identify themselves. It was all in good fun, and the two even posed for a photo together on the Swilcan Bridge as their round neared its end.
On the course, it was a much better day for Rasmus, The three-time winner on the DP World Tour put himself into modest contention with five-under-par 67 that has him tied for eighth place with an eight-under total—seven shots behind leader Richard Mansell. Nicolai, unfortunately, managed only a 70 on the day and missed the cut with an even-par total.
The brothers are golfers who figure to be more widely known on this side of the Atlantic in short order. Observers in Europe believe they are likely to play on the same Ryder Cup team together, possibly as soon as Italy in 2023.
They are precocious players, to be sure.
In December 2019, Rasmus was 18 when, in only his fifth start on the then-European Tour, he became the third-youngest to win on the Old World circuit with his victory in the Mauritius Open. He won again in the 2020 ISPS Handa UK Championship and scored his third victory in the 2021 Omega European Masters.
One week after that, Nicolai captured his first title in the Italian Open, and that's the first time brothers have ever pulled off wins in back-to-back weeks. Nicolai picked up his second victory in February of this year in the Ras Al Khaimah Championship by shooting 24 under.
We appreciate the entertainment, Hojgaard boys, and you've had your fun. We're rooting for you. As long as you don't do this dressing alike thing again.